Cobb County: Closing The Gap
Balancing gains and losses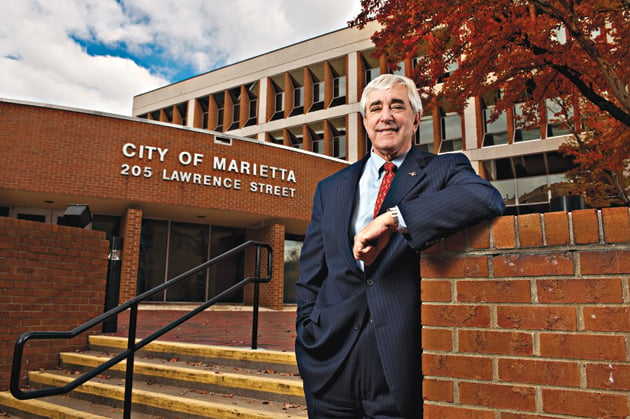 As the Great Recession refuses to relax its grip on the national economy, the distance between winners and losers has grown. Nowhere is that gap more apparent than in Cobb County. Long a bastion of economic stability, this diverse county has been losing jobs even as its per capita income has climbed.
Since December 2007 the county has shed nearly 36,000 jobs – fully eight percent of the workforce. Those losses effectively wiped out all gains since 1998, with many coming in construction and service industries.
"During that same time we've actually seen per capita income and average wages go up," notes Cobb Chamber of Commerce Chief Operating Officer Demming Bass.
Along with the losses, there has been continuing growth in high-wage sectors such as healthcare, professional, post-secondary education and businesses services including accounting and back-office functions. In fact, the county has one of the highest median household incomes in the Metro Atlanta area at $66,515, and that is both a blessing and a challenge, according to Bass.
The numbers conceal the sobering reality that makes Cobb very much a mirror of the national economy. The share of workers earning more than $100,000 grew by almost 50 percent over the last decade. During the same period, the number of middle-class wage earners declined. Workers earning between $25,000 and $45,000 fell by 10 percent, and those making up to $60,000 dropped by more than eight percent. At the other end of the scale, the number of workers making less than $25,000 increased by 26 percent.
"We've seen job growth in high-wage sectors and lots of job losses in lower-wage sectors," says Bass. "We've been hit harder than other communities."
Bringing in more jobs to balance out that inequity is a primary task of Com-petitive EDGE (Economic Development for a Growing Economy), the chamber's latest economic development initiative.
"We wanted to look into the future and compare ourselves to other communities and lay out a plan as to how we can compete with them," says chamber President and CEO David Connell.
The primary job was to make an in-depth assessment of the county's economic strengths, as well as the industry clusters that hold the greatest promise for growth. Clearly Cobb has some strengths. First, there's a large and expanding healthcare sector anchored by WellStar Health System, which owns Kennestone Hospital as well as Windy Hill Hospital and Cobb Hospital, along with other facilities around the area. Its large cadre of employed and affiliated physicians can handle just about any ailment from the flu to heart surgery.
There's also a wide variety of educational institutions ranging from Chatta-hoochee Technical College, one of the state's biggest tech colleges, to a host of graduate and undergraduate programs at Kennesaw State University (see related story, page 80), Southern Polytechnic State University, Life University and various branch campuses. There are more than 42,000 students enrolled in these institutions, and their presence has helped make Cobb one of the best-educated counties in Georgia and among the top 15 in the nation. Almost 44 percent of the population has at least a bachelor's degree.
Both healthcare and education also help create the impressive array of "quality of life" assets that make it easier to recruit new business and industry, according to Connell.
Finding New Jobs
Cobb is busy trying to secure new jobs to replace the old ones that are now likely gone forever. Last year, the county scored 25 impressive wins, accounting for more than 2,300 new jobs. A good example of the kind of company the county wants is Wilmington, N.C.-based Osmotica Pharmaceutical, which made the decision to open a research, development and manufacturing operation in Marietta.
The company, which specializes in neurology-based drug therapies and drug delivery technologies, is spending $20 million and creating 144 jobs over the next five years in return for $2 million in incentives. It will be occupying a facility that formerly housed the pharmaceutical operations of Solvay SA. That facility closed in 2010 after Abbott Laboratories purchased the company and consolidated operations elsewhere.
The plant is in one of the city's new Opportunity Zones. Businesses that add at least two new jobs can qualify for tax breaks equaling $3,500 per job.
"We're seeing small- to mid-size companies expanding," says Beth Sessoms, Marietta's economic development manager. She adds that her office has been receiving an increasing number of applications for the credit, indicating that companies are expanding – at least by a few jobs.
The city created three such zones in its older industrial corridors along portions of Fairground Street, Roswell Street, Powder Springs Street, the South Loop, Franklin Road and industrial and heavy commercial locations throughout Marietta.
Cobb's county government has also been hit hard by the decline in property values that reduced property tax revenues. At the same time, many of the business fees that helped fund the county budget were also in decline.
After several years of avoiding unpaid furlough days for workers, the county was forced to use them to cobble together $23 million in budget cuts. Each department had to come up with 10 percent in reductions, and that forced cutbacks ranging from a halt to building projects to shortened library hours.
In a particularly unpopular move, the commission raised property taxes by .9 mills. The increase still left the county with the lowest tax rate in the metro area while shoring up the county's reserve funds in anticipation of more economic bad news in the commercial real estate sector.
"The economy made it more difficult to deliver the same level of service we always had," concedes Commission Chairman Tim Lee. "Those were things that Cobb had never had to do before."
Redevelopment
Most of Cobb's cities are already built out, and these days attention has turned to redevelopment and revitalization. In Marietta there are hopes for eventually turning Franklin Road into a "green tech" corridor. Running parallel to Interstate 75, the thoroughfare extends from U.S. 41 across two major secondary roads. With clusters of office buildings at either end, the street could be a prime location for green businesses, says Sessoms.
Franklin Road has long been a problem child for Cobb's seat of government. In the 1970s, apartment complexes began sprouting up to the point it became the center for multifamily living in the city. It was the first stop for college students and other new arrivals, including an increasing number of immigrants with low-wage jobs. Soon, 14 complexes lined the street, and as they aged crime rates soared.
Those problems led the city to launch a "weed and seed" program, a five-year federal grant administered by the U.S. Department of Justice. By the time the program ended last year, a total of $824,000 had been channeled into the community to pay for additional policing and community service initiatives. Violent crime in the area has declined 14 percent since 2006.
The city also succeeded in getting rid of at least one of the rundown apartments that had been the center of trouble, according to Marietta Mayor Steve "Thunder" Tumlin.
The city was able to acquire the Preston Chase apartment complex for far less than its original cost. In its place is now a new park funded by the city's recently approved $25-million parks bond. A $3-million regional grant through the Atlanta Regional Commission's Livable Centers Initiative will enable streetscape and traffic improvements along Franklin Road this year to reduce pedestrian accidents.
"It was like a gift," says Tumlin, who adds that the area is ripe for converting from strictly residential to more of a "live, work, play" area.
He also wants to see more owner-occupied residential here and in other areas of the city. A decade ago, leaders realized that the city had tilted away from homeowners and heavily toward renters. With more than 60 percent of the population living in apartments, it was becoming more difficult to fund essential services such as education, even as apartments became magnets for crime.
A master-planning project called for the city to raise the number of owner-occupied units past 50 percent and replace lower-income properties with higher-quality condos and townhomes. That's when the city launched several efforts to convert its large stock of public housing projects into mixed-use developments. Over the past few years, the city eliminated almost 600 public housing units. Many poor and elderly residents had lived in these developments for decades. To move them into private units, the Marietta Housing Authority distributed housing vouchers – effectively eliminating these concentrations of poverty.
Many of the projects intended to replace them were just starting to come out of the ground when the recession hit and the housing market collapsed.
"We're starting to see some light at the end of the tunnel," says Sessoms. "Some of the developments that had gone into foreclosure have been purchased by other people now. So we are hopeful that in the next year or so we'll see more construction. We've already seen a bit of residential construction. Right now it's time to buckle down and see what are your assets and what can you work on while the residential market just sits here."
Some of the properties have unoccupied townhomes on them, while others are PVC farms – projects that were abandoned halfway through construction. All have very specific plans as to quality and kind of construction, and the city is intent on sticking to them, says Tumlin.
"The city council would not be receptive to downgrading just to sell it," he explains. "We are going to be patient."
That means no apartments and no single-use development, even if such a move could get them up out of the ground faster.
Despite the difficulties, the shift has borne at least some fruit. According to U.S. Census figures, owner-occupied residential in Marietta increased from 8,996 in 2000 to 9,750 in 2010. During the same period, rental units dipped from 14,899 in 2000 to 13,315 in 2010.
Travel And Tourism
Cobb's economy is both diverse and complex. It includes the high tech and the low tech, masters of finance and banking, and many mom-and-pop operations. And while it doesn't get much attention, the biggest employer – and moneymaker – is travel and tourism.
A steady stream of tourists make their way to Cobb – usually to visit the sprawling Six Flags Over Georgia amusement park with its thrill-inducing roller coasters and an ever-changing roster of pop concerts geared to just about any musical taste. Many visit historic attractions such as The Southern Museum of Civil War and Locomotive History and the Kennesaw Mountain National Battlefield Park, which gets more visitors each year than Gettysburg.
With the construction of the Cobb Energy Performing Arts Centre, Atlanta residents now have a reason to cross the Chattahoochee River to see Broadway touring shows and big name stars. In something of a slap at the big city from which they take their name, both the Atlanta Ballet and The Atlanta Opera made the centre their official home. Conventions and meetings are also big business at the nearby Cobb Galleria Centre.
Travel and tourism brings in $1.73 billion annually and employs more than 25,000 people, "which is a really significant impact when you're looking at jobs in Cobb County as a whole," says Holly Bass, president and CEO of Cobb Travel and Tourism, formerly the Cobb Convention and Visitors Bureau.
The recently unveiled Cobb Travel and Tourism moniker, along with a new logo, website and tagline, reflects the fact that tourism is Cobb's No. 1 economic driver.
Despite its proximity to Atlanta, the county is very much a destination in itself. People come here for the attractions and often end up spending the night. After staying home the past few years, business people and tourists are once again traveling. During the 2011 fiscal year, Cobb collected $9.89 million in hotel/motel taxes – up 4.6 percent over the previous year.
"I think that Cobb really has a definite sense of place that visitors enjoy, and they can come here and do everything there is in the county, but they also have easy access to other parts of the Metro Atlanta area," she says.
Marietta Mayor Tumlin hopes that many of the visitors will show up in April for a re-premiere of the 1956 classic The Great Locomotive Chase at the downtown Strand Theatre. The movie, starring Fess Parker, chronicles the Civil War story of Union spies hijacking a train known as the General near Kennesaw and attempting to take it north in April 1862. The plotters were captured after a long chase through North Georgia by another locomotive, the Texas.
They organized their plot while staying at a trackside hotel just off the Marietta Square, now the Marietta History Museum. The film had its original premiere at the Strand, and Tumlin thinks there will be considerable interest among locals and history buffs to see it again as part of the city's celebration of the Civil War's Sesquicentennial. If the mayor gets his wish, he would like to see the Texas, now housed at Atlanta's Cyclorama, brought back to Marietta to stay. The General is on display in Kennesaw, and that city isn't willing to give it up, he says.
Engines Running
While not up to full speed, the economic development engine has also come back to life in Kennesaw. The city has been concentrating on bringing more mixed use to its downtown and key corridors such as Cobb Parkway and Giles Road.
"The city continues to focus on really trying to rebalance our tax digest to an extent that it's more weighted toward residential than commercial, industrial and office," says Bob Fox, the city's economic development director. "The last four years have been very challenging for everyone with the economy, but that's been the goal."
After stalling out, several projects are on the verge of taking shape. Among them is the 34-acre Columns Kennesaw project at Hwy. 41 and Kennesaw Due West Road, dormant for several years and lately embroiled in legal wrangling. Now a $3.6-million gun club and a bank are taking shape. A 40,000-square-foot building on the site may also be getting a tenant soon, once the court case, which Fox termed "very complicated," is resolved.
The city is also benefiting from projects funded by nearby Kennesaw State. Two new private residence halls are under construction. These include the $50-million Sanctuary, which includes space for 800 students along with 35,000 square feet of commercial space. The $21-million The Commons – Student Culinary Center recently opened, and U Club on Frey, an off-campus student housing complex constructed by American Campus Communities, is scheduled to open this August.
Other projects are sprouting elsewhere in the county. In Smyrna, ground has been broken for the construction of The Crossing at Four Corners. Tri-Land Properties, Inc. is redeveloping the project at the corner of South Cobb Drive and Concord Road that will be anchored by a 96,000-square-foot Kroger, which will be the company's largest store in the Atlanta market.
Local leaders hope that this development is the start of a new wave of good news for Cobb County.
COMMUNITY SNAPSHOT
Local Leaders
David Connell
President and CEO
Cobb County Chamber of Commerce
770.859.2330
dconnell@cobbchamber.org
Steve "Thunder" Tumlin
Mayor
City of Marietta
770.794.5501
stumlin@smithtumlin.com
Tim Lee
Chairman
Cobb Board of Commissioners
770.528.3300
tlee@cobbcounty.org
Population
Cobb, 688,078 (2010); Acworth, 19,327; Austell, 6,805; Kennesaw, 31,733; Marietta, 65,009; Powder Springs, 15,290; Smyrna, 49,283 (2009)
Per Capita Income
(2009)
$43,235
Unemployment Rate
(September 2011)
County, 9.5 percent
Georgia, 10.3 percent
Top Private Employers
WellStar Health System,
The Home Depot, Inc., Six Flags Atlanta Properties,
Publix Super Markets, Inc.
Sources
Cobb Chamber of Commerce,
Georgia Department of Labor,
U.S. Census Bureau