Art Of The Meal: Playing Cleanup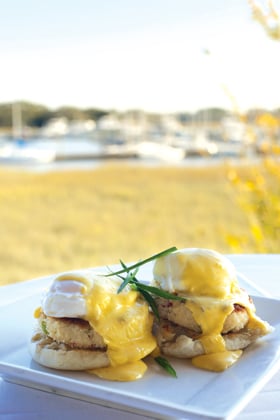 Coastal Kitchen Seafood & Raw Bar
102 Marina Drive, St. Simons Island
912.638.7790
www.coastalkitchenandrawbar.com
Serving brunch, lunch and dinner.
Reservations: Accepted, online (OpenTable) or by phone.
Parking: Plentiful in free marina lot.
Dress code: Nothing too dressy.
Winter is my favorite time at the coast. OK, I love it just about any time, but as a pasty-skinned white girl, I've never been a sun-worshipper. Give me lonesome walks on the beach, with hat and long sleeves, pretending I'm tough Island Stock. Squinting at the shrimp boats dotting the horizon, I pick up driftwood for the evening fire, wondering what fresh catch will be coming in. So what if the rental condo's gas fireplace is remote-controlled? And my dinner makings are reservations? Somehow the clean, cold wind off the water lends an air of raw-boned self-sufficiency.
Which pretty much evaporates on Sunday morning, when it's time to head back to Atlanta. Instantly transformed back into my pouty, spoiled urban self, I can barely get past my protruding lower lip to whine, "But I don't wanna go back! And I'm hungry!"
That's where Coastal Kitchen comes in. Perched on the marshy edge of the island, at the marina on the way out of town, it offers one last blast of beach before you go. The big windows (and in good weather, large deck) offer expansive views of sun-glinted water and the hardy souls taking their boats out onto it. The Sunday brunch is more than a consolation prize for heading home – it's a going-away party.
If you're lucky enough to be a non-driving passenger, commit fully to the experience with one of Coastal Kitchen's tall, horseradish-flecked Bloody Marys, served with a fat, peeled Georgia shrimp curled on the lip of the glass. Or an appropriately seaworthy specialty, the Dark and Stormy: Goslings Bermuda Black Rum with Reed's Jamaican-style ginger beer, in turns sweet and prickly, sipped from a Mason jar.
This might be your last chance for a while to peel fresh, wild, boiled Georgia white shrimp at a waterside table with your besties, so dig in to a quarter-pound ($8). Unafraid to break with tradition, Executive Chef Archie Prince offers up a few twists – the boiled shrimp seasoning is Montreal, not Old Bay, for example. And then there's the clam chowder. Part Brunswick stew, part Manhattan-style clam chowder, this tomato-based thick clam stew is topped with fresh chopped basil. Quite the little pick-me-up.
Coastal Kitchen offers both brunch and lunch dishes on Sunday, including favorites like French toast with pecans and maple syrup, pancakes with bacon and lots of eggy goodness. The lobster omelet ($13) has big bites of tender crustacean, with tomato, basil, onion and piquant Sweet Grass Dairy goat cheese. The Crab Cake Benedict ($13) is two beautifully soft-hearted poached eggs on humble, tasty crab cakes – the kind with plenty of crab, but enough little flecks of red pepper to make them interesting – and a coat of hollandaise. Both come with a choice of the slightly odd hash browns (more like big, pellet-shaped tater tots) or thick stone-ground grits.
If you're feeling more lunch-like, you could opt for a burger, chicken salad or fried shrimp, but the Baja fish soft tacos, with blackened red grouper, cilantro lime salad, black beans and pineapple salsa, are a great way to go.
Too stuffed for sweets, we waved off the dessert menu, as tempting as the key lime pie and chocolate crème brulee sounded. (It was just as well – our sleep-walking, forgetful waitress had already stretched our mealtime past our not-very-urgent deadline.) We were ready to go. The driver, charged up on potent coffee; we passengers already nearing head-nodding drowsiness for the long drive back. No longer pouting, we watched St. Simons recede in the rearview mirror and contemplated our return.
Bon voyage!