The Ad Man And The Rocker
Diverse talents converge at Mother Nature Network, creating a kinder, gentler and highly successful environmental website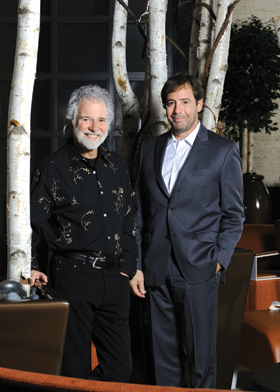 You better change your ways if you plan to stay.
Jeff Mosier ("Any Mother Nature Would")
It's not easy being green.
Kermit the Frog
It's a good thing for Joel Babbit that The Rolling Stones weren't on tour in 2008 when he called their longtime keyboardist, Chuck Leavell, about an idea for a new website.
"The timing was just right," says Leavell, a Georgia Music Hall of Famer and sought-after player who has gigged with the Allman Brothers, Eric Clapton, George Harrison, Blues Traveller and The Black Crowes (among others) and founded his own Southern fusion band, Sea Level, and is also a celebrated tree farmer and conservationist.
"If we'd been touring, it would have been difficult for me to engage in something like this," Leavell says. "So I'm glad Joel called when he did, because it really has re-energized me."
The "it" that has re-energized Leavell is The Mother Nature Network (www.mnn.com), Babbit's brainchild, the Atlanta-based website that has spread across the planet like triffids with frequent flyer miles.
Since it was launched in January 2009, MNN has become the most-visited for-profit environmental site on the WWW, receiving about 3.3 million visits per month and 11 million page views (the number of pages a user checks out while visiting a site).
That growth may or may not have something to do with Leavell's involvement, but there was never a doubt in the marketing maverick's mind that the conservation-focused musician should be part of the scheme.
"When the opportunity came about, there was nobody I knew that was as knowledgeable about the subject of environmental conservation as Chuck, so I certainly wanted his opinion, to see if he thought this idea made sense," Babbit says. "And, of course, to see if he'd get involved.
"He's a great partner to have. Chuck can open many doors."
Of course, even before calling Leavell, Babbit had decided the idea made sense. He'd already secured millions of dollars from several deep-pocketed friends, and anyway, what makes sense to someone else rarely sways Babbit once he's made up his mind.
"There are always a million reasons not to start a business – pretty good reasons, too. The first advice people give you when you start something like this are all of those reasons you shouldn't," Babbit says.
"So you've got to learn to disregard all of that advice, because if you listen, you wouldn't do it. You'd never do it."
Babbit did it all in a day – he raised $10 million in start-up funding for his website and sold Leavell on the idea.
"A lot of people have told me how amazing it was, to get all of that done in one day, to raise money like that. But it's not just one day," Babbit says. "It's a whole career spent getting to the point where people will say, 'I have enough confidence in you, I'll put some money in.' You know what I mean? This kind of thing isn't accomplished over a day, it's accomplished over a career."
$10 Million in a Day
And Babbit has accomplished a lot. In his 20s, he supervised the Coca-Cola account at McCann Erikson, was general manager of Chiat Day in New York, co-founded Babbit & Reiman Advertising of Atlanta, sold that to London-based GGT, later started 360 in Atlanta and sold that to Grey Global Group. In between all that, he left the private sector for a while to become the chief marketing and communications officer for the city of Atlanta, at the late Mayor Maynard Jackson's request, to sell the 1996 Summer Olympics.
He was president and chief creative officer of Grey when the MNN idea occurred.
"More and more of our accounts were spending money on environmental messaging. It was across the board," Babbit says. "They would be discussing environmental subjects during meetings, and I had no idea what they were talking about, so I went to the Internet for information, and it was like reading a textbook or it was overly political.
"Anyway, it was really technical and way over my head. I figured there must be tens of millions of people like me who are not scientists or experts, just average people who want to know more about environmental issues, and they must be going through the same thing I was going through.
"So I thought there was a pretty good business opportunity there, to fill the void with a site that was for mainstream consumers, a site that wasn't so political or technical, that was engaging. That's what I discussed with Tom Bell over lunch one day."
Bell, the former chairman and CEO of Cousins Properties, was also a former ad man, and he was very familiar with Babbit and his work.
"Joel asked me if I wanted to know something about the environment, what would I do. I said I'd check the web, so that's what we did," says Bell, who now chairs Mesa Capital Partners, a private equity firm. "So he asked me a question about recycling. We brought up about 150 sites, none of which answered the question.
"He said there was no one place that could easily show what I wanted to know, no WebMD for the environment, and he said he was going to create the go-to place for all things concerning the environment, sustainability and so forth."
Bell thought it was a great idea, especially if Babbit would be the person calling the shots. Babbit said it would cost about $10 million to start, and Bell said he'd give 20 percent, then picked up the phone and called former Georgia-Pacific chairman Pete Correll, who matched that $2 million. Later that day, Babbit got his old friend Doug Hertz (who runs United Distributors) to put in another $2 million.
After dinner, he called Leavell and the two of them put in the rest of the money.
Other investors also wanted in. Jim Robinson, former chairman of American Express, for one. Also, CNN bought 10 percent of the company.
Different Roads
CNN is one of the few things Joel Babbit has in common with Alex Sherman. Babbit likes the Cable News Network for obvious reasons, and Sherman's company, Green Life Pages (www.greenlifepages.com) has a Facebook page on which it lists CNN as one of its "likes."
Both men brim with confidence, and both are entrepreneurs in the environmental sector of cyberspace. But Sherman's road could hardly be more different from Babbit's. For one thing, he doesn't have friends who can write checks for millions of bucks (or hundreds of bucks, for that matter), or years of experience in advertising and media. He's only 22.
Like Babbit, though, Sherman's connection with a popular Georgia musician helped launch his first green enterprise. He was 18 and living in Gainesville, where he took care of his great aunt, who was dying of emphysema.
"I realized early on that I couldn't work full-time and go to college and take care of my aunt, so I quit college," says Sherman, who grew up feeling like an outsider in rural White County. "I worked and worked, but $8.50 an hour just wasn't cutting it, so I started a cleaning company, and my aunt was my first client, my test dummy."
He'd been getting interested in the idea of living a greener lifestyle, so he made all the cleaning products himself, using ingredients like vinegar, baking powder, lemon juice and olive oil. And he called his company Eco-Friendly Maid Service. The company began to grow quickly when Atlanta singer/songwriter Shawn Mullins and his family hired Sherman and spread the word among their friends.
"Business exploded," Sherman says. "Before long, 90 percent of our work was in Atlanta. Honestly, I started the company to make money and go green, not because I was passionate about cleaning."
He hired extra help to meet the growing demand, even moved to East Atlanta Village for a while, found a business partner and first sold 50 percent of the company, then sold it all so he could start a new venture. He had an idea for a green business directory and launched the Green Life Pages in March 2010.
"The thought behind it is to provide the public with a good source, like the yellow pages," Sherman says. "There already were plenty of green business directories, but I thought they were charging too much, and they were mostly directories. I wanted to offer recipes and home remedies and articles that tell you how to make your own eco-friendly cleaning products.
"I guess what I really wanted was an electronic environmental publication."
Not unlike the Mother Nature Network, but not like MNN, either. Green Life Pages is barely making money – "right now, enough to pay our bills," says Sherman. With MNN, Babbit has done a rare thing in the age of crumbling news media. He's making money.
"For this to work, we couldn't approach it the same as other websites, with the same advertising model," he says. "This is a huge issue with us, because with 99.9 percent of every website out there, you know, advertising is sold the same way it was sold in newspapers 100 years ago. You can buy it by the inch, you can buy it by the day. It's an ad. Our model is totally different."
MNN advertisers (or sponsors – MNN people use the terms interchangeably) pay $300,000 a year to sponsor categories or sections on the site. The MNN roster is a who's who of some major corporate muscle, including some of Georgia's largest, and some of Babbit's former clients from his days in advertising: Aflac, AT&T, Coca-Cola, Dell Computers, Georgia-Pacific, Siemens and Southern Com-pany, among others.
"We have a sponsor model that's working and is a tremendous benefit to us," says MNN Vice President and Managing Editor Emily Murphy.
Instead of banner ads, what you'll see from the sponsors on MNN are video clips, interactive graphics – advertorials that are marked as such. MNN also uses some press releases, or information provided by sponsor flacks within some news stories and sections, but those are usually identified, too.
Not always, though, to read some comments on the site. Readers took exception to a story in July about Southern Company's environmental responsibility that reads like a press release from the utility's PR department (though there was an editor's note identifying Southern Company as an MNN sponsor and two clearly-marked ads placed next to the article).
And even though Babbit and Murphy have said MNN will run stories that reflect negatively on a sponsor, you're not going to find much about Southern Company's opposition to federal clean air standards. This has led some readers to accuse MNN of "greenwashing" on behalf of their advertisers.
"Look, if you have a company like Southern Company or Geor-gia-Pacific or whoever, a company that has been around for a lot of years, it's very likely that in the past you did things that weren't appropriate for the environment," Babbit says. "The question for us is not about what a company has done in the past, it's what are their intentions and plans for the future.
"We've turned down a couple of potential sponsors and not pursued some others be-cause they are still screwing up the world."
The other thing is, MNN is not an environmental news site in the strictest sense, and not all the news their journalists, bloggers or content providers generate is about the environment. A recent list on the MNN homepage had links to stories about Domino's Pizza planning a store on the moon, Atlanta's Dragon*Con marking 25 years, and home security tips mingled with stories about chemical spills and famine relief.
"You don't see the word 'green' in our name, you won't see 'eco-friendly.' We're not called the 'environmental news network,'" Babbit says. "That's intentional, because we see environmental stewardship as a subset of responsible living."
How to Fish
MNN homes in on LOHAS, or Lifestyles of Health And Sustainability, which encompasses an estimated $290-billion U.S. marketplace for goods and services focused on health, social justice, personal development, sustainable living and the environment.
"We saw that so many sites were narrowly focused on certain aspects of the environment, and we wanted to grow into something broader; and I think we're getting closer to that," says Leavell, who has written several books focused on conservation but saw his initial role as something akin to a media figurehead.
He has expanded well beyond that, taking a lead sales role with sponsors and potential sponsors, such as Mercedes, CSX and the U.S. Department of Energy.
"Sure, having a Rolling Stone did get us a lot of early attention," says Tom Bell. "But the thing about Chuck is, he's not a celebrity who happens to be dabbling in environmental issues. He's an environmentalist who happens to be a celebrity."
Sherman doesn't have a staff of more than two dozen, he doesn't have the scores of bloggers and contributors MNN has, or a rock 'n' roll legend to bat cleanup or play the occasional gig to help woo clients. Green Life Pages is basically Sherman and his partner Lisa Highfill, who received a new MacBook Pro in lieu of an actual salary when she joined him.
The two of them write most of the original content on Green Life Pages, and the focus is heavy on how to live green, period. That includes the way you eat, the way you clean, the way you maintain your body and your mind. Sherman's pride and joy is the growing database of home remedies, which he writes.
"When I'm done it'll be the largest online database of home remedies, but we're about a year away," he says.
Meanwhile, he's working hard and getting by – he still works for Eco-Friendly Maid Service, but has dreams of something bigger. This is something else he has in common with Babbit.
"It will grow, and one day we'll start getting offers from larger companies wanting to buy our website," Sherman says.
He's only 22, and not thinking about any such thing as legacies yet. Babbit is a young 58 and isn't thinking about legacies either, unless he's prodded.
"Being that we're doing this for profit, I'd like to be remembered as someone that sold this company for a zillion dollars," he says. "That would be a good legacy.
"But not only that he did it for a lot of money, but he really did some good things, because MNN educated mainstream consumers about important issues they couldn't understand before. It's an overused phrase, the one about giving a man a fish and he eats for a night, versus teaching him how to fish. But we are teaching how to fish here, and I think that's a good thing, too."