Power Players: Back In The Game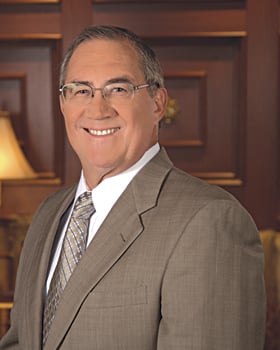 Reynold Jennings retired in 2007 from Tenet Health-care where he'd served as chief operating officer since 2004, but he still wanted to work. He joined the boards of two healthcare companies in Atlanta and Philadelphia. He started four companies in the Atlanta area that supplied services and products to doctors and hospitals.
And when he was asked in the spring of 2011 whether his name could be put forth as a member of the board of directors of Marietta-based WellStar Health System, Jennings answered in the affirmative.
"I lived in the community for 12 years," he says. "I had years of experience, so if the board thought I could be of help to them, I was glad to talk to them." But when Jennings got a phone call a couple months later, it wasn't about joining the board. Instead he was asked whether he would join WellStar as CEO.
"After four days of prayerful consideration with my wife," he says, "we decided it was a good way to give back to the community that we've been in and plan on staying in for the rest of our lives." He was officially named CEO of WellStar in August 2011.
WellStar hit the jackpot. Jennings is a seasoned veteran in the healthcare industry with 35 years of experience initially as a practicing pharmacist, then rising in the ranks of hospital administration in hospitals and healthcare systems throughout the southeast.
In his last full-time position at Tenet Healthcare, Jennings was responsible for 69 hospitals in 13 states. He had nothing to prove by accepting WellStar's offer, but he was intrigued by the challenge.
"One of the things that appealed to me about joining WellStar is that, nine years ago, this system adopted its vision to become a world-class healthcare system," says Jennings.
"All the major components are there: the highest possible quality and safety that you could provide; the most up-to-date technology tools to help nurses, doctors and other staff members do their job efficiently; the communication with doctors in how to work more efficiently both at their offices as well as when they're in the hospital. As a citizen who's lived here for 12 years, I was able to watch the transformation starting to take hold."
Because he'd kept his hand in the industry, Jennings was up to speed on the latest news and trends, especially development of and debate around the Patient Protection and Affordable Care Act (PPACA). Like every other healthcare provider, Well-Star is waiting to see what the courts decide about the PPACA while continuing to plan for the future.
"We are under the pressure of trying to upgrade our IT systems without knowing what the total scope of products and services we're going to provide will need to be," says Jen-nings. "We're having to pro-gress as if it's going to happen, and then we'll make fast changes depending on what's in or out in the Supreme Court's final decision."
WellStar is hardly letting grass grow under its feet. In addition to five nonprofit community hospitals – Cobb Hospital in Austell, Douglas Hospital in Doug-lasville, Paulding Hospital in Dallas, and Kennestone and Windy Hill Hospitals in Marietta – the system is expanding infrastructure and services.
Current projects under construction include a $38-million private wing tower at Kennestone, which should be completed in fall 2012, and the Acworth Health Park, a $64-million multi-phase project taking a one-stop approach to healthcare. It will include urgent care, diagnostic center, pharmacy, physical therapy and community education and wellness centers.
In fiscal year 2010, WellStar provided health education classes, events and screenings for 200,000 individuals.
Jennings points out that much of WellStar's growth was planned and implemented during the tenure of previous CEOs. "This system is here today because of their efforts not mine," he says. "I'm just getting started." That means he's out pressing the flesh, Jennings-style.
"I'm a visible CEO," he says. And he marvels at the path leading him to WellStar. "If they called two weeks earlier I wouldn't have been interested. But I had accomplished all the major things I wanted to do in retirement and had been wondering, 'What's next for me?' The timing of the call was perfect."