Organizations: Dream Weaving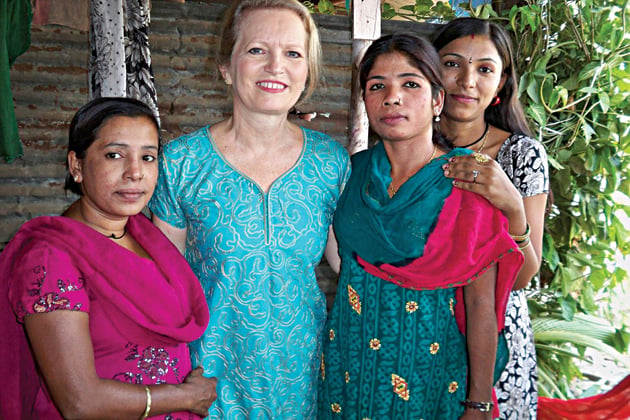 The packaging of the jewelry, scarves and textiles at Rahab's Rope conveys the shop's mission with affecting simplicity: black-and-white photos of the Indian women who make them. Their faces beam with pride, in many cases, for the first time.
The gift store in downtown Gainesville finances a program that helps girls and women involved in the subcontinent's sex trafficking industry through "prevention, direct rescue, education, basic healthcare and vocational training."
"Girls often are sold into brothels around age 10, or younger, and they are considered 'used up' by 20, after years of trauma and abuse. Most can't read or write – and [have] no skill set," says Vicki Moore, a Gainesville native who founded the nonprofit in 2005 after several eye-opening mission trips to India.
Moore's program started with basic tutoring and hygiene kits, and it now has expanded to meet a variety of needs, from housing to medical surgery, through outreach in Bangalore, Goa and Navi Mumbai.
"They want a skill set, not a handout," Moore says, so Rahab's Rope, with a full-time staff of 10 and more than 100 volunteers, focuses on vocational training, including arts and crafts sold through the Gainesville store.
Compassionate Consumerism: The boutique, with its high-grade bohemian accessories, appeals to socially conscious consumers ("Ask us how you can save lives" reads the sidewalk sign) and finances about 70 percent of the mission, with donations rounding out the budget.
"I didn't want to work as a full-time fund-raiser," Moore says. "I wanted a business model that would empower these women to see what they are capable of, which has a ripple effect. In addition to funding what we do, their products earn them 30 percent more than they would make at a garment factory."
Ties That Bind: The program's name derives from the Biblical story of Rahab, a prostitute who hid two Israelite spies beneath some flax, which suggests she might have been a weaver, Moore says.
The spies promised that if she hung a red rope outside her window, her home would be spared when their army attacked the city of Jericho.
"Rahab's salvation – physically and spiritually – came from that textile rope," Moore says, "so it seemed like an appropriate metaphor for what we are trying to do."