One Size Does Not Fit All
The unintended consequences of pervasive public school testing have led Georgia and other states to seek a waiver from federal No Child Left Behind requirements No Child Left Behind requirements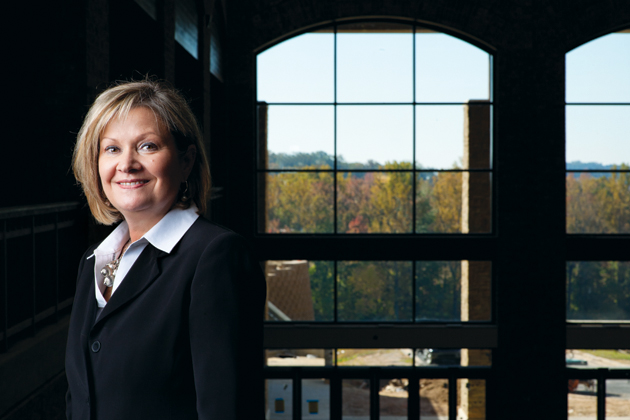 Dr. Carol Rountree remembers it well, the warning handed down by the Rich-mond County School System superintendent almost 10 years ago, in which he stressed the potentially disastrous pitfalls of placing too much weight on a standardized test. The warning became a self-fulfilling prophecy.
It wasn't so unusual for an education administrator to see the fallacy in the No Child Left Behind Act back then – the federal law had plenty of critics early on. But the superintendent, Dr. Charles Larke (he resigned in 2006), said some things that really stuck with Rountree.
From the start, No Child Left Behind (or NCLB) required that public schools receiving federal funding give a statewide standardized test to all students each year – the exam is supposed to measure student progress and a school's teaching success. The idea – the requirement, by law – is to achieve Adequate Yearly Progress (AYP).
In other words, third graders taking the test this year are supposed to score better than last year's third graders, and so on, until 100 percent of students (including disabled and disadvantaged students) in a school reach the same state standards in reading and math by the 2014 federal deadline.
For schools that fail to meet AYP, especially repeatedly, the pressure and the mandated steps for improvement can be onerous, reflecting poorly on teachers and staff. Back in 2006, Richmond County had just calculated AYP for the first time. The results weren't great, but what Rountree remembers most is Larke's prescience.
"He was concerned that over time, as we grew closer and closer to the 100 percent deadline, the sheer pressure, stress and anxiety on teachers and staff would cause people to do things they wouldn't ordinarily do," says Rountree, now the Richmond County system's executive director of student services.
"He was worried that it would cause people to do dishonest things, because they would be so anxious about their continued employment, and they would wonder, 'How am I going to accomplish these goals? What does this mean to my school, my students?'"
Under the parameters of No Child Left Behind, Richmond County isn't setting any records, not the good kind anyway. The 32,000-student system finished tied with Muscogee County for last among larger systems in making AYP – both had only 18 of 55 schools reach the mark.
Room for improvement, Rountree says, but judging an entire system as failing because of a standardized test creates the kind of pressure-cooker situation Larke was talking about all those years ago.
"He said that reasonable people would feel compelled to do unreasonable things," Rountree recalls. "And that's exactly what has happened."
You can imagine Rountree looking westward from her office in Augusta as she says this last bit, toward At-lanta, whose school system was riddled by a widespread cheating scandal that allegedly involved more than 200 teachers and administrators, who erased and corrected students' mistakes on the CRCT (Criterion-Ref-erenced Competency Tests).
State investigators uncovered years of shenanigans in the Atlanta Public School system, from the classroom to the office of then-superintendent Beverly Hall, who was accused, with her lieutenants, of squelching records and reports of cheating.
Thousands of students advanced to higher grades, regardless of their actual scores, while educators often kept a low profile, lest they be reprimanded or fired in what investigators called a culture of "fear, intimidation and retaliation," in what may be the country's biggest cheating scandal to date.
But what happened in Atlanta was an aberration, says Melissa Fincher, associate superintendent of assessment and accountability for the Georgia Department of Education (DOE).
"As monumental as the Atlanta Public Schools situation was, as distressing as it was, the vast majority of school systems are administering the tests appropriately," Fincher says.
And yet, state education officials launched a statewide investigation of schools suspected of tampering with test results when an abnormal number of erasures were found, changing wrong answers.
Richmond County has been under the microscope in the past for a suspicious number of erasures, but ultimately passed muster with state investigators. Meanwhile, as of September, Dougherty County in South Georgia was the focus of a cheating probe.
"The stakes associated with testing have really morphed over the last 10 years – the stakes have increased, and it's created additional pressures," Fincher says. "In the end, it's the students who will pay the consequences of poor decisions made by adults."
In September, Georgia (along a majority of the states) was seeking a waiver from NCLB, which means the pendulum may be swinging back to what Fincher calls, "a more common sense approach.
"Tests should be part of instruction and the learning process, but it shouldn't be the sole means by which a person or an organization is judged."
Regardless, standardized, one-size-fits-all state tests are the leading metric of school assessment. Teachers in 26 Georgia districts are to be paid based on their students' performance on standardized tests, a merit-pay plan that is part of the $400-million federal Race to the Top grant the state secured in 2010, a merit-pay plan that could potentially go statewide in four years, under provisions of the grant.
Right Idea, Wrong Plan
Who could argue against the basic premise of No Child Left Behind?
"The philosophy behind it was right on," says Dr. Julie Broom, who works out of her home in rural White County as director of field operations and instruction for the Institute for Research and Reform in Education (IRRE).
The nonprofit IRRE partners with schools, districts and states to improve learning environments in struggling secondary schools. Broom travels the country, working with middle schools and high schools in places like Austin, Los Angeles and New Orleans (she and her family moved to Georgia two years ago from Texas, but so far IRRE has no partnerships in Georgia).
"But the implementation of No Child Left Behind was all wrong," says Broom, who taught at every grade level except third and was a reading specialist working with special education students.
"Testing became the focus, not learning, not teaching critical thinking – testing – and it created new levels of bureaucracy, and it's costing an inordinate amount of money. Meanwhile, the testing industry has grown by leaps and bounds."
The annual cost of standardized testing in the U.S. has been estimated at somewhere between $20 billion and $50 billion. (That doesn't include the cost of remediation for students who aren't up to par.) The cost of writing tests (and grading them) is part of that. Publishing giants like McGraw-Hill or Houghton Mifflin Harcourt already were making millions in testing before NCLB. But NCLB served to boost the test-writing business.
"It's definitely a multi-billion-dollar endeavor," the DOE's Fincher says. "It was a big industry before, but not the extent of what has happened since No Child Left Behind."
And it's helped grow another business, she says.
"Test preparation has become a whole cottage industry that produces study books and guides to help students prepare and succeed on state assessments. Our testing vendors are not allowed to do that type of thing, though," she adds.
"It's in their contracts. But in terms of those testing contractors, No Child Left Behind certainly increased their bottom line, no doubt about that."
Georgia administers a handful of standardized tests. The "big three" are the GHSGT (Georgia High School Graduation Tests), EOCT (End of Course Tests, for high school students), and the CRCT (for third through eighth grade). The GHSGT is being phased out. The state DOE pays McGraw-Hill about $11 million a year to produce the CRCT, and more than $5.4 million to NCS Pearson for the EOCT.
"These are not off-the-shelf products," Fincher says. "They are customized programs built specifically for Georgia and owned by the state."
Both the CRCT and EOCT precede No Child Left Behind. They are products of Georgia's A+ Educational Reform Act of 2000.
"No Child Left Behind didn't have a huge effect on the growth of our division on the assessment side, because the structure was already in place," Fincher says. "However, the accountability team really had to ramp up because of NCLB and the calculating of AYP, which created new expectations for the division. It's been a massive endeavor."
Miles Apart
The Stephens County and Vidalia city school systems are some 200 miles apart, in two distinctly different rural outposts, with two distinctly different outlooks because of two distinctly different test patterns.
In the latest report card, Stephens County, with about 4,100 students, met AYP as a district, and batted 1.000 in the process – all six schools in the system met AYP, a rare feat in a state where 37 percent of the schools didn't meet AYP. Meanwhile, Vidalia, with about 2,500 students in the four-school city system, went 0-for-4.
So, the perspectives on standardized testing from these two systems, with similar poverty levels (Title I, the federal program that provides funding for schools with heavy concentration of low-income students, comes into play in virtually equal measure) is what you might expect.
"We have a strong system-wide strategic plan focused on student achievement," says Stephens County Superinten-dent Sherrie Whiten. "We don't just want to rely on that standardized test at the end of the year to see if our students are making progress, so we assess frequently and throughout the year. So if the kids don't get it, you can start remediating."
Essentially, among all the other things Stephens County does well, they do a fabulous job of teaching to the tests, and it's a good thing, because if a Title I school misses AYP for two straight years, it's labeled "in need of improvement," and students may transfer to a higher-performing school within the district.
Three straight failing years and a school must offer free tutoring and other supplemental services to struggling students. Four straight and the school needs "corrective action," which could mean massive staff turnover, increased class times and new curriculum. Five straight years means total restructuring of the school and six straight means the restructuring plan is implemented and can result in school closure.
And it's all based on how kids do on a test.
"How much time do you have? I'm retiring soon, so I can say anything I want," says Dr. R. Tim Smith, Vidalia's superintendent. "Look, I think every educator in the state understands the need for accountability. But some politician hundreds of miles away who has no idea about Vidalia, Ga., says 'Let's just test 'em, that'll fix it,' as if everything is fine if the kid passes the test.
"Well, the test is just a one-day snapshot. You can't memorize facts and say that you're an educated person."
Smith says that Vidalia doesn't have the staff or resources to give students there the kind of remedial instruction they need for some portions of the CRCT. He says they don't have a lot of money, period, especially after almost a decade of annual cuts in public education made by a scissor-wielding state legislature.
"They're taking money away and giving it to charter schools, and that has a negative effect on small systems like ours," he says. "So we've tried another route."
Vidalia has partnered with neighboring school systems in Montgomery, Toombs and Treutlen counties to pool their resources for a $7-million charter school/career academy on the campus of nearby Southeastern Technical College.
Southeastern Early College and Career Academy (SECCA), Georgia's first regional charter school, opened in August. Students can take academic courses that will transfer as college credit or study for careers in areas like auto mechanics or cosmetology, and there is huge interest in the ROTC program. In addition to the building at Southeastern Tech, there is SECCA classroom space on each of the high school campuses.
"All of us can't offer AP [Advanced Placement] classes; we can't afford to separately. But we can together," Smith says. "And not everyone wants or needs college. We've done a marvelous job of convincing the entire world that if you want to grow up and have a happy, successful life, you've got to go to college. That just ain't so.
"If I take my car in for repairs, I don't expect to discuss the finer points of Shakespeare with the mechanic, and I don't think he wants to discus the finer points of the internal combustion engine with me."
Which gets back to the NCLB waiver. Smith and his colleagues around the state seem to like the idea.
"It makes sense from the standpoint that you've got the accountability that everybody agrees we need," Smith says. "But it's based on several things, not just one test."
New Rules?
John Barge's knuckles weren't turning white, but he had reached the heightened state of awareness all dads reach when they are in the passenger seat and their child is in the driver's seat.
"My daughter had just gotten her learner's license, and you know, you go into the Department of Driver Services and take a multiple choice test, and if you pass you get that learner's license," says Barge, Georgia's state school superintendent.
"So she's driving down the road for the first time, approaching a caution sign, and I ask her what the sign means. She said, 'I don't know.' I said, 'What do you mean? Didn't you study signs to pass the test?' She says to me, 'Dad, I didn't study that book. I just took the test.'"
His point: "What we've done in focusing on a test is prepare children to pass a test, like my daughter was able to pass her written driver's test. But she wasn't ready to get behind the wheel.
"We graduate students who are able to pass tests, but that doesn't mean we've prepared them for college, or a career."
So on September 20, Barge and U.S. Senator Johnny Isakson delivered an alternate accountability plan to U.S. Education Secretary Arne Duncan, something that would waive Georgia from the almighty test requirements under NCLB (an ironic move for Isakson, who helped author the NCLB legislation).
Barge says Georgia has been working on the plan, the College and Career Ready Performance Index (CCRPI), for about 18 months.
CCRPI will look at a host of indicators across the board, Barge says, and all will be part of a school's overall score. So, in addition to achievements in testing, schools will score points for closing achievement gaps, for showing improvement, for rising graduation rates.
For kids looking at college, CCRPI will measure the percentage of those passing AP exams.
"And on the career-ready side, what better measure of career readiness is there than a credential saying you're ready to go to work in your chosen field," Barge says "So we'll look at the percentage of students graduating with a work-ready certificate."
Georgia was waiting for a decision from the feds on the waiver as of early October, and Barge wants the new plan to apply for the current school year.
"This will take accountability to the next level. It looks at the full scope of work that schools do to prepare students to become successful in college and careers," Barge says.
"Yes, test scores are part of it, but there won't be an unhealthy emphasis on testing. We don't want to put all of our eggs in one basket any more. That's a disservice to our kids and our schools."