Healing The Sick
Specialization and expansion set the tone for modern healthcare facilities.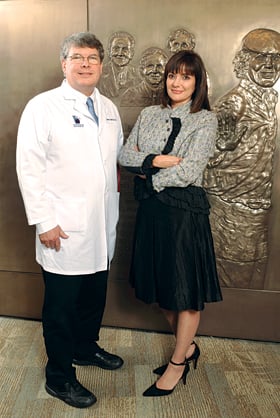 If there ever is a moment of truth this is it: Your life hangs in the balance and you've got to choose, right now, where you'd like to go to try and save it.
Patti Chism went to her doctor in Toccoa for what she thought would be some medicine for her cholesterol. But, as her husband, Billy Chism, wrote in his weekly newspaper column after it all went down, "She failed the stress test miserably once the treadmill was tilted slightly and speeded up."
The doctor called for an ambulance and gave Patti the choice: Emory in Atlanta, or Northeast Georgia Medical Center in Gainesville.
"Fortunately, she chose Northeast Georgia Medical Center," says Billy, who is the publisher and editor of White County News in Cleveland.
Nothing against Emory, he adds – its long and excellent reputation speaks for itself. (See HealthGrades charts, p 78.) But Emory is 95 miles from Toccoa. Northeast Georgia (NGMC) is a 45-minute drive if you do the speed limit, and the Chisms felt that time was of the essence.
"She didn't waste any time choosing," says Billy. "But can you imagine 30 years ago saying you wanted to go to Northeast Georgia instead of Emory? I can't."
That's because 30 years ago NGMC didn't do open-heart surgeries; it didn't have a Ronnie Green Heart Center. It was a community hospital, not the regional mender and healer it is today, not part of a growing amorphous entity called Northeast Georgia Health System.
How the times have changed. Fast forward to now, and NGMC has been rated the No. 1 heart hospital in Georgia for seven straight years by independent health care ratings organization HealthGrades, Inc.
This fact wasn't lost on the Chisms, because NGMC has tried to make sure the 750,000 people in its 13-county service area know about the heart center. This comprehensive healthcare system on the doorstep of Appalachia has built a national reputation for its heart care, which has lifted the whole enterprise.
"We recognized from the start of the CON (Certificate of Need) process that this service had the ability to impact everything we do," says Tracy Vardeman, NGMC's vice president of strategic planning and marketing. "And it's raised the organization. The cardiac service line has impacted our entire service complement and set the tone for our future."
She's right. NGMC is also first in Georgia for overall gastrointestinal care. It's also one of three healthcare centers profiled here, medical centers that have earned high rankings and auspicious distinction for focused specialties, sharpening their level of care and innovation.
The three centers are situated on a busy paved line swarming with potential patients, running northeast (NGMC) to southwest (Tanner Health System in Carrollton), with Emory's Winship Cancer Institute right in the middle.
Winship Cancer Institute
Robert W. Woodruff gave more than $230 million to Emory University in his lifetime, some of it anonymously, some of it through foundations he controlled. Emory's Woodruff Health Sciences Center (and so much else in and around Atlanta) is named for the longtime leader of Coca-Cola.
But his first gift to Emory may have been the most important one. The first one was personal.
In 1937, Woodruff lost his mother to cancer. Later that year he gave $50,000 to Emory to establish a medical center that would specialize in fighting cancer with the latest treatments available, the first of its kind in the Southeast.
Today the Winship Cancer Institute of Emory University (its new official title) is a sister institution to Emory University Hospital and Emory Hospital Midtown, which are listed among the HealthGrades top hospitals this year in several categories. Named after Woodruff's maternal grandfather, it has Georgia's largest cancer treatment center and numerous research programs. In 2009 it became the state's first (and so far, only) medical center with the coveted National Cancer Institute (NCI) designation.
The process to achieve that designation took five years and was funded by a $2.5-million NCI planning grant.
"That NCI designation becomes the platform from which subsequent, well-integrated growth in both cancer research and integrated cancer care can happen," says Dr. Walter Curran, executive director at Winship. "Without that platform, the growth doesn't happen in the same organic way.
"Most medical schools are organized by specialty, silos of surgeons, pathologists and so forth. When you create a strong cancer center, a matrix cancer center like this one, it requires an interdisciplinary approach, collaborative program development. Without the incentive of NCI designation, sometimes that happens at a slower pace."
In the 32 months since Emory announced the NCI news, Winship has attracted 11 new senior investigators and 55 junior investigators across a spectrum of cancer sub-specialties.
The deep roster of researchers, clinicians and faculty operating under the auspices of Winship are staffers at Emory, but also come from Georgia Tech and collaborate with agencies like the U.S. Centers for Disease Control and Prevention and the American Cancer Society.
For example, Curran notes, "About half a dozen researchers employed by the American Cancer Society are part of our program, working with our graduate students, with our faculty. Some have adjunct faculty appointments, and some are part of our external advisory committee."
Overall, about 12,000 patients are treated each year at Winship. And they have greater access to clinical trials and cutting-edge technologies because part of the NCI designation was a three-year, $4.3-million grant. After three years, the NCI reviews Emory's designation for a five-year renewal. (It'll be three years in April 2012.)
Winship scientists and clinicians currently are administering about 150 different clinical trials – and because Emory's patient base is so wide-ranging, Winship has better access to national trials.
"They want us in those trials because of the diversity of our patients," Curran says. "For example, we are among the NCI leaders in enrolling African-American patients in clinical trials – 31 percent of our patients in the past year, which is exactly representative of the state."
Tanner Medical Center
Carrollton is a sports town. It's a college town that loves University of West Georgia athletics, which has a national reputation. And they love their high school sports, their youth leagues, their tennis and so forth.
But it's not as if they break more bones than all the other similar towns in the Southeast where people like to get physical. They just happen to fix the broken ones there better than most. For three straight years, Tanner Medical Center, based in Carrollton, has been ranked No. 1 in Georgia for overall orthopedic services by HealthGrades.
And while Tanner's affiliated bone docs are very visible at high school and college games in the huge region they cover, they've earned their reputation for treating aging weekend warriors.
"It was logical for us to grow our orthopedic services," says Tanner Health System President and CEO Loy Howard. "For a long time we've had a large surgery program. We've brought in great physicians, because we recognized that with the aging of America, orthopedics was going to be a significant issue with active baby boomers."
In fact, HealthGrades makes its selections based on an intense and objective analysis of Medicare records over previous years, looking closely at patient outcomes, and since most Medicare patients are older, well …
"One of the more popular talks I give is about the weekend warrior," says Dr. Greg Slappey, president of Carrollton Orthopaedic Clinic, which CEO Howard describes as the quarterback of Tanner's multi-dimensional orthopedic service.
Slappey says his sports practice is more likely to treat a 40 year old with a torn meniscus than an 18 year old with a torn anterior cruciate ligament.
"No question that the sports boom is moving up through the middle ages," Slappey says. "So, our aging athletes are just as concerned about getting back to action as the 18 year old."
The success of the program and Tanner's ability to attract star physicians has led to the inevitable growth in services and facilities. Carrollton Orthopaedics added a spine program a few years ago and has a renowned physician, Dr. Brad Prybis, who trains other surgeons and spinal practitioners and lectures nationally on the subject. Joint replacement and sports medicine also keep the healers busy.
Meanwhile, Tanner's catchment area has expanded dramatically through the years, organically and through mergers, taking in at least 10 counties and two states. (Alabama is just a 15 to 20 minute drive away.)
"We've grown from a community hospital into a true regional medical center," Howard says. "Over the last decade we've transformed; we're now a four-hospital system and expanding capabilities and service area."
In the past eight years, Tanner has built a replacement hospital in Villa Rica, a new behavioral health facility (Willowbrooke at Tanner) and the Tanner Heart & Vascular Center (in Carrollton); made major equipment purchases and renovations to its Cancer Center; and added other infrastructure and service improvements, all totaling about $85 million.
Currently, the medical center is expanding and renovating the emergency department and surgical services (adding new operating rooms, Howard says) on the Carrollton campus, an estimated investment of $60 million.
Northeast Georgia Medical Center
When NGMC submitted its CON for its heart program in 1999, it came with a passel of letters from people who live in Northeast Georgia.
"It just happened, almost naturally – we did talk it up a lot, but it was apparent that this was something the community really wanted," NGMC's VP Vardeman says. "So there was a letter-writing campaign, and the state was overwhelmed by letters."
Maybe that's why the Department of Community Health initially denied NGMC's request – they were frustrated by too many letters. In any case, NGMC's request went to a review board, which approved the CON, and 11 years later Gainesville is home to the top-ranked heart center in the state.
NGMC received a significant gift that helped jump-start the program 10 years ago when the family of Ronnie Greene, a lifelong resident of Gainesville who died of a heart attack, donated $4 million through the Medical Center Foundation for the new program, and it's taken off from there.
In 2000, the medical center was doing 1,000 cardiac catheterization procedures a year. In 2010 they did 4,500, and they performed about 600 open-heart surgeries. HealthGrades says it bases its rankings on outcomes, so apparently the outcomes at NGMC are really good by comparison.
And the service has branched out, well beyond Gaines-ville.
"Through our partnerships with community hospitals throughout the region, we're taking the service out to where our patients live," says Dr. Tim Scully, a cardiologist who is chief of staff at NGMC. "The goal is to get patients down here as quickly as possible, and we've managed to streamline that process."
NGMC is reaching out across the hilly miles of the region to improve patients' chances of surviving a severe heart attack (known as an ST Segment Myocardial Infarction, or STEMI).
With funding from the foundation, they've outfitted ambulances throughout Northeast Georgia with EKG equipment that allows paramedics to more efficiently determine a course of action – rush to a nearby hospital for stabilization, or go directly to NGMC. Meanwhile, the EKG is transmitted via modem to NGMC, where the experts are standing by.
"We have an open invitation to all EMTs and paramedics in our region to spend as much time as they want in our cath lab," explains Tom Edwards, director of heart and vascular services at NGMC. "But if they can't come to us, our paramedic educator will go out to them and provide a four-hour program on EKG interpretation."
The program, designed to save precious minutes and lives, isn't just about creating business for the Gainesville medical center, either.
"If you are in a county that is, say, closer to Athens' hospitals and the situation demands you need the quickest care, the equipment transmits to the Athens hospital," Edwards says. "This isn't about getting all the business we can, but the fact is that I will get some of the business, and I want our teams to be ready for the patients who do come through our door."
Click here for statewide hospital rankings for 17 different categories.