Art Of The Meal: Escorpion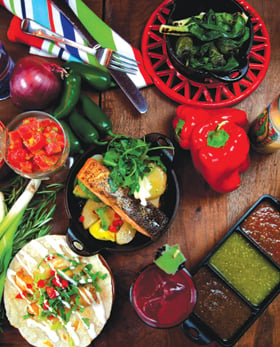 ESCORPION
800 Peachtree St. NE, Atlanta
678.666.5198
Reservations: Not accepted for parties under 10
Parking: Valet, off Fifth Street
Prices: Small plates, $4-$8. Taco platters (of four), $12.50-$18. Large plates, $12-$16.
Dress code: Comfortably hip.
Atlanta's economic downturn has stripped vital business districts, creating some sad byways lined with vacant stores and failed auto dealerships. Despite the odds, however, the city offers up some recent success stories, perhaps none so dramatic as the Midtown stretch of Peachtree Street between the Fox Theatre and 14th Street. Twenty-odd years ago, it was chockablock with boarded-up storefronts, tire repair shops and the crumbling, Caesar's Palace-esque Atlanta Cabana Motel, once a 1960s gem.
Now, of course, Midtown is one of the state's hottest residential and business districts, with high-rise condos, coffee shops and restaurants luring young professionals to its attractive, walkable environment. A few years back, some enterprising restaurants, most notably Baraonda and its now-closed sibling, Enoteca Carbonari, staked out an early claim, and the Georgian Terrace Hotel emerged from a long slumber to offer its elegant destination restaurant, Livingston.
Enter Riccardo Ullio, the inventive Milanese restaurateur who has some experience in "emerging" neighborhoods, plunking fraternal twin concepts Sotto Sotto (Italian fine dining) and Fritti (casual Italian fare) next door to each other in a once-dicey Inman Park area in 1999. Both still anchor the neighborhood, drawing foodies from far and wide. Like many entrepreneurs, Ullio has suffered setbacks: His exciting Juniper Street Spanish tapas bar, Cuerno (later retooled as Lupe), and next-door Brazilian watering hole, Beleza, both closed in 2010.
Happily, however, Ullio has returned to Midtown undiscouraged, this time with a restaurant that seems personally crafted to suit its high-rise denizen neighbors. Escorpion, at Peachtree and Fifth, is a jumping, jiving place, pulsating with contemporary Mexican design, hopping music and a menu made for attention deficit disorder.
Don't feel like chowing down on a big entrée? OK, how about a bunch of small plates, from Mojo Shrimp (Key West crustaceans with tomatoes, cilantro and garlic) to watermelon salad (with queso fresco, jicama, lime, olive oil and sea salt) to the fried tilapia soft taco, folded with caramelized onions, peppers and chipotle mayo?
Escorpion's crowd comes for the scene, the smells, the sounds, but perhaps most of all, the sips. This "tequila bar and cantina" offers a full booklet of imaginative nips, designed not to knock you out, but to move you – to make you wonder how these delicious combinations were invented, to get you thinking about a bite to eat, and maybe to walk over to the next table and chat with some folks there. It's so exhaustively researched that each section comes with a short history: Escorpion's beverage menu offers sours and "daisies" (English translation for "margaritas"), seasonal agaves, aguas locas ("crazy waters," or punches), sparkling cocktails, intensely stirring juiceless drinks, as well as, of course, tequila, offered in tasting flights or shots. You'll also find wines and beers, heavily but not exclusively Latinate.
Cleverly designed to allow suburbanites to enter the fray (there's valet parking at the entrance off Fifth Street), Escorpion ends up being a lot of things for a lot of people: Late-night or mid-afternoon haunt. Before or after-theater dinner. Snack bar. Neighborhood meetup. Destination for downright deliciousness.
On our second visit, we found perhaps the best possible way to enjoy Escorpion: with a big group of adventurous diners, willing to try it all. Despite the labor-intensive service required to serve drinks, wine and a variety of small and large plates for our table of seven, our lone waitress carried off the task with skill and good cheer, helpfully guiding us through menu conundrums.
Just dive right in: The Apache Sour, with sotol, apple jack and brown sugar, topped with frothy egg white. The crisply tart traditional margarita. A bottle of sparkling Spanish cava. Our group loved everything we tried, but perhaps especially the watermelon salad and organic quinoa, tossed with mango, avocado, mint, toasted pumpkin seeds, olive oil and lime. Hamachi ceviche surprised even people who have never tried raw fish. I loved finding a huitlacoche quesadilla, made from the fungus often called the Mexican truffle.
A large platter of tilapia tacos disappeared quickly, topped with a side of purple poblano cole slaw. The pork tamale passed my comfort-food test, and the seared duck breast, served with chipotle black beans, sweet and sour tomatillos and salvadorena (soft, mild white cheese) was a knockout. Some of us even had room for tres leches cake and flan for dessert. Splitting the tab this way also made the meal surprisingly affordable –many small tastes can be more satisfying than one big entree.
As much fun as Escorpion is, it is also unmistakably not quiet and serene and not a place for a detailed business meeting or intimate chat. Nor is it easy to navigate or recommended for small children or meat-and-potatoes types. It's certainly not a sure bet for a table on a busy night (reservations aren't accepted for tables under 10). Still, when your timing and occasion are right, it can be perfect.