Sports Legends: Heavy Lifting
Harry Smith went from Atlanta's Tech High to bodybuilding successes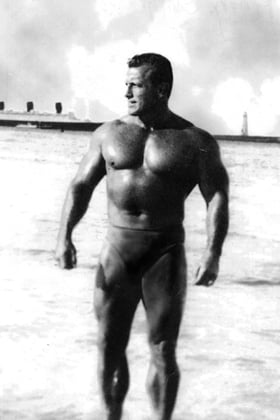 No trip to Tampa would be complete without a stop at the Smith Health Club, the oldest established health club in the United States. Harry Emerson Smith started his club and has owned and operated it since September of 1956 when he left Atlanta.
If you saw Harry Smith you would not believe he is 86 years old. He works out at his club three times a week, lifting weights up to 400 pounds and using most of his club's $400,000 worth of equipment.
In 1943, when he quarterbacked one of the greatest football teams old Atlanta Tech High School ever had, he was a slim 150 pounds. Today he is a slim 200 pounds, with not an ounce of fat on him.
He won the Junior Mr. America title and became a champion professional wrestler in his early 20s: You would think those were the happiest days of his life. Not so.
Harry says, "Nothing can compare with my senior year as a teenager at Tech High School" when he earned varsity letters for football, basketball, baseball, track, golf and wrestling.
"If I had my life to live over again," Smith says, "I would spend all of it at Tech High."
Smith graduated in 1944. With the war raging in the Pacific, he joined the Navy, where he learned to be a rear gunner on a torpedo bomber at military bases in Maryland, Tennessee and Texas.
At one time or another, Smith held 32 weightlifting and bodybuilding titles from Mr. Dixie to his Junior Mr. America crown. Harry Smith was Mr. Georgia, Mr. Southeast and Mr. Southern States.
Around the time he opened his own health club, he entered and won the Mr. Florida title. At age 40 he was the oldest contestant ever to win the Florida crown.
Smith never could be accused of being all brawn and no brains. He earned degrees in English, psychology and physical education.
In 1976, when the Tampa Bay Bucs opened play in the National Football League, one of their first hires was Harry Smith as strength and conditioning coach. He is a charter member of the National Strength Coach Association.
Weightlifting, body- building and professional wrestling aside, Smith's biggest thrill was the golf course. At the Palma Ceia Golf and Country Club, he once had seven birdies in one day. But neither golf nor anything else takes the place of the Smith Health Club. He is at work from 9 a.m. to 9 p.m. five days a week. No exceptions.
"I'm not married," Harry says, "except to my health club."
Take it from Harry Johnson, a former Mr. America titleholder. Harry Smith has been a "great inspiration to every bodybuilder in the Southeast."
Smith was born in Fort Oglethorpe, Ga., where his dad was stationed in the Army. The town is a stone's throw from Chattanooga, and that was where he started high school. He was an all-state blocking back on the Chattanooga City High School team.
Smith came to Atlanta in 1942 when his dad was transferred to Fort Mc-Pherson.
It was too late to become eligible for the football season but not too late for the Tech High practices at Piedmont Park. Smith's blocking in game-type scrimmages drew praise from head coach Allen Shi and backfield coach Hub Dowis.
Once the 1943 season rolled around, it was only a matter of time before Smith established himself as the No. 1 quarterback. It was two-way football in those days, and no one could play offense and defense better than Harry Smith. Smith cleared the way for such gifted ball carriers as Jack Peek and George Vlass.
"The way he came down here from Chattanooga and took charge made him an inspiration to me and every player on the Tech High team," Johnson says.
In the summers when he was bodybuilding with Bill Curry, Sr., father of the Georgia Tech and Georgia State coach and All-American football player, he was lifeguarding at Atlanta city swimming pools. With his nationally recognized body, blond hair and dark tan, he had the females swarming around him.
"He attracted attention wherever he went," Johnson says. "When he won the Junior Mr. America title, no one could top him."