Power Players: Building For The Long Term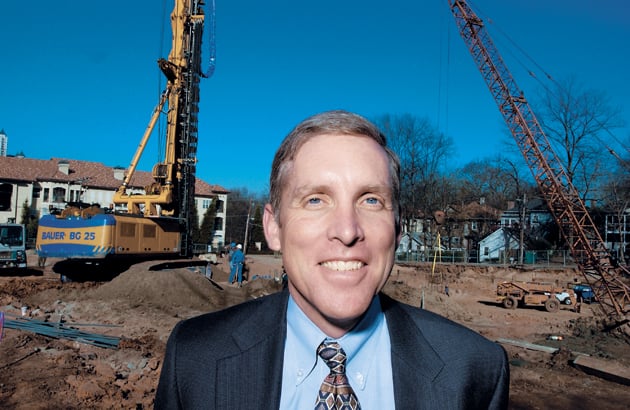 Throughout his 30-year career with some of the city's most successful commercial real estate companies, Larry Gellerstedt III developed a reputation as a smart, principled and conscientious leader. But he might be in the process of besting himself as he guides Cousins Properties through one of the most significant economic downturns since the Great Depression.
Gellerstedt joined Cousins as president and chief operating officer when his company, The Gellerstedt Group, was acquired by Cousins in 2005. He did so knowing that when Tom Bell, then Cousins' CEO, was ready to step down, he would step up and take over. Succession happened a little earlier than expected, in July 2009.
"Given what was going on in the markets at that time, Tom, who was within six months to a year of retiring anyway, believed it made sense to go on and get the person who would be leading in the chair," he says. "At that point you were making decisions that were going to take four, five, six years to play out – strategic decisions about the balance sheet, assets, product type, those kinds of things."
The economic climate in commercial real estate development was hardly rosy, even for a company with Cousins' reputation. "You don't get to pick the timing," he says. "I knew when I took the spot in '09 I'd have a challenging few years in front of me, and that has proven to be true; but we've also, due to the great people here, gotten the platform well-positioned to take advantage of the market when it does turn."
There are definite signs of improvement. Since Gellerstedt joined Cousins, the company has begun work on several developments, including two mixed-use, high-density projects: Emory Point in the Emory University/CDC area of Atlanta, and University Square in Chapel Hill, N.C.
Cousins increased its net operating income by 19 percent, from $46.5 million in the first six months of 2009 to $55.3 million for the same period in 2011. And the company has upped its leasing portfolio in every category – office, retail and industrial, including a whopping 81 percent increase at the Terminus 200 in Buckhead.
Those kinds of numbers didn't come without healthy doses of compromise and hard work. "We shifted the organizational focus to things that would strengthen the balance sheet and financial position of the company," Gellerstedt says. "Although we had never lost focus on leasing buildings, because that's the ultimate measure of success we have – how well buildings are leased – we reprioritized how important that was, and that gave a singular focus to me and the other top leaders of Cousins. We needed to roll our sleeves up even more than we usually do and get in there, shoulder to shoulder with our leasing people, and sell the attributes of doing business with Cousins to tenants."
Gellerstedt isn't focusing only on the short term. In March 2011, Cousins was selected as master developer for the $1 billion-plus, multi-modal transportation project in downtown Atlanta. "It's sort of returning to our roots to try to make something happen down in that area," says Gellerstedt. "My initial memories of [company founder] Tom Cousins are when he developed CNN Center and the Omni Hotel down in 'The Gulch.' He was the ultimate visionary looking at that gulch and seeing an opportunity."
This time Cousins Properties, under Geller-stedt's leadership, will transform the 120-acre warren of parking lots, railroad tracks and empty lots into a transportation hub, Atlan-ta's own Penn Station.
"The challenge once again is the times we're in," he says. "It will require a lot of public funding to do the terminal itself, and public funding is limited. But we're excited to be involved with it because if you take a 10- or 20-year view, that's some real estate that has a lot of potential. Plus, it's another piece to the reurbanization of the city."
Addressing regional transportation is imperative to Atlanta's future, says Gellerstedt. "Atlanta needs to recognize and address our shortcomings," he says. "Why has Atlanta lost jobs in the last decade and peer cities haven't? The fact is other cities made investments in transportation. We were able to get by on other attributes. But we're losing now. We have to start addressing these things, but compared to what we've done in the last 20 years, it's not a bad start."