Organizations: Chatt-Bend Friends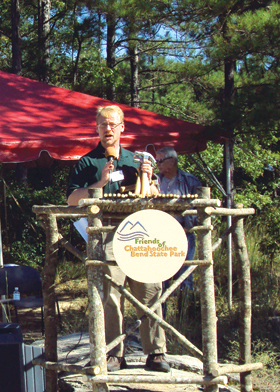 Georgia had not opened a new state park in almost 20 years, and budget shortfalls had shifted much of the upkeep of established venues to volunteers.
So nature lovers rolled up their camo sleeves and rallied around Chattahoochee Bend State Park, which opened its gates in July. At almost 3,000 acres in northwest Coweta County, it is one of Georgia's largest outdoor recreation centers, supported in large part by the Friends of Chattahoochee Bend State Park.
Tough Row to Hoe: "We were the first such 'friends' group to form before there was even a park to be friends of – that's what eager beavers we were," says Dean Jackson, vice chairman of the organization, which was chartered in 2008, two years after bonds were approved for land acquisition and development by the Department of Natural Resources. "Groups of anywhere from 25 to 80 volunteers met once a month and cleaned out the area, and then we brought our rakes, pruning shears and pickaxes and cut seven miles of hiking trails so far, with plans for cycling and equestrian trails."
Most of the park has been left in its natural state, described as a "gently hilly floodplain," but new put-in ramps for canoeists and kayakers have boosted river traffic, and campers have RV amenities and riverfront platform sites. Granite outcroppings and a two-story tower offer vantage points for observing herons and bald eagles.
The project is a long-range result of the Chatta-hoochee River Land Protec-tion Campaign, which in 1999 began surveying terrain from Helen to Colum-bus. Coweta County immediately began safeguarding this undeveloped riverfront tract located an hour's drive from Atlanta.
Rolling on the River: "We had this great river, but the line was 'We can smell it, but we can't see it,'" says State Rep. Lynn Smith, an advocate for eco-tourism. "So we arrived at what is now the model for these undertakings: a public and private initiative, the county working with the state, and local folk having skin in the game. All of this sweat equity from all sides leaves a legacy of engagement along with this gorgeous park."
Nature Nurture: As for the Chatt-Bend Friends, as they call themselves, "We finally can visit the park just for fun without bringing our tools, even though more work still lies ahead," Jackson says.
Adds Smith, "You won't be focused on your BlackBerry or your video game here. You'll be too busy spotting an armadillo nest or noticing how beautiful a hawthorn tree looks in the winter. We all need more of that."