Ka-Ching: Crunching The Movie Numbers
Georgia's three-year-old tax credit legislation prompts a film industry explosion.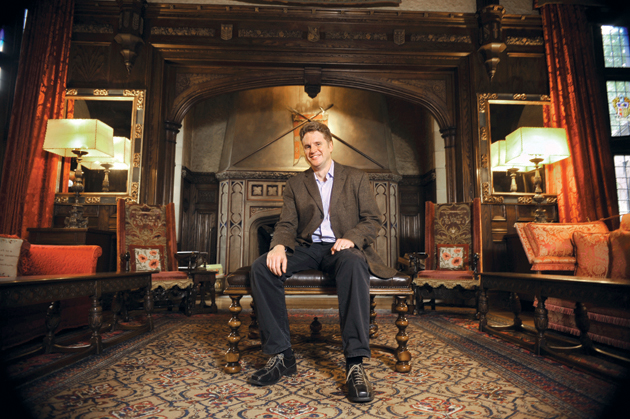 Sometimes in life and politics, just like in the movies, the third time is the charm. It's certainly true for Georgia's film industry.
Georgia has had a film commission since 1973, after the hit film Deliverance was released, and the state remained a popular location for a decade or so. Then Canada passed a tax incentive and stole a lot of the movie thunder. "Canada looks a lot like Georgia," says William VanDerKloot, founder of production and post-production company VanDerKloot Film & Television and co-president of Georgia Production Partnership (GPP).
A nonprofit formed to help promote film and television production in the state, GPP was established in 1995 when the film industry was again hurting in Georgia; Louisiana had passed a tax incentive like Canada's. The GPP urged Georgia to pass a similar incentive, but it wasn't until 2002 that then-Gov. Roy Barnes signed into law a sales and use tax exemption that helped the film industry. Under Gov. Sonny Perdue, in 2005, the legislature created a tax credit; but it wasn't until after the third try, when the measure was retooled in 2008, that Georgia's entertainment industry exploded. Now things are looking more like they were 35 years ago. "The more things change, the more they stay the same," says VanDerKloot.
The landmark legislation, the Georgia Entertainment Industry Investment Act (HB 1100), provides a 20 percent transferable tax credit for production companies that spend a minimum of $500,000 in the state. An additional 10 percent credit is available if the production company uses a Georgia promotional logo in the finished project.
"In 2007, our [film industry] economic impact was $244 million," says Lee Thomas, film director at the Georgia Department of Economic Development (GDEcD) Film, Music and Digital Entertainment Office. "By fiscal year 2011, it is up to $2.4 billion. Twenty percent of that economic impact happened in this past year.
In fact, Georgia is now among the top five states in the country for film and TV production, with more than 335 projects shot in Georgia in fiscal year 2010. That equals more than $759.3 million in investment, according to the GDEcD.
"The whole business has changed," says Thomas. "Back when I was here in 1996, it was all about location. We lost a lot then, when Louisiana put more aggressive incentives in place, so our [film business] fell off from the heyday in the '80s. The sales use tax exemption Barnes put in in 2002 helped some; then in 2005 the tax credit, signed by Perdue, created a convoluted, tiered system based on Georgia hires and the location of the shot. Since 2008, we've had a better incentive."
At 30 percent, Thomas says, "that puts us neck and neck with Louisiana, without buying back tax credits like they do."
The 2008 tax credit legislation was pushed by former State Sen. Mitch Seabaugh and defended by Gov. Nathan Deal when it came before a tax commission this year.
Companies with no state income tax liability earn tax credits that can then be sold to Georgia corporations, says Thomas. "A company like Paramount could come in, make a movie, earn tax credits, then can go through a brokerage or go to their own group and sell the credits to corporations – it isn't overseen by the state, but companies can get tax credits up to 85 cents on the dollar to go toward their tax payment – so, if they owe a thousand, they pay $850 instead."
Money, Not Location
"Now, it is all about money," says VanDerKloot. "You can't get away from it, especially now with technology. Chicago was shot in Toronto. You can shoot anywhere and make downtown Atlanta look like Mars. So location no longer matters. When companies budget for productions and look at whoever's financing it, there is only a budget for these [incentive] states, unless you're one or two A-listers who can choose exactly where they want to shoot. Most everyone else is dictated by the bottom line."
Being on the short list, combined with 40 years of experience with what the late Georgia-born musician and actor Jerry Reed (who filmed many movies here) called "pitcha' makin'," has been a good one-two marketing punch for Georgia, according to a panel put together by CREW-Atlanta (Commercial Real Estate Women), a networking and business development group interested in the real estate opportunities provided by the film activity.
"Hopefully this is just the beginning," Craig Dominey, senior location specialist and project manager for GDEcD, tells the panel. "If the incentives went away, we wouldn't lose all the business, but if it remains in place, the growth should continue."
Kris Bagwell is executive vice president of EUE/Screen Gems, which made a big splash recently by purchasing the old Lakewood Fairgrounds in south Atlanta, where it's built a 37,500-square-foot soundstage along with office space, a mill shop and lighting and grip facilities. It's where Burt Reynolds blew up the roller coaster in Smokey and the Bandit II, but has pretty much been out of movie use ever since – although it did have a good 20-year run as an antiques mall and flea market site. There are a number of historic structures on the property that simply look like movie sets (and will be preserved). Bagwell tells the CREW panel the Atlanta location and tax credits were crucial to his decision to build his studio there and that he often lobbies to keep the incentives in place.
"We did a return on investment study on tax credits," says Bagwell. "Some states only break even or worse, but in Georgia the bill is crafted in a way that the state is making money. While some states do rebates – say you spend $10 million, they will write you a check for $2- or $3-million back. Tax credits are a more defensible way of doing business. It's kind of astonishing. I only wish this model could work for any industry; it's created 10 times [the] economic growth in three years, based on a smart government public-private partnership."
Bagwell adds that it is good for Georgia to court production because "it is an expensive business. We see projects that range from several million to several hundred million. Television has become as expensive as film – USA spends $2.5 million an episode for Necessary Roughness (shot at EUE/Screen Gems)."
Legislators have been shown film is good for jobs: In 2007 there were 11,800 full-time equivalent jobs, according to the GDEcD's Thomas, and there are now 25,000 in Georgia, more than double the number in four years. "There are small armies that come in," Bagwell says. "For Necessary Roughness, they had a crew of about 230 people. On our lot, we have BET in one building and USA in other, and about 75 percent of their crew is hired local. Georgia is known for having strong crew. But we need more. If companies can't find enough, they will bring in more L.A. people, so it's better for us to train more local people, which is why colleges are ramping up their film programs."
"Production is like a construction business," says VanDerKloot. "You can have full-time digital artists, then on location you hire lighting, technicians, actors, designers, makeup, very much like construction brings in plumbing, cement and electric – some days there are dozens of people on payroll. That's the way it works even in the largest companies – there are no full-time camera people on payroll at major studios. It's all freelance."
Part of Georgia's appeal is its number of colleges and universities putting out "highly skilled, highly creative people, as well as its huge employers like Turner Broadcasting System," says VanDerKloot. "We are building up a critical mass of people, and it helps everything. These are the kind of people who support the arts and start up new business, and it feeds on itself. All that grows the whole creative community.
"A rising tide lifts all boats. There are more equipment rental companies, new inventory and more businesses opening up. It's invigorated the whole industry, and people like Screen Gems – brick and mortar investments – wouldn't have had the ability to do it without the tax incentive," VanDerKloot says.
"We've also got good locations, temperate climate, good infrastructure, flights from Hartsfield-Jackson International Airport, which is all helpful," says GDEcD's Thomas. "The longer the incentive stays in place, the more infrastructure like EUE/Screen Gems will come to Georgia. Or return – like Panavision, which closed in 1998 but is back, renting a big showroom on the Westside. There is a tremendous amount of new vendors coming in, and the crew is getting back into business. We're also absorbing some of those who have been laid off – we have 12 television series on the ground right now, which is a real indicator of long-term growth. They're not afraid to plant the flag."
The film industry tax incentive has been good for commercial and office real estate: Many vacant properties have been made impromptu sets and offices. "We use the Atlanta Civic Center often," says Thomas. "Right now, Family Feud is in the auditorium part, and Three Stooges is filming in the exhibit space. All throughout Atlanta, production companies use warehouses, and in this economy, that's been a savior for small landlords. They may only use 15,000 square feet of office for eight months, but that's a real boost." The film office also assists with leasing furnished homes to movie stars and directors, says Thomas.
Ready, Set, Shoot
The GDEcD's Dominey runs the state's Camera Ready Program, which works with communities that want to attract film and TV projects. The localities name a liaison to the GDEcD to facilitate shoots, submit an application and, once approved, are designated Camera Ready Communities.
"Newnan and Covington have shows rolling in there all the time," Dominey says. "Covington calls itself the 'Holly-wood of South,' and because of Dukes and In The Heat of the Night, tourists come looking for those locations. We still get calls about those shows, and My Cousin Vinny, and Smokey and the Bandit. And now, to this generation, The Vampire Diaries draws tourists from all over the world. In Juliette, Fried Green Tomatoes saved the town [in the early '90s]; the restaurant is still there, and they live off the tourism."
"We have a five-person office, but a designee from each county can be a film liaison, help keep a database of location photos and arrange shoots with the local Department of Transportation, find a 24-hour dry cleaners, caterers and so forth," says Thomas. A total of 112 of 159 Georgia counties are designated Camera Ready.
For small towns like Cedartown, to get Jayne Mansfield's Car, starring Kevin Bacon, Robert Duvall and John Hurt, was a big deal, says Thomas. "For Covington, it's nothing for the The Vampire Diaries to guarantee 2,500 hotel rooms. Get Low had a similar impact on Crawfordville, in Taliaferro County. (Producer Dean Zanuck's father, Richard Zanuck, made his own impact on Georgia filmmaking, with the 1989 Oscar-winning Driving Miss Daisy.)
Atlanta Film Studios Paulding County is under construction in Hiram, says Thomas. The 80,000-square-foot campus includes two 20,000-square-foot soundstages along with room for production offices, storage, dressing rooms and wardrobe space. It's the first production facility in decades to be developed in the metro area outside Atlanta's city limits.
Dominey estimates the number of film-induced tourism dollars since 2005 at $430 million.
As good as Georgia's three-year-old tax credit has been for moviemaking, there are those who would like to see it go further. VanDerKloot believes that the measure needs to be tweaked to keep up with Hollywood technology.
"One thing would be to take out the line about footage having to have been recorded in Georgia," says VanDerKloot. "A great deal of movies are now done after the shooting stops – Avatar, for example, was almost entirely made in windowless rooms on computers. So much more is done in what we call post-production. We used to do editing with razors, and now it's silicon chips creating whole new worlds, such that post is sometimes a far bigger budget than production.
"So even if it was shot somewhere else, and the producer wanted to come to Georgia to add special effects, they wouldn't be afforded the credit. The good thing about post is that it involves bricks and mortar and really high-paid jobs – the same people that are covered in doing video gaming."
Sound of Music
The GPP music equivalent – Georgia Music Partners (GMP) – is pushing to widen the tax credit to include music production (it already includes gaming). "We're happy with the film credit – it includes soundtrack work," says Simon Horrocks, co-founder of Affix Music, an Atlanta-based music licensing company, and co-president of the GMP. "But we are losing business to other states like Louisiana and Tennessee that offer tax incentives to the recording industry. Atlanta and Athens are popular now, but going forward we have to stay ahead of the curve."
Georgia has a good reputation among recording artists and a smart work force to support emerging trends. "Georgia Institute of Technology has a master's in Music Technology, and now it even has a Ph.D.," says Horrocks. "Let's face it, the airport is a huge factor and also having such a rich media company as Turner being here."
A study of the Georgia music industry by Georgia Tech economist William Riall for Georgia Music Partners puts the economic impact at nearly 20,000 jobs and $314 million in state and local tax revenues. "The restructuring of the music industry," Riall notes, "which will likely occur with considerable speed, presents a narrow window of opportunity for Georgia to attract the talent and technology needed to establish Georgia's music industry at a higher level. Doing so would also be a significant adjunct to Georgia's growing movie production industry."
Georgia legislators may be loathe to surrender more tax credits as they struggle to plug a budget deficit, but it is well worth considering the impact HB 1100 has had and whether it could apply to other creative industries to grow Georgia's cluster, says Tammy Hurt, founder of Placement Music, co-president of GMP with Horrock and president of the Atlanta Chapter of The Recording Academy. (They give away Grammys.)
"It's worth noting that it isn't just an Atlanta-centric thing," says Hurt. "There are 49 different higher education institutions offering a music business certificate or music degree in the state. We do a good job of educating, but not job placement, so we want to attract companies to provide jobs to graduates."