DeKalb County: Focused On The Essentials
County budgets, city projects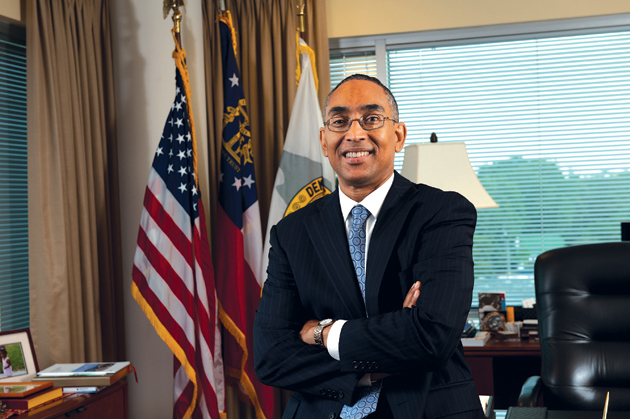 It's a rough time for elected officials everywhere these days. Faced with a battered economy and plummeting tax revenues, officials in sprawling DeKalb County are engaged in the unpleasant task of cutting budgets and raising taxes to cover a wide budget gap. These are just the sort of endeavors that can make a leader unpopular, but County CEO Burrell Ellis saw it coming.
"I'm a realist, and as I came into the job we were already beginning to see decline in our tax base as a result of the decline in the value of real estate," says Ellis, now in the third year of his first term. "We had to address that."
He has found himself deep into the sometimes thankless job of making numbers add up while maintaining essential services. That has translated into painful budget cuts of nearly $130 million and the elimination of nearly 700 jobs. While some of the positions – such as those for the sheriff's office – have been restored in recent months, most departments are operating with fewer people than they had under the previous administration.
"We've addressed this the same way people do in their individual lives," Ellis says. He points out that no other government in Georgia has slashed spending by as much in terms of dollars or percentage.
Even as budget items were eliminated, the county still faced a funding gap. Over the last three years, the commission made up the difference by siphoning off dollars from the county's reserve funds. This year it finally took the unpopular course of raising property taxes by 4.35 mills. As a result, homeowners have seen their bills rise an average of $93 a year. The county also secured an additional $6 million in non-tax revenue by increasing business and licensing fees.
"We had to have a balanced ap-proach that included reducing spending and raising additional revenues," says Ellis.
A top priority for his administration has been the – some would say quixotic – task of reorganizing and making government more efficient. As a result he has spent the past three years consolidating departments and forcing previously independent agencies to work together. While funding for popular events such as a jazz and blues concert have been cut, essential services like fire and police have gotten beefed up under new leadership. With crime rates falling, Ellis can assert that his efforts are showing results.
"There are a lot of things we would like to do in a better economy," he says. "But, at the end of the day, nobody else is going to provide police and fire or water and sewer services."
Going Up
In fact, providing those services has become increasingly expensive. Last year the county signed a consent de-cree with the federal Environmental Protection Agency to upgrade its aging sewer system. It will be spending about $700 million on replacing pipes more than 50 years old to meet clean water standards. The deal is part of a larger $1.4-billion project that over the next eight years will replace most of the county's water and sewer infrastructure.
The improvements will be financed through water and sewer fees, meaning that current customers will be paying most of the tab. The county is also trying to ensure that a sizable percentage of the jobs go to local residents and is partnering with the National Urban League, DeKalb Technical College and Goodwill Industries to provide job-training programs. The county expects the infrastructure project will create a total of 1,300 jobs during its eight-year run.
Over the years DeKalb, like most metro counties, has gone into debt to finance projects ranging from jails to parks. When an Atlanta newspaper reported that DeKalb had the highest debt around, Ellis was quick to take exception, noting that other counties didn't keep it all on the books. The county's $410 million in debt ranked it below neighboring Gwinnett's $1.61 billion, he says.
When it comes to other services, however, Ellis has pushed the idea that citizens can do more things for themselves. Promoting volunteerism has been the focus of the county's new Office of Neighborhood Empowerment (known as OneDeKalb). In its first two years, local citizens contributed volunteer labor valued at more $7 million. They did everything from picking up trash along highways to forming a code enforcement corps to help the now-understaffed county staff.
After voters approved funds to build a new recreation facility in Stone Mountain, Ellis decided to turn the deal into a public-private partnership. The county built the facility, but will turn operations over to the local YMCA when it opens next May.
"Usually counties build and operate rec centers, but now we have a new YMCA in an area that has not been served by anything like it," he explains.
New City
DeKalb, one of Georgia's most diverse counties, hasn't been exempt from the trend of creating new cities out of unincorporated land. Dunwoody, which includes the Perimeter office market, made the leap to cityhood in December 2008. The move then was driven by citizens' desire for greater control over zoning and for more responsive services.
Three years later the city has its own police force, and city officials are busy figuring out how to pay for things such as new greenspace and street paving. In fact, the city has undertaken about $2 million in street and sidewalk improvements this year alone, according to Mayor Ken Wright, the city's first chief executive.
"We've taken the politics out of paving," says Wright, who's also presi-dent of eHealthcareIT, a healthcare software company in the Perimeter area. "We didn't want to get into a situation where people are saying the mayor has a favorite street and it gets paved."
The city took the businesslike approach and hired a company to map every inch of the city's thoroughfares and rank them according to their condition. That list now determines what gets paved and when.
The city has also found an ally in the Perimeter Community Improvement Districts (PCIDs), which has been busy with its own road projects geared to ease traffic flow in the congested office and retail sub-market. These efforts include extensive roadwork at Ga. 400 and Hammond Drive, including a new nine-lane bridge and on and off ramps that opened in August, and at I-285 at Ashford Dunwoody. Here, a diverging diamond interchange (DDI) is currently under construction to alleviate traffic congestion on and off the interstate. It's only the sixth one in the country and the first for Georgia.
"We think that these two road projects are going to go a long way toward solving our congestion problems in the Perimeter Center office market," says Michael Starling, Dunwoody's economic development director.
Creating amenities has also been a priority. Dunwoody has placed two proposals on the November ballot to let voters decide whether to invest up to $66 million in more parks for the city. The two measures would allow the city to issue bonds – $33 million to purchase and remediate potential parkland and the rest to make improvements to existing parks in the city.
"It's a great time to buy property – particularly in our area where it has been cheap," says Wright.
The city has its eye on a 14-acre parcel that was once an Emory hospital site. It could become baseball fields and parkland – if the bond issues pass. The proposed $5.5-million purchase, which includes other parcels for a total of 19 acres, is one of many that could ultimately be made by the city.
"It used to be heavily medical office, but after the hospital closed and the medical office moved over to Northside Hospital, that area of the city was left without a real purpose," says Starling. "There are a lot of vacancies, and there's a real need to refocus development in that area."
Following demolition of the hospital, work got under way to convert part of the site to build townhomes. That project only got as far as site work, and the area has since become known as the PVC farm – owing to the sea of pipes awaiting homes that were never built.
In a time when most areas have attracted few new or expanding businesses, the Perimeter Center area has welcomed more than its share. Over the last year, AutoTrader and The Atlanta Journal-Constitution have moved operations into the area.
More recently, tech firm Ventyx relocated its North America headquarters to Dunwoody from Marietta and brought with it about 300 jobs. It moved, along with another office from Alpharetta, to 55,000 square feet in The Terraces buildings. The company sells software to energy companies and utilities.
Game On
The city of Decatur managed to snare its own high-profile tech firm when CCP Games, an Icelandic video game designer, relocated from Gwin-nett to 40,000 square feet in the old Decatur Federal Building – now the Wells Fargo Building – on East Ponce de Leon Avenue. The company is in the process of renovating the space for approximately 160 employees. That number is expected to rise to more than 300 within a short period of time.
"This is the type of tenant that is coming to Decatur because they have young creative employees and they were looking for an environment that would be attractive to them," says Lyn Menne, Decatur's assistant city manager, community and economic development. "So the fact that we have a lot of restaurants and it's a walkable downtown was the big appeal for them."
The move is also a bit unusual in a relatively small town that has little office space. Most of the city's emphasis has been on filling its hot downtown with new shops and restaurants. Not that city officials would object to a few more firms like CCP bringing their operations here.
"That's the size of company that we like to attract," says Decatur Mayor Bill Floyd. "They're coming in here because they like the atmosphere, the sense of community, and they like the European feel of the community."
Decatur has also been somewhat insulated from the ravages of the recession that has beaten down so many cities across the metro area. The impact has been minimized by two factors. The city never had any sales tax revenue to lose, since DeKalb is one of only two Georgia counties that uses its one-cent sales tax for property tax relief. The second and most important factor: Real estate tax values have remained above the county's appraised level, meaning there was no drop in revenues.
"We haven't had to do any furloughs, and really we've had no loss of revenue," says Floyd.
While some businesses have suffered, a walk around the city's thriving downtown takes visitors past a host of restaurants, coffee shops and boutique retailers. There's even a thriving beer pub industry in town.
"We're a small town, a real community, and people who live here don't mind supporting the businesses," says Floyd.
Elsewhere, Doraville officials are waiting and hoping for a big development that could reshape not just their town, but perhaps the region. Since the General Motors plant closed a few years ago, everyone here has been anxiously awaiting word of a sale to a deep-pocketed developer ready to turn the 165-acre manufacturing site into something new and fresh.
"Atlantic Station really set the standard for brownfield redevelopment," says Mayor Donna Pittman. "We'd like to see a street grid with pedestrian amenities, mixed-use and retail – a town center. It boils down to seeing some development with muscle that will bring in jobs."
From its opening in 1947, the GM plant was a mainstay of the local and metro economy, employing as many as 3,000 workers at the height of production. Nobody expects anything that job rich now, but an Atlantic Station-like development would be just the boost that the city needs to put itself on the map. It would also go a long way toward helping to replace the more than $800,000 in tax revenues the city lost after the plant closing.
In the meantime, the city is content to add whatever jobs and revenues it can find. Doraville gained approval to function as a passport acceptance office – taking over a function usually handled by the local post office. That deal will bring in $75,000 to $100,000 in new funds, according to Pittman.
Small business development is an emphasis at the DeKalb County Cham-ber of Commerce. "The home-run projects get headlines in terms of 200 or 300 jobs, but it's going to be the jobs that are created five and 10 and 20 at a time that are really going to sustain the local economy," says Chamber President Leonardo McClarty.
The chamber recently joined with the county's economic development office to sponsor a small business summit that attracted more than 300 business owners.
The chamber also launched a training program for small business owners. The 11-month-long series of briefings and workshops will provide small businesses reliable "business modeling" assistance centered around key components of operating a successful company, according to McClarty. "We're trying to make sure they have resources and contacts they need to grow and remain viable."
Community Snapshot
Local Leaders
Burrell Ellis
CEO
DeKalb County
404.371.2881
ceo@co.dekalb.ga.us
Leonardo McClarty
President
DeKalb Chamber of Commerce
404.378.8000
lmcclarty@dekalbchamber.org
Ken Wright
Mayor
City of Dunwoody
678.382.6700
ken.wright@dunwoodyga.gov
Population
(2010 estimate)
DeKalb County, 733,060; Avondale Estates, 2,815; Chamblee, 10,910; Clarkston, 7,813; Decatur, 19,029; Doraville, 10,328; Dunwoody, 38,597; Lithonia, 1,879; Pine Lake, 602; Stone Mountain, 7,612
Per Capita Income
(2005)
DeKalb County, $34,997
Unemployment
(August 2011)
DeKalb County, 10.6 percent
Georgia, 10.2 percent
Top Employers
Children's Healthcare,
DeKalb Medical, Emory Healthcare, Emory University
Sources
DeKalb Chamber of Commerce, U.S. Census Bureau, U.S. Bureau of Economic Analysis, Georgia Dept. of Labor