Real Science, Real Impact
Biotech and life sciences flourish as Georgia researchers breed hope in their labs.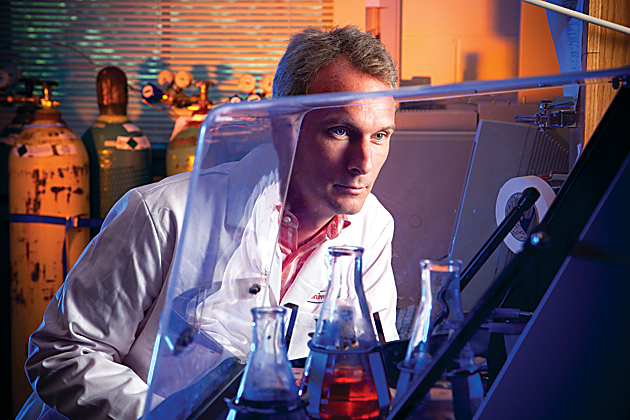 "At a time when statewide employment shrunk – and this has been the worst economic stretch I've seen in my lifetime – biotech and life sciences actually grew through the recession," says Jeff Humphreys, director of the Selig Center, which conducted the study. "Biotechnology and life sciences is a growth industry. It's pervasive in its impact.
"Information technology, the digitalization of the world, was the last big thing. Life sciences and biotech, to me, is the next big thing. I think it will do more to power global, U.S. and Georgia economic growth than information technology did."
Life sciences companies alone accounted for about 18,000 direct jobs (supporting 75,000 in total) and $19.5 billion in sales and $4.4 billion in earnings in 2009, with an average salary of $64,000, well above the statewide average ($42,000) for all industries.
From 2007 through 2009, as statewide unemployment rose by almost 7 percent, jobs in biotech and life sciences grew by 1.3 percent and the number of firms grew by 14 percent. Surgical instrument manufacturers, medical labs and blood/organ banks account for the highest growth areas, while pharmaceutical manufacturing – the largest employment sector in the industry – showed the most losses.
Here's what those economic impact figures don't reflect.
Atlanta-based pharma firm Sciele, purchased by Japanese company Shionogi (for $1.4 billion in 2008), last year moved its Atlanta operations to New Jersey, taking some jobs north in the process.
Another Georgia firm, Solvay (whose U.S. pharmaceuticals unit was based in Marietta) was sold early last year to Abbott Laborator-ies for $6.2 billion. That resulted in the shuttering of the Marietta facility. There went about 400 jobs.
Apparently, that real estate won't be vacant for long. In April, the Atlanta Business Chronicle reported that global pharmaceutical company Osmotica would create about 160 jobs at a 150,000-square-foot facility planned for the old Solvay site, a $30-million investment. Gov. Nathan Deal confirmed Osmotica's plans in August.
Place to Be
Ed Schutter had a ringside seat at Solvay and Sciele.
A longtime executive with Solvay, he was president and COO at Sciele during its Shionogi transition, then he left. Last year he led a group of investors in the purchase of a small pediatric-focused company in Raleigh, N.C. Arbor Pharmaceuticals had about 15 employees with annual sales of roughly $3 million when it was bought in April 2010.
"Since then we've done five deals and really added to the product lines, and we'll do about $120 million in sales this year," says Schutter, who moved the company to Atlanta last November. The company now has about 30 employees in Georgia and more than 150 nationwide.
Arbor won Georgia Bio "deal of the year" honors in January for completing $34.8 million in financing in November, the largest private-financing bio-deal last year in Georgia. Arbor's founding investors include Jason Wild of JW Asset Management of New York (like Schutter, he is a pharmacist by training) and Dr. Alan Chao, founder and former CEO of Watson Pharmaceuticals.
"We've got a committed group of investors," Schutter says. "From the start, they've been willing to put the money out to acquire some marketed products, some opportunities early on to get us off the ground."
For example, the company, previously focused exclusively on pediatric medicine, now counts a nitroglycerin pump spray (Nitrolingual, to treat angina) as a flagship product. The company works with more than a dozen partners around the world in licensing, manufacturing or developing marketed and late-stage pipeline products.
Arbor added some R&D (research and development) muscle last fall when Dr. Laurence Downey, fomer CEO of Solvay, joined the company as VP of medical affairs.
"It's not like we had to train the leadership of this company when we put it together," Schutter says. "Also, we're in the right place. Atlanta is a great transportation hub, and we travel every day.
"There's a lot of talent that resides here, and science centers, the University of Georgia, Georgia Tech, Emory, More-house [School of Medicine], the CDC."
Those things – transportation hub, brainpower – helped draw Dendreon to Atlanta in 2009, when the Seattle-based firm announced it would build a $70-million plant in Union City to make its landmark prostate cancer immunotherapy Provenge.
The drug is actually a vaccine that trains a patient's immune system to fight existing tumors, and the studies that prompted FDA approval showed Provenge extends survival four months longer than conventional chemotherapy, with fewer side effects.
Not surprisingly, it's really expensive – $93,000 covers the necessary three treatments. In spite of the cost, hopes among corporate executives, shareholders and patients were soaring as the drug went to market.
Then the company issued a disastrous second-quarter financial report in August, and its stock plummeted overnight. Provenge sales were no-where near Dendreon's lofty expectations ($350 million-$400 million a year), prompting job cuts and class-action lawsuits on behalf of reeling shareholders who claim they were misled by the executive leadership.
Though Dendreon chose not to comment for this article – on the potential for other applications of Provenge, its stock plunge, its future in Atlanta, or anything – one thing is clear: The science is sound.
"This wasn't a science issue, it was all about reimbursement – doctors hesitant to prescribe it because they're afraid they won't be reimbursed because it's so expensive," notes Alex Harvey, an early-stage entrepreneur who has been paying attention, because he could learn some things from Dendreon's example.
With Provenge, cells are harvested from patients, shipped to a facility like the one in Atlanta for "training," then shipped back and injected into the patient.
"We want the same end result – an immunotherapy with a survival benefit. We don't want the logistical issues and the high cost of treatment," says Harvey, who is acting as CEO for Viamune, a company that just incorporated a few months ago with the goal of commercializing a breast cancer vaccine from technology developed at the University of Georgia's Complex Carbohydrate Research Center (CCRC) in collaboration with the Mayo Clinic.
Harvey, who was the leading researcher at another UGA startup, AviGenics, became familiar with the CCRC's breakthroughs through his wife, Therese Buskas, who was the cancer vaccine coordinator for Dr. Geert-Jan Boons' research team there. Dr. Buskas lost her own battle with a rare form of cancer last year. The sad irony of her loss, her work, and what it was for remains a personal and emotional subject for Harvey.
"I am sure it has hard for the others, too," he says. "It was a huge loss on many levels. But we work hard at staying objective and focused on the science and the goal of getting this to patients."
Jump Starter
Viamune is still in the larval stage, but it got a developmental jumpstart this summer when it was named one of the 10 semifinalists in the annual BIO/Plan competition conducted by Southeast BIO (similar sort of mission as Georgia Bio, with a broader regional focus). Five of the 10 are from Georgia.
The competition targets technology transfer offices and entrepreneurs from research universities and centers in the Southeast. Semifinalists are paired with mentoring teams comprising professionals with relevant start-up experience. All semifinalists, whether they advance to the "final four" or not, walk away from the process with a development strategy.
"We're provided a team of experienced business people – lawyers, entrepreneurs, venture capitalists," Harvey says. "It's a great opportunity to get some expert advice and input at no cost."
DiagNano is one of the other semifinalists from Georgia, but this is a company that was actually formed five years ago as a TI:GER project – a competitive collaborative program between the Georgia Tech College of Management and Emory Law School focused on commercializing research.
Since then, DiagNano has been involved in a number of business plan competitions as it continues to seek funding for further development of its quantum dot cancer diagnostics tools.
These competitions, says DiagNano CEO and co-founder Brad Kairdolf, "are helping us mold our business plan to address some of the issues we don't have any expertise in, to get us to the next stage, to get that first round of funding."
Kairdolf, who recently completed his Ph.D. in biomedical engineering in a joint program at Tech and Emory, developed the company's core technology with Georgia Tech researcher Dr. Shuming Nie. Basically, they developed a nanoparticle surface coating that allows quantum dots (and other metal nanoparticles) to give off vibrant colors and be used to identify cancer cells in tissue biopsies.
"We want to give pathologists the tools they need to do what they do best," says Kairdolf, who has applied through the National Institutes of Health (NIH) for a million-dollar grant to keep the process moving toward commercialization. "The next step is looking for angels and VCs. This technology doesn't require as much money as drug development, so we might be able to get further downstream with less."
DiagNano did get some seed grant money from the Georgia Research Alliance (GRA). But then the GRA has been playing an essential role in the development of tech start-ups and university-based research projects for 20 years.
Since its launch in 1990, the GRA has turned $525 million in state funding into $2.6 billion of additional federal and private investment. Now that it has been brought under the organizational umbrella of the Georgia Department of Economic Development, GRA's role in bringing public and private entities is likely to grow.
The alliance remains an independent, nonprofit corporation, says GRA President Mike Cassidy, who adds, "Our role has expanded, adding capacity to our ability to build on the output of Georgia's research universities and medical schools to grow companies and strategic industries.
"With our closer interaction with the Department of Economic Development, we will be able to expand industry-university collaborations."
As part of the cost-saving reorganization, the Georgia Cancer Coalition (GCC, which was originally spun out of the GRA) and Centers of Innovation have become GRA charges, meaning more responsibility for Cassidy and his small staff (eight people at last count).
Eminently Hopeful
One of GRA's most successful efforts through the years has been the Eminent Scholar program. More than 60 of these expert researchers and educators have been recruited to Georgia's universities. The most recent is Scott Jackson, who left Purdue University to join University of Georgia scientists in mapping the peanut genome.
"From an economic and social perspective, having a fundamental understanding of all the genes that make a peanut a peanut – or make any crop whatever it is – allows us to engineer those plants, and that leads to better yields, more resilience, better composition," says Jackson, who previously mapped the soybean genome and is one of the leaders of the international Peanut Genome Initiative, which includes a number of UGA scientists.
"I was drawn to UGA's emphasis on plant biology, breeding and genetics," Jackson says. "But ultimately it came down to the colleagues there and our overlapping interests."
About 100 miles from Athens, another GRA Eminent Scholar is one of the leaders of a project that brings together the Department of Energy's Savannah River National Laboratory, auto manufacturer Toyota, specialty glass manufacturer Mo-Sci Corpor-ation and Georgia Health Sciences University.
In June, the research team won notoriety as a winner of the R&D 100 award, given by R&D Magazine, which annually recognizes the 100 most technologically significant products.
The porous-walled hollow glass microspheres the researchers developed can be used for storage and handling of hydrogen gas in hydrogen-based vehicles (thus, Toyota's involvement). They might also be used as controlled-release drug delivery systems and MRI contrast agents. That's where GHSU's Dr. Bill Dynan (the Eminent Scholar) comes in.
"Savannah River approached us with this material that is really unique; there's nothing quite like it," Dynan says. "It's sort of like micro-scale glass balloons that have a very thin, very strong wall surrounding a hollow central cavity. The original intention was for handling the nasty materials the DOE works with."
A network of interconnected pores allows the microspheres to be filled with, hold and release gases and other materials, making them a potentially ideal method of handling, storing or transporting a variety of materials – that includes handling, storing and ultimately transporting medicine into human bodies.
Dynan envisions microspheres enter-ing tumors to fight cancer at the source; he imagines a better transportation system for new drug therapies.
"What we'd really like to do is apply this technology to a class of pharmaceutical molecules that might show promise, but there are no methods of delivering them," Dynan says. "This would be an enabling technology."
So Carl Clark, GHSU's director of technology transfer (and economic development), has been getting the word out to potential biomedical industry partners.
"These hollow microspheres are one of the hottest products I've seen in a long time," Clark says. "This can be an important mechanism in relief for AIDS patients' delivery of antibiotics over a long period of time. I met with a company from Denmark interested in a product for delivery of allergens."
Before joining GHSU almost three years ago, Clark spent 15 years in technology licensing and business development in the corporate environment.
"My focus was linking up with the GHSUs of the world, seeing who was inventing what, and what could be commercialized," says Clark, who ac-tively sought the opportunity to work on the other side, as the guy trying to get the inventions in front of the investors.
"I guarantee if you have good technologies you will see success breeding success. The plan to get there is pretty clear here at GHSU – you bring in more researchers, more Eminent Scholars, and you'll have some breakthroughs that catch the attention of the rest of the world.
"Success will breed success."