Power Players: Cultivating A Legacy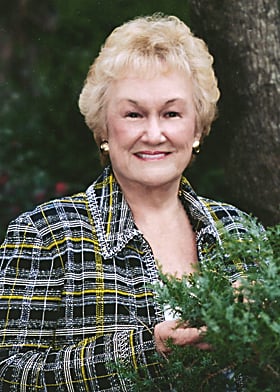 Businesswoman, philanthropist, wife, mother and gardener, Deen Day San-ders has worn each of those hats and sees a connection.
"As a child I planted seeds every year of my life," she says. "My grandmother and I would put seeds in the ground so I understood there was a correlation be-tween working hard, cultivating something and having the reward of the fruit or the flower or whatever had been planted. There is a stewardship of life that you see in nature, and I was taught that at a very young age."
Sanders grew up in the small town of Adrian, Ga., dreaming of life's possibilities. "I used to look at a viewmaster with my grandmother, an antique thing that show-ed me pictures of Rome, the Colosseum," she recalls. "I've known about Rome for as long as I can remember, but I never dreamed I could go there someday."
First, Sanders' dreams took her to Mercer Univer-sity, where she studied history and psychology. She married her first husband, Cecil B. Day, her junior year of college, while he was still a student at Georgia Tech. She moved to Atlanta, finishing her education at Georgia State University. Money was tight while they were in school, so Sanders sold greeting cards door to door. "I made a good little income on the side with the greeting cards," she says. "It was a matter of doing what it took to get by."
Day became a successful entrepreneur, establishing the Days Inn motel chain in 1970. The couple doted on their family, five children and eventually 16 grandchildren and two great-grandchildren, enjoying a comfortable life together until Day's death in 1978.
Sanders, who married Jim Sanders in 2002, continued Day's legacy of philanthropy through the Cecil B. Day Foundation and other charities, taking the role of philanthropist very seriously. "It means being a steward of what you've been given," she says. "Nowhere in your walk of life have you earned what you have by yourself. There's always a team of people helping you."
After Day's death, Sanders also assumed the chairmanship of the holding company that owned Days Inns of America. "I never took over Days Inns," she says firmly. "It was run by Richard Kessler. I was a business owner and had many wonderful people running the companies."
But years of volunteerism honed the perfect skill set. "I could work with people and through people," she says. "I was always involved, and all my volunteering developed leadership skills. I had some innate, God-given ability to work with people; it came in handy when I became a business owner."
She more than held her own in the business world. Sanders was appointed to the Georgia Department of Industry, Trade and Tourism (now Economic Develop-ment) board and was the first woman to chair the board. She served on the board of the Georgia Chamber of Commerce and was appointed to the University System of Georgia Board of Regents.
She is perhaps best known for her work in gardening, having served as president of the National Garden Clubs from 1999 to 2001. She served on the board of the Lady Bird Johnson Wildflower Research Center, the Atlanta and State Botanical Gardens, and helped create the popular Cecil B. Day Butterfly Center at Callaway Gardens.
As vice president of the World Association of Flower Arrangers (WAFA), Sanders spent the last three years planning WAFA's 10th World Flower Show held in Boston in June. It was the first time the show was held in the United States.
"I agree with Lady Bird Johnson who often said, "Where flowers bloom, so does hope," she says. "At the flower show you see people coming together, from all over the world, around friendship and flowers." About 200 Georgians were among the thousands who attended the event, and Sanders says several Georgia women took top prizes.
Sanders divides her time between homes in Atlanta and Cashiers, N.C. Each year, she and her husband host more than 2,000 people at the Garden House at their Atlanta home, a meeting place for civic and church groups and, of course, garden clubs.
She was recently called "America's First Lady of Flowers" by The Flower Ar-ranger, a British publication.
"I'm just grateful to have had the opportunities that a little ol' country girl from Adrian, Georgia, has been given."