Organizations: Twilight Moms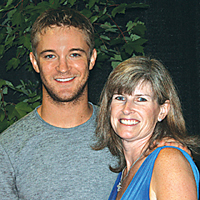 "Tween" girls are not the only demographic that finds heart-fluttering inspiration in creatures of the night. When Cindy Adrien organized a Twilight movie party for adults in Macon, she saw an unusual opportunity she could sink her teeth into.
Monster Mash: "I rented our local theater for a midnight showing of New Moon in 2009, and as word spread, we quickly sold out, with 250 women ranging in age from 25 to 70, including three generations from some families," says Adrien, who is 42. "I thought: With that many imaginative women mobilized under one roof, why not do something to give back to our community?"
Howling Success: So, over popcorn-muffled sighs, they racked up more than 1,000 pounds of canned goods for the Middle Georgia Community Food Bank, $600 for Alex's Lemonade Stand Foundation (for childhood cancer) and $200 for The Foundation for America's Blood Centers from sales of the book Confessions of a Twilight Mom, which functions as a primer for the grown-up groupies. In 2009, they formed Twilight Moms of Georgia & Esme's Heart, a nonprofit of about 40 bookworms who meet monthly to "accomplish acts of love" inspired by Esme Cullen, who, Adrien explains, is the "maternal figure who makes sure everyone gets along, whether they're human, vampire or werewolf" in the blockbuster series of movies and books about romantic intrigue among the young and supernatural.
You do not have to be a mother to join, Adrien says. "New blood is always welcome." But an appreciation for Twilight helps, since most of the Macon group's activities are shrouded in Gothic themes. The TMs sent a 12-year-old girl with lung cancer on a dream vacation to Forks, Wash., where the tales are set; and, of course, the Red Cross benefits from their quarterly blood drives. They also have sponsored self-defense workshops, signed up 70 donors for the Bone Marrow Registry, and raised money for cardiac and breast cancer re-search.
Fangs for the Memories: Every year, the TMs celebrate Twilight characters Bella and Edward's wedding date – August 13 – with a gala to benefit the Ronald McDonald House. For this year's event, the group landscaped a reception area to recreate the misty, enchanted rainforest of the young lovers' nuptials, and they booked an appearance by actor Michael Welch, who is part of the toothsome cast.
"Twilight is about the intensity of 'first love,' which we all relate to," Adrien says, "so we use it as a way to prolong the fantasy while making our reality a little better."