North Fulton: Magnet For Business
Seeking a unified approach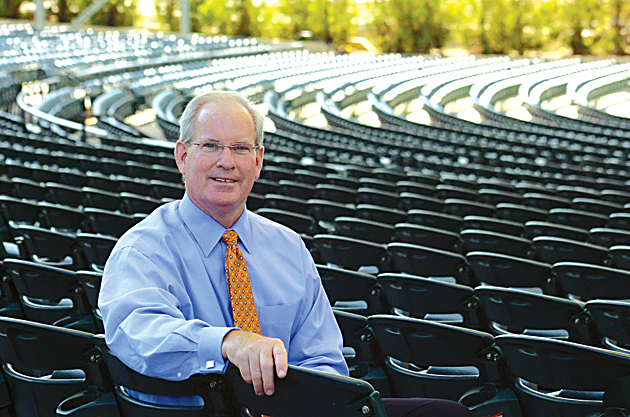 Wealth in North Fulton is represented by more than rows of palatial executive homes and luxury cars that ply the roadways. The region brings assets to the table that are proving increasingly attractive to companies and new businesses – from some of the state's best public schools to a collection of data centers that is among the best in the Southeast. Leaders say they are ready for business and that business is increasingly ready for North Fulton.
"The brokers and economic drivers are telling us this is where the future is," says Al Nash, executive director of the newly formed Progress Partners of North Fulton Atlanta.
This organization, an initiative of the Greater North Fulton Chamber of Commerce, is geared to creating a unified approach to development among the region's six cities – most of which were incorporated within the last few years.
"We talked to the cities and told them we don't want to control you, but we want to understand what your assets are and what you see as your visions for being," says Nash. "When you put all six cities together, you have a very powerful economic story."
Since its organization last January, Progress Partners has been busy trying to forge a unified approach to development that can leverage the considerable resources and attractions of a region that is bisected by Georgia 400 and extends from the northern Atlanta city limits to the Forsyth and Cherokee county lines.
Nash acknowledges that the economy is still shaky, but notes that developers and business people are already taking the first tentative steps toward getting things rolling again. They see the region as a great place to locate companies and conduct business. It's also a very attractive place to live, with quality schools, high-end shopping, extensive green space and five hospitals served by some 5,100 physicians.
One sign of North Fulton's charms for business is a fast-recovering office market that leads the metro area. Although the 12.1-million-square-foot office market has a vacancy rate of 19.1 percent, it is still one of the lowest in the metro area. Demand for space is driven by jobs, and the area boasts an unemployment rate more than two percentage points lower than the state average
Long a hotbed of technology companies, the area boasts a dense fiber-optic network that has attracted a large number of data centers. Much of this fiber is encased in concrete and backed up with redundant power.
"Over the last 15 years, Georgia Power laid a tremendous power grid on top of that," says Nash. "We have fairly low power costs in Georgia and lower risk of natural disasters and high quality of life. So right now we've got over 30 data centers in North Fulton. We've got a pipeline of more that we are working on with some of our partners whose companies have expressed interest in locating their data centers here."
Mission Critical
Data centers represent mission-critical investments for tech companies. They cannot fail or be down for even a short period of time. The security offered by this array of server farms was summed up during a conversation Nash had with a company exec recently.
"He said, 'We came here because I like to sleep at night,'" relates Nash. "This is a huge industry, and we believe we are well positioned for Fulton to take advantage of this tech surge that will be continuing to happen."
Last summer when Gov. Nathan Deal wanted to declare technology as an important focus for Georgia and the best hope for getting out of the recession, he went to the Alpharetta headquarters of McKesson Technology Solutions.
While there, he noted that the state leads the nation in healthcare IT and the company is one of the nation's biggest providers of software for hospitals and doctor's offices.
In fact, McKesson has more employees at its Windward Parkway division than its corporate headquarters in San Francisco, notes Nash. "We love to get corporate headquarters, but healthcare technology – whether it's data centers or companies that deal with technology – will be huge."
To help meet the needs of those technology companies, the area is pushing workforce development. One of the best ways of making sure workers are ready is through availability of education, and local leaders have been seeking a technical college campus for North Fulton. The area is now covered by Gwinnett Technical College, which is getting an expanded focus that includes more campuses. To make the short list for one of those campuses, the chamber put together a list of eight potential sites along with about $5 million in cash or in-kind gifts to start the process.
"We see an opportunity to provide workforce training here in our community," says Nash, who also noted that North Fulton is one of the most heavily populated areas of the state that doesn't have its own technical college.
The area has also attracted a large share of financial services with more than two million square feet of office space devoted to the industry. In addition, logistics companies such as UPS and Ryder have major operations here, according to Nash.
The North Fulton advantage can also be found on the lush greens of its 23-odd golf courses. In August, the Atlanta Athletic Club in Johns Creek played host to the 93rd PGA Championship.
"We [saw] a huge surge of people coming into the PGA tournament, and as a result we're showcasing all the six cities of North Fulton that we've branded under Progress Partners," says Lou Douglass, president and CEO of LJD Resource Group, LLC and immediate past chairman of the Greater North Fulton Chamber of Commerce. He estimates the economic impact at somewhere between $50 million and $60 million. "It's a big impact for the area. It also spotlights us not just on a domestic basis, but an international basis."
Mobility
If there's one common knock on North Fulton, it is the traffic congestion that can make getting from one place to another slow and difficult. Easing the nerves of drivers is one of the primary jobs of the North Fulton Community Improvement District. In recent years the body, which is funded by property owners along the Georgia 400 corridor, has concentrated on making road improvements such as adding turning lanes that can speed autos on and off interchanges.
Last year the CID secured funding to move key infrastructure projects forward, such as turn lanes at Windward Parkway onto Georgia 400 and at Mansell Road onto North Point Parkway. It also secured $4 million to help with a $10 million replacement of the Encore Parkway bridge – a two-lane overpass. When completed, the new four-lane structure will allow unfettered access by cars and pedestrians from North Point Mall to the area surrounding the popular Verizon Wireless Amphitheatre.
The CID has embarked on a round of beautification and branding for the corridor. It invested about $400,000 in landscaping and signage for each of Georgia 400's interchanges. And, in a sign that the recession is not all bad, the projects came in under budget, according to Ann Hanlon, the CID's chief operating officer.
"It's such a competitive marketplace that we were able to come in $100,000 under budget," she explains. "For us it's been a really good time to get projects done."
The CID's territory is long and narrow, cutting through the city limits of Roswell, Alpharetta and Milton.
One of the big changes that longtime residents have seen in North Fulton has been a creeping suburban sprawl and even the first hints of urbanization. Amidst all the strip centers and office towers it becomes easy to lose a sense of identity. Recapturing that purpose and sense of place has fallen to the new cities that consume the northern section of the county.
"I was one of the skeptics who felt that another layer of government was not the best idea," says Penn Hodge, owner of Penn Hodge Properties and a director of the North Fulton chamber. "In retrospect, now that most of the cities are about four or five year old, it's been a wonderful thing. They've brought a good quality of life to their citizens."
The cities are also increasingly pushing to create town centers that can give their citizens a focus that says, "This is our town." In May, Alpharetta officials unveiled plans for a massive $29-million infill project to build a new city hall, green space, library and parking deck on a 22-acre site in the center of downtown.
"It creates a focus on redevelopment for downtown," says Diana Wheeler, Alpharetta's director of community development. "It's supposed to be the catalyst for that redevelopment, and we expect it will awaken that interest in downtown that is dormant right now."
The hope is that the new town center will help pull the city "out of a recessional mindset," she adds.
Although most storefronts in the city are filled, the opening of new businesses has slowed to a trickle, compared to the surge that was common pre-recession. It's almost as if businesses are waiting for "the other guy" to make the first move, but now the city is going to "be the other guy," says Wheeler.
The city will have to win the approval of voters for a bond issue in November, but if that passes construction work on the downtown project should begin soon, with completion expected sometime in 2013. Although there are currently no private interests involved in the deal, the city will soon begin looking for a partner interested in the remaining land as a site for a mixed-use development.
Sandy Springs is also considering the construction of its first real municipal building at an old Target store site. The complex is expected to include a city hall, police department and municipal court. While the ultimate cost has yet to be fully defined, officials say it could be about $30 million. The city purchased the empty big-box store for $8.9 million in 2008.
All municipal offices are currently in the leased office space the city has occupied since its founding six years ago. Constructing a real city hall would go a long way to defining what constitutes downtown Sandy Springs.
Providing Services
When Sandy Springs became a new city, it started a trend, as Johns Creek, Milton and Mountain Park quickly followed suit. The rush to cityhood essentially transformed what had been largely unincorporated North Fulton into a collection of cities and pushed county government aside.
Proponents of this municipal wave contended that by bringing government closer to home and sending fewer tax dollars to downtown Atlanta, they could make government more responsive and efficient. One way they saw of doing that was by outsourcing basic services such as garbage collection, public works and IT, believing that the private sector could provide the services more cheaply.
While that proved true in some cases, Milton found that handing tax dollars over to an outside vendor raised costs and created a bloated – although privately employed – bureaucracy. As property values fell, the costs of city services began to seem too high. That prompted Milton city officials to bring many of its services back in house, while finding other ways to outsource services through partnerships with other North Fulton cities.
"That allowed us to close the last fiscal year very strong," says City Manager Christopher Lagerbloom. "Even in this economy, we closed the year with just over a $7-million fund balance. We have reserves and other cash on hand, and that's the way you weather the storm."
While the city continues to rent equipment such as backhoes and motor graders, it hired its own employees but managed to do the same job with a lower head count than the outsourcing company provided. While he never knew exactly how responsibilities were divided up among the 32.4 employees under the outsourced contract, Lagerbloom says that the same jobs are being done with a half dozen fewer workers.
"We cut out a lot of the administrative types and admin help that we seemed to have an abundance of," he explains. "I wasn't convinced that we needed as much as we had, so we shrunk them down. It's easier to expand than it is to contract."
In all, Milton saved $2 million a year by bringing services back in house. Other services such as code enforcement and building inspection are still being contracted, and the city gets 911 dispatching through an intergovernmental agreement with Roswell.
"We've got an assortment of things outsourced to different places, but its not the lump sum contract where we give one vendor $7 million and they provide X number of services," he says.
Encouraging Business
In neighboring Roswell, officials are trying to define just what they mean when they talk about local business. As part of a strategic economic development plan, the city is surveying its 5,000-odd companies to determine just who they are and what brought them here.
"We know that our market is smaller companies," says William Keir, economic development manager for the City of Roswell, noting that only 27 have more than 100 employees.
Over the last year, new business registrations have increased by 20 percent. At least part of that good news can be attributed to an "Opportunity Zone" encompassing most of the main business district along Highway 9 from the river up to the Holcomb Bridge Road intersection. Businesses creating at least two new jobs can get a $3,500 per-position tax credit from the state.
"It's been a good tool, especially in this economy, as it covers all businesses that pay taxes," says Keir.
Development on a larger scale came recently with the announcement that North American Properties was buying the 106-acre Prospect Park, a long-stalled mixed-use development site in Alpharetta. The company also owns Atlantic Station in downtown Atlanta and is expected to revive the original concept of high retail, office and residential on a somewhat smaller scale.
"The fact that they're going to break ground is a positive sign," says Hodge.Local Leaders
Community Snapshot
Local Leaders
Al Nash
Executive Director
Progress Partners of
North Fulton Atlanta
anash@gnfcc.com
678.397.0553
Ann Hanlon
Chief Operating Officer
North Fulton Community Improvement District
678.397.0566
Christopher Lagerbloom
City Manager
City of Milton
chris.lagerbloom@cityofmiltonga.us
678.242.2488
Population
(2010)
North Fulton, 349,861; Alpharetta, 57,551; Johns Creek, 76,728;
Milton, 32,661; Mountain Park, 570; Roswell, 88,346; Sandy Springs, 93,853
Per Capita Income
(2010)
North Fulton, $52,405
Georgia, $23,909
Unemployment
(June 2011)
North Fulton, 8.1 percent
Georgia, 10.5 percent
Top Employers
Northside Hospital, AT&T Inc., Verizon Wireless, State Farm Insurance Co./ADP Inc. – National Account Services
Sources
Greater North Fulton Chamber of Commerce, Georgia Department of Labor, U.S. Census Bureau