New Direction, New Name
Under GHSU President Ricardo Azziz, creativity is fueling innovation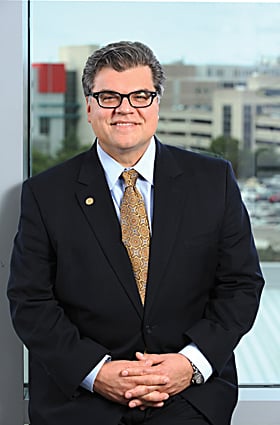 In the graphic imagination of Dr. Ricardo Azziz, inky, stippled people with forlorn postures merge with fantastic landscapes, an army of ants crawls over a yellow field, tree branches sprout human hands clutching umbrellas, and a faceless man cowers behind a wall, haunted by the false promise of the American dream pouring from a disembodied faucet on the other side.
They are pieces of bigger works of art in his portfolio (which can be seen at razzizstudio.com). Azziz, who just completed his first year as president of Georgia Health Sciences University (GHSU, formerly known as the Medical College of Georgia) in Augusta, evenly works both hemispheres of his brain, combining a sense for the surreal with a thorough familiarity of human anatomy to create his art, pen and ink drawings mostly, mixed-media collages lately.
Azziz makes art because it's relaxing, but also because he has to, as if the creative process is the organic force that drives him.
"Art allows me to observe the world from a different perspective. And the business of biomedical research, the business of health sciences, the business of innovation – these types of enterprises are based on new ideas and different perspectives. They're all based on creativity," says Azziz, the physician/scientist/executive/artist who assumed leadership of the university July 2010.
"Innovation centers like GHSU are really ecosystems; they are biological entities. They don't have perfect form, nothing is always exactly black and white, and what fuels this level of innovation is creativity, creative thinking," he says.
"So it's not unusual for people in our community, for researchers and discoverers and scientists and so on to have these creative pastimes."
Azziz says he manages creative people for a living, and he's suggested that Augusta embrace the "cool factor" in order to attract more creative people.
His comments – at a Rotary Club meeting and on his blog (azziz.georgiahealth.edu) – calling Augusta's coolness into question were probably more provocative than he intended, making headlines and receiving air time in the local press, drawing some harsh criticism.
"Maybe some of the feedback was negative, but anytime you can generate lively conversation like that, that's positive," says Dr. Gretchen Caughman, executive vice president of academic affairs who became GHSU's provost in June, after nearly 26 years at the institution. "He made the point that we at GHSU as well as the community really have a stake in that cool factor, that we can all be part of a solution.
"It's all tied up into making Augusta and this region a destination, and not just for Masters week," she says. "A destination for healthcare, for tourism, for the intellectual talent we want to attract. That takes a certain cultural aspect and energy that isn't lacking, but can be improved."
Azziz believes that some of his critics weren't really paying attention to the message.
"Some individuals interpreted it as my saying we weren't cool," he says.
"But it's important to be clear – my comments relate to the fact that we could be better, we could be cooler, that's all."
He also got some agreement on the issue of Augusta's coolness (or lack thereof), especially from locals who share his opinion that the city's conga line of cookie-cutter chain restaurants and fast-food joints, limited public transportation (as well as walking paths and bike lanes), nonprofit silos and occasional civic myopia, are all decidedly uncool.
"Is Augusta a cool city? I think so. Can we get cooler? Yes, definitely," says Augusta Mayor Deke Copenhaver.
Azziz also pointed out what he thought was cool about Augusta, those attributes the city can build upon and knit together: the Savannah River, music festivals, a symphony, ballet and opera, an entertainment complex designed by I.M. Pei and named for James Brown, bustling ethnic food markets and independently owned restaurants, historic buildings, nine public libraries.
"Ricardo is not afraid to rattle some cages, but right now, that's what we need," Copenhaver says. "He's the type of leader GHSU needs, and in my personal opinion, the type of leader this community needs, new leadership willing to look to the future as opposed to the past."
Next Great Thing
Azziz, who looks like he could be Al Franken's younger brother, was born in Uruguay, the son of nomadic intellectuals with artistic interests, an anthropologist mother and nuclear physicist father.
"I was two when we moved to the U.S., so English is my first language. I basically grew up in Pittsburgh," he says.
The family also moved to Costa Rica, Puerto Rico, back to Uruguay, back to Puerto Rico, back to the U.S., and so on. But he definitely felt like a Yankee, something of a northern gatecrasher, when he moved to the Deep South in 1987 to become an assistant professor in the department of obstetrics and gynecology at the University of Alabama at Birmingham (UAB).
"I was concerned about going there, because you never know, a guy with a funny name, not from around here – that can be an issue," he says.
Instead, Azziz says he found a city that was trying to distance itself from a racially dissonant past. A cauldron of the Civil Rights movement in the 1960s, Birmingham was still evolving, trying to survive the decline of its once robust steel industry.
"They knew that if they didn't come together they were going to die as a community," Azziz says. "So they embraced the idea of becoming the next great biomedical research and health sciences hub by investing in UAB, investing in BellSouth, investing in other technology-related industries.
"Sometimes, communities that haven't reached that brink haven't felt the push to make them face their past and address the future."
He says UAB in the late '80s reminds him a little bit of GHSU now. When he arrived in Birmingham, the university was "70th or 80th in NIH [National Institutes of Health] funding. When I left 15 years later, we were 13th in the nation in NIH funding," Azziz says.
GHSU is currently ranked 70th (representing about $44 million in NIH funding, which accounts for almost half of the $90 million in grants the institution gets). Azziz aims to move into the top 50 in research funding, part of the 10-year growth plan he's helping to guide at GHSU called Transformation 2020.
Azziz is one of the world's top experts and researchers of androgen excess disorders, specifically polycystic ovary syndrome, and a frequent author on the subject. The NIH has funded his work since 1988.
He's had plenty of exposure at some of the nation's top-funded research institutions, beginning his professional academic career (1985-1987) as an instructor in the gynecology and obstetrics department at The Johns Hopkins University School of Medicine, No. 1 on the NIH funding list.
After UAB (where he met his wife, Cindy) Azziz moved to Los Angeles to lead the massive OB/GYN department (a $180-million enterprise) at Cedars-Sinai Medical Center, one of the country's leading academic medical centers. (He also became a professor in UCLA's David Geffen School of Medicine as part of the deal.)
He'd already earned an MBA and a Masters of Public Health at UAB, and his thinking was, "I needed to develop higher-level management skills if I was going to manage an academic institution, which is what I wanted to do. I started looking around the country for opportunities to manage a relatively large enterprise in a different environment.
"I figured, if you can succeed in Los Angeles, you can pretty much succeed anywhere. This was not for the faint of heart."
Again, Azziz was part of an institutional transformation. The Cedars-Sinai OB/GYN department did not have a great reputation, but by the time he left in 2010, it had become one of the top 20 for NIH funding (as a department, while Cedars-Sinai was 12th in overall university research funding).
"That didn't happen because of my skills, but because again, the leadership of the institution said, 'We will be the next great thing.' That's what Georgia has to do. Our leaders have to say, 'We will be the next great thing.' If that commitment doesn't come from the top, it just doesn't happen."
By the time he left Los Angeles, Azziz had become assistant dean, clinical and translational sciences, at the med school, where he also was vice chair of the OB/GYN department.
"You realize that you've reached the maximum of what you can contribute, and then it's time to look for that next great challenge," he says. "I knew Cedars-Sinai was at the point of its great transformation. That's why I went there, and that's why I came here, for the potential of a great transformation."
Well, that and personal reasons. His mother, sister and wife's family live in the Birmingham area, his brother is in Atlanta, his father in Sarasota. He wanted his three kids to be near kinfolk, and he liked his chances in Augusta.
Water in the Desert
Azziz arrived at the temporal intersection of multilayered institutional transformation. Last July, for example, the university adopted a new governance structure. The new, four-year Medical College of Georgia/University of Georgia Partnership campus in Athens started serving its inaugural class of 40 students, and the Medical College of Georgia was looking to change its 180-year-old name to better reflect its mission.
The name change ultimately came about following a survey of 15 other institutions where GHSU was interested in recruiting faculty and administrators. Fifty percent of the respondents had never heard of the Medical College of Georgia (MCG).
Of the 50 percent who had, only a third knew MCG was actually a full-fledged health sciences university – that is, an institution that trained not only physicians, but also nurses, dentists and other health professionals. GHSU's School of Dentistry, for example, is the only dental school in Georgia. (The school's new 270,000-square-foot, $112-million building is scheduled to open this semester.)
"We didn't realize how anonymous we were," Azziz says. "It was actually much worse than we thought, so at that point the governor, lieutenant governor, board of regents really backed us up. They realized we were the last university in the state to call ourselves a university."
So MCG officially became GHSU in February of this year, further muddying a confusing river of acronyms and titles. In addition to being president of the university, Azziz is CEO and chairman of the MCG Health System Inc., which governs MCG Health Inc. (Azziz chairs that board, too) – all of that thanks to the governance restructuring, intended to align the school's clinical and academic missions. Azziz also chairs the MCG Research Institute, is a professor in the departments of medicine and OB/GYN, and sees patients once a month.
He doesn't have as much time to make art as he'd like, but he's deadline driven and fully expects to be creating at the last second to complete the piece he's agreed to work on for the new dental school building.
"I don't have a lot of downtime," Azziz says. "People ask me how I'm able to juggle so many jobs. It's three things. One, I've been doing it this way a long time, so I'm used to it. Two, I don't golf, I don't fish and I don't hunt. And three, I don't sleep much."
He leads one of the top employers in the region, a $2-billion enterprise where roughly 2,600 students are trained. The next 24 months, he says, are crucial as GHSU devises a strategy to achieve its Transformation 2020. For one thing, national healthcare reform (if it can tread the current political and economic maelstrom) will be kicking in full force by 2014.
Nonetheless, Azziz has expressed ambitious plans for GHSU. He wants to double the amount of research and researchers. He wants to expand GHSU's reach.
The university has satellite operations in Albany, Athens, Brunswick, Rome and Savannah, but Azziz wants a greater presence in Atlanta, and he wants to increase clinical revenue, to make the institution's vast medical complex a healthcare destination for patients from beyond regional and state lines.
Developing a cooler groove in Augusta can't hurt, but Azziz says it will also take new partnerships and collaborations with other universities and organizations, public and private, and further integration of administration and services – again, that's part of what the governance restructuring is supposed to accomplish.
David Hefner, executive vice president for clinical affairs and one of Azziz's key hires and chief strategy officers, has worked with GHSU administrators for years, going back to the 1990s when he served as a consultant to MCG. He is working closely with the boss on the next great transformation, which will be centered on an integrative approach to service delivery.
"We should be training the next generation of healthcare professionals on this whole new approach," Hefner says. "If we looked in a crystal ball and could foretell the future, I'd imagine it's going to be less of a physician-centric world and more of a health-professionals world, an integrated team world.
"Who better to create those new solutions and education models than a leading-edge health sciences univer-sity?"
And he says GHSU has the right creative mind at the tip of the pyramid.
"It's the rare physician-executive who can be a great clinician, with a deep understanding of multidimensional research, an expert grasp of economics and business principles, and who also happens to have the heart of an artist.
"Dr. Azziz is one of those rare people. Partnering with someone like that is like finding water in the desert."