Dalton/Whitfield County: A Manufacturing Resurgence
Broadening, not replacing, the base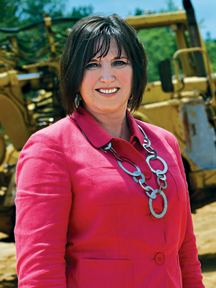 In a city and region tied closely to manufacturing, changing times and technology can be wrenching. It is a process that has caused the people of Dalton and Whitfield County to think deeply about what it means to be tied so intimately to a single industry.
Long known as the "Carpet Capital of the World" or, as one local official put it, "we are the carpet industry," Dalton has experienced unemployment and business closures as a result of the recession. Carpet and floor covering, tied closely to home building, has been one of the biggest casualties of the downturn.
Diversification is a word you hear often in this Northwest Georgia community an hour north of Atlanta. While many hard-hit areas are searching for a whole new source of jobs and prosperity, Dalton wants to broaden its manufacturing base – not replace it – because, well, it just isn't practical.
Consider that an economic development study completed in 2006 found that "Whitfield County is 10 times more aligned with and impacted by the carpet industry than Houston is to energy," according to Brian Anderson, president and CEO of the Dalton-Whitfield Chamber of Commerce.
"The relationship is pretty strong," he says. "You would have to have hundreds of new businesses open that have nothing to do with carpet to say you're a diversified community."
Instead, diversification is reflected in new manufacturing – both old companies doing new things, as well as new firms with new products that need a trained workforce that knows how to make things.
"The collapse of the economy of Dalton, Georgia, is a little bit premature," advises County Commission Chair Mike Babb, reflecting the local view that the current economic up-heavals are a passage to a resurgence of manufacturing. "We're so heavy into the carpet industry locally, a lot of our expansions and our new jobs are going to come from the established industry in Dalton – the carpet industry."
Make no mistake about it, Whitfield has suffered its share of dislocation. Employment has trended upward into double digits, giving the area at times the highest rate in Georgia.
"But we haven't had the kind of decline that many would have projected or forecast given that we're so heavily connected to the carpet industry," says Anderson.
The relocation of International Vinyl Company (IVC) to Dalton is providing a $75-million boost to the economy. The company, a Belgian-based vinyl floor covering concern, brought its North American headquarters and about 125 jobs here, opening a plant in the county's new industrial park earlier this year. That win prompted other companies to take a closer look at the area as well, say local leaders.
"As far as our development authority, we have worked more projects and have more new leads for new industry and we had more locations and expansions in the last six months than we have in the last six years combined," observes Elyse Cochran, executive director of Dalton-Whitfield County Joint Development Authority. "A lot is happening."
One of those prospects has become the first tenant to occupy the county's new Carbondale Business Park just off I-75. XL Brands bought a 16.3-acre site from the development authority and is building a 122,000-square-foot facility, which will allow it to consolidate two other plants and transfer about 50 jobs to the plant.
Still Changing
Change has also been an integral part of the carpet industry, which long ago moved from just carpet to making all kinds of floor coverings. Today there are very few companies making carpet only.
"Most have also expanded into hardwood, tile and laminate and all the different mixes – especially the larger companies," says Anderson. "They have become diversified within their industry. Recycling and sustainability efforts have caused them to diversify. You have guys who are recycling post-consumer and post-industrial carpet into black plastic molded parts, fan blades for cars and soil erosion mesh. They're looking for new outlets for recycled products."
Over the last decade, the carpet industry has engaged in a systematic move to new, more efficient methods of creating carpet. Antiquated plants have been shut down as companies have replaced the old spun yarn method of carpet making with a new high-tech process called bulk continuous filament (BCF) or extruded fiber.
"The people working in those plants took what looked like bales of cotton, but they were really synthetic fibers that they would process like cotton and turn into yarn for the carpet industry," explains Babb. "Yes, the economy did hurt, but it's also a change in technology within the industry, which is going to require a higher level of expertise in manufacturing."
In plants around Dalton, workers spent decades working carding yarn or keeping spinning machines running. Now those jobs are gone, and the question has shifted to how do you make these workers adept in using this advanced technology? A new plant employing this technology is already under construction near Dalton, he adds.
There are jobs disappearing, and there will have to be retaining of some long-term employees," observes Babb. "We're going to give people more opportunities for technical training while they're in high school, and those out of high school [can] have more technical training to go straight to work. Not everyone needs or wants a college education."
To help meet that need, Rome-based Georgia Northwes-tern Technical College recently opened a campus in Dalton to provide this kind of training.
"And that is a very timely happening, because a lot of our displaced workers from the old carpet floor covering processes are going to have to acquire new skill sets to meet the demands of new jobs within that same industry," says Cochran.
As some plants close, economic developers are also moving to make sure these older sites do not languish unused any longer than necessary.
"We want to market those places and those properties that already have that infrastructure and service capacity to them so we don't have to do as much investment as someone else might," says Don Cope, president and CEO of Dalton Utilities. "We have large capacity in place to individual sites that you might not be able to get elsewhere without a significant expenditure of funds. That's an advantage for us."
The utility provides water, sewer, electricity, natural gas and telecommunications not just to Whitfield, but surrounding counties as well. It has also become something of a leader in recycling and green energy production. It built a three-billion-gallon reservoir for treated wastewater.
"On that site we have a 1,240-megawatt combined cycle electric generating plant that is built to California air standards and does not withdraw one drop of water from a river," says Cope. Cooling for the plant is entirely from treated wastewater, he adds.
In addition, Dalton Utilities composts 100 percent of the solid waste from the facility using these solids in landscape and soil erosion control.
"We don't put anything in a landfill at all," says Cope.
One of the unique things about Whitfield County is that in an era when many workers provide service rather than making tangible objects, it is one of the few places left that still designs and builds products for the home.
"Our community is very much in a transition stage, but we are still a manufacturing community," says Cochran. "We're the second largest manufacturing community per capita in Georgia, and we're one of the few communities where the design of a product happens here. The idea and design and creativity of a product happens in Whitfield County. Raw materials are brought in, and that product is made from start to finish and then exported out as a finished product."
As a result, it is home to a large number of designers, says Dalton Mayor David Pennington.
"We want to make Dalton a design center not just for the carpet industry, but for the entire home furnishings industry," he explains. "We've got a lot of designers in Dalton, but many don't live there. We'd like to attract even more designers."
The Savannah College of Art and Design (SCAD) operates a design internship program for local industry that brings students here to learn the finer points of creating products in a real-world setting. Last summer, 26 students worked with local companies through a program sponsored by the college, the American Floorcovering Alliance (AFA) and nine AFA member companies in Dalton.
Locals would like to see the school make the program permanent and even establish a campus here, according to Pennington.
Of course that raises the question of how do you attract all those talented creative people to Dalton when they're used to the pace and ambience of urban centers? That has been very much on the mind of Dalton's mayor.
"We know we have to upgrade a lot of our quality-of-life infrastructure," says Pennington. "At one time, when I grew up in Dalton, everybody who worked in Dalton wanted to live in Dalton regardless of income status. In the last 15 years, that has changed."
Now many of the educated professionals who still work in the city commute from places ranging from Chattanooga, Tenn., all the way down to Cobb County. Dalton is trying to reverse that flow so that more of those affluent people will at least consider living in Dalton. First on the agenda is revitalizing Dalton's downtown area by recruiting more one-of-a-kind shops, restaurants and entertainment venues. The goal is to build both a nightlife and a reason to come into town on the weekends.
"We're changing the alcohol laws," he explains, so those restaurants can serve drinks.
To liven up the atmosphere in a downtown that has traditionally rolled up the sidewalks after 5 o'clock, the city is also trying to entice Dalton State University – whose campus sits on the other side of the interstate – to move one of its programs to the downtown area.
"Right now they're not involved in downtown at all," says Pennington.
Colorful Parade
Visitors to downtown are being joined by some colorful characters in the form of a host of peacock statues that has sprung up. The public art project, called "Peacocks on Parade," is modeled after the brightly painted cows of Chicago, according to Down-town Dalton Development Authority Director Veronica French.
"Different artists will paint these five-foot-tall fiberglass peacocks to celebrate our Peacock Alley history, and we'll have them all over downtown," she explains.
For the past several years, the authority has sought to create more public art that can complement the only known bronze statue of Confederate General Joseph E. Johnston, which was erected in 1912 and sits at the intersection of Hamilton and Crawford streets.
The choice of peacocks harkens back to the city's early fame as a maker of high-quality chenille bedspreads. Be-ginning in the 1920s, old U.S. Highway 41 was the major automobile route from Chattanooga to Atlanta, running through downtown Dalton. Travelers would see these colorful homemade bedspreads hanging in the front yards of homes to entice buyers all along the roadway. Many had a familiar peacock design, and it is that history the statues are meant to honor, according to French.
City officials also see a water park as a way to draw out-of-towners to the city, and they have even offered private developers a portion of Heritage Point Park as a location. Some have come by to look and talk, but nobody has been willing to sign on for the project.
Part of that reluctance arises from the city's unwillingness to foot the bill for the project. An early proposal for the city to build the estimated $6-million facility and lease it back to an operator with an option to buy was shot down by the city.
"What we would prefer to do from a government standpoint is to make the land available to them, but we want private industry to build the water park," says Pennington.
While Dalton doesn't want to fund projects, it does want to make sure that businesses know they are welcome here; for four years, the city has made an annual tradition of reducing taxes in order to make it more competitive with similar cities. In past years, rates had "gotten out of hand" and needed to come down, according to Pennington.
"The big difference between us and most any community in America is the fact that we still have a manufacturing base," he explains. "That base pays a lot of taxes so [the recession and its consequences] haven't had as severe an effect on government."
Community Snapshot
Local Leaders
Brian Anderson
President & CEO
Dalton-Whitfield
Chamber of Commerce
706.278.7373
anderson@daltonchamber.org
Mike Babb
Chairman
Whitfield County
Board of Commissioners
706.275.7500
mbabb@whitfieldcountyga.com
Elyse Cochran
Executive Director
Dalton-Whitfield County
Joint Development Authority
706.278.7373, ext. 114
cochran@daltonchamber.org
Population
(2009)
County, 93,698
Dalton, 33,604
Per Capita Income
(2010 and 2008)
Dalton, $31,323
Georgia $ 34,839
Unemployment
(May 2011)
County, 11.1 percent
Georgia, 9.7 percent
Top Employers
Shaw Industries, Mohawk Industries, Beaulieu Group, Whitfield County Schools, Hamilton Health Care System, Tandus Flooring
Sources
Dalton-Whitfield Chamber of Commerce, Georgia Department of Economic Development, Georgia Department
of Labor, U.S. Census Bureau