Thinking Ahead
Fort Valley: Leadership, education, peaches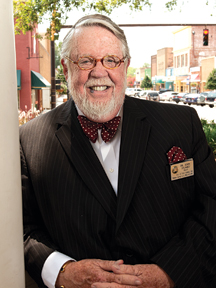 There's a little game you can play if you pay attention to John Stumbo for any length of time – how often can he fit the phrase, "Fort Valley, USA" into the conversation? Chances are that you'll lose count, but there's an equal chance that before his spiel is over the phrase will be lodged in your brain. That's exactly the effect he wants.
Since being elected mayor of Fort Valley 14 years ago, Stumbo has been the city's vigorous champion, demonstrating a fervent civic pride that sounds audacious and bullish when he says things like, "What's happening in Fort Valley, USA, runs contrary to the recessionary trend happening everywhere else."
The thing of it is, he really believes it, and he's worked very hard in the effort to make that statement a reality.
"I can tell you without hesitation that our mayor has been instrumental in a lot of what is happening at this institution," says Dr. Larry Rivers, starting his sixth year as president of Fort Valley State University (FVSU). "He's been a caring and visionary leader for this university and this city in many tangible ways."
Poverty is still high, so is unemployment. But they've got a dynamic mayor pulling strings, an expanding university, an established and vibrant agribusiness, one of the world's top bus manufacturers, very little debt – and they've been thinking ahead.
Fort Valley just might be the little city too busy to fail.
"In much of small-town Georgia, there's a tendency to settle for mediocrity," Stumbo says. "Not us. We're not settling for mediocrity."
His ready example is the Boys & Girls Clubs of Peach County, which started 11 years ago after a local high school counselor, Constance Palms, approach-ed the mayor with the idea after she'd grown tired of seeing local teens gather aimlessly on the street corner in front of her house.
"The kids had no place to go after school," says Stumbo.
So they got their charter from the Boys & Girls Clubs of America and occupied an old high school building for a while.
"But our kids deserved the best facility we could get," Stumbo says. "So we raised $1.2 million in a couple of months to build something new."
About $500,000 came from a community block grant through the Department of Community Affairs, Stumbo says, with the rest from private money.
Stops and Starts
Phil Horlock was on vacation last year in Alaska, taking a tour of Denali National Park (where they use refurbished old school buses) when the tour's bus driver noticed the Blue Bird insignia on his jacket.
"He told me how much they loved our buses," recalls Horlock, who had only recently become Blue Bird's chief financial officer after 30 years with Ford Motor Company. "Now that's a great feeling, to get that kind of feedback thousands of miles from home."
In April, after little more than a year with Blue Bird, Horlock became CEO of the company, which has built about 500,000 buses since its founder, Albert Luce, built his first school bus in 1927. The company has followed a long, winding and hilly route to the present day – ownership changes, opening and closing divisions and plants.
Blue Bird put all of its eggs in Fort Valley's basket after closing its plant in LaFayette – awful news for Northwest Georgia, where 350 workers lost their jobs, but something like balm in Fort Valley, which gained 65 of those jobs and where Blue Bird is the largest employer (about 1,500 workers).
"The entire industry is challenged," Horlock says. "Go back to 2007, and the industry was making about 35,000 buses a year. Now it's about 23,000. Times are tough.
"We had to make a hard decision last year. The result is a stronger company here in Fort Valley."
Blue Bird remains one of the "big three" school bus manufacturers (Inter-national and Thomas are the other two) and has become the faraway frontrunner in producing alternative fuel school buses. They make about 1,000 a year – compressed natural gas and propane.
"We're very optimistic because our market share is up three percent and we've outmaneuvered our competitors," Horlock says. "No one else makes a propane school bus, and we see the alternative fuels market continuing to grow."
One of its key suppliers, Ohio-based seat manufacturer C.E. White Co., opened a satellite assembly plant last summer in a 24,000-square-foot facility geared toward servicing just-in-time deliveries and providing on-site support to the bus maker.
"This is a way to offset the high cost of fuel and remain close to our customer," says Steve Frazee, director of products and OEM development for C.E. White, which plans to add to the nearly 20 employees already on site.
Since ending production of its Wanderlodge motorhome a couple of years ago, all Blue Bird does is make school buses. But there is a new bus company moving into the old Wander-lodge plant. TATSA (for Tecnologia Avanzada en Transporte S.A.) is an Argentine company specializing in mass-transit buses and looking to expand its North American footprint. They'll create 100 to 130 jobs.
Another vacant plant (former home of toy manufacturer Step2) has been grabbed up by New York-based Valley Industrial Products, which makes plastic sheet and profile extrusions. The company created 105 jobs, which helped replace the 104 jobs lost in Step2's closing, at the 103,000-square-foot facility.
Peach Capital
A midday Thursday crowd shuffles through the Lane Southern Orchards store on State Route 96, east of downtown Fort Valley. They're buying bags of pecans, loaves of peach bread and baskets of peaches, eating lunch in the PeachTree Café and wiping the ice cream from their chins while rocking in the rows of chairs out front.
Harvest has recently begun, and people want their fruit. This is what the front door of a peach empire looks like.
In the packing plant behind the massive store, seasonal employees work in tandem with high-tech equipment that can clean the fruit and separate it by size and color.
"Customers shop with their eyes. Size and color is everything," says Lane Packing CEO Mark Sanchez – the Lane family sold the business to a farm family from Florida several years ago.
Fleets of trucks will take the peaches to grocery stores and roadside fruit markets all over Georgia, the South and beyond. Lane will ship about 800,000 25-pound boxes this year. They'll also ship about two million pounds of pecans all over the world.
On the other side of Fort Valley, Al Pearson has made a sweeping transition in how he conducts business. The President and CEO of Pearson Farm (and the fourth generation of his family to run the operation), he remembers when he kept the company books on the seat of his truck. Of course, it's all in a computer now.
"Fort Valley had 20, 25 packing houses years ago," says Pearson. "Now we've got four in the area, and those four do more than those 25 did."
Both Lane and Pearson farms rely on the careful balance of human labor and mechanization. It is peak season, and Pearson employs about 200 workers, Lane about 275, many of them immigrants through the federal H-2A program.
Pearson expects to ship about 500,000 boxes this year – many of them closer than usual. Same thing with Lane.
"The 'locally grown' movement has changed everything," Pearson says. "For the past several years we've aggressively been working on that. You've seen the simple billboard message: 'Always ask for Georgia peaches.' Last year we helped sponsor the Peachtree Road Race, and for the first time the runners got peaches instead of bananas. It makes sense. We're the Peach State."
The University
FVSU has undergone a construction frenzy valued at more than $165 million since Larry Rivers became president (compared to the $30 million invested in the 20 previous years). That includes a new football stadium, student amenities building with a bookstore and conference center, new student housing and an agricultural research facility.
For Rivers, the new buildings and the university's growth are his proud legacy. When he started, his goal was to double enrollment, which stood at 1,900 in 2006. Now it's 3,600 and growing. Together, the mayor and the college president are trying to reshape the future of the city and the school.
"Some people around here say we're joined at the hip," Rivers says, pointing out the $6.5 million-plus Stumbo has helped secure in government grants to expand and modernize the city's water system in anticipation of FVSU's growth and the $1.5 million transportation grant to renovate the streetscape leading from the south end of downtown to the college campus.
There is untapped potential in downtown Fort Valley, an odd mix of historic buildings, streets bisected by railroad tracks and interesting alleys. It's a college town waiting to happen.
"Businesses that might support FVSU, I feel, would do well in the near future," says Perry Swanson, president and CEO of the Peach County Cham-ber of Commerce, which occupies the c. 1855 Troutman House across the tracks. "A trendy coffee shop, a nice bookstore, a movie theater and other areas that students could constructively congregate are more than welcome."
Right next to downtown, a slow resurrection is taking place at the 31-acre Woolfolk site, which was placed on the EPA's national Superfund list in 1990. Since then, the EPA has spent about $30 million cleaning up the poison that resulted from 80 years of agricultural pesticide production there – more than 50,000 tons of contaminated soil and debris.
One corner of the Superfund site already has been redeveloped, long ago – it contains the state-of-the-art, 17,500-square-foot Thomas Public Library, a reminder of what a community can do in the wake of an environmental disaster when the timing is perfect.
Stumbo has some heavy lifting in mind down the road, near I-75 at the SR 96 exit, an area that the city plans to annex. There's a 250-acre site that has been the subject of conversation with prospective developers who envision a $400-million shopping center.
Fort Valley, which owns all of its utilities, extended water, sewer and natural gas lines to the site because Stumbo wants to be ready. Of the $10 million they borrowed to get the job done, they only owe about $660,000. They've paid the rest off.
"We don't have immovable objects like fixed long-term debt payments standing in our way," the mayor says. "As soon as someone wants to develop that site, and it will happen, their tap-in fees will come in as fresh income and pay off our little debt.
"We were thinking ahead, and we didn't mortgage ourselves to put in that infrastructure. The way I see it, Fort Valley, USA, is postured for success."