Phoebe At 100
The Albany-based Phoebe Putney Health System celebrates a century of serving Southwest Georgia's healthcare needs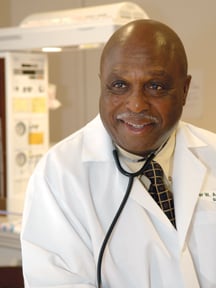 Like Dorothy, the Tin Man and the Cowardly Lion, who emerge from the woods to find the Emerald City, people who need medical care in Southwest Georgia are often surprised to see the gem that is Albany's Phoebe Putney Health System, says CEO Joel Wernick.
Fortunately for residents of the Albany area, young doctors looking for places to begin their careers may be similarly surprised, say Wernick and Phoebe's chief medical officer, Douglas Patten, M.D. "It has always been a bit of challenge to get [doctors] to Albany, but when they get here, they are surprised pleasantly from a professional perspective that they have access to technology and facilities that they never expected to be here," says Dr. Patten.
From robotics and cutting-edge imaging technology to programs that train future doctors and promote healthy lifestyle habits among area school children, Phoebe (as it is referred to by the locals) offers a level of services and care uncommon for a medical center in a city the size of Albany.
Yet nothing about Phoebe could be considered common – from the mission for which it was established 100 years ago to the way it has thrived over a century, even as Fortune 500 companies have come and gone, says Wernick, who celebrates his 23rd year at Phoebe this summer as the hospital celebrates its 100th anniversary.
One of the largest Georgia medical centers south of Atlanta, Phoebe provides not only quality care, but more than 3,800 jobs (not including physicians) to an area with one of the highest rates of poverty in the state.
As Phoebe celebrates its 100 years this month, the community takes a look back to where and how it all started with an eye toward what's ahead.
The Beginning
In the early 1900s, Albany was bustling. As new homes, stores, banks, a courthouse and a cotton mill cropped up, all that was lacking was a convenient place for the town's growing population to go for healthcare – Albany needed a hospital. A number of groups set out to see that the need was met. Leaders in the effort included two women's groups. The first was the Ladies Hospital Aid Association, organized for the sole purpose of raising funds through bazaars, dances and carnivals to build the hospital. The second was the Ladies at Home, a local branch of the Negro Women's Federation, who believed that since all charity hospitals "had a section set aside for Negroes … Negroes think it nothing but right that they should do their share toward rising for funds for its establishment and maintenance," according to a newspaper article of the day.
Although many people worked hard to accomplish the goal of a hospital for Albany, it was Judge Francis Putney who made the dream a reality, according to A History from the Heart, a history of Phoebe Putney published for its 80th anniversary in 1991.
Asked for his help in the drive for the hospital, the judge replied to the Ladies Hospital Aid Association with a generous offer. He would give them $25,000 to build the hospital if they would agree to three stipulations: The hospital must be named in memory of his mother; the building must be made of brick to be fireproof; and, finally, "his" hospital must serve both races. It would not be a hospital for whites, but a hospital for all.
The group accepted his offer and his stipulations immediately. Plans for a brick hospital, serving both blacks and whites on the same land, under the same roof, with the same administration, began.
At a time and place where memories of Civil War and Reconstruction were still fresh and the Civil Rights Movement was still half a century away, the concept of a hospital to serve both races stood in stark contrast to the prevailing practice of the day. To this day, Phoebe still embraces its original mission to provide quality of care for all.
Its progressive spirit continues to be evident in its expansion in recent years as well as in the level and diversity of technology and services it offers, say its leaders.
Expansion
For its first 89 years, Phoebe was one hospital with one address – 417 Third Avenue in Albany. "When I went on the board in 1973, Phoebe was just a small hospital," says Anna Louise McCormack, who served on Phoebe's Board of Directors – at one time serving as finance chairman – until 1995.
While the hospital underwent some renovations during her early years on the board, she says she witnessed the greatest growth after 1988, when Wernick, a young hospital administrator working in the Florida panhandle, was hired to fill a vacancy created when then-administrator Duncan Moore left to accept the position as president and CEO of Tallahassee Memorial Regional Medical Center (now Tallahassee Memorial Healthcare).
"Joel came to us highly recommended," recalls McCormack. "When he came and we talked with him, the whole board voted unanimously to hire him. Part of the reason for the growth of Phoebe is that Joel was so knowledgeable in finance."
Under Wernick's leadership, the health system has grown to become the largest employer in Southwest Georgia, with services extending across 35 counties. An estimated 46 percent of Phoebe's patients come from Dougherty County; 10 percent come from Lee County; 8 percent from Worth; 5 percent each from Terrell and Mitchell; and the remaining 26 percent from other counties.
While the system still operates the flagship hospital, Phoebe Putney Memorial Hospital in Albany – the same hospital where McCormack, now 90, says her younger sister was born in 1925 – it also operates Phoebe Sumter Medical Center in Americus and Phoebe Worth Medical Center in Sylvester and manages Southwest Georgia Regional in Cuthbert and Dorminy Medical Center in Fitzgerald, which will become a system facility in August 2011.
The system entered into an agreement with Hospital Corporation of America (HCA) to acquire Palmyra Medical Centers, but a federal appeals court temporarily blocked the sale in July to allow the Federal Trade Commission to appeal a lower court ruling. The FTC wants a more vigorous antitrust review.
The Palmyra purchase would expand Phoebe further, hospital officials say, and increase a center-of-excellence focus that is expected to help obtain state designation as a certified trauma center.
Technology
Perhaps more impressive than Phoebe's physical growth in recent years is the growth in technology it offers, says Albany's Mayor Willie Adams, Jr., M.D., who has also been a practicing ob-gyn at Phoebe since 1973. "When I came to town, I was the first physician to do laparoscopy. Now we have the da Vinci robotic system for gynecologic surgeries. Phoebe has been at the cutting edge of providing new technology for their physicians."
Dr. Patten, too, sees last year's acquisition and rapid adoption of the da Vinci Surgical System as symbolic of Phoebe's investment in and use of technology.
The da Vinci Surgical System is a sophisticated robotic platform designed to enable complex surgery using a minimally invasive approach. The technology allows surgeons to operate with precision using small incisions and tools, in many cases minimizing pain, blood loss and recovery time for patients.
"In less than a year, our surgeons have created not only a busy program monitored by our own physicians, but also a certified teaching center so that teams from other hospitals are now coming here to do robotic surgery," says Dr. Patten, who says Phoebe was the first hospital in South Georgia to acquire and use the system.
As of May 11, 13 Phoebe surgeons had used the da Vinci machine to perform a collective 222 surgeries in the areas of general surgery, urology and gynecology. Plans to use the technology for cardiology as well as the acquisition of a second da Vinci machine are in the works, says Dr. Patten.
Cancer Care
The final piece of a 20-year master plan, Medical Tower 2, housing the Phillip L. Roberts, M.D., Cancer Pavilion, opened last February, expanding the hospital's services to meet the growing demand for cancer treatment in Southwest Georgia.
Advanced diagnostic and treatment technology available at Phoebe in-cludes:
TomoTherapy: One of the most advanced technologies used in cancer treatment, TomoTherapy combines computed tomography (CT) imaging with conformal radiation therapy – a procedure that utilizes computers to create a three-dimensional view of a tumor – to target the tumor as accurately as possible and give it the highest possible dose of radiation while sparing normal tissue as much as feasible. The TomoTherapy unit not only uses pinpoint precision to treat small tumors, but also puts Phoebe on scale with some of the major hospitals around the nation. Phoebe is the first hospital in Georgia to have a TomoTherapy unit.
Breast MRI: One of the most advanced techniques for the detection of breast cancer and other abnormalities, breast MRI captures multiple images of the breast and uses them to create detailed images of breast tissue. The MRI may be used as a follow-up to a mammogram. The most useful MRI of breast tissue uses contrast material before or during the exam to improve the ability of MRI to capture images of the breast tissue during screenings. MRI is recommended for women who are at high risk of developing breast cancer and is available at Phoebe for women whose physicians recommend this technology.
Electromagnetic Navigation Broncho-scopy: ENB is a new procedure that uses electromagnetic technology to guide tiny scopes or catheters through the airways of the lung to locate lesions, enable biopsies and plan treatment for a lesion detected deep in the lung. Phoebe is one of the first facilities in South Georgia to provide the superDimension iLogic System as an option for patients who have a hard-to-reach lesion on the lung.
Neonatology
"When I first started delivering babies, it was unheard of for a baby that weighed under a pound to survive," says Dr. Adams, who has delivered around 6,000 babies at Phoebe. Today, it happens every day, he says, and it's happening right at Phoebe.
"One of the most traumatic experiences for a mother of a premature baby is to come from delivery and find that her baby has [been] whisked away to another hospital," says Wernick. Today that's no longer necessary, thanks to Phoebe's neonatal intensive care unit (NICU), which allows newborns to stay close to their mothers at the hospital where they were delivered.
One of six Regional Perinatal Centers, Phoebe's NICU gives premature and critically ill newborns the advanced care they need to thrive. A team of board-certified neonatologists and perinatologists working with a specialized staff provide medical care for many of these babies who are premature, born with extremely low birth weight and need help to breathe and to learn to eat. Others may have severe complications from birth defects or infections or surgical needs.
The first to bring pacemaker technology to Southwest Georgia half a century ago, Phoebe recently opened a $1.7-million, 750-square-foot Endovascular Suite. Used for peripheral vascular intervention procedures, such as angiography, balloon angioplasty and embolization, the suite has improved X-ray quality, state-of-the-art fixed equipment and mobile imaging equipment. The hybrid suite can be used to do open heart surgeries, if necessary.
Imaging advances at Phoebe include the highest capacity, highest speed computed tomography (CT) and magnetic resonance (MR) scanners, says Dr. Patten.
Phoebe's radiology department, which hires its own staff of radiologists, allows for onsite reads 24/7, whereas most medical centers have daytime radiologists and rely on nighttime distance radiologists through telemedicine, he says.
Serving The Region
"When most people think of hospitals, they think of heads on pillows," says Wernick. But he says Phoebe's services extend far beyond those provided to patients in a clinical setting to encompass a wide range of educational and community service endeavors.
Southwest Georgia Family Medicine Residency Program: Since 1993, Phoebe has trained young doctors going into family medicine through the Southwest Georgia Family Medicine Residency Program. Designed to provide family physicians with the knowledge, skills and professional contacts needed to practice quality family medicine, the program is one way Phoebe has addressed the shortage of healthcare professionals in the region. "Once doctors come and experience the culture, they want to stay," says Wernick. About 70 percent of physicians who complete the program practice in the Southwest Georgia region.
Southwest Georgia Pharmacy Program: A new partnership with the University of Georgia College of Pharmacy will bring in young pharmacists to this traditionally underserved area of the state. UGA will now teach as many as 50 graduate-level pharmacy students in new classroom space on the Phoebe campus.
Medical College of Georgia Clinical Campus: In 2004, the Phoebe Putney Health System combined resources with the Medical College of Georgia, now part of the Georgia Health Sciences University, to extend clinical education and healthcare opportunities to Southwest Georgia. The Albany Clinical Campus at Phoebe Putney Memorial Hospital is designed to enhance medical students' experiences with community-based medicine. The partnership will also help reduce the shortage of certain medical specialties.
Phoebe/HealthTeacher Youth Health Literacy Collaborative: This comprehensive K-12 curriculum addresses knowledge, attitudes and skills development and provides opportunities for students in 17 counties to practice behaviors that promote lifelong health. Network of Trust School Health Program, a division of Phoebe, is partnering with Health-Teacher and school systems in the region.
In addition, Phoebe shoulders the fiscal responsibility for many services that in other communities are borne by taxpayers. The hospital provides school nurses to every elementary, middle and high school in Dougherty County, medical care to prison inmates within the county and free community health fairs, seminars and screenings.
Phoebe Putney is the only hospital in the nation to win three Volunteer Hos-pitals of America Leadership Awards, and it earned the prestigious Foster G. McGaw Prize in 2003 for excellence in community health programs.
Close To Home
When Dr. Adams came to Phoebe in 1973, he says patients with serious heart conditions and other subspeciality needs were usually sent to Atlanta or Augusta, because the small community hospital did not have the resources or technology to serve them. Today, however, Phoebe's network of care creates access to cutting-edge technology and quality care close to home, making it the No. 1 choice for Southwest Georgia residents, including Anna Louise McCormack, who chose Phoebe when she needed colon cancer surgery five years ago. "Anybody with cancer that lives outside of Atlanta would come to Albany," she says.
"The best place for people to get well is around their family and friends, and now they can do that," says Wernick.
"It used to be when someone had a [serious health problem], people would say, 'Where're you going?'"
Increasingly, says Wernick, the an-swer to that question is "right here."
For Wernick, who is proud of his tenure at Phoebe, right here is the best place to be.