Georgia's Season In The Sun
Atlanta hosts this year's PGA Championship, bolstering a golf industry that has a $5.1-billion impact on the state's economy.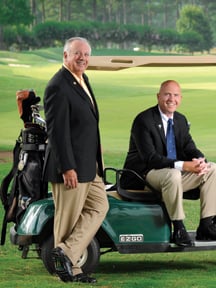 When you are the type of golfer who turns A 150-yard par three into a six-stroke cross-country quest over every bit of terrain except the direct route from tee to hole, it's difficult to imagine contributing to anything beyond sunburn and the nourishment of ticks and mosquitoes.
Nonetheless, all of those hackers (we know who we are), all of the golfers in Georgia, add up to a hefty purse for a golf industry that generates $2.4 billion in direct revenues, a total impact of $5.1 billion for the state's economy, supporting about 57,000 jobs – all this in the midst of a recession, all this according to the Georgia Golf Economy Report, which ranks our golf economy sixth in the nation.
The report, prepared by SRI International and commissioned by GOLF 20/20 for the Georgia Allied Golf Council, was unveiled with great hoopla (and swag, courtesy of golf industry lobbyists) in March at the State Capitol by a group that included Gov. Nathan Deal and Mike Waldron, executive director of the Georgia State Golf Association (GSGA).
"We wanted the legislature to know that we're not chump change. We employ a lot of people, we pay out a lot in wages, we do a lot for the state. We play an important role in the Georgia economy," says Waldron.
So, brandishing the study and the big numbers, they tried to raise awareness of golf's impact to state and local policymakers. The legislature proclaimed 2011 as the "Year of Golf in Georgia."
But when it comes to raising the awareness of golf in this state, on a massive scale, nothing does it better than the major tournaments (especially the major professional tournaments, which get international live television exposure) that happen here. And for that reason alone, this might as well be the Year of Golf in Georgia.
It's right there in the proclamation, House Resolution 488, one of the many "whereas" passages: This year, two of the planet's four major golf championships ("the Majors") will be played in the same state in the same year for only the sixth time in history.
To which one might respond, "Yeah? So what's the big deal?" And it would be a fair question because the fifth time two "Majors" were played in the same state in the same year, it happened in Georgia. And the fourth time. And the third.
The Majors, golf's most prestigious men's tournaments, are The Masters (April), the U.S. Open (June), the British Open (July) and the PGA Championship (August), each of them one-fourth of the golf "Grand Slam." One of them is rooted in Augusta, another stays in the U.K., while the U.S. Open and PGA Championship rotate among elite golf courses in the U.S.
"So we can only bid for two of them, and we've managed to do pretty well," says Chris Borders, general manager of Atlanta Athletic Club in Johns Creek, the only other place in Georgia besides Augusta to have hosted a Major Championship – the U.S. Open (1976) and the PGA Championship (1983, 2001), which returns to the club's famous Highlands course this month (August 8-14).
"You literally have to start working 10 years ahead of time to land a Major Championship, and there is a draconian effort involved in hosting one of these," Borders says.
Sure enough, the PGA made the announcement that Atlanta Athletic Club would be hosting the 2011 PGA Championship during the 2001 PGA Championship, 10 years ago.
It didn't take 10 years to land the 1976 U.S. Open, though. It took a letter from Bobby Jones, the Georgian who was to golf back in olden days what Babe Ruth was to baseball, what Zeus was to Olympus. Jones had something that Ruth and Zeus never had, though – membership to Atlanta Athletic Club.
"The Major Championships are part of our club's heritage and history because of Bobby Jones," says Borders, who has been with the club through all of its Majors.
In November 1971, about a month before he died, the ailing Jones wrote a letter to the United States Golf Association (USGA) on Atlanta Athletic Club's behalf, asking that the U.S. Open be brought to his club. Almost five years later, Jerry Pate made his 18th-hole "shot heard round the world," a 194-yard five-iron over water to three feet of the pin, clinching the 1976 U.S. Open.
Downhill Lies
It's a clear Wednesday afternoon in May at Mossy Creek Golf Club, just outside of Cleveland in rural White County. It's nearly perfect weather, so I'm walking. In fact, I'm taking the scenic route. It's golf, in the tradition of Lewis and Clark. Unencumbered by a scorecard or skill, I'm on pace to shoot my body temperature.
Behind me is a foursome of middle-aged guys, and there's another foursome immediately behind them. In front is a foursome of ladies, and two guys in front of them. It's steady business in the middle of a weekday. It's not overcrowded, but it's our local contribution to the $936.4 million that golf facility operations contribute in SRI's statewide impact study (based on 2009 figures and available at www.golf2020.com).
That revenue from green fees, membership fees, cart rentals, lessons, food and drink in the clubhouse at Georgia's 401 golf courses, 35 stand-alone ranges and 25 miniature golf facilities is the largest portion of golf's direct impact.
"The allied golf organizations in Georgia work together on issues of common interest in golf, and we commissioned the study because we thought it would be good for us to see our business impact," Waldron says.
The Georgia Allied Golf Council is made up of members from GSGA, the Georgia Golf Course Superintendents Association, the Georgia Golf Course Owners Association, the Georgia Chapter of the Club Managers Association of America and the Georgia Section of the PGA of America.
Together with their national umbrella organizations (who help make up GOLF 20/20), these groups are keen on producing lofty impact reports to address the lack of respect (and free money) their industry has received from the government, specifically for being excluded from the American Recovery and Reinvestment Act (ARRA) and federal disaster relief.
"We haven't really been treated fairly," says Cathy Harbin, director of GOLF 20/20 (based in Florida and managed by the nonprofit World Golf Foundation). "After Katrina, for example, golf courses were lumped in with liquor stores and massage parlors, denied the tax relief and benefits that helped other businesses that were devastated."
So industry players believe golf – including both public and private courses – has been discriminated against by legislation that has benefited other small businesses.
"It's almost as if they don't think the two million people employed by golf courses across the country matter as much as other workers," Harbin says. "We wanted to show that golf was more than just recreation, that it's a vital business, often a small business, with a large and diverse workforce."
That message of "hey, what about us," is carrying a particularly strident tone in the midst of a global recession and the resultant industry rightsizing. For five straight years, national golf course closings have outpaced course openings. In 2000, says Harbin, 398.5 courses opened across the U.S., an all-time high. Last year, 46 courses opened and 107 closed.
"Some of that is normal as we see a decline in the economy," Harbin says. "When we were building almost 400 courses a year, we were going way too quickly. Not that you want to see a course close – these are real people, real jobs, real lives – but we really were oversupplied."
Overall, Georgia's golf industry has fared better than most states', but some well-known courses – especially those with housing attached – have suffered major problems: Reynolds Plantation, for example, with a $45-million bank debt could not get a bailout from its residents, and at this writing the massive Lake Oconee development had been turned over to a trustee who was shopping it around to potential buyers.
Last year, Sea Island Golf Club was sold out of bankruptcy; it's up and running now with new owners. Other golf facilities that have experienced financial difficulties in recent years include Kingwood and Waterfall in northeast Georgia, the Jack Nicklaus-designed Country Club of the South and Horseshoe Bend – all of them sold out of bankruptcy.
No one, it seems, has been untouched. From April 2010 to April 2011, rounds of golf in just the Atlanta area had dropped 12 percent (though there was a rebound in the early part of 2011, and the number of rounds played was ticking upward).
Membership in the GSGA, Waldron says, has dropped 16 percent since 2007. Private club memberships are down – Borders says Atlanta Athletic Club's have gone down almost 10 percent over the past couple of years.
"It's alarming and concerning, but the club is large enough and has good enough leadership to manage in these conditions," Borders says. "Private club membership is somewhere near last place in Maslow's hierarchy of needs."
Probably somewhere between esteem and self-actualization.
Nonetheless, Borders says the club is drawing heavily from its 1,850 members in helping the PGA put together a small army of volunteers (about 3,000) to work the PGA Champion-ship this month.
Grand Slam
Ryan Cannon is uprooting his family and moving to Rochester, N.Y., very soon. First he has to finish what he started several years ago when Cannon moved to Atlanta to fulfill his duties as tournament director of the 93rd PGA Championship.
"We have a playbook for every Championship, with timelines and milestones and activities," says Cannon, who started his career with PGA of America in Atlanta in 2001, the last time the PGA Championship was here.
Before returning to Georgia in 2008, he lived for almost eight years in Michigan, where he served as tournament director for the 2004 Ryder Cup, then the 2008 PGA Championship, both at Oakland Hills Country Club.
"PGA will put a full-time staff on the ground two to four years in advance of the event," Cannon says. "We've already begun meeting with the club and community and getting things organized in Rochester for the 2013 PGA Champion-ship at Oak Hill Country Club."
In Atlanta, Cannon is overseeing an event that will cost PGA of America about $25 million to put on. They've built more than 300,000 square feet of temporary facilities at Atlanta Athletic Club – for spectators (they're expecting about 40,000 a day), corporate hospitality clients, media, volunteers and vendors.
"And the Monday after the Championship is every bit as busy as the final round on Sunday. It's when we un-build everything that we built over the summer," Cannon says. "I won't leave town until everyone feels comfortable about the golf course restoration and reconciliation."
This year's PGA Championship in Atlanta, like the previous two and that 1976 U.S. Open, will be played on the club's Highlands course, a hefty 7,486-yard, par-70 test of character in the Georgia dog-day heat. And if it's anything like the 2001 version (won by David Toms), or PGA Championships in recent years, it'll sink about $50 million into the local economy.
The SRI study credits major tournaments with only $37 million in direct economic impact for Georgia, which is really misleading. SRI economist Jennifer Ozawa explains that tournaments like "The Masters and PGA Championship generate much larger economic impacts via the large number of spectators they attract, and this is captured in the tourism impact," which is nearly $481 million.
This year, Georgia will have had a grand slam of top-level pro tournaments. In addition to The Masters and the PGA Champion-ship, there's The TOUR Champion-ship (September), which has made a permanent home at East Lake Golf Club, and the McGladrey Classic (October), which returns to Sea Island Golf Club's Seaside course on St. Simons Island.
It's difficult to pin an economic impact figure on The Masters and Augusta National, with their obsidian-like transparency, but according to Katrina Hollmann, director of marketing communications for the Augusta Convention & Visitors Bureau, "It's the equivalent of about a 13th month of revenue for the hospitality industry."
However, she quickly adds, "We don't do economic impact studies. A lot of other people have attempted it, and they come up with numbers, but they're just estimates and not very reliable."
The CVB estimated an impact of about $109 million 14 years ago. A more recent estimate from the sports marketing firm Bryton Harry (New York and Osaka) puts the figure at more than $200 million.
The TOUR Championship is the final event of the FedExCup race – the competition for the PGA Tour season championship trophy, and an $8-million purse ($1.35 million for the winner) – and features only the top 30 current money winners. The Atlanta Sports Council estimates the annual event's impact between $30 million and $35 million, with 100,000 spectators for the week.
Last year saw the debut of the McGladrey Classic, a PGA Tour fall-series event, with a sizable purse ($4 million, $720,000 to the winner) and a field of some of the world's top professionals, like Heath Slocum (last year's winner), former Masters champ Zack Johnson, former Georgia Tech star Matt Kuchar and Davis Love III, who helped create the tournament, and whose brother Mark serves as its executive director.
"So many of the guys on the Tour have migrated here and call this area home now," Mark Love says. "They bring their buddies, and they love the course, the facilities. What we're hoping to do is draw a new generation of fans to the Golden Isles, to showcase the area and create a new sports tradition for Georgia."
Last year the tournament chose the slogan "a new Seaside tradition" and used a shot of Bobby Jones standing on the No. 13 hole.
Forty years after his death, Jones still looms large in Georgia golf, a spectral legend linking Georgia's four top-level pro tournaments in 2011: His presence captured at Seaside, his founding of Augusta National, his home course at East Lake, and his home club, Atlanta Athletic Club (which sold East Lake and moved to North Fulton in the 1960s).
To this day, there is a tone of genuflection in Chris Borders' voice when he speaks of Robert Tyre Jones Jr., who he sometimes calls Bobby, and other times Mr. Jones.
"The Majors have changed a bit since he won that Grand Slam in 1930," says Borders, referring to Jones' unequaled achievement – winning all of golf's four Major Championships in a single year. "For one thing, the Masters didn't exist yet.
"This club has existed for 113 years, first at East Lake and then here. Hosting a Major was something our forefathers had in mind. But if it hadn't been for Bobby Jones asking the USGA to bring the U.S. Open to his club, we probably never would have begun the process. And all of those Majors we've hosted, they might never have happened here."