From Modest College to Thriving University
Its growth sparked by football, Georgia Southern has become a first-choice school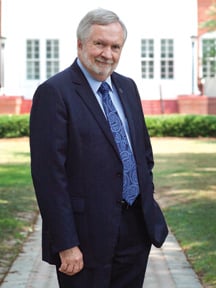 Thirty years ago, a key decision put Georgia Southern College, as it was then known, on a remarkable growth trajectory. Against vocal opposition from faculty and students, then-president Dale Lick managed to drum up support for reviving the institution's football program. Lick wisely brought the University of Georgia's highly respected defensive coordinator, Erskine "Erk" Russell, to Georgia Southern to serve as the team's head coach. The rest is football history.
The Georgia Southern Eagles won six Division I Football Championship Subdivision (FCS) titles, formerly Division I-AA, and eight Southern Conference championships. But off-the-field results are equally impressive at the bustling States-boro campus.

Georgia Southern grew from a modest, respected college to a thriving university of 19,691 students from all over Georgia, 49 states, and more than 100 countries. "Let me know if you know anyone in Wyoming," jokes Christian Flathman, the university's director of marketing and communications. "I'd like to say we have students from all 50 states."

His wait may be over, because the word is out. Georgia Southern University was named one of the Most Popular Universities in the country by Forbes magazine and U.S. News & World Report, which also recognized GSU as one of America's Best Colleges and ranked the Georgia Southern School of Nursing in the Top 80 nationally in its Best Graduate Schools publication.

Georgia Southern University has become a first-choice school, delighting Dr. Teresa Thompson, vice president of student affairs and enrollment management. "When I came here 11 years ago, I was floored that 70 percent of students weren't choosing us as their first choice," she says. "I looked at SATs and saw we were second and third choice to our students. The university as a whole looked for ways to turn that around. Now we're well over 70 percent first choice for our students. That's a tremendous success story. Students see what others are seeing, the changes from over the years. Most of all, they're experiencing the change firsthand."

"Erk Russell probably did more to get us where we are today than any president ever did, just by virtue of the spotlight focused on the university," says President Dr. Brooks Keel. "All you have to do is look at our enrollment statistics to see what happened in the early 1980s after football came to the university – then a college. A lot of people don't want to appreciate the impact sports has, but I liken it to the front porch of the university. If you can get people up on the front porch, you'll get them looking in the window to see what's inside the house. Kids come here to have the full breadth of the college experience, and athletics is a huge part of that."

Most importantly, despite growing numbers and a glowing reputation, Keel says the tagline "Large scale, small feel," is more than just a marketing slogan. "I think that's what outsiders or people who haven't been here in a long time are most surprised by," he says, "How big we are, and how small we feel."

The campus currently occupies 700 acres with academic and administration buildings and student dormitories situated near pristine greenspace and lakes and connected by a long, bricked walking boulevard known as the "Pedestrium."

"People are blown away by the magnitude and the beauty of our campus," says Keel, "and they're surprised by the opportunities here, over 200 student clubs, a first-rate recreation/activities center, athletics, all the cultural opportunities you could want and over 110 degrees you can choose from. Any other place students could go to that would be as big as GSU wouldn't feel as small."
Focus On Students
The university's student-centered approach is intentional, says Thompson. "You can never forget the fact that you're dealing with human beings at an incredible point in their lives, which can help them go left, right or beyond," she says. "The bottom line is that parents and students know that GSU cares about them as an individual and we're going to provide an outstanding academic program, a faculty that wants to teach – they like to research and publish, too, but they want to teach. And that's important because we are attracting the type of students that seek meaningful academic contact throughout their college career."

Students like Katherine Mincey, a junior majoring in biology with a minor in music, from the tiny town of Portal, Ga., close to Statesboro. Mincey visited and applied to colleges and universities throughout the Southeast, receiving partial scholarships to many of them. But GSU offered the 1906 Scholarship, a full ride, including housing for the first year. She chose Georgia Southern. "I was kind of hesitant about staying this close to home, but I've never regretted my choice," she says. "I absolutely love it at Georgia Southern and feel like I've had experiences here that I wouldn't have been able to have if I had gone somewhere else."

Mincey threw herself into research, developing an ongoing project studying the effects of harmful metals in the soil during her 2010 summer internship at the University of Virginia.

The project netted her a 2011 Barry M. Goldwater Scholarship, a first for a Georgia Southern student. The award will finance her research as she continues her education. Mincey sought out opportunities during the school year and her summers and says, "I feel that if I had gone to a bigger university, I wouldn't have had these opportunities. That's what I tell people who are going into a field like mine, looking to get into research."

What began as a teacher's college in 1906 has developed into a full-fledged research university offering undergraduate and graduate degrees in everything from archeology to zoology. Last year the Board of Regents approved GSU's proposal for a full, stand-alone engineering program, and this fall the university will begin offering baccalaureate degrees in civil, electrical and mechanical engineering. Despite a decline in engineering enrollment elsewhere, Georgia Southern's current programs have steadily increased, and the number of graduates who remain in Georgia to begin their engineering career is estimated at more than 78 percent.

Development of the engineering program serves its current students and encourages future enrollment, but also segues neatly into two broader areas of emphasis: economic development and research.

"We're the largest university in southern Georgia," says Keel. "The economic development aspects to that are huge. This university has gotten to a point in its growth where it can and should play a more active role in developing the economy of not only Statesboro, but the region and the coastal area."
Big Impact
The university accounted for a total economic impact of $795.3 million in the nine southeast Georgia counties near GSU in the 2009-2010 fiscal year. A report compiled by the University's Bureau of Business Research determined that students spent $65.5 million in off-campus housing and $86.5 million in food services and entertainment. The University's Economic Impact Report shows Georgia Southern's impact grew by more than 13.5 percent over the previous year due to increased revenue and jobs. But Keel envisions even closer engagement with the public and private sectors.

The university partnered with the Downtown Statesboro Development Authority (DSDA) to develop a City Campus and Entrepreneur Zone, with classroom space, a boardroom and pre-incubator. "Our city campus is really more of a beachhead," says Keel. "It's putting a stake into the sand of downtown to focus attention in that direction. Ultimately we hope it will be a business incubator in the truest sense of the word." Classes have been offered to the community, everything from teaching people how to create an Excel spreadsheet to preparing business plans to present to an investor.

Keel has experience with connecting the worlds of entrepreneurship and business with academia. While vice chancellor for research and economic development at Louisiana State University, Keel helped facilitate a partnership with video gaming giant Electronic Arts, Inc. (also known as EA Sports), the Louisiana Department of Economic Development and LSU. The company located a quality assurance facility on the campus, helped develop curricula and workforce programs and assisted in developing the digital media industry in Louisiana. The facility also tested software and engaged 20 full-time and 200 part-time employees, including many students.

It's the type of partnership Keel would love to see at GSU. "Universities serve as magnets for companies, like Great Dane, which recently located in Statesboro, for a lot of reasons," he says. "They're going to be interested in the type of folks we're producing out of our College of Science and Technology, for example. We want to make sure the curriculum is in line to help train the workforce they need."

Many companies bring a research and development component with them, and Keel sees a natural fit between those companies and the resources at the university. "Businesses, even large pharmaceutical companies, are outsourcing because it's too expensive to hire experts and researchers," he says. "If they can contract with the university professor to do that project, now you've established a relationship that brings money to the university, establishes a relationship between business and industry and becomes a magnet for even more business and industry in town. It feeds on itself."

Dr. Charles Patterson, vice president of research and dean of the Jack N. Averitt College of Graduate Studies, was tasked with expanding the university's research enterprise. "My office is a service office," he says. "We provide resources and connections for faculty to do research. We help find funding opportunities for faculty to pursue their scholarship. We also help faculty develop proposals for submission to federal and state agencies, industry and nonprofits for funding." Patterson's office also manages the funding once it's received by the university.
Addressing Healthcare
An example of one such initiative is the university's Rural Health Research Insti-tute, which will add three to five new faculty researchers.

"This institute addresses areas that involve healthcare issues in the rural south," says Keel. "It is born out of an obligation both to our community and our location." The interdisciplinary research teams will come from the Jiann-Ping Hsu College of Public Health, the School of Nursing in the College of Health and Human Sciences and the Department of Psychology in the College of Liberal Arts and Sciences.

Growing graduate programs also increases research. In the 2010-2011 academic year, Georgia Southern enrolled 2,647 graduate students, a record high. "Right now, 13.4 percent of our enrollment is graduate students," says Patterson. "When you hit 20 percent graduate enrollment, you've got robust graduate programs and good funding."

Online classes are thriving as well. Georgia Southern offers an online MBA program and a new Master of Science in Computer Science degree from the state's only College of Information Technology. This fall, a fully online bachelor's degree in General Studies will be offered, expanding the university's reach beyond traditional students.

The state legislature approved the final $21.2 million necessary to begin construction on a much-needed biology building; the ground-breaking ceremony was held in June.

"I'm warning our folks that that will probably be the last state-funded building in my lifetime," says Keel. "It will force us to think more entrepreneurially about how we fund other buildings, especially academic or research buildings."

He'd like to see partnerships between corporations that would bring research to the university and build the structure to house it. "If Mary Kay cosmetics wants to put a building on campus, I'll color it pink and call it the Mary Kay Cosmetics Building," he jokes. "We have to think outside the box. It's a fact of life."

Engaging students in their downtime is another fact of life. Statesboro may not boast a bustling bar and club scene, but students aren't left twiddling their thumbs. Mincey works as a residence hall advisor and says there's no excuse for boredom on campus. "We have so much going on," she says. "I'll get some of my residents and say, 'Let's go to Rotunda [in the student union] and see what's going on.' There are tons of clubs for every activity. And if they don't have a club you want, you can form one." Students flock to the 215,000-square-foot Recreation Activities Center (RAC) featuring swimming pools, a rock climbing wall, basketball courts, weight and workout rooms and fitness classes.

The Georgia Southern University Housing Foundation recently purchased a 167-acre tract of land that includes an 18-hole golf course for future recreation development.

Asked how he describes a Georgia Southern student, President Keel provides a ready answer. "Businesses have described it for me," he says. "Engineering firms said, 'We hire your grads because they are work ready, generalists and have knowledge with the applied aspects of engineering.' A vice president of human resources at Toys 'R' Us said almost the exact same words about our business graduates: They're applied, generalists, work ready, work well in teams, tremendous work ethic, dedicated, driven, motivated. Our students come out prepared for the workplace. I think we attract those types of students, and I think our faculty strives to teach the person, not just the intellect."