Paying For Pavement
Federal stimulus funds were a boon. Now attention is focused on next year's Transportation Investment Act sales tax referendum. State leaders say it's essential.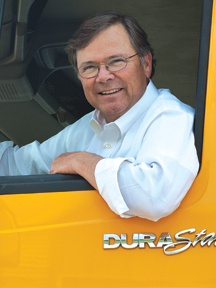 Lamar Paris can sit in his Blairsville office and imagine the convoluted road ahead, U.S. 129, heading south, twisting and climbing through Neels Gap, then falling away toward Cleveland, where it meets with a new bypass around that busy little town. Then it continues south, four convenient lanes all the way to Gainesville.

It is a hopeful vision from where Paris sits. It isn't real, not yet. The bypass around Cleveland, the four lanes all the way to Gainesville, they don't exist. And they are well beyond the borders of Union County, where Paris is the sole county commissioner.

So why is he spending time envisioning road projects that are miles away from his jurisdiction? Why should he care?

"Because they are of paramount interest to us. They're vital," he says. "They connect us; they would be huge assets for our county."
Turns out that the most important road in Union County is the one that leads to the Northeast Georgia Medical Center and all of the physicians and the jobs and the shopping in Gainesville and Hall County, 60 miles away

"Roads don't end at county lines," says Danny Lewis, executive director of the Georgia Mountains Regional Commission (GMRC), which covers an area that includes Union County. "The really good thing about our region is, they're thinking beyond borders."

They – the politicians who make up the GMRC transportation roundtable (which Paris chairs) and those who serve on the 11 other regional roundtables – have assembled an unconstrained wish list of projects, which is just one step in the Transportation Investment Act, a complex bit of legislation passed in 2010 that promises a significant chunk of funding if voters approve the packages they will be presented with in August 2012.

Meanwhile, the Georgia Department of Transportation (GDOT) and other agencies are using up the one-time billion-dollar federal windfall – the American Recovery and Rein-vestment Act (ARRA) funds – to build bridges, repair roads, increase capacity and safety, create new transit opportunities and do a lot of resurfacing (and make a lot of contractors happy) in the ongoing and expensive struggle to keep things rolling.

"If you had a map of the whole state of Georgia and colored in every county that received some resurfacing dollars, you'd pretty much have to color in the entire state," says GDOT Commissioner Vance Smith.

Indeed. At least 120 of Georgia's 159 counties have resurfacing projects either in the books or on the ground. Then there are the bike and pedestrian-access projects, historic preservation, beautification, a new ferryboat for Savannah.

"We looked at this from a holistic viewpoint," says Gerald Ross, deputy commissioner and chief engineer for GDOT.

But even with all of that resurfacing, they barely scratched the surface. GDOT could have spent the $932 million it received for roads ($144 million came to Georgia for transit-related projects) on just one Atlanta project, and it probably wouldn't have been enough. At least, that's the joke that Smith and Ross have been sharing.

Truth is, the stimulus plan that President Barack Obama signed off on in February 2009 could not have come at a better time.

"Look at the economic times we've been living [in]," Smith says. "The revenue we get from the motor fuel tax had gone down from over a billion dollars in 2007 to $852 million [by 2009]. The stimulus couldn't have come at a better time. It gave us a boost during a bad economic lull, and we were able to move some projects forward."

But, he is quick to add, "There is no more stimulus."
Trickle at the Pump
In Georgia and the rest of the U.S., the tax we pay at the pump has fueled most transportation funding. Federal funding for projects comes from the Highway Trust Fund, which is supported by a national fuel tax.

Georgia's primary sources of funding at the state level have been the motor fuel excise tax and the prepaid motor fuel sales tax.

The legislature introduced a new tax formula during the last session that would increase Georgia's gas tax for the first time in 40 years. That purse is spoken for – it is dedicated to roads and bridges, while state sources spend virtually nothing on transit, like MARTA, the nation's only major public transit system without state support.

Taken all together, Georgia, the third fastest-growing state in the nation, whose population and economic growth have been due largely to its diverse road/rail/air/sea transportation network, is 49th in the nation in per capita spending on transportation.

So, in a way, one of Georgia's golden geese – its transportation network – is subsisting on a death-march diet. We can't even keep up with all of the maintenance needs at the current rate of revenue collection, say the transportation folks.

"You know, it's great to do a ribbon cutting for a brand new project, but the next morning after you cut the ribbon, that project goes on the maintenance list," says Smith, a former state representative who struggled for years, along with his colleagues in the legislature, to fix – to no avail – the transportation funding issue.

Last year, though, the General Assembly finally came together over House Bill 277, the Transportation Investment Act (TIA), an intricate legislative hydra, with so many moving parts and considerations that GDOT Director of Planning Todd Long is spending a lot of time on the road trying to explain to local chambers of commerce and government agencies what it all means, and he keeps finding "their level understanding is not what it needs to be." At the most basic level, Long's message has been, "If you invest in transportation, good things will happen.

"It's been proven over and over again: You invest a certain amount of money in transportation, you get X-amount of jobs in return."

Long was charged with preparing the Statewide Strategic Transportation Plan (SSTP) that was approved a year ago by then-Gov. Sonny Perdue. Part of the plan, an evaluation of the return on investment in transportation, ambitiously states, "A new investment strategy supported by additional resources could transform our transportation network and create over $480 billion in GDP growth for Georgia over the next 30 years and generate up to 425,000 new jobs."

Those majestic numbers might play well in the cities, but not in the rural areas, or vice versa. Every region of the state isn't the same as every other one, so instead of a one-size, statewide measure, the Transportation Investment Act allows regions to vote on transportation funding. In August 2012, voters in each of Georgia's 12 designated regions could vote yay or nay on a one-percent regional transportation sales tax that would only apply in their areas, not statewide.

"Right now the federal government is struggling with what to do with its next transportation bill, and they don't know where the funding is going to come from," Smith says. "We can't rely on the gas tax. We're realizing that we have to step forward as a state to meet our transportation needs, and it's going to require that we come up with alternative funding sources for our future needs."

But that one-off ARRA sure did hit the spot.
Shot in the Arm
All of the ARRA money had to be obligated by February 2010, with a drop-dead date of Sept. 30, 2010, if bids came in low and left GDOT with residual funds that could be reallocated. The state has until September 2015 to finish spending it all, says Meg Pirkle, who manages GDOT's stimulus program.

"Most of the projects are done, but we have some that will take a few years," Pirkle says.

The largest chunk of the stimulus, about $326 million, deals with increasing capacity on clogged roads and highways.

"We simply hadn't done enough to keep up with the growth in the state," says Ross.

The transportation stimulus has helped Georgia play catch-up on some projects that were collecting dust, like the $31-million widening of I-75 from two to three lanes in either direction between Pierce Avenue and Arkwright Road, a busy three-mile stretch north of Macon in Bibb County.

Rural parts of the state got a lot of ARRA attention. The single most expensive project is the widening and reconstruction of 8.3 miles of U.S. 441 near Eatonton. The North Gordon Bypass, a $33.5-million project, is a 7.2-mile roadway at the Twiggs/Wilkinson county line. A widening/reconstruction project in Appling County on U.S. 1 has a $31.5-million tag.

MARTA was able to use about $45 million in stimulus funds to help balance its budget, but another $34 million was spread around the state to purchase vehicles and other infrastructure for small rural and small urban transit systems.

"We wouldn't have our bus system without the ARRA assistance," says Rachel Hatcher, transportation and land use planner for the Liberty Consolidat-ed Planning Commission in Hinesville/ Liberty County. "We'd been working on this since 2007, when we applied for our first assistance grant. It took quite a bit of time to get the ball rolling."

Hatcher says they were able to secure about $1.2 million in ARRA money to buy eight fully accessible buses, shelters, bus-stop signs and so forth. The new Liberty Transit System serves the busy community surrounding and within Fort Stewart for a dollar a ride, or 50 cents for Medicare cardholders, persons with disabilities and other eligible riders.

ARRA also is contributing to a multimodal transportation center in Albany, new buses in Athens, and in Macon, new buses, vans, a maintenance facility and air conditioning at Macon Terminal Station.

A handful of small airports are getting assistance, such as a $734,000 parallel taxiway at Alma-Bacon County Airport and the $5.9-million rehabilitation of the terminal-area apron at Brunswick Golden Isles Airport.

As of April, according to GDOT, there were 501 stimulus projects. This is a very small percentage of what was asked for.

"We really did try to take a comprehensive look at the state," Ross says. "Our board sent letters to all the county commissioners and all the city mayors and the response, the variety of requests, was overwhelming. The key thing was, the projects had to be shovel ready. Most of the things we received were not eligible."

But there is hope around the state that these proposed projects will be given new consideration under the Transportation Investment Act and its one-percent regional sales tax.

"ARRA was huge. It basically added a year to our program," Long says. "But if every region were to pass this tax, it would bring in a total of about $1.5 billion a year across the state. So we'd get one and a half times the stimulus money."

And that's just the projection for 2013, the first year the tax would be collected.
How It Works
Trying to follow everything that has to happen before next year's voter referenda may result in whiplash:

TIA created 12 regional roundtables across the state, as defined geographically by Georgia's regional commissions (such as the Atlanta Regional Commission, the GMRC mentioned above, and so on). The roundtables comprise two representatives from each county within the region – a county commissioner and a mayor.

So, for example, with 13 counties in the GMRC area, there are 26 people on the transportation roundtable. An executive committee was carved out of this throng, consisting of five voting members (and several non-voting members who are state legislators).

Each roundtable reviewed, adjusted or approved the project criteria suggested by GDOT's planning director (Long). Then, local governments started dreaming big.

They came up with an unconstrained wish list of projects that were funneled through the regional commissions on their way to Long, who has the task of assembling a comprehensive project list for each region. He then sends it to the executive committee to whittle the list down to fit the 10-year income projections of the one-percent sales tax income projections.

According to Norcross Mayor Bucky Johnson, who chairs the Atlanta regional roundtable, projections for his region are more than $700 million a year, or "about the same as all of the state's other regions put together," he says.

With revenues predicted to rise gradually over the life of the regional sales tax, the Atlanta region's take could be close to $9 billion after 10 years. At $1.7 billion, the Coastal Georgia Regional Commission has the next highest projection.

"If we don't pass this regional T-SPLOST, we're gonna be in a real difficult situation," says Jimmy Burnsed, chairman of the Bryan County Board of Commissioners and chairman of the coastal roundtable. "We've already got some crowded highways. We need the connectivity."

Bryan County is a bedroom community, with 70 percent of its people commuting beyond county lines to work in Savannah or elsewhere.

"Yeah, we get bogged down in traffic pretty bad," says Burnsed. "Hopefully, we'll be able to move some projects along, shorten them to five years instead of 20 years."

After (and if) the constrained list is approved by the roundtable, it is presented to the public for commentary, then the roundtable has until October 15 to approve a final list. In August 2012, voters in each region will decide if they want the project lists and the tax.

Then, if it's all approved and the money starts rolling in, the approved regional projects get 75 percent of the take. The other 25 percent goes to local governments to use at their discretion, for whatever transportation-related needs they may have.

After the long process that has city and county leaders making a wish list, with input from regional commissions, advice from state legislators who serve on the executive committees, and recommendations from GDOT, the challenge is "to put together an attractive, appealing, deliverable list of projects for voters," says Long.

By April, the regions had assembled the wish lists and were preparing them for GDOT and Long. Some of the proposed plans: At least four light-rail projects on the Atlanta list, interstate connectivity and congestion relief projects along the coast and better access to commercial/medical centers for mountainfolk.

But it's not a slam-dunk, none of it, not during a recession when the mere hint of a new tax can set some elected officials to a boiling whistle, like a tea kettle.

"I feel very confident about our region, and most of the others are probably gonna support it, but I know of at least one colleague who says his roundtable won't even call for a vote. They don't like it," says GMRC's Lewis, who also serves as president of the Georgia Association of Regional Commissions.

Most of the complaints Long has heard about TIA have come from rural regions, which he says is odd because "they fare the best in all of this."

Take the GMRC. A large portion of the regional sales tax will be collected in population centers like Hall County and Forsyth County.

"They'll end up raising a lot of the money and distributing it back to the rural, less populated counties," Long says.

No one comes out of this unaffected. There are repercussions for regions that don't go along and benefits for those who play ball.

If the roundtable can't come to an agreement by the October deadline, the region pays – the local match for transportation projects over the next two years increases from 20 percent to 50 percent. (Typically it's an 80-20 split, with state or federal funds covering the 80 to the local's 20.) After two years, the roundtable can try again.

If voters turn down the measure next August, the local match climbs to 30 percent. If they approve the tax, however, the local match for federal/state funded projects drops to 10 percent, and local governments can use their 25 percent from the regional tax to cover that.

"That 25 percent bucket is the biggest asset in all of this," says Lewis. "And I think what it all comes down to is, it's worth it to pass the thing."