Paulding County: Open For Business
Seeking more jobs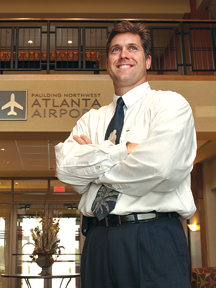 Realizing that you need a whole new approach to the way you do things can be a difficult idea to grasp at first. It can be even harder to implement.
That's the situation Paulding County finds itself in these days. Long one of Atlanta's – and the nation's – fastest growing areas, its major crop was sprouting rooftops from the rich soil of this once rural landscape. As closer-in counties filled up, people moved here in search of a relaxed lifestyle and affordable prices: "Drive until you qualify," as the realtors like to put it.
When the recession arrived like an unwelcome guest, everything changed.
"Our industry was homebuilding, making us a bedroom community to Cobb and Douglas," says Paulding County Commission Chairman David Austin. "When the housing market collapsed, that pretty much resulted in many foreclosures and as many as 9,500 [unimproved] standing lots."
Not that growth has come to a complete halt. Last year USA Today ranked Paulding the fifth fastest-growing county in the nation. It's also the 14th largest in the state in population and continuing to edge up on its rivals.
The sputtering economy reminded leaders here just how dependent the area was on residential and how lacking in business and industry it still remained. The demand for services, such as schools and public safety, and infrastructure for water and sewer often placed a strain on county finances.
"The primary goal I see is to start transitioning us from a bedroom community to an employment center," asserts Jamie Gilbert, Paulding County's new economic development director. "It's not going to be an overnight process, but a long-term strategy. We have to start creating employment opportunities here in Paulding County, and that helps our tax base by having those jobs and companies here. We can really start to alleviate the strain that residential growth is putting on our county."
Gilbert, who arrived in March to become the county's first full-time economic development director, knows that he has a tough job ahead of him. About 73 percent of Paulding residents leave the county every day for work. The businesses already here tend to be small. Fully 83 percent of local companies have 10 employees or less. Even if they're growing, adding jobs will not come quickly.
"If you're trying to create new job opportunities, it's going to be a long process," says Gilbert.
Yet locals aren't discouraged by the idea of remaking themselves. In fact, many believe the charms that led some people to call Paulding home will also prove attractive to businesses as well.
"We're at a point where we can pick and choose the kind of community we want here, the kinds of companies we want here," says Carolyn S. Delamont, president and CEO of the Paulding County Chamber of Commerce. She adds that in an age of the Internet and instant communications, Paulding need no longer be a secret.
Leaders know they will have to give companies a reason to relocate. As a result, Paulding has not shied away from investing in infrastructure to support its quest for more companies and jobs. Local leaders have also put a great deal of thought into which kinds of business are best suited for this Northwest Metro county and what it needs to attract them.
One of those ideas can be found at the end of a newly paved road off Highway 278, just seven miles outside the county seat of Dallas. It dead-ends at a wide parking lot fronting the strikingly modern terminal at Paulding Northwest Atlanta Airport. Inside, a high-ceilinged atrium awash in sunlight greets the visitor. The waiting area is comfortable, and the brand-new furniture announces the facility's recent opening.
The airport's newness helps account for the lack of activity, but that is slowly beginning to change. About 20 flights arrive on an average weekday – double that number on the weekend. Sales of fuel have been rising by about 10 percent a month for the last 10 months, according to Airport Director Blake Swafford.
The promise recently attracted a fixed-base operator – which also operates a facility at the Cleveland, Ohio, airport – to service those flights. Flights fall into two categories. Of course, there are the local pilots who fly for recreation, but the real growth is coming in corporate and business flights. The location is ideal for doing business on the north side of Atlanta without getting caught up in other general aviation airports' busy airspace. It's also becoming an increasingly popular stopover for longer flights.
"They're looking for a less busy airport that's convenient to get in and out of, and we have an advantage over other airports in the Atlanta market," says Swafford.
Regional Draw
Adding Northwest Atlanta to the airport name a while back has also helped to draw attention and boost business.
"There's also a Paulding County airport in Ohio, so out-of-town pilots were getting us confused," says Swafford.
While the airport is new, its genesis goes all the way back to 1972. That year, the City of Atlanta purchased 10,000 acres here for a second airport. In response, Paulding officials organized an airport authority in hopes of having some say in a massive project that seemed likely to change the face of this region forever.
The second airport never materialized, although Atlanta still owns the land. In the mid-'90s, the Georgia Department of Transportation identified Paulding as a promising site for a new airport. The Federal Aviation Ad-ministration funded a site selection study. That prompted the county to ask voters to approve a $5-million bond issue to purchase land for the airport. It failed.
That was the end of it until 2002, when a new county government was able to persuade the FAA to pony up funding. So far the feds have invested about $30 million in the airport, with the county chipping in $1.5 million and the Paulding County Industrial Building Authority (IBA) about $5 million.
Swafford has overseen the airport since it was approved in 2006. A former county transportation director and Army flight controller, he's also director of the IBA, which built the facility.
"The airport is the largest economic development project that we've ever done in the county," he explains. "It made sense that if that was going to be our largest effort and that's where the IBA was going to place a lot of its eggs, one person should be handling both."
A new $8.4-million bond issue will fund the building of a water tower and maintenance hanger for the airport. That construction will mark the beginning of a serious effort to attract aviation companies here.
Early interest in the airport came, oddly enough, from Los Angeles-based RoadTown Enterprises, Ltd., a consulting and management company focused on entertainment real estate. The company approached the county about constructing a film studio at the airport.
"At the end of the process it really didn't make sense to do one at the airport," says Swafford. "We did learn a lot about the film industry through that process."
Eventually the company came back with another proposal, which led to the IBA's coming up with $4.3 million in bond money to build a film studio in Hiram.
"In the last 12 months, we had four feature films in the county even without a studio," he explains. "With a studio, it will greatly increase the number of films that are shot in the county."
The IBA is also building a 120-acre technology park next door to the airport at an estimated cost of $3.8 million. The park will be located within a proposed 18,000-acre opportunity zone that encompasses both the airport and sections of nearby Dallas. Once the zone is approved by the state, businesses within the zone that create more than two new jobs are eligible for up to $3,500 for each of the new positions.
"Companies today are making economics a more substantial part of their planning than it used to be," says Swafford. "In the past it was location and workforce, and, while they're still important, those [economic] incentives have also become more important."
The IBA has also acquired 130 acres for an industrial park near the city of Hiram. One of the prime attractions for businesses in the park is broadband fiber recently laid under a contract let by the Northwest Georgia Regional Commission. The project was part of a $20-million federal stimulus-funding grant to enhance rural communications.
"That [fiber] now ties in Paulding County with 55 Marietta Street, which is the internet hotel to the world," says Commission Chairman Austin. "It will run from Rome down through Paulding County and tie in our new technology park and the new hospital."
Healthcare Growing
Much like homebuilding, Paulding's second biggest industry has been largely driven by population. Healthcare is a big factor in economic growth and getting bigger all the time. The latest evidence of its importance is taking shape on a tract of land at the intersection of Ga. 278 and 120.
Marietta-based WellStar Health System, owner of the county's single hospital, is busy filling out a medical campus that will shortly boast two gleaming medical buildings and a state-of-the art hospital. The projects will also add about 500 new jobs – not including the physicians who will be staffing these facilities.
"What we're seeing is a lot of growth in the use of the existing facilities there," says Mark Haney, WellStar's senior vice president of real estate and construction and administrator of WellStar Paulding Hospital. "Yet, since the facilities were built in the 1960s, they don't have the infrastructure to accommodate the technology and services that really are expected of WellStar. We think a new facility is needed for Paulding County."
The new 112-bed hospital – expected to cost $120 million – will be WellStar's first LEED-certified facility when it opens in April 2014. It will also be one of just 43 members of The Center for Health Design's Pebble Project and the first in the state committed to doing research in evidence-based design.
"As part of this project, we are looking at elements of design that contribute to high-quality safe and efficient environments from an operations standpoint," says Haney. "We're committed to doing research on our design and measuring outcomes."
The theory is that design elements, such as rooms open to sunlight, can help patients heal faster. Hospital-acquired infections can be reduced by placing a sink between the door and the patient bed to encourage doctors and nurses to wash their hands.
Along with the new hospital, local residents will have access to a host of new medical services that were previously available only at WellStar facilities in Cobb County. A "one-stop shop" for healthcare could mean that many Paulding residents won't have to travel out of the county for treatment. Of the 9,100 hospital admissions for local residents in 2009, only 1,400 took place at Paulding WellStar. Now residents will be able to meet about 80 percent of their healthcare needs without leaving the county, according to Haney.
Historical Significance
The economic slowdown has also prompted the county to make use of some of its natural resources – or at least save them before it's too late.
The city of Dallas recently acquired 180 acres of land that was the site of some of the bloodiest fighting of the Civil War. In May and June of 1864, Union and Confederate troops fought three major engagements at Dallas, New Hope Church and Pickett's Mill.
"We hope to maintain it for its historical assets and the natural assets on the property for future generations," says Dallas Mayor Boyd Austin. "It's a pretty significant step."
The city used part of its 6.2 percent share of the county's one percent SPLOST funds to purchase 150 acres of historic grounds from private landowners for $1.75 million. The city acquired 20 acres of land from the county, which had also purchased the land from a private owner.
The city is seeking a $1-million Transportation Enhance-ment grant from the Georgia DOT to fund construction of trails for pedestrians and bicycles and a trailhead facility for visitors to the site.
Paulding's rapid growth has resulted in the loss of most remnants of Civil War battles, according to Charlie Crawford, president of the Georgia Battlefields Association. Much of what was once the New Hope Church battlefield has given way to homes and shopping center development. The only thing that has preserved some of the original site has been the presence of a large cemetery, he adds.
"At Dallas we still have a significant number of trenches, and in fact there's a gorgeous artillery position that was supporting trenches, which you see very rarely even in national parks," says Crawford. "So it's important to save all that."
It's unusual for a city to take the lead in preserving such a historically significant piece of land, according to Thomas Gilmore, director of real estate for the Civil War Trust in Washington, D.C.
"The preservation of the battlefield is very important to us," says Gilmore. "What's unique about Dallas is you've got a municipality that has really recognized the significance of what they've got and what is left to preserve. In many cases the land is already lost."
In Hiram, Mayor Carmen Rollins is also leading the charge for a convention center in Paulding. When the chamber held its annual meeting a few months ago, there was no place in the county big enough to accommodate the group. So they headed to Atlanta's Georgia World Congress Center.
Since then county leaders have commissioned renderings for a building that could serve not just for chamber meetings, but boost the county as a site for group and association gatherings.
Rollins hopes that the $20-million structure – which currently doesn't have a source of funding – will be located on the eastern side of the county where it can serve as the gateway to Paulding.
Community Snapshot
Local Leaders
David Austin
Chairman
Paulding County Board of Commissioners
770.443.7550
Carolyn S. Delamont
President/CEO
Paulding County Chamber of Commerce
770.445.6016
cdelamont@pauldingchamber.org
Blake Swafford
Executive Director
Paulding County Industrial Building Authority Airport Director
678.224.4230
bswafford@paulding.gov
Population
(2009)
Paulding County, 136,655; Dallas 10,861; Hiram 2,102
Per Capita Income
(2008)
County, $23,022
Georgia, $33,499
Unemployment Rate
(February 2011)
County, 10.5 percent
Georgia, 10.2 percent
Top Employers
Paulding County Board of Education, Paulding County Government, Walmart Inc., WellStar Health System, Kroger
Sources
U.S. Census Bureau, Georgia Department of Labor, Paulding County Chamber of Commerce