Brunswick/Golden Isles: Basking In The Glow
A busy port and a strong tourism base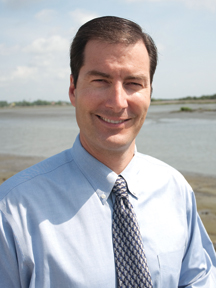 Brunswick and the Golden Isles of Glynn County have ample balm to soothe wounds from the current recession.
The Port of Brunswick posted a 26.2 percent increase in tonnage from 2009 to 2010 and bolstered its standing as a major automobile entry point. Mercedes Benz consolidated its southeastern export operations in January 2010 on Colonel's Island, opening a 70,000-square-foot facility. Mercedes, which will be bringing 66,000 automobiles through each year, joins Volkswagen and Hyundai facilities at the port and will create 122 jobs.
While not as large as Port of Savannah, which could triple its cargo traffic with the deepening of the harbor over the next decade, Brunswick benefits from Savannah's growth. In fact, both ports show record growth this year.
The potential to create new jobs related to the massive growth in port traffic that will ensue may rival tourism's value to the area economy. Yet tourism remains strong: After years of contentious debate over plans, new development on state-owned Jekyll Island and a rebranding of the Golden Isles can only enhance it.
The Golden Isles are more golden than ever in terms of demographics, and that's not likely to change. There is new medical office and college growth coming together to accommodate retirees and second-home residents in some of the most plush, affordable estates in the country.
Most of all there is room to move in Glynn County. There are ample industrial assets to the north and west, balanced by unsurpassed ecological treasures and the port in the southern part of the county.
"We can develop industrially in the north and western parts, where you don't have marshes and beaches but lots of land and people willing to work," says Glynn County Commission Chairman Tom Sublett. "We can grow and still focus on tourism, still by far our No. 1 industry, out on the islands. Thank the good lord some political leaders had the vision to put our 65 percent rule in place, because our barrier islands are gemstones."
In 1971 the state of Georgia passed legislation protecting 65 percent of Jekyll Island from development, and today two-thirds of Georgia's 17 barrier islands are under some level of environmental protection. These barrier islands give the region and Georgia an individuality that has been undersold, says new Brunswick-Golden Isles Convention and Visitors Bureau Direc-tor Scott McQuade. "Let's face it, there are plenty of destinations where high-rises line the beaches and create a sterile, commercial environment," says McQuade. "Economic viability does not require that."
Glynn County's population of nearly 80,000 has been growing steadily, including 10,000 students and 15,000 people in Brunswick, but the vast majority are part-time residents. This is a tourism economy: Jekyll Island alone brought in one million visitors last year, and it is in kayaking distance of Sea Island, St. Simons Island and the many uninhabited islands that dot the coast.
Crossing over the bridges, one sees the attraction: gorgeous undeveloped stretches of marsh and coastal waterways, pristine forests and a surprising diversity of beachfront. "Being new here myself, I, like many, was surprised to see the beaches are different," McQuade says. "Our beaches aren't white sand and blue water like most people expect. But that's not necessarily a weakness – the story behind our assets is in fact our greatest strength."
The law protecting the marshes and beaches has preserved an ecosystem that rivals the Everglades in its singularity. "People need to think about [this] over the next 20 years," says McQuade. "Overwhelmingly, the fact that trees are still here and there are no high-rises is a strength and not a weakness – in fact, it's a key selling point, and we want to maintain that."
As the Golden Isles strategize to grow the port while preserving the area's ecology, this theme will be part of the CVB's new branding initiative, says McQuade.
"It's difficult to tell a complex story in a few seconds, but our strategy is to create a unique campaign that will catch people's attention. It is a very compelling story – of how Georgia has created an enormously complex system that brings hundreds of bird species you won't find anywhere else, and how you can still play on the beach but there is a vast history still intact, a deeper component that you have to peel back like layers of an onion. Looking at the Golden Isles from a competitive standpoint, we have much more to offer than many beach destinations, and that is a drum we will beat here."
McQuade draws from experience creating year-round tourism in Telluride, Colo., and will be bringing those strategies here. "Spring and fall are beautiful here," he says. "We tend to see extreme spikes in the summer and deep valleys throughout the rest of the year. But even the winter here is not very bad, and many from New England or Colorado cross the country to escape the winter months. Florida tends to be the first choice, but we can compete on that level."
McQuade says events could be key. "We created a number of events in Telluride, and after five years 40 percent of the summer visitors were there for festivals or cultural events," he says. "Without that stimulus, half the business would be gone. Savannah has taken that role to some degree. Is there room for another Savannah here? Absolutely."
Synergy
Helping with tourism, the College of Coastal Georgia (CCG), which plans a performing arts center to be shared by the community, is growing steadily in what has become a health and higher education "mini-city."
"They've now had four years of new construction," says Sublett. "Valerie Hepburn is a fantastic lady and a great college president. They are ahead of their growth curve, with 4,000 students [enrolled]. They are already having a huge impact, and will have even more over the next 10 years as they get to their enrollment goal of 10,000."
Economically, "we're recognizing the synergy of healthcare and the college, and a lot of investment in the district is planned or under way," says Nathan Sparks, executive director of the Bruns-wick and Glynn County Economic Development Authority. "University of Georgia's Carl Vinson Institute Archway Partnership created the Altama Com-munity Transformation District, or ACT, which includes frontage to Coastal College of Georgia, the new Brunswick High School and Southeast Georgia Health System (SGHS), and has a lot of arteries leading into the area with major economic drivers."
With robust growth expected in the area (including a new Science Center at the CCG), $15 million has also been invested to open a new Camden County campus for Altamaha Technical College (construction starts in the fall).
Altamaha Tech, which took over technical courses when CCG became a four-year institution, is headed by President Loretta Hoover. "Glynn County had a significant population that needed to rebuild the American dream when the economy got tough," she says.
Southeast Georgia Health System (SGHS) has had nearly $200 million in capital improvements since 2004, says Sparks, and received a Certificate of Need (CON) in September for the Cyber-Knife, an advanced radiation technology that is used in only two places in Georgia and 200 in the world. SGHS is also expanding the medical office building next to the hospital, adding some 60,000 square feet for private practices.
"There's a marriage there with Medical College of Georgia," says Woody Woodside, president of the Brunswick-Golden Isles Chamber of Commerce, "who are bringing in more interns and students coming down to do residencies. The campus of the health system is directly across the street from the CCG, and SGHS has acquired a number of properties that will tie the project further together."
Ties That Bind
All this ties to workforce development and job growth at the Port of Brunswick and related businesses and services, as leaders look to industrial development on land once considered residential. "Our initial focus was to create a residential or mixed use [project] in an area that had been off limits as timber holdings until about 10 years ago; but as the county continues to grow, our objectives have changed as new parcels have become available," says Sparks.
"The landowners who got it [their land] before the recession are anxious to have something materialize because of debt service," adds Woodside. "Turtle River Global Logistics Park, which is in the planning stages in that area, is a beautiful piece – adjacent to Highway 82 and served by a shortline railroad that can tie into both CSX and Norfolk Southern tracks."
"A clear advantage is the rail connection," says Sparks. "We already have the 687-acre Coastal Logistics Park at Tradewinds, with 8,000 feet on Interstate 95, but it doesn't have rail – nor do our other industrial parks. That's what's intriguing about this piece – we're seeing more and more projects in the logistics and distribution sector emphasizing rail connectivity."
"Norfolk Southern and the state of Georgia have made substantial investments in bettering our infrastructure to get more cargo in and out of Brunswick using unit trains, which will expand the port's ability to grow," says Woodside. "A connecting track was finished in 2004 that was a tremendous benefit to Mercedes in particular, but also traffic in general, and optimizes the potential for more growth on Colonel's Island, as well as Turtle River Logistics Park."
"There's still room for growth on Colonel's Island, but then there's the gigantic man-made Andrews Island [made] from 40 years of dredging, which could become an 80-acre industrial park," says Sublett. "It would probably have to be mitigated, but the Department of Natural Resources and Environmental Protection [Agency] have always worked well with the community and developers to accommodate needs and protect the environment."
While the auto industry is a potential target, Glynn could also see growth in the biotech industry, given the county's proximity to millions of acres of pines. "We've seen a tremendous proliferation in prospect activity in bioenergy – not just in Glynn but in the region," says Woodside.
"The Port of Brunswick is eyeing those opportunities, and it's fair to say that opportunities being considered here and elsewhere are going to value connectivity to these terminals in Brunswick, both foreign and domestic. Logistitech operates a break and bulk facility at their terminal on the peninsula of Brunswick that is already handling wood pellets from around the region bound for Europe, and they are capable of handling more."
Growth in existing industry has been similarly robust. Pinova has invested nearly $70 million into its facility, saving 220 jobs (and adding 20 more) in the process. "It's become profitable since they took over, and even the appearance has turned around," says Woodside. "We're all impressed with how quickly they've acted and their commitment to the community."
The county's biggest employer, Georgia-Pacific, has made half a million dollars worth of investments in its plant, solidifying its powerhouse presence in the Golden Isles. "They haven't made any press releases or anything, they've just been quietly reinvesting at a level that is beyond substantial," says Sparks.
Gulfstream's announcement that it would bring 1,000 jobs to Savannah is good news for its Brunswick facility. "Gulfstream has been here since the early '90s and came on a temporary basis," says Sparks. "In 2000, the development authority partnered with the airport commission to build a new hangar. Gulfstream has traditionally done 50 percent maintenance and 50 percent completion of craft begun in Savannah – interior or high-end avionic electronics. It has since become a big success story and a calling card for the community."
Last year – prior to the Savannah opening – the lease was coming up for renewal, and again the airport commission and the economic development authority committed to improving the hangar – this time it involved $900,000 worth of improvements, paid for through a no-debt lease back to Gulfstream for $1.4 million. "We're optimistic that this is a step for more opportunity – obviously with our geographic proximity to Savannah, we are in a good position to secure additional investment in the future," says Sparks.
"We have two airports – Brunswick and McKinnon in St. Simons – and industrial parks near both of them," says Sublett. "The Brunswick Airport has one [park] south of it with 600 acres on I-95. And McKinnon, one of the busiest small airports in the state, brings a tremendous amount of aviation visitors and related economic activity."
Retirees Coming
Residentially, the county is still bracing for a "boomer"-ang return. "We've very much become a venue for retirees," says Sublett. "We're consistently ranked in the press as one of the best places to retire, and I read recently that as many as 10,000 baby boomers a day will retire, on average, in 2011, and a lot of them will relocate in the South and Southeast, to nice quiet communities like we have."
Losing the residential use in the northwest part of the county to industrial wouldn't hurt growth potential because of a plan Brunswick created to redevelop areas as mixed-use – tricky in a historical city, but key to finally connecting downtown tourism with the rest of the Golden Isles. Liberty Harbor, one such development, was to be the culmination of 10 years of planning, but it is waiting for residential investment to come back.
"Liberty Harbor was well on its way – 1,500 condos on 40 acres ready with a lift station and marina permits and plans to grow to 153 acres – then a year ago it just vanished," says Brunswick Mayor Bryan Thompson. "There was probably some $70 million put into it at that point. Is it still viable? Yes. At the scale intended? No. But it will be utilized. A number of the single-family lots have sold."
Still, in advance of potential retiree and port-related growth, "other mixed-use catalyst sites were identified throughout the community for opportunity for growth – not just in residential but in retail, small business and commercial," says Thompson.
"We don't have large chunks of undeveloped land in the city, so we've created zoning that encourages and rewards high-density mixed-use investment, such as downtown's Traditional Neighborhood Development (TND). It was utilized prior to the recession quite well throughout the community. Parkwood Village got up and out of the ground before the collapse – a great example."
The city has benefited from the technical college system's QuickStart Program, offering training, and façade grants through the Downtown Development Authority, and was recently able to lure a Red Lobster/Olive Garden concept to its retail Target district – a sign that investors smell rooftops in the future.
"Boomers are still the pig in the python," says Thompson. "What we need along with that is young people. We have a tremendous opportunity with our four-year College of Coastal Georgia – hopefully these students will want to stay and come back."
"We're truly blessed," says Sublett. "I-95, still the busiest interstate in the country, was recently widened to six lanes all the way through the county, and it runs right through us with four interchanges. Jekyll Island is attracting more people to live and visit. We're well poised for significant growth over the next 10 to 20 years."
Community Snapshot
Local Leaders
Nathan Sparks
Executive Director
Brunswick and Glynn County Development Authority
912.265.6629
snathansparks@bwkeda.com
Woody Woodside
President
Brunswick-Golden Isles
Chamber of Commerce
912.265.0620
woodyw@bgicoc.com
Bryan Thompson
Mayor of Brunswick
912.270.0632
mayorthompson@gmail.com
Population
(2009)
76,820
Median Household Income
(2008)
$50,834
Unemployment Rate
(January 2011)
10.2 percent
Top Employers
Southeast Georgia Health System, Sea Island Company, Georgia-Pacific, Walmart, King & Prince Seafood
Sources
Brunswick and Glynn County Development Authority, Georgia Department of Labor, U.S. Census Bureau