Oconee County: The Future Is Here
Planning pays off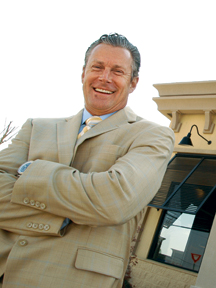 Few counties in Georgia offer as much of a contrast as Oconee, with its bustling Highway 316 commercial corridor in the north and its wide-open spaces in the rural south.
The beauty of this is that it's all by design, says three-term County Commission Chairman Melvin Davis. "We have at-tempted to follow a master land-use plan when it comes to development in Oconee County."
The county's commissioners have been "visionary in planning for our future in terms of water, sewer, transportation and infrastructure," Davis adds. "Our steady growth has allowed us to keep up with the infrastructure so we're not scrapping for every dollar to pave a road or build a sewer when the time comes."
Amrey Harden, president and CEO of Oconee State Bank, was born and raised in Oconee County, so he sees the county's growth from a long-term perspective. After attending high school in College Park, he returned to the area to attend the University of Georgia in the early 1970s and was a three-term mayor of Watkinsville from 1976 through 1981.
It was during this time that Oconee County became a bedroom community for Athens and Atlanta, says Harden. "The county was fortunate to have progressive and forward-thinking elected officials who put zoning in place back then that has steered the county's growth ever since. We didn't have to go back and zone after the fact."
Another big factor back then was the donation by the city of Watkinsville of a water system to the county water authority. With sound zoning and infrastructure in place, "things were lined up to accommodate the growth that took place in the '80s and '90s, when we saw a large influx of new residents move into the county," says Harden.
Oconee County experienced double-digit population growth throughout the '90s, Harden notes, but this has slowed down over the past decade, especially compared to neighboring counties like Walton, Barrow, Jackson and Gwinnett. "But I think this more moderate growth is good," says Harden. "Oconee is poised and well positioned to take advantage when the economy starts to pick back up."
The county's population now stands at about 33,300, up 27 percent over the past decade. However, approximately 300,000 people live within 20 miles of the county, and 1.4 million live within a 50-mile draw area. At more than $46,000, the median income in Oconee County is one of the highest in the state, according to Oconee County Chamber of Commerce President J.R. Whitfield, while the 6.7 percent unemployment rate percent is one of the state's lowest.
Good Schools
Oconee boasts a number of key economic development advantages, says Oconee County Economic Develop-ment Director Rusty Haygood. At the top of the list is its highly educated workforce and outstanding public school system.
"Oconee County is situated in close proximity to a critical mass of highly skilled and highly educated individuals," says Haygood. "Our students' test scores consistently rank among the highest in the state, and the community is known for a high degree of parental involvement in the schools."
"Our highly educated workforce helps get us into the conversation with businesses that are considering locating here," says Oconee County Schools Superintendent Dr. John Jackson. The magazine Progressive Farmer cited Oco-nee as a rural community with the eighth highest percentage of college-educated residents in the nation and also named Oconee one of the best rural places to live in the United States.
According to Jackson, both Oconee County High School and North Oconee High School were recently ranked in the top five percent of high schools in the nation by Newsweek magazine. Both schools are AP Merit Schools (there are only 38 of these schools in the state) with high percentages of the students taking and passing AP college courses.
In addition, five public schools in the county were recently recognized by the Governor's Office for achievement, as gauged by test scores and four county schools have been named Georgia Schools of Excellence since 2007 (only two schools receive this designation in each congressional district each year).
"The business and work worlds are becoming more and more competitive, and we need to help our kids prepare for them," says Oconee County School Board Chairman David Weeks. "Our teachers and seasoned staff are highly qualified and extremely dedicated, and our students help make their jobs easier. And we have great parents who set the bar high at home."
Not surprisingly, the county's proximity to the University of Georgia, which is about 15 miles east of the Oconee- Clarke county line in Athens, has a big impact on Oconee's educational success. "Many UGA professors and staff live here in Oconee," says Dr. Jackson, "and they place a high premium on education."
UGA also has a big economic impact on Oconee County. Haygood says about 1,500 county residents are employed by the university. "There are lots of UGA research facilities here in Oconee, a horticulture farm – and the UGA equestrian team also competes here."
The state's flagship university isn't the only advanced educational game in town, though. "Athens Technical Col-lege provides students with the foundation necessary for numerous skilled jobs within the region," says Haygood.
Meanwhile, the Oconee campus of Gainesville State College, which open-ed in 2003, has grown to a bustling 2,300 students. "Business administration, early childhood education and pre-nursing are three of the most popular curricula at this campus, which falls in line with the development that's taking place in the county," adds Haygood.
The location, nestled between Athens and Atlanta just off of Highway 316 – or University Parkway, as it's known – is another key economic development advantage for Oconee County. Four federal highways and seven state highways crisscross the county, providing easy access to and from Atlanta, Athens, Augusta and Macon. This solid transportation infrastructure has been integral to Oconee's prosperity.
As reflected in its tagline, "A great place to live, work and play." Oconee County offers residents a high quality of life that longtime residents like Whitfield say is tough to beat. "This is just a great area to live and to raise a family. There are wide-open spaces if you like the rural lifestyle, but you can drive just a few miles into Athens and experience major college sports, or just 60 miles to Atlanta to see any professional sporting event you want."
Oconee also boasts an outstanding parks and recreation system that has taken shape under a County Parks and Recreation Master Plan established in 2004. The latest addition to the system is Oconee Veterans Park, a 197-acre park that was opened in 2008 with the dedication of the Oconee County Veterans Memorial. It features lighted soccer/ football fields, softball/baseball fields and tennis courts; a paved walking path; a picnic shelter and playground; and community and senior centers.
Diverse Industries
The public sector accounts for about 21 percent of Oconee's employment, not surprising when you consider the employment impact of UGA. Other strong sectors are retail trades, healthcare and accommodation and food service.
A large percentage of Oconee residents are employed in some form of a professional job. Administrative support personnel, management/business/financial workers and other professional workers make up nearly 45 percent of all employed county residents.
The county's major private sector employers include Benson's Bakery, which produces fruitcakes for the wholesale market and employs about 150 to 200; St. Mary's Health Care System, which employs more than 250 at a number of different facilities in the county; and Zaxby's, a fast-food chain co-founded by Oconee native Zach McLeroy that employs about 150 at its Oconee corporate headquarters.
"The Oconee community instilled in me from a very young age the family values that have shaped our business," says McLeroy, who notes that 180 of the 520 Zaxby's restaurants nationwide are owned by franchisees who live in Oconee County. "It has been a great place to nurture and grow our Zaxby's franchise system during the past two decades. With the lifestyle and feel of a small town and all the amenities of a world-class city nearby, Oconee is an unbeatable place to base our ever-growing Southeastern franchise business."
St. Mary's Health Care System President and CEO Don McKenna believes that healthcare will become an ever-larger part of the county economy in the future. He notes that Oconee has been recognized recently as one of best places to retire in the United States, "and retirees tend to be among the highest users of healthcare services. As the retiree population in Oconee continues to grow, as well as the number of young families, healthcare services will need to expand to meet the needs of the entire community."
Rick Waller, who is a member of the Oconee County Industrial Development Authority, says the county has been working for years to promote business development along the Highway 316 corridor. Specific large tracks of land available for development include 108 combined acres of industrial-permitted property at Gateway Park East and West near Bogart and 600 acres of privately owned land at Highways 78 and 316. "I'm as optimistic as I've been in several years," says Waller.
These efforts are paying off in a big way with the upcoming development of Epps Bridge Centre, a 48-acre, 486,000-square-foot retail and entertainment project planned at Epps Bridge Road. A major $26-million road expansion and upgrade is under way in this area to allow for easier traffic flow in the SR 316/Epps Bridge/Oconee Connector area, including improved access to Loop 10. The roadwork is scheduled for completion this fall. The construction and right-of-way acquisition were funded by the Georgia Department of Transportation; Oconee County paid for the design, acquisition process and utility relocation.
Frank Bishop, CEO of The Bishop Company, which is developing the project, says the Epps Bridge Centre will feature 10 anchor tenants and a state-of-the-art, 16-screen Georgia Theater Company stadium movie theater. He anticipates completion in the spring of 2013 if the road opens on schedule and says the project has the potential to create up to 800 new jobs.
Infrastructure
"Oconee County leaders had the foresight and vision to recognize that if they built the proper infrastructure [like this major road improvement] here, this kind of development could take place," says Bishop. "This new road will add connectivity to the entire area and help everything here fit together."
Bishop believes the timing is right for his new development and that other similar projects will follow. "Oconee is a very desirable place to live and work, and Chairman Davis and the Oconee County commissioners have done an excellent job with the resources available to them. They've been very forward-thinking with their infrastructure planning and land-use plans."
Entrepreneurial Spirit
Whitfield says the Oconee Chamber of Commerce is growing, adding a net of about 30 new members last year. "This points to a strong small business and entrepreneurial spirit in the county, which is vital to future economic development."
While large employers like Zaxby's, St. Mary's and Benson's Bakery garner a lot of attention, Harden of Oconee State Bank says he is most encouraged by the strength and resilience of Oconee's small business sector.
For example, Harden points to Engineered Fabrication, Inc., a small industrial machinery manufacturer that has been in Oconee for more than 20 years. "They're not flashy or Forbes 500, but they employ 20 or 30 people. Businesses like this are critical to the economic well-being of the county."
Haygood has been active in business and economic development efforts. Last year he started putting on free workshops that were led by experts in various small business disciplines. "The need for small business and entrepreneur training really jumped out at me," says Haygood. The workshops were very well attended, he notes, and have been expanded in partnership with Athens this spring.
Another initiative Haygood helped launch last year was GoLOCAL. "Local businesses in Oconee, like those in most small communities, have been hit hard by the economic crisis. GoLOCAL is our own local economic stimulus plan, and it doesn't involve any extra spending. It's about reallocation of Oconee residents' spending, not spending more money."
The initiative simply encourages Oconee residents to spend their money with a locally owned business instead of one outside of the county. "We determined that if every household in the county reallocated $80 of spending a month to a local business, Oconee businesses would take in another one million dollars a month, or $12 million in a year, not to mention the additional sales tax revenue for the county. That's significant for a community our size."
In addition, Oconee is one of 129 counties in the state that has been recognized as an "Entrepreneur Friendly Com-munity" by the Georgia Department of Economic Devel-opment. The Entrepreneur Friendly initiative incorporates an entrepreneurial and small business strategy into the community's overall economic development strategy, Haygood says.
Harden agrees that the entrepreneurial spirit is strong in Oconee, making it a great place to start or move a business.
"There are a lot of very successful small businesses tucked away in nondescript buildings you might not notice that are doing big things that make you say, 'Wow.'"
Community Snapshot
Local Leaders
Melvin Davis
Chairman
Oconee County Board of Commissioners
706.769.5120
mdavis@oconee.ga.us
Rusty Haygood
Economic Development Director
706.769.5120
rhaygood@oconee.ga.us
J.R. Whitfield
President
Oconee County Chamber of Commerce
706.769.7947
jrwhitfield@oconeechamber.org
Population
33,320
Per Capita Income
County, $46,081
Georgia, $23,909
Unemployment Rate
(February, 2011)
County, 6.7 percent
Georgia, 10.2 percent
Top Employers
Oconee County Board of Education, Walmart, Oconee County Government, St. Mary's Health Care System, Industrial Mechanical
Sources
Oconee Economic Development Authority, Georgia Department of Labor