Fannin County: Pride Of Place
Tourism and the arts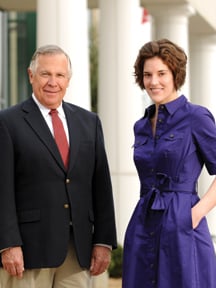 Bo Chance has seen the pattern before: first, the faraway look; then, the wide-awake consciousness that may have come from the splash of a cold mountain stream or the sudden realization that what is really important is right here, right now, in Fannin County.
"The typical algorithm is, they come up for a day trip and do downtown Blue Ridge," says Chance. "Then, what happens is, they are infected by something almost impossible to shake, a virus that gets into the brain and burrows so deep that it pulses 'Why not?' in between every other thought. You can be on an airplane, flying to some place that you'd rather not be, or you could be asleep, and there it is. 'Why not?'
"Then, maybe, comes the weekend place. Then the questions, 'How do I get up there for real, full time? Retirement? Or, do I reinvent myself, start a business?'
"It's like an awakening."
Chance isn't just laying it on thick, isn't merely reciting hyperbole about his adopted hometown. He really believes this stuff. He's seen it in other people who have visited, then settled here, seen it in himself.
And he's put his money (and time and family) where his bliss is, a former Atlantan who has renovated and owns 20-plus downtown Blue Ridge properties, renting to a variety of business owners, an out-of-towner who has put down deep roots.
Fannin County is in the upper middle of the state, bordering both Tennessee and North Carolina, a woody, mountainous patch that has reinvented itself as a cultural hub and tourist destination for people who love food, art and the outdoors.
The economic challenges are very real, but people are still traveling here to visit the galleries, eat in the fancy restaurants, see a play, ride the train, fish for trout, pick apples, hike in the wilderness or relax on cabin porches overlooking heart-melting vistas.
So local leaders tout the area's natural and cultural allure while trying to diversify the economic base and make the place ready for potential new in-dustry.
"Not very long ago, we were all about housing, especially retirement homes – real estate and construction were huge, and tourism was second for us," says Jan Hackett, president of the Fannin County Chamber of Com-merce. "But the recession hit really hard. Now, tourism is our No. 1 industry, and the phenomenon is in the rental of second homes."
All of those weekend getaways that seemed so affordable during the high times became financial albatrosses for owners when the real estate bubble burst. But a thriving local industry built from "second homes" has emerged in Fannin County.
"A lot of people put their vacation homes on the rental market to help pay for them, and we've also seen a number of people taking advantage of the buyer's market, turning those cabins into an investment," says Pamela Miracle, whose Escape to Blue Ridge is one of the county's numerous cabin-rental companies that together with all of the lodging options made up a $16.7-million business last year in Fannin County, where total tourist expenditures are about $28 million a year.
According to Hackett, last year Fannin County saw a 24 percent bump in hotel/motel tax, due in part, she believes, to the chamber's tourism marketing campaign, which should intensify this month when Blue Ridge (along with Ellijay/ Gilmer County to the south) will host the Georgia Travel Media Marketplace event, bringing about 40 travel writers from across the U.S. and Canada.
The plan is to show off the art galleries, eclectic shops, the Blue Ridge Scenic Railway (65,000 passengers last year made the roundtrip to McCaysville and back) and then feed the wordsmiths from some of Blue Ridge's recent additions, high-end places like Christy Lee's Courtyard Grille, Harvest on Main and Blue Ridge Brewery – which isn't actually a brewery, but does serve craft-brewed beer, something that couldn't have happened a few years back.
The ordinance passed two years ago allowing establishments to serve beer and wine and is one of the more significant economic development moves local leaders have made.
The chamber conducted a visitor's survey last year and found that downtown Blue Ridge was, by far, the top draw for visitors to Fannin County. Next on the list was Mercier Orchards.
Homegrown Success
When you bite into a fried fruit pie at Chick-fil-A or sip some apple cider from Whole Foods, you're tasting a little bit of Fannin County – specifically, you're tasting a little bit of the Mercier family's handiwork.
Bill and Adele Mercier started the business in 1943, and they did just fine, growing apples and selling them from their farm along State Route 5 between Blue Ridge and McCaysville. They still sell apples from a roadside store that also features a restaurant, bakery, home decor, toys, pet items, flowers, vegetables, meat and cheese; and, before too long, they'll be craft-brewing hard cider for the masses.
"For years, we took for granted that we live in God's country," says Joe Foster, son-in-law to Tim Mercier (Bill and Adele's oldest son and the company's de facto CEO). Foster is the company's official visionary, directing a growing agri-tourism business.
"We've realized that there was so much more we could be doing," he says. "So we asked ourselves, 'How do we share this?'"
They started offering "Upick" events. It began with apples only, in September. Now they're doing it with cherries, blueberries and strawberries. They also grow peaches and pumpkins, so the Upick season runs from May into November. Company payroll was up $250,000 last year, and Foster expects it to go up that much more this year.
Now they can offer 45 different varieties of apples to a global clientele via the Internet and provide their fans daily "bud reports" on Facebook.
"We're selling an experience," says Foster, whose wife, Mandy (Tim's daughter) is the local superior court judge, the state's youngest at 35.
In recent years the company has recruited professionals with a wide range of talents to help meet the demands of growth. This includes Foster's best friend, Rob Kaser, who lost his job as a bank executive when the bank failed and is now events coordinator for Mercier Orchards.
They've worked NASCAR events, Georgia Tech home football games and festivals across the Southeast and will be selling cider and fried pies at the Kentucky Derby this year, all part of a flourishing concession business made possible, in part, by Dale Eavenson, another one of Fannin's homegrown entrepreneurs.
Eavenson, who co-founded LPD Trailers with his parents (Lois and Paul, the L and P in the company name), made the Mercier's concession/kitchen trailer.
In 20 years, LPD has built about 5,000 utility trailers. Six years ago, they bought King of the Road (maker of custom coaches and trailers that had been closed since 1996). Last year they bought WildSide, which manufactures custom trailers and truck conversions.
Today Eavenson is designing, making and/or selling custom coaches, trucks, trailers and other hauling equipment for a clientele that includes professional entertainers and race car drivers, and the company is about to move into a larger facility.
The Merciers and Eavensons are two homegrown success stories, family businesses with a continuously evolving entrepreneurial spirit – Fannin County was the third community designated as "Entrepreneur Friendly" by the Georgia Department of Economic Development, as proof of the area's affection for small businesses.
But Fannin's most famous homegrown success is probably Georgia's Speaker of the House, David Ralston, the lawyer who was chairman of the local chamber of commerce when Jan Hackett came aboard 10 years ago.
"His election as Speaker has really cast a strong, positive light on our community," Hackett says. "People are noticing us."
Ralston used to spend a lot of time outdoors, "fishing the rivers and creeks," he says. "That was a big pastime for us growing up there and a big reason why so many people want to visit us now."
The Speaker feels so strongly about this that he signed a resolution last year recognizing Fannin County as the "Trout Capital of Georgia." No one had to tell Natalie Sharp and Gene Rutkowski, two out-of-towners who are making their livings on the waters of Fannin County.
River Entrepreneurs
Sharp and Rutkowski are part of a busy community of fishing guides based in and around Fannin County.
"I was 50 and needed a hobby in my life," says Sharp. "I had the corporate job, traveled all over the U.S., and was burned out. I came up here to learn about fly fishing and fell in love with it."
Before long, another local guide was suggesting she turn her newfound skills into a profession, so she created Sharper Bites, a guide service that serves the more casual angler – couples and beginners, especially, who are just as happy with a catered picnic as they are standing in a river casting a line.
Rutkowski's Upper River Adventures takes on all kinds of anglers, from beginners to experts, and he guarantees a catch every time. He retired to Fannin 10 years ago after working for BellSouth in Louisiana, but he'd been coming to the area for years.
Both guides take their clients to private waters and are hush-hush about where, exactly. They have good reason to be protective of the private waters they fish, especially now that the federal government is considering closing some trout hatcheries in the area, which could particularly impact public waters.
"I know they have to make budget cuts, but I can't fathom our political leaders letting that happen," Rutkowski says.
Another challenge for fishermen is the lowering of Lake Blue Ridge – the Tennessee Valley Authority is upgrading the dam, and estimates are that it won't reach normal levels again until August. July, typically, is the county's busiest tourist month.
"We'll miss the lake. It's important to us, but so many people who visit come for the rivers," Hackett says. "It's a loss, but it's one of those things that will make us better off in the long run."
Adding to the area's outdoor attractions, though, is Noontootla Creek Farms, where visitors may go quail hunting, or shoot sporting clays, or go on guided fly-fishing trips. Visitors can stay overnight in the old Owenby family farmhouse or spend the day along the 2.5 miles of trout stream.
"The great thing about growing up there was enjoying the outdoors, something we could do most of the year and one of the things that still appeals to me about Fannin County," Ralston says. "Obviously, we're blessed with a lot of natural beauty."
They're also blessed with a lot of creative people who are inspired by the natural beauty, and Ralston has the work of local artists on display at his office in the State Capitol to help remind him where he's from.
Artistic Roots
"We are an arts town," proclaims Sarah Verner, executive director of the Blue Ridge Mountains Arts Associa-tion (BRMAA), based in the old county courthouse. The association has grown from 330 members (and 120 artists) in 2007 to more than 1,000 members (600 of them are artists).
The old courthouse has about 2,500 works of art under its roof and is one of the largest galleries in the Appa-lachians.
Blue Ridge definitely is an arts town, hosting regional and national shows each year, showcasing the work of and catering to photographers, painters, sculptors, musicians, writers, thespians – it is a theater town, where the Blue Ridge Community Theater puts on seven shows a year, in addition to two kids' productions.
"I come from a family of musicians," says Verner, a local who grew up in a house that was half in Georgia, half in Tennessee. "We have such a wealth of talent, and I do think the natural environment has a lot to do with inspiring our creativity."
Fannin County Commission Chair-man Bill Simonds is drawing inspiration from both the surroundings of his home county and necessity.
"Our economic engine now is tourism, but we've got to find something else that our young folks can make a living at," says Simonds, who left Fannin County as a teenager to join the Air Force, then spent the next several decades building stadiums and other large projects as a construction superintendent (Atlanta's Olym-pic Stadium, then the conversion to Turner Field, for example), before coming home about 10 years ago.
"We've got to diversify, go out and meet people and let them know that we're here, show them what we've got."
Last year the county created the Fannin County Water Authority with the intent of expanding city water and sewer service systems out to unincorporated areas of the county. Then there's the McCaysville bypass road project, creating a more accessible corridor for the transportation of goods.
And last year there was "Project Orchard" – a Fortune 500 company flirting with the notion of bringing 200 jobs at a shared-services center. The development authority had a 10.8-acre site near McCaysville ready, but the project was put on hold by the company.
Still, there is encouragement in the potential, says Development Author-ity Executive Director Stephanie Scearce, and there's a spec building ready for a tenant tomorrow.
"We have to be ready at a mo-ment's notice," she says.
Around the corner and a few blocks from Scearce's office, Bo Chance contemplates the pace and vibe of Blue Ridge, the place his family calls home after years of Atlanta traffic. He thinks he's hit upon what's really important, and it isn't the corporate job or the big city. It's this, his fallback position, his bottom line.
"You know, there's this sense of, if all else fails, and you lost the house and the Mercedes was repossessed and the country club refused your membership, you can always come back to Fannin County," he says. "It's comfortable here."
Community Snapshot
Local Leaders
Bill Simonds
Chairman
Fannin County Board of Commissioners
bsim@fannincountyga.org
706.258.5101
Jan Hackett
President
Fannin County Chamber of Commerce
jahackett@tds.net
706.632.5680
Stephanie Scearce
Executive Director
Fannin County Development Authority
sscearce@fannindevelopment.com
706.632.4450
Population
County, 24,574 (2010)
Blue Ridge, 1,107 (2009)
Per Capita Income
(2010)
$18,933
Unemployment Rate
(Jan. 2011)
County, 11.7 percent
Georgia, 10.3 percent
Top Employers
Fannin County School System, Fannin Regional Hospital, Fannin County Government, Ingles Markets
Sources
Fannin County Chamber of Commerce, Tennessee Valley Authority, Georgia Department of Labor, U.S. Census Bureau