Children's Crusader
Donna Hyland, president and CEO of Children's Healthcare of Atlanta, is experienced, focused and detail-oriented. And she is a fierce advocate for her patients.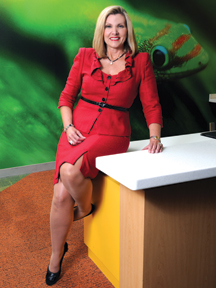 It was a few minutes after 10:00 and the family was settling in for the night when Donna Hyland's 15-year-old daughter Brooke entered her parents' bedroom.

"We picked her up early from school that day, thought it was probably a stomach bug. We figured if she wasn't feeling better in the morning, we'd go to the pediatrician," Hyland says. "But when she walked in the room she said, 'It's like somebody's sticking a knife in my stomach.'"

In minutes, Hyland was on her way back to the office, her ailing daughter in tow. They spent the next several hours in the emergency room at Children's at Scottish Rite, not quite a busman's holiday.

"It was like I was playing undercover boss," says Hyland, president and CEO of Children's Healthcare of Atlanta, or CHOA, whose vast Atlanta network includes, in addition to Scottish Rite, Children's at Egleston, Children's at Hughes Spalding, the Marcus Autism Center and clinics of various scope throughout the region.

"Or maybe I was the undercover parent. It was an incredible experience, and it reassured me what a phenomenal organization this is. It wasn't just how they treated my daughter," says Hyland, who was dressed in sweatpants and sneakers and didn't really look like the boss. "It was also how they treated the other families with much bigger issues than what we were dealing with."

Turns out it was a bug – not appendicitis, like they feared. But the whole affair that February night reminded Hyland of the main reason she feels capable of leading one of the nation's top children's healthcare organizations.

"Every day, people hand us the most precious things in their lives, their children. I feel like the No. 1 qualification I have for this job is being a mom," says Hyland, Georgia Trend's Most Respected Business Leader for 2011.

It's the job she seems to have been destined for. Hyland's predecessor, James Tally, started grooming her for the role a decade before she actually became president and CEO.

"I approached Donna in 1998 about being my successor, 10 years before I retired," Tally says. "And she said, 'Well, we better get me ready.'"

It's not as if Tally could appoint his successor. But he felt that after all the years he put into the job – first at Scottish Rite, then at CHOA after it was created from the merger of Scottish Rite and Egleston – he should have a say.

"I felt like it was just a matter of exposing her to more different kinds of experiences, as sort of a broadening opportunity," says Tally. "The intelligence, the substance, the insight, the energy was evident. There really wasn't much you could add to what she had going for her."

It's one thing to wrestle gators day in and out, but business leaders are often best judged by how things are at the office three, five years after they leave. These days, Tally is looking pretty good, and he has Hyland to thank.

"We worked together for 20 years," Tally says. "And I think she has more passion and drive and desire to succeed than anyone I've known.
Drilling Down
Hyland never intended to get into the healthcare business. When she was going to college in her native Kentucky (first at the University of, then at Western Kentucky), studying to become a CPA, she figured on a long career in business. "You know, some for-profit business, a publicly traded environment. Healthcare wasn't something I was thinking about."

She took a job in corporate finance with a growing Atlanta company, The Home Depot, started by a couple of guys from the New York area, Bernie Marcus and Arthur Blank.

"This is back when the offices were still in an old grocery store," Hyland says. "Now fast forward 28 years, and Children's has the Marcus Autism Center, and the chairman of our foundation board is Stephanie Blank."

So, a full circle. (Although, since Hyland was interviewed for this story, Ms. Blank's term as chair of the foundation board came to an end.) Hyland, who now runs with the mover-shaker Atlanta crowd, remains close to the Marcuses and the Blanks.

"Bernie said to me, 'You know, all of the people who got wealthy with Home Depot were the ones who stayed,'" says Hyland, who didn't stay long enough to become one of the early Home Depot millionaires who cashed in at the right time way back when. Instead, she took another job in corporate finance, with the Atlanta office of American Medical International.

AMI provided a nice environment, she says. Very secure. But the company offered a post in Florida, and she wanted to stay in Atlanta. So Hyland followed her mentor and former AMI division controller, Lynne Lisanti, who'd gone to Scottish Rite to become Chief Financial Officer.

"She offered me the job as controller at Scottish Rite, and I'll never forget my first day," Hyland says. "She said, 'Here's a box of checks. They're ready to go out, but we don't have enough money in the bank to cover them all. Your job is to figure out which checks to pay now, until we get more money.'

"I was stunned. I said, 'What?!' She said, 'I never told you it would be easy,' then flitted out the door."

It was 1986, and Hyland got her introduction to improvisational financing in a nonprofit healthcare environment.

"All the infrastructure was missing, in terms of billing, collection – getting money in so you can send money out," Hyland says. "Our CFO always used to say, 'Cash is queen here,' because most of the employees were female."

When Lisanti died suddenly in 1989, Tally conducted a national search for a new CFO at Scottish Rite (hoping, in the back of his mind, to hire a dude, "because we had an all-female staff, and I thought we should balance the team a little bit").

There were three finalists – two men and Hyland, and Tally couldn't get around what he saw as obvious: "She was head and shoulders above everyone else."

At 28, Hyland became the CFO at Scottish Rite and totally immersed herself in the nonprofit children's healthcare bionetwork. She'd sit in the surgical area, she'd hang out in rehab, listen to the experts, the nurses, physicians and technicians, and she'd tell them, "My job is to figure out how to get you the money, the resources you need to do your job.

"I'm someone who has to go as deep as I can into the details," Hyland continues. "Then I can pull myself up. Some people can be told what to do, I have to see it for myself, see the work we were doing. There's a mechanic in me somewhere who has to understand what all the parts are and how they come together.

"It comes from my accounting background. It's details, it's little, bitty boxes and a lot of numbers; it's like an ecosystem, everything has to work together."

It's a lot of moving parts, moving at different speeds, says Joe Rogers, Jr., chairman and CEO of Waffle House and chair of CHOA's board of trustees (2003-2008) when Hyland was hired as president and CEO.

"I run a bigger business, but running a restaurant is much simpler – and it isn't simple – than running a place like Children's," Rogers says. "She had the business side down cold. Her judgment was always right on."

Hyland focused on capturing charges and getting bills out the door, negotiating better managed-care contracts, recruiting a leader for Scottish Rite's charitable foundation – someone engaged full-time in fund raising, because even back then, the hospital was treating any child who came through its doors, regardless of ability to pay.
Clear Choice
Atlanta's population was increasing at hamster speed, with lots of young families with kids moving in. "We needed to grow to meet the growing need," says Hyland, who was tapped by Tally in 1996 as a point person in Scottish Rite's strategic planning efforts.

As the hospital's leadership saw it, there were three options going forward in trying to meet the challenge of "taking care of every kid," Hyland says. "We could go it alone or merge with an adult hospital system – we talked with a few.

"Or we could join with Egleston, which was the other children's hospital at the time. The problem was, Egleston and Scottish Rite hated each other."

The hospitals were very competitive, and the prevailing feeling was, "That's never gonna happen." But after many hours of discussions and meetings, it was clear that only one option made sense.

"Only Egleston had the same mission as we did," Hyland says. "If we were going to thrive into the future, only one option made sense. And it turns out, Egleston's leadership was going through similar discussions."

Ultimately, the two boards came to together on a set of guiding principles, settling on common sense – that sick and injured kids are best served in a pediatric system, where the outcomes are better. In 1998, Scottish Rite and Egleston formed Children's Healthcare of Atlanta, CHOA, but everyone calls it "Children's."

Tally was hired as CEO of the new system, and he made Hyland CFO of Children's. She was involved in managing the transition of executive roles, integrating the two systems' information technology. Hyland carried on as CFO of the evolving pediatric healthcare network, hinting to Tally at one point, "I'd really like to do something else. He asked me if I'd like to give chief operating officer a whirl. I decided to take a shot."

In 2003, Hyland became COO and dug a little deeper. Now she was responsible for managing what she'd been measuring, the day-to-day operations of what had become one the nation's busiest pediatric healthcare systems. Meanwhile, Tally wanted to find out just how committed Hyland was to all of CHOA's moving parts.

"I decided to get out with her and meet with people, but what she didn't know was, I was looking for connections. Did she really know our people, and did the people know her?" Tally says. "They did. And there was this real energy and emotion. All of these personal stories emerged as we moved around through different clinical settings.

"Before we made the appointment I asked her, 'Donna, do you know what we just did?' She wasn't sure. I told her, 'There's no substitute for love of the people you work with. You can't fool them. What I saw was a real connection, and it was mutual. You love them, they love you, and if you want the job, it's yours.'"

Over the next five years, CHOA launched a fund-raising campaign to help pay for the $365-million expansion and upgrade of the Egleston and Scottish Rite campuses, which broke ground in March 2005. In 2006, CHOA took over management of Hughes Spalding, and in 2007 it announced plans for a new $43-million facility there. In 2008, CHOA took over operations of the Marcus Autism Center.

And as Tally neared retirement in 2008, he was more committed than ever to Hyland's next promotion.

"He was recommending Donna so strongly, I had to tell him, 'Jim, you might want to back off just a little bit. You don't want the board thinking you're trying to put one over on them,'' Rogers says.

The board interviewed Hyland, but extended a national search for Tally's successor.

"I told Donna that we owed it to the organization, which had the potential to be such a prominent player on the national level," says Doug Hertz, current chair of CHOA's board of trustees, who chaired the search committee. "We wanted to find the very best CEO we could, and by searching nationally, we thought we could do that. And if she got the job, it would be further affirmation for her."

After interviewing the initial round of talent, Rogers says, Hyland was the clear front runner.

"I reminded the people involved with the search committee to remember that CHOA, in its first decade, had traveled farther than anyone imagined," Rogers says. "We may not have been the biggest financially, but we got to be the largest in terms of number of beds. The journey we traveled was greater than any other children's hospital system over that period, and Donna had unmatched experience sitting right there at the controls with Jim Tally.

"So it shouldn't have come as a surprise that she was looking so good compared to all the other talent that was out there."
Steady Hand
For the past two and a half years, Hyland has guided an organization that cares for children from every one of Georgia's 159 counties – almost 300,000 different patients and 600,000 patient visits (including 200,000 emergency room visits) a year.

CHOA has three hospitals with 520 beds and the Marcus Center, which is headed to the top echelon of the nation's autism institutes with the recent arrival from Yale of Dr. Ami Klin, an internationally re-nowned expert with a record for attracting colossal funding for his research.

Hyland manages a budget of more than $900 million at CHOA, which has 6,500 volunteers and access to 1,600 physicians of every specialty. Of the system's 7,500 employees, Hyland says 85 percent are female, many of them working moms, whose feedback has helped make Children's one of Fortune magazine's "Top 100 places to work" for six straight years. Working Mother magazine also put CHOA on its list of best places to work.

"If your No. 1 reason for existing is taking care of the health of our kids, then you want the best people, and you've got to take care of your people," Hyland says. "Most of our executives are moms, so we know what it's like to wake up with a sick kid, and we know what it's like to try and juggle family and work."

Hyland has spearheaded quality improvements that have literally saved the lives of children. For example, bloodstream infections have fallen 77 percent in the past three years (infections that cost a family, on average, $50,000).

To help promote the employee fitness program, Strong-4Life, Hyland was videotaped working out, and it was shown systemwide.

"One of the most embarrassing things I've done. I look like a total goof," Hyland says. "I guess the point was, if I can do it, anyone can do it."

So far, CHOA employees have collectively shed 32,000 pounds through 2010. Employees are wearing pedometers, taking the stairs. Instead of buying pizza to reward employees on the job, administration is more likely to give iTunes gift cards.

Beyond the walls, though, Hyland says she feels accountable to the 2.7 million kids in Georgia.

"Obviously, we don't care for all of them, but the big question is how do we as health systems across the state improve care for all kids," she says, referring to Georgia's poor showing in national comparisons of children's health. Georgia ranks in the lower five in the nation due to various factors, including obesity and access to care.

Currently, CHOA provides about $100 million a year in uncompensated care. The majority of the system's patients, about 55 percent, Hyland says, are on Medicaid, "which pays us about 75 percent of our cost."

She's concerned that the combination of continued state and federal budget cuts (and whatever shape healthcare reform ultimately takes) presents a particularly unfair challenge for her clients – kids, who don't vote – and her ability to treat them.

"Two thirds of the enrollees in Georgia's Medicaid system are kids, but they account for less than a quarter of the cost," Hyland says. "But when government makes cuts to Medi-caid, they cut across the board."

Most of the new people on public healthcare rolls will be adults, Hyland says, stressing the public system, stressing an already stressed pediatric public payer system.

"The system is fragile," she says, but she remains confident of the largesse that Children's usually manages to attract from corporate sponsors (like Aflac and the $50 million its associates have raised over the years for CHOA's Aflac Cancer Center and Blood Disorders Service).

"We've enjoyed fantastic support from the community. It's what allows us to do what we do," Hyland says. "I tell everyone that I hope you never have to come to Children's – no one wants to come to Children's. But I'm glad we're here if you need to."