Albany/Dougherty County: Playing To Its Strengths
Manufacturing, healthcare and the military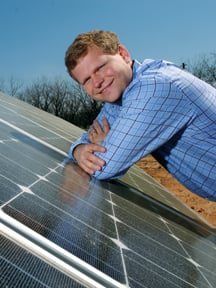 You don't hear much complaining about the economy in Albany and Dougherty County these days. Sure, the area has seen some tough times over the years. Two separate floods in the last decade have severely damaged Albany. Some of the largest employers have shut down.
"In the last three years we have lost 3,500 to 4,000 jobs – mostly manufacturing jobs – due to the closure of Merck, Bob's Candies and Cooper Tire," recounts Dougherty County Commission Chairman Jeff Sinyard.
"Those three closings in such a close proximity of time created a lot of difficulty for our region in terms of having key employment with good wages and benefits. The recession of the last three years by itself has had its own negative effects on every family in some way as well."
Sinyard and other local leaders are all too aware of the blows the community has taken over the years, but they also see a region that is on the rise. The primary job engines here – manufacturing, healthcare and the military – are humming along at a pace that would be the envy of many other south Georgia cities.
"We've learned to work together, and we learned how to be resilient," Sinyard explains. "Resilience is where we're at."
Every community likes to believe its leaders and citizens are working together toward common goals, but here in Dougherty County they can point to a resurgence of business and jobs that is a good indication that the economy is finally on the upswing.
"Just in the last four or five months we've had a lot of success in the defense sector in terms of contractors moving into the area and looking for potential opportunities," says Ted Clem, president of the Albany-Dougherty Eco-nomic Development Commission.
Big name defense companies in-cluding General Dynamics, Lockheed Martin and BAE Systems have all opened offices in Albany in hopes of winning contracts at the busy Marine Corps Logistics Base (MCLB). The facility is charged with repair and maintenance of fighting vehicles such as the Mine- Resistant, Ambush-Protected (MRAP) armored fighting vehicles. These heavy-plated troop carriers were designed to survive IED attacks and ambushes that caused numerous U.S. deaths in Iraq. With the conflict winding down and more troops being shifted to Afghan-istan, MCLB has been kept busy getting these and other vehicles back into fighting condition.
The facility, which has a local economic impact of about $987 million annually, employs roughly 4,000 civilian employees and contractors.
Now a new streamlined and assumingly more efficient contracting process called Marine Corps Logistics Support Services (MCLOGSS) has spurred a flurry of activity.
"It requires close proximity to the base, so that's why a lot of these guys are interested in locating here now," explains Clem.
The base has also undergone some significant construction to accommodate both the larger workforce and the increasing number of uniformed Ma-rines who have been assigned there. A $14.7-million LEED-certified barracks for single Marines opened in March.
Not all the activity locally is a result of government spending. Sewing and needlecrafts products maker Coats & Clark decided to consolidate all of its North American distribution facilities into one place – a new 280,000-square-foot facility in Albany. The company added about 60 new workers to its sizable workforce.
Equinox Chemicals has also been one of the area's local success stories. Since 2003, President Mark Grimaldi has grown the business from two employees and a single customer to a 34-person operation with a customer base that spans the world. The specialty chemical research and manufacturing company has developed business in more than a half dozen counties, including France, Germany and South Korea.
Last year Grimaldi, who founded the company after leaving Merck when it pulled up stakes, was named the Small Business Exporter of the Year in Georgia by the Small Business Administration.
Thinking Big
The recession has been particularly rough on small business, but those challenges have not kept local entrepreneurs from trying to turn dreams into money-making reality. Sometimes those dreams were the result of trying to solve problems associated with other businesses. Trey Pippin was trying to find a way to cope with soaring prices for the fuel and fertilizer he needed to tend his Arlington pecan orchards. That's when he hit upon the idea of using solar to reduce energy costs and perhaps even make money by selling power to a local utility.
Using a variety of state and federal incentives and tax breaks, he constructed a 200-kilowatt solar power plant on a single acre of the farm. The $1 million array became the largest commercial solar farm in the state at that time and gave birth to Renewable Properties LLC.
"The main farm in Albany was close to an EMC but they didn't have any solar programs at the time," says Pippin. "So we started looking for a power company that had one, and that's when we ran across the Tennessee Valley Authority (TVA) in North Georgia."
The company acquired a five-acre hay field in Blairsville, where it placed 4,340 high-powered solar modules from Norcross-based Suniva. The array generates about 1.3 kilowatts of power annually that is purchased by the TVA through its Generation Partners pilot program, which provides incentives for the installation of renewable generation systems.
While a cap on Georgia's tax incentives has made additional projects like Blairsville unfeasible, Pippin says the company is working on similar projects in neighboring states and is seeking contracts with military installations.
"Anyone who has large power consumption, such as a military base, is a viable option for a project like this," he adds.
The manufacturing side of Albany's economy has also been keeping pace thanks to several large job creators. MillerCoors and Procter & Gamble – both of which have had a presence here for nearly three decades – are maintaining their current workforces. While they have tended to replace workers as they retire instead of doing major hiring, the companies are a steady part of the economy, according to Sinyard.
Other areas of the economy are also beginning to pick up throughout the area. East Albany has seen little in the form of positive economic development in recent years. That is, up until Walmart began construction on a new supercenter. After years of rumors that a new store was on the way, ground was finally broken on a site at Clark Avenue and Cordele Road. The store is scheduled to open in July, and officials estimate that it will create 400 to 500 new jobs while generating more than $2.2 million in annual sales tax revenues.
Along with the main store, a variety of other shops is expected to open nearby, resulting in additional jobs for the area.
"We think there are many things coming in around it [the new store], and that will generate even more activity," according to City Manager James Taylor.
Reviving Downtown
The city has been actively working to bring in new business to its starved downtown area, and those efforts are beginning to pay off as well. In early March, the Albany-Dougherty Inner City Authority (ADICA) announced that eight new businesses were moving downtown. This diverse mix ranges from an organic supermarket and a martial arts school to a general store featuring an old-fashioned soda jerk and reflects the businesses' faith in the revitalization efforts, according to Aaron Blair, the authority's new downtown manager and director.
The appointment of Blair, a former director for the Collier County Community Redevelopment Agency, to the long-empty post was itself something of a relief. His predecessor left under a cloud and the agency was thrown off course.
Now, not only does the agency have a new director, but a powerful new tool in the form of a Tax Allocation District (TAD) that can channel money to worthwhile projects. ADICA is charged with finding and approving projects that are then presented to the TAD board for approval.
"Anything that has a low tax value – it would be important to jump start those properties," says Blair. "Anything that we own, we want to get it back on the tax roll as part of a redevelopment effort."
One of the first projects up for consideration is the redevelopment of an area off Oglethorpe where local developer Destiny Property Group plans to redo some older buildings for retail and bring in a new Home Run Food convenience store. ADICA owns the parking lot across the street, which could also become part of the development, according to Blair.
The TAD could contribute as much as $1 million for property acquisition and development of the retail center, he adds.
To help spur additional development, the city would like to get more people living downtown. In years past, downtown streets have been deserted after hours despite the presence of government offices and a number of popular attractions such as the Riverquarium and the Albany Civil Rights Institute.
ADICA is seeking to acquire some of the city's larger underused buildings as prospects for loft apartments. One of the most promising is the grand old Albany Theatre on Jackson Street. In its heyday, the historic building was called the "largest and finest amusement house in Georgia, south of Atlanta … the amusement center of Southwest Georgia." With seating for nearly 2,000 people, the theater, which featured an arcade in front, was the preferred stop for entertainers throughout the pre-World War II era. It also served as a first-run movie house up until it closed for good in 1980 – a victim of economics and competing movie houses with air conditioning.
The two-story structure could be converted to lofts upstairs with stores on the arcade side, says Blair.
Ideas of using the structure as the home for a health clinic and a small business incubator have also been raised, according to reports.
Albany has long been willing to use public funds to develop areas that it hoped would eventually gain support from the private sector. A new Special Purpose Local Option Sales Tax (SPLOST) was recently approved by voters and will be funneling about $62.7 million into city projects.
Some $11 million of these funds will go to improved streetscapes and road improvements. A total of $9 million will be used to fund infrastructure im-provements. The Albany airport will be getting a new terminal building, along with improvements to runways and the tarmac, to the tune of $3 million.
One of the steadiest engines for growth in this region of the state continues to be healthcare. Phoebe Putney Memorial Hospital consistently produces almost $800 million in economic impact, along with more than $35 million in charity care and community benefits, according to a report by the Georgia Hospital Association.
On the heels of a major expansion of its Albany facilities, the hospital is now putting the finishing touches on the construction of a new $110-million hospital in nearby Americus. It has also moved to purchase its chief local rival Palmyra Medical Center. Under terms of the agreement, the private hospital will be transformed into a not-for-profit facility renamed Phoebe North, once the $195 million purchase is completed later this year. Then officials will begin devoting time incorporating Palmyra and the hospital in Fitzgerald into the Phoebe system.
With these projects out of the way, the hospital is expected to begin construction this year on a $20-million di-gestive disease services facility in North-west Albany.
All of these activities add up, say locals. They generate economic activity and jobs that keep the community looking forward to good times rather than backwards to the travails of the past.
Community Snapshot
Local Leaders
Jeff Sinyard
Chairman
Dougherty County Commission
229.435.6258
James Taylor
City Manager
City of Albany
229.431.3234
Ted Clem
President
Albany-Dougherty Economic Development Commission
800.475.8700
Population
(2009)
County, 95,859
Albany, 75,616
Per Capita Income
(2009)
County, $20,227
Georgia, $33,499
Unemployment Rate
(December 2010)
County, 11.7 percent
Albany, 12.3 percent
Georgia, 10.2 percent
Major Employers
Phoebe Putney Hospital, Marine Corps Logistics Base, MillerCoors, Procter & Gamble, MARS Chocolate North America
Sources
Albany-Dougherty Development Commission, U.S. Census Bureau, Georgia Department of Labor