South Metro Atlanta: Southern Exposures
Infrastructure and technology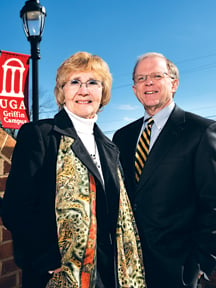 If you haven't been "down south" lately – as in the South Metro region of Atlanta – you might be surprised. Things are hopping in the six-county area that comprises Atlanta's southern arc: Clayton, Coweta, Fayette, Henry, Spalding and South Fulton.

In fact, these six counties could serve as a blueprint for the rest of Metro Atlanta to follow on the road back to economic prosperity. Long-term investments in infrastructure and technology are paving the way for a near-term economic boost as well as a broad and sustained long-term economic development rebound.

The region is "an emerging giant in the state when it comes to good things that are happening that lead to strong economic development," says Mark Whitlock, CEO of Central Educational Centers, a charter school in Coweta County that is a joint venture among local businesses, the Coweta County School System and West Central Technical College.

"Development activity levels are continuing to pick up, and we're optimistic we've turned the corner," says Bob White, executive director of the Henry County Development Authority. "Businesses are feeling more confident about the economy and are going to start moving forward with projects they've deferred the past couple of years. I think 2011 will be a better year for the region across the board."

Despite the sluggish economy, 2010 was a pretty good year for development in Henry County, says White. "We issued more than $110 million in industrial development revenue bonds in 2010, which made it the single largest year for bond issuance here that I can recall." County officials say about 1,000 new jobs were created in Henry over the past year.

Last April, frozen food manufacturer De Wafelbakkers announced that it would move into a 92,000-square-foot manufacturing facility in McDonough that has been vacant for six years. The project represents a $27.5-million in-vestment and will result in the creation of nearly 250 jobs within the first three years of operation. White says the facility should be operational by the end of this year.

And in September, apparel maker Phillips-Van Heusen announced it would be moving its local distribution facility from Austell to McDonough to be closer to the Port of Savannah. The move will double the size of the facility to more than 850,000 square feet, double the number of employees to 300, and double the volume of products it can process from Savannah.

White says the company is signing a 20-year lease on the building, "which represents a significant long-term commitment to Henry County." Build-out is expected to be complete by 2013.

In neighboring Spalding County, Griffin-Spalding Development Authority Executive Director David Luckie says he's happy to see economic activity picking up again as well. "It's good to have some tire kickers again."

The big news in Spalding County is the development of the first phase of the 570-acre The Lakes at Green Valley mixed-use industrial park located along the Georgia Highway 16 corridor just east of Griffin. This will be one of the first green industrial parks in Georgia, with all buildings required to become LEED-certified by adhering to a standard for environmentally sustainable construction.

"Our bread and butter has always been light manufacturing and assembly," says Luckie, "but we'll go after whatever we think will create jobs, which is why we created The Lakes at Green Valley."

Luckie says efforts are ongoing to secure funding for a new state-of-the-art food technology center at the University of Georgia campus in Griffin to replace the one that's operating in a small space on campus now. "We hope this will happen this year. No other university in the south has a program like this." The food technology center is like a "food incubator," says Luckie, "and it would help encourage food companies to manufacture their food here."

Bonnie Pfrogner, executive director of the Griffin-Spalding Chamber of Commerce, says the county is concentrating on becoming a Work Ready Certified Community. Work Ready is a state initiative that's helping ensure that Georgia workers have the best skills, training and world-class job opportunities. "It's important to have a workforce in place here in Spalding County that's qualified to meet the needs of potential new employers," says Pfrogner.
Moderation, Minimalism
When viewing the South Metro region, CoStar Senior Real Estate Strategist Chris Macke says two words come to mind: moderation and minimalism. "There was minimal new construction in this region," he notes, "so the environment is shaping up for a pretty good recovery. The region boasts solid demographics and a relatively low cost of living, which make it a desirable place for companies to relocate."

CoStar is currently tracking 241 planned projects totaling 32 million square feet of space in the region, according to Macke, but only 400,000 square feet have actually started. "The hose is full of water, but it's only trickling out right now. Almost all of this development is build-to-suit, rather than spec. But this creates momentum in the market and causes a domino effect."

Vacancy rates across South Metro remain at historically high levels, Macke notes: Industrial vacancy stood at 16 percent at the end of 2010, CoStar reports, compared to 14 percent for Atlanta as a whole. "So there's lots of opportunity for companies looking for space in South Metro."

Macke believes healthcare will be a big driver of economic development in South Metro, and nowhere is this more evident than in Coweta County, where a much-anticipated new $150-million Cancer Treatment Centers of America regional treatment center will break ground this year, according to Greg Wright, president of the Coweta County Development Authority. The center is expected to generate $500 million in economic activity within its first five years of operation.

Also, a new Piedmont-Newnan Hospital facility will be one of the first LEED-certified hospitals in the south, according to Whitlock, and HealthSouth recently announced it will build a new rehab hospital in the county. "That's $400 million in new healthcare facilities and more than 1,000 new jobs," says Whitlock. "Healthcare is becoming a real draw and is changing the face of Coweta County and this region." Last year Piedmont-Newnan opened a new outpatient facility.

Whitlock notes that when Cancer Treatment Centers of America narrowed down its list of potential sites, each of the final three counties had a charter career academy. "Employers know about us and that our students and their potential employees have a strong work ethic and technical skills. We're developing a real workforce pipeline system."

Piedmont-Fayette hospital is also expanding, having opened a new cancer wellness center last fall, notes Virginia Gibbs, president of the Fayette County Chamber of Commerce. "This is proving to be a hub of economic development, spurring doctor's offices, medical facilities and retail all around the area." Last year, the hospital established a Level II neonatal intermediate care unit, and this year it's establishing a Level III neonatal intensive care unit to care for fragile newborns.

Beyond healthcare, Gibbs says she's encouraged by the sheer number of new small businesses that are springing up all over the county. "We're continuing to see all kinds of new businesses opening. As I look at new chamber members, entrepreneurial activity is across all sectors. We weathered the storm, and while we still have work to do, the signs are pointing up and I'm optimistic."

Also in Coweta County, West Georgia Technical College will break ground this spring on a new campus on property donated by local investors. Mercer started offering classes in Coweta in 2010.
The Big Engine
Of course, one of the major engines that drives economic development in South Metro is Hartsfield-Jackson Atlanta International Airport. More than 89 million travelers passed through Hartsfield-Jackson in 2010, making it the busiest passenger airport in the world for the 13th straight year.

The new state-of-the-art Consolidated Rental Car facility (or CONRAC), which opened in late 2009, has proven to be a boon to economic development in the area. A new 130,000-square-foot Class A office building recently opened along the automated people mover train line in Gateway Center between the CONRAC station and the airport, along with a full-service Marriott Hotel and a SpringHill Suites.

"The train line connection between the CONRAC facility, the Georgia International Convention Center and the airport has created a dynamic activity center," says Grant Wainscott, director of the Clayton County Office of Economic Development.

CONRAC is just one of several projects that are part of Hartsfield-Jackson's long-term, $6 billion-plus Capital Im-provement Program (CIP). This program was created in 2000 to provide the planning, designing, building and maintenance of facilities needed to meet the airport's projected growth in domestic and international travel. The Maynard H. Jackson Jr. International Terminal is scheduled for completion in 2012.

Adjacent to the airport, construction on Aerotropolis, a mixed-use development planned by Jacoby Development on the 122-acre former site of the Ford Motor Company assembly plant, is expected to start this year. At build-out, the Aerotropolis will include 6.5 million square feet of office, retail, hotel and airport parking space and create more than 10,000 jobs.

Construction was originally scheduled to start last summer but has been delayed by the sluggish economy, according to Jacoby Senior Vice President Scott Condra. But Condra is optimistic about the future of the development, noting that Jacoby purchased the property for cash and that it has the capital needed to develop the project. Supporters of the project believe Aerotropolis could transform the airport area into a major office hub and would be a strong asset for the South Metro region.

Wainscott is most excited about the recent announcement that Clayton County has acquired a 10-acre parcel of land on I-75 for construction of a new 45,000-square-foot National Museum of Commercial Aviation to replace the small interim facility where the museum is housed now. He anticipates groundbreaking in about 18 months. "This will be a huge economic asset for our area." And right next door, the FAA moved into a 100,000-square-foot Class A office building in 2010, bringing 400 employees.

A few miles away, a "genealogical and heritage tourism district" is being developed along Highway 54 around the National Archives and Records Admin-istration and the Georgia Archives that were built a few years ago. "This is the first time a state and national archive have been located together like this – nobody else has anything like it," says Wainscott. "We're creating a new area that will be focused on historical tourism."

Meanwhile, Clayton State University continues to grow in size and influence. "Not too long ago, it was a sleepy community college," says Wainscott. "Now it's a thriving university campus with 7,000 students and 12 master's programs."

Wainscott is also bullish on the growth possibilities the film industry brings to Clayton County. "Three movies were shot here in 2010, and there are three more on the books already for 2011."

In South Fulton County, the main focus is on redeveloping the Fulton Industrial Boulevard corridor, notes Fulton County Commission Chairman John H. Eaves. "Historically there have been strong commercial entities along Fulton Industrial Boulevard, so we are putting a major emphasis on resurrecting this area."

Eaves says $8 million in capital improvements are planned along the cor-ridor. "These projects include improve-ments in transportation and public safety facilities in order to add vibrancy to the boulevard."

The northern part of the corridor, Eaves notes, has been designated as an Opportunity Zone, part of a tax incentive program designed to encourage business expansion and job creation. "We already have three businesses that have been certified and are planning to take advantage of this designation," he says.

The businesses along the corridor have also created a Community Im-provement District that will be implementing plans to make Fulton Indus-trial Boulevard more appealing, both aesthetically and from a public safety standpoint. "We want to keep business retention in this area strong, and we believe this will help keep the businesses that are currently there," Eaves adds.

Fayette County and Peachtree City have always benefitted tremendously from Hartsfield-Jackson, as many airport and airline employees have made the area their home, notes Brandt Herndon, president and CEO of the Fayette County Development Authority. "A lot of Northwest Airlines employees moved down here after the merger with Delta, which brought a lot of new affluent families to the county," he says.

"There's no question that one of our biggest draws is our proximity to Hartsfield-Jackson," Herndon continues. "This is one reason why so many international companies are located here. Our quality of life is second to none: Peachtree City was named the ninth best city in the country to live in by Money magazine in 2009. We have one of the best education systems in the state, a highly educated workforce and a high per-capita income [more than $86,000 per average household]."

In 2010, Chinese heavy equipment manufacturer SANY broke ground on what will be the company's first North American manufacturing facility and corporate headquarters on a 228-acre site in Peachtree City. The $60-million, 360,000-square-foot facility is scheduled for completion by this summer – it will employ 150 people during its first year of operation and 300 by the end of 2012.

"This is a huge project," says Herndon, "not just for Fayette County, but for Georgia. It is a top three or four project for the state." There are still sites available in close proximity to the SANY America facility, he adds. "We'll be focusing a lot on attracting SANY suppliers to Fayette County over the next couple of years."
Community Snapshot
Local Chambers
Clayton Chamber of Commerce
www.claytonchamber.org
Fayette County Chamber of Commerce
www.fayettechamber.org
Griffin-Spalding Chamber of Commerce
www.griffinchamber.com
Henry County Chamber of Commerce
www.henrycounty.com
Newnan-Coweta Chamber of Commerce
www.newnancowetachamber.org
South Fulton Chamber of Commerce
www.sfcoc.org
Clayton County
Population
(2009)
257,772
Per Capita Income
(2009)
$24,307
Unemployment
(2009)
11.3 percent
Coweta County
Population
(2009)
127,111
Per Capita Income
(2008)
$31,931
Unemployment
(2009)
9.5 percent
Fayette County
Population
(2009)
106,788
Per Capita Income
(2009)
$45,474
Unemployment
(2009)
8.1 percent
Fulton County
Population
(2009)
1,033,756
Per Capita Income
(2009)
$53,579
Unemployment
(2009)
9.8 percent
Henry County
Population
(2009)
195,370
Per Capita Income
(2008)
$30,278
Unemployment
(2009)
9.3 percent
Spalding County
Population
(2009)
64,708
Per Capita Income
(2008)
$28,045
Unemployment
(2009)
13.6 percent