Macon/Bibb County: Emphasize The Positives
History, higher education and a nearby air base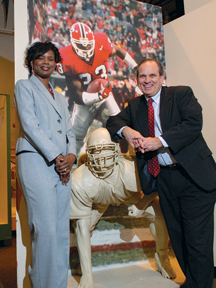 Macon, middle Georgia's mid-sized capital at the intersection of Interstate 16 (to Savannah and I-95) and I-75, has plenty of advantages from northern Bibb County to the southern end, where Georgia drops down to sea level.
The beautiful Ocmulgee River runs through it, and a picturesque riverwalk links the Ocmulgee National Monument to a scenic downtown with wide sidewalks and streets. Macon's retail center is a draw for counties all over middle Georgia. The city has a vibrant higher education community and a strong economic anchor just south in Warner Robins at Robins Air Force Base, which employs more than 27,000 with another 36,855 jobs resulting from peripheral services to the base.
Its rich rock 'n' roll history, which claims not just one but two tragic heroes – Otis Redding and Duane Allman – draws visitors. Macon is also home to the Georgia Sports Hall of Fame, the Tubman African American Museum and the Cherry Blossom Festival.
So why does it feel like it's under attack? The state, citing budget constraints, reinstituted bidding for the Georgia Sports and Music Halls of Fame in 2010 and has viable bids from Woodstock, Dunwoody and Athens for the Georgia Music Hall of Fame. Losing even one of the two halls would create a vacancy downtown that would be very difficult to fill and imperil the area's draw as a museum district. (At press time, it had been announced that the Sports Hall of Fame will remain in Macon.)
Furthermore, the future of Robins Air Force Base could be in jeopardy if the region can't raise some $20 million for land mitigation; another $20 million is needed to extend the Middle Georgia Regional Airport runway 1,500 feet. At a time when cash is sorely needed in Bibb County, voters blocked the passage of a Special Local Option Sales and Use Tax this past summer, even though 70 percent of the revenues it would have generated would have come from outside the county.
In spite of these challenges, or maybe because of them, a strong leadership has emerged, coming together with strategies that emphasize the positives. The city's geographic advantage gives Macon potential to become a logistical hub that includes two proposed passenger rail lines to Atlanta and beyond. The city also has bustling higher education and medical sectors, and its economic and industrial development strategies bore ample fruit in 2010, especially for a recession year.
"We had five announcements last year," says Pat Topping, senior vice president of the Macon Economic Development Commission. "Three of them were existing companies that expanded. We're proud to have been able to keep them, and I believe it says a lot about our area."
First Quality Enterprises, a New York-based manufacturer of hygiene products, will invest $200 million in a manufacturing facility in Macon. "They had a smaller facility that couldn't accommodate their growth," says Topping. "They wanted to expand either in Pennsylvania or in Macon, so we got them to do it here. They have a 750,000-square-foot facility under construction and will add 153 people, in addition to retaining 222 jobs they had at the facility. It's a great project. Any type of manufacturing always generates additional support business like raw material providers. They've been a great company to work with, and the city, county and industrial authority all pulled together to make it happen."
Another company retained by Macon in 2010 is TIMCO Aviation Services, an aircraft maintenance operation that employs 140. "We were competing for an additional line of work with another southeastern state as well as a South American country," says Topping. "With help from the Industrial Authority and the state, they were able to do their expansion here, which will add 130 aircraft mechanics."
Several smaller companies ex-panded or located here in 2010. North Coast Logistics leased 75,000 square feet in a building at Ocmulgee East Industrial Park and will employ about 20; Make Manufacturing will build a 10,000- to 12,000-square-foot facility on five acres it purchased in the Airport South Industrial Park, to increase their employees from 20 to 35.
Graphic Packaging, a paperboard packaging plant based in Marietta, is undergoing an $80-million expansion to build a high-efficiency biomass boiler and 40 MW turbine generator to reduce energy costs and improve profitability for its Macon plant.
"In the process of using logs to chip up and make paper product, they take a lot of that wood trash left in the woods, chip it, and boil it to generate steam and electricity," says Topping. "The plant will reduce its CO2 emissions to under 40 tons a year, which is a really big reduction in the carbon footprint for a plant that employs over 500 people." The boiler will make the plant self-sustaining, generating its own electricity and reducing waste from the fields and landfill. "They plan to generate a lot of green energy they will be able to sell to utility companies to put back on the grid."
Building on this success, the Industrial Authority is eyeing new space and other ways to bring more jobs to Macon. "Macon-Bibb County was recently designated a Work Ready Community by the state, making us the largest population county certified work ready," says Topping, speaking of the Georgia Department of Economic Development program that lines new industry up with workforce training. "That will go a long way towards helping new companies coming here understand we have a workforce here that's trained or trainable, and ready to go to work."
Enrollment Growing
"Things are going well," says Mercer University President William D. Underwood. "Enrollment is up again this year, to a record 8,236 students, a natural outgrowth of our having programs in areas that people see as relevant, such as healthcare. We have an extraordinary level of healthcare for a community this size, and we do a great deal of research, particularly clinical, in partnership with Medical College of Georgia.
"We have a really broad range of higher ed opportunities, all the way from Central Georgia Technical College and Macon State University to Wesleyan College and Mercer," he says. "Combine them with the workforce opportunities of high-quality healthcare and you have two great anchors for the future."
Mercer has grown by 2,000 students in just five years, and Underwood doesn't see that growth leveling off any time soon. He has made efforts to grow the campus accordingly, with plans for a football stadium for the Mercer Bears and a community outreach effort to link the university with downtown.
"Our College Hill Corridor has been a tremendous success," says Underwood. "It's the first new development in the area in several generations." The mixed-use Mercer Village across from the campus entrance is fully leased with eight new retail establishments and student housing; the second phase across the street will also be mixed-use and bring more commercial activity. Faculty are taking advantage of a funding program to rehab old houses in the area. "The grants are for $20,000, and they are changing the face of the neighborhood," says Underwood.
The corridor has done so well that the city now has plans for multiple revitalization projects, including Beall's Hill neighborhood revitalization effort and Second Street Corridor. "It's been an eventful year," says College Hill Corridor planner Patrick Madison. "With help from the Historic Macon Foundation, we've re-established the Beall's Hill effort with over a million-dollar revolving fund. We've already built or rehabbed 11 houses, of which we've sold four, with three under contract. The college and the Knight Foundation are in the process of redesigning Tattnall Square Park."
"A number of students want to come downtown," says Mayor Robert Reichert. "The four-story buildings at Walks bring a whole new dimension to the entrance to Mercer. We could eventually have a tram or trolley or light rail, connecting downtown to Mercer, Macon Mall and Macon State. I was also inspired by Greenville, S.C., to begin the Second Street Initiative to create a long overdue 'South Downtown Connector,' and now we also have three Tax Allocation Districts that include South Downtown. We need to make the area more commercially attractive."
The south downtown area could be the spark needed to blast Macon out of its doldrums. "Tubman is putting the final touches on their effort to open a new museum within walking distance from the planned terminal station," says Macon Convention and Visitors Bureau President & CEO Monica Smith. "With the two halls of fame right there as well, the station could help re-energize the district, so passengers from Atlanta, Savannah and Macon will be right there when they get off."
Central Spot
Additionally, there is a lot of industrial potential that depends on what happens, transportation-wise, in South Macon. All of Georgia has a stake in the future of this spot, says County Commission Chairman Sam Hart.
"If they dredge the Savannah River to bring in more cargo through the port, GDOT will have to fix I-75 at I-16 to handle the traffic. Norfolk Southern has Brosnan Yard in the area, which happens to be their biggest switchyard in the southeast. So if we did an inland port [where cargo could transfer from rail to truck], we could ship cargo from there that wouldn't have to come through Atlanta."
"Don't call it an inland port – consider it a logistics hub," says Reichert. "The current proposal is to reconnect I-75 with I-16 through South Bibb County adjacent to the Middle Georgia Airport. We could have multiple industrial parks in the area for cargo or other industry – hundreds if not thousands of acres." The Industrial Authority already has the Sofkee Industrial Park on I-75, and GDOT is planning to extend the I-75 Sardis Church Road interchange to Avondale Mill Road and Highway 247, extending east across the Ocmulgee River to the I-16 Sgoda Road Interchange. "The Sgoda extension isn't currently in the plans," says Reichert, "but a Transportation SPLOST could help get that done."
What this means is that Robins AFB would be able to access both interstates, enticing BRAC (the Defense Base Closure and Realignment Commission) to leave it and grow it. "It would also give traffic from the ports an excellent route to come up I-16, get off on this road, and head over into a regional logistics hub located around the airport," says Topping. "Once the roads are built, we will have an even better opportunity to recruit companies that use the port for bringing in goods and services as well as shipping out."
Mercer is also teaming with the city and county leaders on economic development. "To retain our students we need existing jobs in place as well as support for entrepreneurs to start their own business," says Underwood. "We are working with the Macon chamber to create a business incubator on the College Hill Corridor and bring more offices to Macon. There is a lot of opportunity with I-16 and I-75, and great access to the Hartsfield-Jackson Atlanta International Airport. If you think about it, it's easier to get there from Macon than from the northern suburbs [of Atlanta]. We have all the ingredients and now the political leadership to get things done."
History Lesson
A long history of fractured politics has hurt Macon. The 2010 SPLOST, which did not pass, would have raised $183 million, part of which the county would have used for a new $43-million courthouse and to repair a failing emergency radio system. "There was no positive spin on it, and people didn't want much of anything," says Hart.
"We think voters will support it [another SPLOST initiative] if we have concrete ideas on what to do to increase jobs," says Topping. "If we had a plan to acquire facilities to build an industrial park in South Bibb, for example, and show how that could be used as a hook to recruit jobs for the area, I think people would support it. I think the public understands that you have to have product and land to attract companies."
But other successes point to a new, unified Macon: success stories like the College Hill Corridor and the Save the Halls effort, which – regardless of outcome – raised $1.5 million and reminded Macon citizens why the Music Hall was there in the first place.
"It's been a really great experience for me to come and get involved with this very important initiative and see so many pledging to support our community," says the CVB's Smith. "We've even had help from our CVB partners in Warner Robins, Forsyth and other cities pledging their support." She adds that Macon will always benefit from its musical attractions, like the Otis Redding Foundation "mini-museum" in its offices and the newly opened Allman Brothers Museum. "One thing you can never take away is Macon's musical heritage."
Smith is also optimistic about the mayor's efforts to bring commuter rail from Atlanta to Macon.
"I've been working closely with Gordon Kenna [executive director for Georgians for Passenger Rail], Mike Starr [president of the Georgia Cities Foundation] and John Izard [chair of Georgians for Passenger Rail] to promote intercity service along an existing line on the west side, through Forsyth, Griffin, Jonesboro, East Point and Barnesville," says Reichart, "and there are also efforts to establish high-speed rail to Atlanta on the other [east] side of the interstate."
"I am hopeful our 11 counties and 11 cities can pass a T-SPLOST," says Hart. "One thing we're discussing is more freight and passenger rail, and we're testing a passenger rail route from Macon to Warner Robins. The Air Force base has a $2-billion impact on the state."
Anything that involves Uncle Sam at this point is a plus, owing to encroachment issues that have been raised at the south end of the county, where runways and neighborhoods often find it hard to co-exist. Macon Chamber President Chip Cherry has spearheaded an effort with other counties to raise funds, says Topping, but there is still a ways to go. "The runway has created encroachment zones where they [base officials] don't want any residential uses – which doesn't preclude industrial," says Topping.
"Both Bibb County and Houston County have together raised $1 million to buy out homes, and the Department of Defense kicked in another million," says Hart, "but it's a drop in the bucket. We need to get the state and other surrounding communities involved. Of course, a regional approach to transportation would lend itself to solving encroachment issues. We hope that when BRAC comes back [tentatively in 2013], they will see our plan in place and that it will alleviate any concerns they have [about keeping Robins] open."
"There are a lot of good opportunities for Macon right now," says Topping. "We have a new superintendent from the Board of Education coming on, and I'm 100 percent behind him because he understands he's training future em-ployees. And even this morning, I read about another big push for high-speed rail between Macon and Atlanta.
"In my lifetime, I want to ride that train."
Community Snapshot
Local Leaders
Chip Cherry
President & CEO
Greater Macon Chamber of Commerce and Economic Development Commission
ccherry@maconworks.com
478.621.2003
Pat Topping
Senior Vice President
Macon Economic Development Commission
ptopping@maconworks.com
478.621.2030
Robert Reichert
Mayor
City of Macon
r.reichert@macon.ga.us
478.751.7170
Population
County, 156,060 (2009)
Macon, 93,665 (2006)
Median Household Income
(2008)
$40,857
Unemployment
(November 2010)
10.7 percent
Georgia, 10 percent
Top Manufacturing Employers
YKK (USA), Inc., Graphic Packaging International, Boeing, First Quality, Armstrong World Industries
Sources
Macon Economic Development Commission, Georgia Department of Labor, U.S. Census Bureau