Departures And Arrivals: A Changing Of The Guard
Marietta's Lockheed Martin plant celebrates 60 years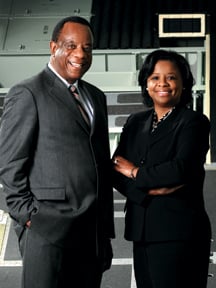 Forgive Bob Hill if he gets a little misty-eyed over good old 53-3129. You could say they were close. Hill was there at its gleaming birth. He helped raise it. And he was there when it reached the end of the road.

Known also as "The Arbitrator" and "First Lady," 53-3129 is the Air Force serial number for the first production C-130 Hercules to roll out of Lockheed's (now Lockheed Martin) sprawling Marietta plant, in March 1955.
"I worked on that plane when it was in production, I worked on its final assembly," says Hill, 78, who retired as chief production test pilot for Lockheed Martin in 2007. "I flew on that plane as a flight engineer, flew it as a co-pilot and a pilot, and went to see it when it was retired from Air Force service.

"My grandson heard me telling all of this stuff about that first C-130, and he told his grandmother, 'That story makes my eyes wet.' Well, I've had wet eyes a few times in my life," says Hill, who still lives in Marietta. "I think I had wet eyes the day we retired that plane."

For 40 years, 53-3129 accomplished its missions. In the late 1960s it was converted to a gunship, saw action in Vietnam, and survived an artillery blast to its belly while flying over the Ho Chi Minh trail in Laos. Discharged in 1995, it retired to Florida, where it was put on display at the USAF Armament Museum near Eglin Air Force Base.

Lee Rhyant, stepping down this spring after a record 10 years as leader of Lockheed Martin Aeronautics Company's (LMAC) operations in Marietta, has a little less inertia planned for his retirement – for one thing, he has dreams of game show glory. His successor as vice president/general manager, Shan Cooper, becomes the first woman to helm the plant.

So it is a historic changing of the guard in Marietta as Lockheed Martin commemorates 60 years as a vital force in Georgia's $3.4-billion aerospace industry. With nearly 8,000 employees, Lockheed alone represents almost 10 percent of the state's aviation industry employees.

But as Cooper takes the keys from Rhyant, her one-time mentor, the company nears an uncertain crossroads.

The $65-billion F-22 Raptor program has been cut, for budgetary reasons. Production of the super stealthy jet fighters (which sell for about $150 million each) in Marietta is scheduled to cease in 2012, which means the company could be scrambling for other work to fill the gap – more than 1,500 of the 900-acre plant's employees work on the F-22 program.

"But those aircraft that are already out there are going to need maintenance," says Cooper. "And who knows the F-22 better than we do? So we're looking at becoming the partner of choice in terms of being able to care for those planes. That's the space we want to play in."

Work is progressing in other key programs at Air Force Plant 6. For example, they're upgrading the massive C-5 Galaxy, among the largest military transport aircraft in the world (originally built there in Marietta), adding new avionics, cockpits and engines; they're attaching wings to the P-3 Orion, the marine surveillance aircraft used by the U.S. Navy.

"We're also bringing in the F-35," Rhyant says. "We'll be supporting that program well into the future."

Lockheed plans to build about 2,400 of the F-35 "joint strike fighter" jets for the U.S. military over the next 25 years (estimated cost: $300 billion, with a 'B'), and more than 700 of the stealth aircrafts for other countries. Although the program is based at LMAC headquarters in Fort Worth, Texas, the Marietta plant already is assembling the plane's center wing component. The workload is expected to grow, and plans are to increase employment by about 600 as production of the F-35 speeds up in the next few years.

Meanwhile, Lockheed's Mari-etta workforce continues doing what it is most known for – they're building more C-130s than ever (the current model is the C-130J Super Hercules), making inroads where none existed.
Gaining Altitude
Bob Hill was 18 when he went to work for Lockheed in May 1951, a couple of months after the company made its debut in Georgia, reopening Air Force Plant 6 in Marietta.

The massive B-1 building, where crews had labored round the clock for Bell Aircraft and Uncle Sam, churning out B-29 bombers to help the Allies win World War II, had ceased manufacturing operations and was being used for storage.

When the Korean War started, Lockheed moved in to modify the old B-29s, but especially to build the new B-47, "the first real jet bomber the U.S. Air Force had, a beautiful airplane," says Hill, whose heart, nonetheless, belongs to a different model.

To Hill, that original C-130, First Lady, in spite of the miles and the nose job and other alterations in its decades of service, "still looked, sounded and smelled the same. These planes are like, you've built a wonderful flying building, laid out in such a way that it can be very adaptable as improvements come along."

After two C-130 prototypes were built in California, Lockheed got contracts for a bunch more and started making them in Marietta. First Lady was first off the assembly line. So far, nearly 2,400 (in various incarnations) of the utilitarian, reliable and sturdy Hercules have been produced at Air Force Plant 6, a GOCO facility in the truest sense – government owned, contractor operated.

Lockheed is the federal government's largest contractor, by far – a weapons manufacturer, sure, but also the largest intelligence contractor in the world and dependent on American taxpayers (according to a new book about Lock-heed, Prophets of War by William Har-tung, each taxpaying household in the U.S. contributed more than $260 to the company in 2008, when federal contracts were $36 billion). The company earns 85 percent of its revenues ($45.2 billion in 2009) from the U.S. government, with almost all of the rest coming from foreign governments.

In December, at a ceremony on site, Lockheed delivered the first C-130J to India, which has purchased six of the planes, part of a $1.2 billion contract. It is the first major U.S. military sale in 40 years to India, one of 72 countries now flying C-130s.

"In the past, customers would strictly use it for airlift, or transporting troops and equipment, whereas today, more and more of our international customers are using the aircraft in multiple roles and missions," says Alan Schiebe, an electrical engineer (and formerly a C-130 pilot in the Air Force), who works primarily with new international customers interested in acquiring the C-130J.

"Today it might be an airlift mission, flying supplies to a remote part of the country. Tomorrow they'll want to use the same aircraft for a search and rescue mission. The day after that, it might be a surveillance mission along the border," says Schiebe.

"We spend a long time helping them get a feel for what this aircraft can do."

Lockheed's ranks are filled with retired and former military folks like Schiebe, and all of them have a sense of, well – affection – for the burly Hercules.

"Some of us flew it, some were navigators. We have a representative sampling of users here," Schiebe says.

One of them is Charles Dyer, whose military experience on the plane was as a passenger. A senior structure assembler, Dyer was serving in Vietnam in 1970 when he flew from Da Nang to Saigon in a C-130.

"Never dreamed that one day I'd be building them," says Dyer, who lives in Dallas and whose work history with Lockheed goes back to 1967, just before he entered the Navy. Since then, he has served several stints at the Marietta plant, separated by temporary layoffs.

In the 1980s he worked on the C-5B Galaxy cargo plane. He came back for a time in the 1990s to work on the P-3 Orion. He came back in 2001 to work in the C-130 program and plans to retire in April. It's been a good, if intermittent, run for Dyer; his experience reflects, in a way, the undulating nature of employment at the plant, which sits next door to Dobbins Air Force Base.

At its height, 33,000 people worked at Air Force Plant 6. Today it's close to 8,000. About 3,500 are union employees.
Sense of Community
Air Force Plant 6 was a proving ground for Georgia when it was built in the 1940s next to Marietta Army Air-field (formerly Rickenbacker Field, it became Dobbins Air Force Base in 1950), and it remains an example of the Southern work ethic, according to Steve Justice, director of the Georgia Center of Innovation for Aerospace (part of the Georgia Department of Economic Development).

"That was the first major aircraft production facility in the deep South. When it broke ground, there was nothing like it," says Justice, who worked 17 years for Lockheed, following his graduation from Georgia Tech. "As South-erners, we proved we could build the most advanced aeronautics technology in the world with the B-29.

"And when Lockheed took over, from that point forward we proved that in Georgia we could not only build, but design some of the best leading-edge aircraft in the world.

"For someone like me, a boy interested in aeronautics and aircraft, this was a big, big deal. I didn't have to leave and go to California or somewhere else – Lockheed was right here in my backyard."

The company takes its space in the backyard seriously, according to community relations team leader Hamilton Holmes. It's sort of an enlightened self-interest.

"At least half of what we do in the community is focused on education, especially on 'STEM' education – science, technology, engineering and math," Holmes says. "The average age of our employees is 55. We're trying to help develop the next generation of Lockheed employees."

Those employees give more than 80,000 volunteer hours a year; 25 of them serve on local boards of directors. Holmes says the plant gives $2 million annually to nonprofits involved in education, health and human services, and the arts. This last bit is personally important to Rhyant, a passionate supporter of the arts.

His love and knowledge of music goes back to his childhood, and a Sunday School teacher who gave him voice lessons and taught him how to read music. (He went to college on a partial voice scholarship.) Rhyant says he hopes to devote a little more time to music in retirement, and hopes to learn the violin.

"Just one song, maybe 'Mary Had a Little Lamb' with flair," he laughs.

Rhyant also plans to spend a lot of time as a mentor to young men, and generally living up to the too-numerous-to-count awards and honors he's received for being an excellent businessman and a stand-up guy (among others in recent years: Citizen of the Year in Cobb County in 2008, the Atlanta Tribune's Man of the Year the same year). Lockheed has even named an in-house leadership award after him.

A voracious reader, he keeps old newspapers around and says he absorbs everything he can get his eyes on. He won't put a book on the shelf unless he's read it, and he's got a lot of books on the shelf.

"I'm preparing to try to get on 'Jeopardy,'" he says without laughing.

He's serious, but the odds were seriously against Rhyant entertaining such a notion as a kid. Born in Sasser, Ga., he moved farther south as a child and grew up along the Florida "Space Coast."

"You hear the classic story about the guy who was a son of a sharecropper. Well, I'm actually the son of a sharecropper," says Rhyant, the first African American to lead the Marietta operation. "My mom told me I had two advantages in the world: to be born in this country, and to have great parents. At the time I thought she was nutty as a fruitcake, but she was a brilliant lady."

Evelyn Rhyant told her kids they could do anything they set their minds to, then went about setting their minds.

"She was an autocrat, a benevolent dictator," says Rhyant. "But it was like she had a psychic premonition about us being all we could be, because all eight kids are college graduates and have become extremely successful."

Rhyant began his career as a young engineer working for Allison Gas Turbine (a division of General Motors) on the engine for the C-130. He ends his career as the guy in charge of getting Lockheed's old reliable signature aircraft through the assembly line – this year they're planning to produce 36 Super Hercules.

He led LMAC's Marietta plant through high times, arriving at his post in 2001. In the 10 years from 2000 through 2009, more than $24 billion in U.S. government contracts went to Lockheed in Georgia, according to FedSpending.org. It's been an era of soaring prosperity for the company, even through several years of global economic wretchedness, partly because the U.S. has been engaged in two wars (Afghanistan and Iraq) for most of the past decade, necessitating an extended and extensive state of readiness.

But neither Rhyant, nor his successor, believes prosperity is a given.

"I don't think anyone is recession proof," says Cooper, who once served as Rhyant's deputy in Marietta and came back to Georgia via the human resources executive route.

"As we move forward and our customers look even closer at their budgets, they're going to take a deeper look at who is performing and who is not. You want them to look at you and say, 'These people understand our mission.'

"The new reality is, we have to perform on every commitment. We have to deliver on the mission and we have to be flawless. If we're not in position to do that, we'll be in trouble."

For 60 years, Lockheed has been the good corporate citizen in Cobb County, the catalyst in the area's explosive growth of past decades. Once the economic backbone of the region, Lockheed's influence has been watered down somewhat as its workforce dwindled while the local population and employment base exploded and other good corporate citizens moved in.

The company remains one of Georgia's significant, far-reaching economic assets, providing work for suppliers across the state while giving many of the world's armed forces what they want in the way of mechanized muscle.

Sure, Lockheed has often been a beacon of hope for many people – the first sign that help is on the way in the wake of a flood or hurricane or earthquake often is a C-130 loaded with supplies. But the company still is among the largest weapons producers in the world, and there's no denying that the business of waging war (and deterring it) has been very good for the company's bottom line.

Cooper considers Lockheed's role and says, "We are a company that makes products that help protect the freedoms of this great country. There is no higher calling for a company."

Like Rhyant, Cooper is a spiritual person, a devout Christian. Her father was a minister.

For his part, Rhyant has grappled with the question of balancing his faith and what he knows about the sixth commandment with his role as a maker of lethal weapons.

"I have had that debate with myself, and it comes down to this rationalization," he says. "I don't understand wars and I don't make moral judgments. My job is to provide resources for soldiers – really, to make them safe.

"I'm providing the best equipment possible for some mother's child who could be in harm's way. If I'm doing something to help the soldier, I'm doing something to help a mother.

"I can live with that."