Historian and History Maker
Former UGA Head Coach and Athletics Director Emeritus Vince Dooley, a lifelong student, is an author and horticulturalist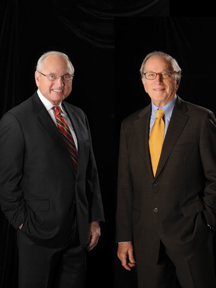 Sometimes, when Vince Dooley talks to his plants, he sounds like one of those father-figure Confederate generals he admires so much, calmly redeploying soldiers, or a cool-headed football coach readjusting his team, moving players from one position to another.

"I'll tell them, 'I think you're in the wrong place,'" he says, talking about the plants in his famous garden. "Or I tell them, 'I apologize for putting you there, 'cause you're not doing your thing like you're supposed to. So I'm gonna find another place for you."

Forsythia not getting enough sun? Move it over there, out of the shade. Big, strong wide receiver with good hands not fast enough? Move him to tight end.

Dooley the tactician, the aloof strategist; Dooley the field general, the leader of young men; Dooley the administrator, the gardener, the Georgia Bulldog, the Kennesaw State Owl football advisor, the historian is now Dooley the Georgia Trustee, so designated by the Georgia Historical Society. He joins former U.S. Sen. Sam Nunn in this year's class and previous modern-age honorees, Ted Turner and Hank Aaron, who were inducted last year.

"I can think of a lot of other people that probably oughta be recognized before me," he says, though he'll gratefully accept the honor at his induction this month. "I'm in pretty good company. Senator Sam Nunn? Real good company."

Nunn could say the same thing.

For decades, Dooley was the symbol of University of Georgia football and remains an icon against whom every coach and athletics director in Athens will be measured: 201 victories in 25 years as head coach, six Southeastern Conference championships, a national title in 1980, 75 conference championships and 23 national titles for UGA sports teams while he was athletics director.

His football scorecard against bitter rivals Florida (17-7-1) and Georgia Tech (19-6) is probably enough to get Dooley lionized by the barking Bulldog cult, who long ago forgave him for considering the job at Auburn (against whom Dooley's teams had a more sobering 11-13-1 record).

"I only ever considered two coaching jobs while I was at Georgia – Oklahoma and Auburn," says Dooley, who looks comfortable if a little odd in a small, spare office on the Kennesaw State University campus – there is a small football helmet with the Owl logo on his desk.

At 78, Dooley is leading KSU's initiation into football. He chaired the exploratory committee and now is trying to drum up financial support for a football program that will hit the field in 2014.

He was 31 in December 1963, when UGA Athletics Director Joel Eaves (his former basketball coach at Auburn) named him head coach of the Bulldogs, surprising everyone. But after two winning seasons at UGA, the young coach was a known commodity and mighty Oklahoma was determined to get him. Former Sooners coach Bud Wilkinson, who brought OU three national titles in the 1950s, led the recruiting effort.

"I'd read Coach Wilkinson's books. I knew him; he was one of my role models," Dooley says. "And they made me a very good offer."

But the Georgia faithful showed the love – a litany of please-don't-go's plus a raise in salary – and Dooley stayed in Athens.

Then alma mater Auburn came calling after the perfect 1980 national championship season. Dooley listened seriously to the pitch made by Alabama's Gov. Fob James, a former teammate at Auburn.

"I remember my son Derek complaining because he couldn't grasp the concept of his Dad, the face of the Bulldogs, going to Auburn," says Dooley. Derek just completed his first season as head football coach at Tennessee.

"If I'd only been at Georgia a few years and Auburn offered me the job, I'd have jumped the Chattahoochee to get there."

He declined Auburn's offer and returned to coach nine more seasons at Georgia and serve as AD until 2004.
Ancient History

Dooley grew up in Mobile, Alabama, and was a tough, quick-tempered kid. He's often said that if not for sports, he would have wound up working the Mobile shipyards.

He was a multi-sport star at the McGill Institute, a Catholic school whose teams were known (ironically) as the Yellow Jackets. Dooley went to Auburn, played football and basketball, but mostly football; was part of the ROTC; joined the U.S. Marine Corps after graduation; returned to Auburn as an assistant coach to Shug Jordan; then became Georgia's football head coach.

He's in both the Alabama and Georgia sports halls of fame as well as the College Football Hall of Fame; he won the Bear Bryant Lifetime Achievement Award, and was named SEC Coach of the Year five times, all of which covers a tiny percentage of the plaques, trophies and honors Dooley has won.

The multi-million-dollar Vince Dooley Athletic Complex (and a bronze statue of the coach being hoisted on the shoulders of his players) was dedicated in 2008, and don't be surprised if Sanford Stadium carries his name soon. A master gardener, he even has a camellia named after him, as well as an endowed professorship in horticulture at UGA.

Kennesaw State wanted him for his name and his history. Dooley always has had a sense of history, whether he was making it or studying it. See, before anyone knew who Dooley was, before they started naming things for him, before the green thumb, even before he took sports very seriously, he had a deep interest in history, especially military history.

It started, he says, the day Pearl Harbor was attacked. He was nine.

"I went to the drug store about a half-hour before church, and these elderly men were sitting around listening to the radio, and the whole thing was about Pearl Harbor," he says. "Back then, the radio was a constant, you know, and it was one bad thing after another in those early days of the war – Pearl Harbor, the Japanese invading the Philippines.

"Then we had our first American hero of the war, Colin P. Kelly, the bomber pilot who stayed at his post until everyone else got out of the plane. Anyway, I was very interested in what was happening in World War II, and it stimulated an early interest in history that has lasted all my life."

At Auburn, he earned his undergraduate degree in business management but always enjoyed the history courses best. When he finished a two-year hitch in the Marines and returned to Auburn as an assistant football coach, he was going to pursue a master's in economics, with the idea of getting into banking.

"I was having to force myself to study economics. But the history was fun so I went to this counselor and he gave me the best advice," says Dooley. "I told him about my conflict, that I really enjoyed history, that I was basically going to have to spend three years earning a history undergrad degree before I could start on my master's level courses.

"He said, 'Whatever length of time it takes, you're better off doing what you enjoy doing because you'll have the best chance of getting it done.' He was right."

It took Dooley five years, but he earned his master's in history in 1963. One of his professors said Dooley's thesis on "Cotton Tom" Heflin, the white supremacist U.S. Senator from Alabama, was doctorate dissertation quality.

"His wife, Barbara, once said that to understand Vince you've got to know that he's capable of total focus on a subject," says retired UGA history professor Henry Thomas, whose course on the Civil War was one that Dooley has audited over the years – even when he was a football coach and AD, Dooley attended classes at UGA.

It's how he expanded his understanding of American history; it's how he became an expert in ornamental horticulture.
Lifelong Student
Thomas likes to tell a story that gets to the embarrassing heart of Dooley's famous focus.

"He was working on his master's at the time, and he was in the University of Alabama library, reading newspapers on microfilm," Thomas says.

"Now keep in mind, Auburn and Alabama are bitter archrivals, and here's Vince working in the Alabama library, because it was material that was not available at Auburn, just Alabama. It was probably a Saturday, and he's working at a table when the light dimmed.

"He moved to an area with better light, and when the light went out, he figured it was a power failure, so he moved close to a window, because the light was better. And he just kept working. When he finished, he looked up and realized to his horror that the library had closed and he was locked inside.

"He contemplated the potential embarrassment – an Auburn football coach locked in the Alabama library – and decided to break out. Luckily he found a window that was open and he was able to slither out and avoid capture."

Thing is, Dooley always has been a curious person, especially when it came to history and, later, horticulture.

"If you've got a curiosity about anything, the best place to live is a university town, because there's bound to be an expert who can satisfy that curiosity," Dooley says.

Curiosity almost got the best of him a few times – a political wonk, Dooley considered running for the U.S. Senate in 1986, and for governor a few years later. But he says the "fire in the belly" just wasn't there.

Instead, he's been satisfied with making history in athletics and peeling the rest of his personal onions in the classroom, where the experts reside.

Some of Dooley's favorite experts have been Thomas, as well as history professor Steve Berry and his horticulture gurus, Michael Dirr and Allan Armitage, who have written the forward and afterward, respectively, for Vince Dooley's Garden: The Horticultural Journey of a Football Coach, his latest book, published last year.

The book, naturally, is doused in history and historical references. Horticultural and botanical history, certainly, but
Dooley also writes of impressionist painters Monet and Renoir and their love of gardening – the work of painter Steve Penley throughout reflects the impressionistic feel of the book.
Dooley also writes about the role of gardens in American history, of patriots like John Adams and Thomas Jefferson, of "the grove" on the campus of the University of Mississippi.

He was seriously bitten by the gardening bug after he retired as a football coach, served on the Athens Urban Tree Advisory Committee and was instrumental in the UGA campus being designated as an arboretum. If he'd developed the green thumb any earlier, chances are we would have seen gigantic Bulldog football players traipsing through botanical gardens.

Instead, Dooley took them to the art museum when Georgia played Georgia Tech in Atlanta, or he took them to the horse farms in Kentucky when the Dogs visited there, or to the submarines and aircraft carriers in Jacksonville during the week of the Florida game.

"If you want to talk about teamwork and the importance of what that's all about, there's nothing like touring an aircraft carrier," Dooley says. "That's something you could really draw from."

He says the references to Civil War battles and other skirmishes were a constant source of what he hoped was inspirational material for his players.

"I'm sure some of them got tired of my history lessons," Dooley says. He's probably right.

"He used to bring up these obscure battles all the time," recalls Buck Belue, quarterback of the 1980 championship team, now a sports talk show host in Atlanta. "Guys would look around the room with these curious expressions, like 'Where is this going?' and 'This is new to me.'"

One guy who let it all sink in, or seemed to, was Herschel Walker.

"He'd sit ramrod straight, erect, his eyes always focused on you," Dooley says. "That's the way he was, and when you were talking, he was listening, and if he wasn't listening he was giving you the appearance that he was listening."

The connections between war and football are obvious enough, and seem appropriate.

"There are a lot of parallels that intrigue him," notes Professor Berry, who taught the latest history course Dooley audited, last year. "Civil War history is vast, just an overwhelming amount of detail, and his mind just loves to play in a field like that."

Studies in command and leadership, directing something enormous and complicated with lots of moving parts – it translates naturally and clearly to football, especially when it's Dooley's mind making the connection.

"He was a model student, he is a lifelong student" Berry says. "What-ever he sets his heart and mind to, he becomes an expert at it, whether it's football, flowers or history."