Georgia's New Trustees
Vince Dooley and Sam Nunn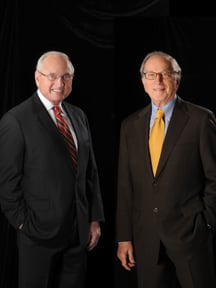 A former U.S. senator respected for his foreign policy and defense expertise and a legendary football coach and athletics director are the 2011 recipients of the state's highest honor. Sam Nunn and Vince Dooley, selected by the Georgia Historical Society and the Office of the Governor, will be officially inducted as Georgia Trustees at the historical society's gala Feb. 12 in Savannah as part of the two-week commemoration of Georgia history.
The original trustees were chartered by England's King George II in 1732 and were charged with establishing the new colony, according to Georgia Historical Society President Todd Groce. The colony was actually a philanthropic venture, giving some English citizens a chance to begin a new life. Of course, it also served as a military buffer between English South Carolina and Spanish Florida.
The trustees were disbanded in 1752, but the state re-established the honor in 2009 to recognize modern-day Georgians. The original motto, Non Sibi Sed Aliis, or "Not for self but for others," guides the selection of new trustees, those whose lives, careers and accomplishments have made their state and their world a better place.
This year's new trustees join a distinguished contemporary roster that includes businessman and philanthropist Ted Turner, baseball legend Henry Aaron, Home Depot co-founder and philanthropist Bernie Marcus and the late Marguerite Neel Williams, a founding trustee of The Georgia Trust for Historic Preservation.
Of Dooley, Groce says, "For all he did to bring so much glory to the University of Georgia and so much excitement to the state when he was head football coach and athletics director, the larger story is the generations of young men he coached who have gone on to be leaders of the state. Think of the impact he had as a teacher."
Nunn, Groce says, "had an incredible career in the Senate as a leader. But this award is also about service, not just accomplishments. He stepped onto the world stage, leading the effort to stop nuclear weapons." The impact of his leadership will have far-reaching and long-lasting effects.
The Georgia Historical Society was founded in 1839 in Savannah, where its headquarters remain. It serves as an educational and research education, created to tell the story of Georgia and also its larger role within American history, says Groce. – The Editors
Read the individual stories:
Statesman and History Maker: Sam Nunn