Cherokee County: Optimism And Resolve
Working on enhancements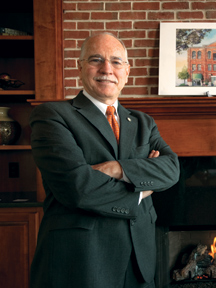 Cherokee County, near the top of the Metro Atlanta region, has been as hard hit by the recession as other once-rapidly growing exurban counties, but it has prepared itself with an array of investments meant to enhance its employment picture and help correct a 70-plus percent commuter imbalance – too many people leaving the county to go to work.
Residential growth remains a concern, but leaders hope that when the subdivisions start filling again there will be jobs to keep residents working and shopping closer to home.
"In the long term, I'm very optimistic about Canton," says Gene Hobgood, mayor of Cherokee's county seat, even as he acknowledges that there are plenty of homes to fill. "Maybe 8,500 lots in the city limits – at the current rate, we have enough to last us, what, 100 years? Who knows? But even back three and a half years ago, we were probably 20 or 30 years ahead [of demand]. We got caught up in the rush."
The county doubled in population from 2000 to 2009 – to 210,000. When growth resumes, the county and individual cities expect to take full advantage of it.
Revitalizing downtown, for instance, is a priority for Hobgood. "A city is its downtown," he says. "We have a really good bone structure; we just need to stimulate activity. We have busy commercial activity in our transportation corridors on the edges. Businesses will follow traffic; people just need a reason to come downtown."
Canton's downtown has a new 21,000-square-foot office/retail building – "the first new building built in downtown Canton in 35 years that's non-governmental," says the mayor. "Highridge Partners, consisting of locals Stan Rogers and Chuck Ware, took a big chance on it, as it costs more to build downtown than on the outskirts. They already have two attorney offices."
Rich in history and attractions, downtown Canton is somewhat difficult to navigate. As metro meets the mountains, the curves can be dicey. "We are finishing a Liveable Centers Initiative project [funded by the Atlanta Regional Commission], and need to acquire more right-of-way for sidewalks and drainage projects [to improve access]," says Hobgood. "It includes downtown but goes all the way to the south Canton area."
The LCI grant area extends into Holly Springs, south of Canton. "We want to retain the charm of being in a small town and not grow out of what makes our little community," says Holly Springs Mayor Tim Downing. "We have no core downtown, so we are trying to create a town square – three sided – with our City Hall mixed with commercial and residential, similar to Smyrna and Cumming. We will retain the historic look and feel. We have LCI involved, but had to put off implementation funding because of the economy. Until the economy comes back and lending loosens up, things are really stagnant – not moving. But they will. It's the most important initiative in Holly Springs."
Easier Riding
Downing says that transportation needs are serious throughout Chero-kee. While the Georgia Department of Transportation (GDOT) recently finished widening Highway 92 through part of the county, Downing hopes for more funding from a T-SPLOST referendum in 2012 to improve Highway 20, which runs through Holly Springs and could redirect trucks and commuters from I-575 and I-75.
"I think Georgia 20 and potentially Georgia Highway 140 could both significantly relieve congestion in Metro Atlanta if they are improved," says Downing. "For I-75 and I-575 truck traffic trying to get east, to Gwinnett and other destinations, they have to come all the way down to Interstate 285 and transition across, because there is currently no viable east-west corridor. Georgia 20, if improved in Cherokee, Forsyth and Bartow counties, could become an [alternative] corridor."
That pretty route over to Georgia 400 would take a lot of work to turn into a bypass, Downing acknowledges. But GDOT has already released contracts to widen a portion of 20 through Gwinnett. "It needs to be done, especially since we've abandoned the Northern Loop," an outer perimeter concept floated by former Gov. Roy Barnes.
"A lot of people don't understand the impact [rerouting trucks could have]," Downing says. "We have billions that need to be spent on interstates, so turning that into hundreds of millions for a project like this would save on other improvements. All that has to be weighed."
Meanwhile, LCI projects are helping to link the cities. "We are in the middle of our LCI project," says Woodstock Mayor Donnie Henriques. "Two blocks were torn up to make downtown more pedestrian friendly. Currently people have to cross Highway 5," he says. Other projects are stimulating commercial activity. "We have a new interchange going in at Ridgewalk by Rope Mill Road with some more retail," the mayor says.
Woodstock has partnered with the county on the Elm Street Cultural Arts Village, initiated by grassroots nonprofit Elm Street Alliance. Four acres were purchased downtown including a 100-year-old farmhouse to be renovated for arts uses.
"It will be a draw for the general public and a place for artists to go and practice their craft," says Henriques.
"It is integrated with our Greenprints trail system, another city-county partnership," says Cherokee Commission Chairman L.B. "Buzz" Ahrens, Jr. "The fact that voters approved a parks bond in 2008 when everyone said 'You're nuts,' means that we're getting some good quality, good-sized, strategic parks development building out, and we'll see results soon. It's good stuff and within budget."
Combine the parks with Elm Street and the Summer Concert Series, and Woodstock is an eco-cultural destination. Henriques hopes it will bolster the city's chances of relocating the Georgia Music Hall Of Fame from Macon. "After all, you say the name Woodstock, you think of music," he says.
More Development
West of the city, the widening of Highway 92 from I-75 to Woodstock has been a huge shot in the arm for industrial development. Cherokee purchased 100 acres fronting I-75, and there is growth at Cherokee Commerce Center, a private industrial property owned by Majestic Realty. Two companies have located there in the last year: Consumer Products Services, which repairs damaged products, moved into 50,000 square feet, and Curt Manufacturing, which distributes trailer hitches, claims 34,000 square feet of space.
"The center sits right on the interstate and has lots of frontage on 75, and it's doing very well," says Misti Martin, executive director of the Cherokee Office of Economic Development. "We are well positioned for industrial growth."
Another boost is the district's designation as an Opportunity Zone by the state Department of Community Affairs. "The widening of [High-way] 92 dramatically improved logistics, and the Opportunity Zone adds a major fiscal incentive for an employer," says Commission Chairman Ahrens.
A key ingredient in Chero-kee's industrial growth strategy is the 400-student Chatta-hoochee Technical College, which last year opened the largest tech school campus in the state in Ball Ground. The $12-million campus backs up to the Bluffs of Technology Park, an almost full industrial park, and is expected to grow significantly.
Enrollment at Reinhardt University in Waleska, currently at 1,275, continues to rise, and just south is Cobb County's Ken-nesaw State University, another fast-growing campus, also part of the Cherokee strategy.
In coordination with the new technical college campus, the county is marketing its heavy investments in the Cherokee County Airport as a magnet for future growth. "Over the last year, we've been working on an airport area master plan to try and make sure it develops in a quality business corporate style," says Martin. "The extension of the runway from 3,414 to 5,000 feet is almost complete." The county also built a 10,000-square-foot passenger terminal, which opened last year.
Pam Carnes, who is Cherokee County Chamber of Commerce president and CEO and the Georgia Association of Chamber of Commerce Executives 2010 Executive of the Year, is particularly enthusiastic about the terminal building.
"We believe the Wilbanks-Sosebee Terminal will be a flagship for the county and visitors, and that as people begin to use it for personal use, they will want to see it as destination for corporate traffic as well," she says.
"We hope to have a nice connector road between Bluffs and the airport," says Martin. "That would really secure our overall plan for the Canton/airport/Ball Ground area, and tie it all together through Highway 5.
"We began a white-collar recruitment strategy 18 months ago," says Martin, to address concerns about so many residents going out of the county to work. "We wanted to see where residents are going, why they're leaving and where they're working, so we can match up the skill sets and pay range with better data. We need more office space and more white-collar jobs, so residents can work here. Many are here for the schools, quality of life and low taxes, but the jobs are elsewhere."
According to an employer survey conducted by the chamber, Cherokee can accommodate five to 10 employers with highly skilled employees, says Martin, "and training and education at Chattahoochee Tech, Reinhardt and KSU are a big part of that."
Other businesses in Cherokee County have been expanding: Chart Industries, a biomedical company, is in the process of building the county's first LEED-Certified manufacturing facility.
"The LEED certification at Chart was acknowledged as part of our Going Green effort," says Carnes. "We want people to know that more than the grass is green."
Chart, which makes gas production and storage equipment, is expanding its presence with its new facility in the Interstate 575/Airport Industrial Park. The company purchased the last lot in the industrial park.
"We worked a long time on that one," says Martin. "We're thrilled to have them. They'll be hiring more than 80 people and investing $6 million. These are white-collar jobs, expanding on their relocation of their labs and regional offices here from Cobb a few years ago to be near the manufacturing facility."
Healthy Expansions
A health cluster could grow here, as Northside Hospital-Cherokee announced in 2008 it would spend $8 million to expand its emergency room and offer other services at the hospital, creating some 40 jobs and offering robotic-assisted surgery for some general, gynecological and urology procedures. "It will create off-campus office jobs that will be good for our tax collections," says Hobgood.
"We've also had expansions from Piolax, a universal alloy corporation, and Belnick Inc., an office furniture distributor who moved into the vacant Herman Miller office furniture facility, which is 327,000 square feet. It's one of the largest industrial buildings in the county," Carnes says.
Even as the county works to attract employers, cities are concentrating on improving the quality of life for families. Parks are being developed along the Etowah River, which bisects the county, as public spaces that will link the cities' LCI districts with trails.
"We have a new city park being built on 65 acres on Brown Industrial Parkway along the Etowah," says Canton's Hobgood. "It will have multiple fields – baseball, softball and general play – and walking areas. We also have a new trail on the northern end of Heritage Park that crosses over the river to continue along the river to Boling Park."
As the network of trails improves, neighborhoods will also improve, says Hobgood. "We have a chance to do a lot of housecleaning," he says. "We are upgrading our zoning and subdivision and development regulations, which we've needed to do for some time. Bigger is not always better, and while I'm not a slow-growther, I don't want to approve something just to get numbers."
Woodstock's Greenprints Project will add 60 miles of trails connecting city spaces and public places in southwest Cherokee. Greenprints Alliance holds a Streetfest in March to raise funds and awareness and has secured local support for its trails projects.
"Our focus for the past few years has been on ecotourism, and we will be doing other things besides Greenprints over the years," says Woodstock's Henriques. "Now we have the arts on board, so that's two basic draws for people to treat Woodstock as a destination location."
The county purchased 541 acres on Yellow Creek Road near the Etowah River, increasing its green space inventory to 1,500 acres, and linking Boling Park in Canton to Shoal Creek near the Georgia National Cemetery in Sutallee.
"The downturn in revenues has limited our capital projects to very little – we haven't had a new one in three years," says Hobgood. "Four years ago, we were getting $250,000 a month" in sales tax collections; now, it's down to $175,000. "That's considerable," he says. "We extended our Special Purpose Local Option Sales Tax this year [2010], Hobgood says, but that's basically all for debt service. We haven't raised our millage rate but we may have to."
Canton is backing Hickory Log Creek Reservoir, a drought-contingency reservoir north of the city. "We have massive debt from previous projects that have been done, much of which had repayment predicated on impact fees, which are now almost non-existent," Hobgood says. "We have $60 million in debt, most of which is bonded, and a big chunk of which is for the 300-acre reservoir owned by the city and the Cobb County-Marietta Water Authority. Only 25 percent is ours, but that's still more than $22 million. Ultimately it will be a great benefit; now it's a big debt."
Martin and others in the county indicate that the economic downtown has provided a good time to reprioritize. "Our goal now is to try to find out what normal is," she says, "and have as much flexibility as possible."
Local Leaders
Pam Carnes
President and CEO
Cherokee County
Chamber of Commerce
770.345.0600
pam@cherokeechamber.com
Misti Martin
Executive Director
Cherokee Office of
Economic Development
770.345.0600
mmartin@cherokeega.org
L.B. "Buzz" Ahrens
Chair
Cherokee County Board of Commissioners
678.493.6001
lbahrens@cherokeega.com
Population
(2008)
County,210,529; Ball Ground, 953; Canton, 22,724; Holly Springs, 8,818; Nelson, 928; Waleska, 889; Woodstock, 23,141
Median Household Income
(2008)
$50,834
Unemployment Rate
(October 2010)
County, 8.2 percent
Georgia, 9.9 percent
Top Five Industries
Pilgrim's Pride, Universal Alloy Corporation, Meyn America, Chart Industries, Piolax Corporation
Sources
Cherokee Office of Economic Development, U.S. Census Bureau, Georgia Department of Labor