Added Value
Especially in a tough economy, MBA programs attract students who want to enhance their chances for advancement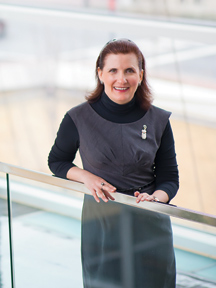 The letters MBA in a title or on a resume have long signified prestige and garnered a certain amount of respect, so it's not surprising that Master of Business Administration (MBA) degrees remain in high demand among Georgia professionals. This is especially true given the current state of the job market, where even college-educated professionals are finding out that they aren't immune to cutbacks and layoffs.
"In a bad economy, people go back to school," notes Dr. Mel E. Schnake, the MBA director at Valdosta State Univers-ity and professor of management. According to Schnake, enrollment in Valdosta State's on-campus MBA program has doubled in the past year – from around 25 students to what he anticipates will be at least 50 students for the spring semester.

"In a competitive job market like we have now, an MBA is the differentiator," says Dr. Gina L. Miller, associate dean and professor of marketing at the Stetson School of Business and Economics at Mercer University in Atlanta. "It has almost become a requirement for professionals who want to advance today."

"The economy is clearly prompting more professionals to go back to school and get their MBAs," adds Dr. Faye A. Sisk, director of graduate programs and associate professor of management at the Stetson School.

According to Miller, there has been an upward trend in recent years in the number of people taking the Graduate Management Admission Test (GMAT), which is required to gain entrance to most MBA programs. "I tell students and professionals that M, B and A are the initials you want after your name."

Of course, the down economy is a double-edged sword when it comes to participation in MBA programs. Although economic and employment conditions might present both an opportunity and a rationale for getting an MBA, they can also make it more difficult for students to pay for an advanced degree.

"Clearly, the economy is affecting the ability of many people to finance an MBA," says Sisk. "As a result, we're seeing increased demand on financial aid, especially as employer financial support for MBAs for their employees dwindles. But for many professionals who can afford it or who qualify for financial aid, coming back to school for an MBA can help them meet qualifications for advancement and move up the ladder in their current organization or pursue new career opportunities outside of their current field."
Plenty of Options
A wide variety of MBA programs is available in Georgia for students to choose from, ranging from traditional full-time, on-campus programs to part-time evening and weekend programs. A growing number of online and virtual learning options make it easier than ever for working professionals to get their MBAs while continuing to hold down their full-time jobs.

According to the Board of Regents of the University System of Georgia, 16 of the 35 public colleges and universities within the system offer a master's level business administration program. "Specific majors range from accounting to risk management and insurance," notes Marci M. Middleton, assistant vice chancellor for academic programs with the Board of Regents.

That's in addition to private institutions offering MBA programs, among them Mercer, Emory, Clark Atlanta and Reinhardt universities.

Within Valdosta State's Langdale College of Business Administration's MBA program, students can choose either a part-time evening program or an online WebMBA program. The first consists of 30 hours of instruction that can be completed in a minimum of two years or six semesters. It is designed "to aid students wishing to pursue an advanced business degree without interrupting their careers," says Schnake.

The university did research and surveys before launching its first MBA program in 1991, he explains, "and it was clear that most people who would be interested in obtaining an MBA here were already working and couldn't participate in a full-time day program. So we designed it as a part-time evening program from the start."

WebMBA is a consortium of five different universities in Georgia that offer qualified students the opportunity to earn an accredited MBA degree in a Web-based virtual setting. Valdosta State was one of the founding members of this consortium about 10 years ago, says Schnake. The other current members are Kennesaw State University, University of West Georgia, Georgia Southern University and Georgia College & State University.

Most of VSU's on-campus MBA students are drawn from several counties around Valdosta (including some in north Florida), but WebMBA students participate from all over the world, including as far away as Sierra Leone. Schnake estimates that only about 60 percent of these students actually reside in Georgia.

The vast majority of all VSU MBA students have some real-world work experience, as opposed to entering the program immediately after earning an undergraduate degree. (At least two years of significant business experience is required for the WebMBA program.) "Our average MBA student has 12 years of work experience," he says.

Despite the recent doubling of enrollment, VSU still offers MBA students the advantage of relatively small class sizes. "When you bring together 20 to 25 MBA students who have real-world management experience, the interaction and discussions in the classroom can be incredible," says Schnake.
Flexible Programs

At Mercer University, more than 300 MBA students are participating in one of the business school's MBA programs.

The most popular are the flexible evening programs on the Macon and Atlanta campuses. "These are our bread and butter," says Miller. "They are tailored to meet the needs of individuals already employed as managers, as well as those preparing for advancement into middle management or administrative levels."

Classes are offered once a week, either on a weeknight or Saturday, and they rotate on eight-week schedules with five different admission entry points. The program of study consists of three Level 1 foundation courses, followed by the more in-depth Level 2 core classes.

Mercer's newest offering is a one-year daytime MBA program at its Atlanta campus. "This program is designed primarily for individuals who desire to retool their career, make a career change or re-enter the workforce," says Sisk, "as well as for more traditional domestic or international students who desire an accelerated MBA." The program begins in the summer semester and can be completed in less than one year, with no previous work experience required.

Mercer also offers a Virtual Professional MBA (PMBA) that utilizes sophisticated, state-of-the-art videoconferencing technology. This is not an online MBA program, Sisk explains, but rather a way for students across the state to study as one group at a Mercer campus in Macon, Atlanta or Savannah.

"These students are attracted to the delivery mechanism and the weekend schedule (classes are held on Friday eve-nings and all day Saturday every two weeks for 16 months)," says Dr. Sisk. "It provides even the busiest managers the opportunity to increase their value in the marketplace and learn best practices from other management professionals while earning an MBA."

Four retreats bring classes in the different locations together and provide a concentrated study on specific business topics, including a weeklong Best Practices Field Residency, where students meet with top executives of successful companies. At least four years of real-world business experience are required for the Virtual PMBA program.

"Mercer is a private teaching university, so our focus is always on the students," says Miller. "Most of our instructors have worked in the corporate world and come back to academia, so there's a heavy focus on application. They are all full-time professors, not teaching assistants." The Stetson School of Business and Economics consistently ranks high in surveys conducted by The Princeton Review and U.S. News & World Report, she says.
Job Placement
The College of Management within the Georgia Institute of Technology also offers both full-time day and part-time evening MBA programs. According to Georgia Tech's Director of MBA Programs Paula C. Wilson, the school's full-time MBA program boasts one of the highest job placement records in the country, ranking second in the nation (and No. 1 among public schools) for MBA job placement by Bloomberg BusinessWeek for the Class of 2010.

Tech has a top-ranked employment record in the Southeast among 2009 and 2010 MBA graduates, with 100 percent of the class of 2010 participating in summer internships last year. Seventy-six percent of these students had job offers at graduation and 90 percent were employed within 90 days of graduation – phenomenal numbers given the current employment environment. The average starting salary for these graduates topped $85,000, and more than half received signing bonuses averaging more than $12,000.

A Georgia Tech MBA offers a lot of bang for the buck: It's the least expensive MBA among the top 30 schools in the Bloomberg BusinessWeek rankings, according to Wilson. "The Georgia Tech brand is well-recognized nationally and worldwide," says Wilson.

For a large university, Georgia Tech keeps its MBA program relatively small. "We're very selective – we only enroll about 75 new full-time MBA students each year," says Wilson. Georgia Tech is committed to diversity in its MBA programs, she adds: "When the classroom resembles the true nature of international business teams, everyone benefits."

This commitment to diversity is evident in the statistical breakdown of the class entering Georgia Tech's full-time MBA program in 2010: 31 percent were U.S. minorities and 13 percent were international students.

At least four years of work experience are required for admission to Georgia Tech's full-time MBA program, and the average part-time evening MBA student has about six years of experience. "If undergrad students tell me they are graduating in May and want to apply for the MBA program in the fall, I encourage them to go get some real-world work experience first," says Wilson. "Most recruiters prefer MBA graduates with at least three years of work experience."

More students (nearly 350) are enrolled in Georgia Tech's part-time evening program than the full-time day program. Classes are offered year-round on Monday through Thursday evenings and meet once per week. On average, part-time evening students earn their Georgia Tech MBAs in about three years.

"This program draws a diverse mix of working professionals from a wide variety of academic backgrounds," says Wilson. "It combines our full-time MBA curriculum with the flexibility that allows individuals who want to advance in their organizations or maybe change careers to complete the degree at their own pace. These students benefit from many of the same advantages enjoyed by our full-time students, but are able to continue working in their professional jobs as they pursue their MBAs."

Interestingly, only about a third of Georgia Tech's MBA students (both full- and part-time) have undergraduate business or economics degrees. Nearly half of the full-time MBA students have engineering or computer science undergraduate degrees; about one in five has a humanities or social sciences undergraduate degree.

This is fairly common among MBA programs, notes Wilson: "MBA programs are known for drawing students with many different types of academic and professional backgrounds. We look for applicants with a variety of backgrounds, skill sets and experiences to bring to the program in order to create an active, progressive learning environment."
Enduring Value
Wilson believes that an MBA is as valuable as ever. Of course, it teaches high-level business and analytical skills. "But to me, much of the value of an MBA is in helping students and professionals develop leadership skills, learn to work in teams and better see the big picture."

She points to a Georgia Tech grad with an engineering degree who was working for Disney designing amusement park rides and applied for the school's MBA program. "He wanted to better understand the big picture, like how decisions were made about which rides should be built and how the rides would be financed and marketed. He eventually ended up going into consulting."

Valdosta State's Schnake agrees: "There is some hard evidence suggesting that an MBA pays off in terms of salary and employment," he notes. "But I believe it also opens more doors of opportunity when an individual has both an undergraduate degree and an MBA."

According to data from the Bureau of Labor statistics, the median weekly earnings for a graduate with a master's degree are about 18 percent higher than those for a graduate with a bachelor's degree, and the unemployment rate for those with a master's degree is just 3.9 percent, compared to 5.2 percent for those with a bachelor's degree.

Mercer University's Miller tells of a recent Mercer MBA graduate who was one of three finalists for a marketing VP position with a large national restaurant/food company. "All of the finalists had similar business experience, but he was the only one who had an MBA, and he told me this was the deciding factor that ended up getting him the job."