Through A Local Lens
Transition, a growing grassroots movement, is planning for a resilient, sustainable future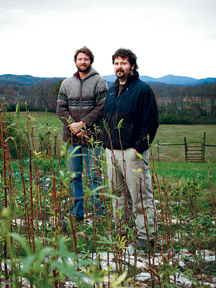 Bruce Rodgers had his second heart attack in March 2003, just before the invasion of Iraq, and through a post-surgery medicated haze he watched the conflict unfold from a hospital bed. He soon went home to continue his recovery and was jolted by the broken heart of a man 7,000 miles away in the middle of a war zone, anguish and clarity radiating from a computer screen.
"I was watching a report online, and there was this man sitting in front of a mud hut, his family lying dead in front him, and he was crying his eyes out," says Rodgers, who owns and operates Greenstone Soap Company with his wife, Kate, in Sautee Nacoochee, a few miles outside of Helen.
A former pastor and addiction counselor, Rodgers was profoundly shaken and overcome by a dismal sense of shame that was several orders of magnitude grimmer than the garden-variety fashionable American liberal guilt.
"Something about the man's voice, tone and language, his complete misery, was speaking to me," Rodgers says. "All of a sudden I felt transported into his pain and realized that I was responsible, because I acquiesce to a world that has developed around the destruction of people's lives.
"And my feeling was that I've got to find a way to deal with this moral issue in a way that doesn't end with me going nuts."
It took him five or six years, but when Rodgers found Transition he found his way.
Transition is a growing global grassroots movement that takes aim at planet-sized crises through a local lens, helping to create awareness of – and craft community-wide responses to – climate change and peak oil and the economic volatility related to those two challenges.
There are about 350 official Transition Initiatives in cities, villages and communities around the world. A thousand other places are pursuing or considering official status. (These communities are called "mullers" in the Transition lexicon.) In the U.S., there are at least 75 official "initiatives" (groups that have been formally recognized by the national Transition U.S. and the Transition Network, the UK-based organization that supports the international movement) and about 60 mullers, including several in Georgia.
"I really believe this is one of the most fascinating social experiments happening in the world today," says Rob Hopkins, author of The Transition Handbook: From Oil Dependency to Local Resilience, who co-founded the movement almost five years ago in his hometown of Totnes, England.
In October, Transition Sautee – the group co-founded by Rodgers – was on the verge of registering as an official initiative after an active first year of mulling, in which the group planted a community garden, hosted several movie nights and offered a primer on permaculture.
In Canton, an active muller group called Cherokee Transitions Green edged closer to official status following a successful summer festival and several years of tending a community garden. And a former Franciscan nun who has taken the Training for Transition course was working with others to form groups in Dahlonega, Dawsonville and Gainesville.
Though it is typically referred to as an environmental movement (when it is referred to at all – Transition has remained low profile, though it has spread virally thanks to a thriving Web presence), Transition's founders and adherents see it as something bigger.
"At first, I really thought this was an environmental initiative, but increasingly I think of it as a cultural initiative, enabling cultural change," Hopkins says.
For Roy Taylor in Canton, getting involved in the movement was a natural – um, transition. A LEED-accredited architect, Taylor has been interested in environmental preservation and stewardship issues since he was a boy.
"It goes way back, to playing in the woods as a kid and being part of the environmental movement in high school, to walking with my friends on the very first Earth Day in the spring of 1970, to my faith," says Taylor, a Quaker who serves on the steering committee of the national Quaker Earthcare Witness.
For Rodgers, who also has been environmentally conscious for many years, Transition is a place to exchange the fear and anxiety (over energy shortages, resource depletion, wide-ranging economic disparity and political apathy) for hope and a proactive sense of direction toward a resilient, responsible future.
"I realized that I don't have the right to live a lifestyle that steals from other people on the planet," says Rodgers, disregarding the manifest destiny bluster exemplified in a now-famous boast by former President George H.W. Bush at the 1992 Earth Summit (and later repeated by then-Vice President Dick Cheney): "The American way of life is not negotiable."
Scaling Down
Much of the American way of life is about consumption on a massive scale – for example, the U.S. has about four percent of the world's population but consumes about 25 percent of the world's oil.
With global population surging toward 7 billion and the ever-increasing demand for oil, a finite resource, from growing economies in China and India (not to mention the global increase in coal-fired power plants, considered a leading cause of climate change), Rodgers and his fellow Transi- tioners feel the American way of life – and the world's consumptive way of life in general – is on borrowed time.
"Our lifestyle is going to change whether we want it to or not," Rodgers says. "Transition has created a positive way to cope with the change."
Annual petroleum production numbers have routinely gone up almost every year, for many decades. But oil is a finite resource. 'Peak oil' is the global peak of oil production, the point of maximum extraction, after which the production rate enters an irreversible decline.
Eventually – and it could be decades – oil supplies and reserves will diminish, and the resource that has fueled the world's economic growth doesn't have a viable replacement yet, even though a lot of great minds are working on alternative forms of energy.
"Oil was like winning the lottery," says Don Porterfield, one of Transition Sautee's co-founders. "A lot of people think biofuels or some other alternative will be our next lottery ticket. But that would like trying to replace a $5-million ticket with a $5,000 ticket."
Some researchers believe global oil production will reach its peak around 2020 or after; others say we're there right now or it already has happened.
According to the Association for the Study of Peak Oil (ASPO), of the 42 largest oil producing countries in the world (responsible for about 98 percent of global oil production), 30 have either peaked or already have reached the down slope, which would mean the age of cheap oil is waning.
"We refer to it as an inevitable shift in direction," says Hopkins, recognized as one of the UK's top 100 environmentalists. "Throughout the age of cheap oil and cheap energy, our economic success – our sense of well-being – has been directly linked to how much we consume. On the other side of the slope, that dependency becomes a key vulnerability, and that leaves us fragile."
The feeling that our oil-slicked society is on the verge of transition with potentially adverse consequences is not limited to the environmental movement, either.
The chief economist at the International Energy Agency – the IEA, which traditionally has downplayed the 'peak oil' concept – says most of the world's major oil fields have passed their peak and believes an impending energy crunch could cripple global economic recovery.
Even the staid and respected insurance giant Lloyd's of London has issued a warning to businesses that are not prepared for an era of oil scarcity, higher fuel costs and lower carbon outputs. (Can "energy descent" coverage be far behind, and what would it look like?) "Companies which are able to take advantage of this new energy reality will increase both their resilience and competitiveness. Failure to do so could lead to expensive and potentially catastrophic consequences," says the report from Lloyd's.
Hopkins and his partners started the Transition movement as an alternative to throwing up their hands and cursing the circumstances.
For years he'd been teaching permaculture, a sustainable approach to designing agricultural systems and human settlements based on the study of natural ecological patterns, at Kinsale Further Education College. Hopkins also developed an Energy Descent Action Plan (EDAP) for Kinsale, a picturesque harbor town in Ireland. The EDAP (part of every Transition Initiative's to-do list) is a road map of sustainability that also takes on agriculture, education and growing a local economy.
The 'Transition Towns' concept (now called Transition Initiative, because cities, villages, neighborhoods and rural valleys are all buying in) grew out of a student project Hopkins was supervising in 2005. Hopkins took the concept to his hometown, Totnes, in 2006 and the movement has been headquartered there, and growing, ever since.
"We designed Transition from the beginning to grow as virally as possible," Hopkins says. "We wanted it to be something that was simple enough to model. We're still at the experimental stage, and we're not saying, 'This will definitely work.'"
So, Transition aims to create awareness of sustainable living, offering programs, education and training to help communities develop resilience by reducing energy usage and reliance, creating local food sources (community gardens are a predominant feature in Transition Initiatives around the world), developing new livelihoods for individuals and locally focused strategies for businesses, establishing efficient transportation plans and sometimes even developing local currency (several Transition Initiatives in the UK have done this).
"This is all about creating the community that you would want to live in," says Porterfield. "All the elements are close at hand. It's a matter of putting it all together in a cooperative way.
"There are a lot of groups out there responding to the same predicaments – climate change, peak oil. Transition is just one of them. It seems to be the one most focused on local responses, and that's what resonated for me."
It has to be local, Hopkins says, because, "It doesn't look like any global or government agreement on climate change is going to happen. Communities are in the driver's seat."
Transition Network, the nonprofit based in Totnes, exists to "inspire, encourage, connect, support and train communities as they adopt/adapt the transition model in response to climate change, peak oil and economic contraction." Both the Transition Network and Transition US operate with miniscule staffs and raise money through sponsorships, and also by offering training for people who want to start Transition Initiatives in their communities.
"This is the kind of movement where there are many local stars," says Carolyne Stayton, executive director of Transition US, based in Sebastopol, Calif., and part of that town's initiative. "Transition is where the ordinary person can be extraordinary."
Local Futures
Ben Dockins, 28, has spent most of his adult life working in Helen-area restaurants. But when he introduces himself now, he calls himself a grower. Dockins went from 50 hours a week as a high-volume line cook to 20 hours a week – he works for free the rest of the time on Transition Sautee's community garden, a project that he spearheaded with his friend Rafe Brown, their significant others and a handful of friends.
"Most of the food we eat travels 1,500 miles to get into our mouths," says Dockins, whose 2-year-old son River spent many summer days in the garden, planting corn, crackers and pretty much anything else he could put into the ground.
"Local food is a priority, as big as anything else we can do. My feeling is, I might be able to make a sustainable living as a grower. I see that as my future, and it involves serving my community. The future is local."
The Sautee growers started selling produce from their small plot on the property of The Stovall House, a local B&B, at the local farmers market over the summer. And they've already begun preparing a six-acre plot (donated by The Stovall House's owner, Hamilton Schwartz) for next year's crops.
Dockins and his fellow growers are the first "working group" in the Sautee initiative. Part of the Transition process is tapping into the collective ingenuity of the community, which means creating a number of smaller groups with specific focus areas, such as energy, transportation, education and gardening (among other things), all falling under the initiative umbrella as part of the whole.
In Canton, Roy Taylor has been planting a community garden for the past several years, and he's been working to engage local government and businesses in the Transition process, particularly on raising awareness. (For example, he facilitated an energy forum with county commissioners.) For the past two summers, the Cherokee County initiative brought together a number of different green businesses, energy and water experts and environmental groups and organized the Choosing Green Festival in conjunction with the Canton Farmers Market.
Taylor sees these efforts as reaching beyond the front porch.
"How do you involve your community, your neighbors? Real, meaningful change happens at the local level, no matter how much or how little is happening in Washington or at the state capitol," he says. "When you get down to it, we at the community level are the ones deciding land-use planning and zoning districts. We're the ones who can control our footprint."
For Nancy Carnes, the path to Transition started when she was a Franciscan nun, and she wonders what Saints Francis and Clare of Assisi would do if they were feeding the hungry today.
"I don't think they would have donated processed food," she says. "They would donate local, organic, healthy food, not high-fructose corn muffins."
She left the monastic life a few years ago and became trained in permaculture and Transition, worked with a budding Transition group in Clemson, S.C., then moved to Gainesville. She's been working with Cedar Hill Enrichment Center in Dawson County and an organic food service in Dahlonega to get Transition groups up and running and hopes to do the same in Gainesville, where she is helping develop a community garden on a half-acre plot adjacent to a wellness clinic.
Carnes is different from many Transition adherents in that she believes spirituality will play a role in keeping the movement growing apace.
"I don't know if we'll be able to move fast enough, with the right sense of urgency, unless the faith-based community becomes involved," she says.
For Rodgers and Porterfield, who convene regularly at the Sweetwater Coffee Shop, just across the street from Greenstone, Transition is a way of confronting what they see as inevitable.
"Transition doesn't avoid the predicaments of peak oil and global warming," Rodgers says. "It looks squarely at the issues and says, 'These are the possible scenarios. Let's plan for the worst and work for the best, but let's not pretend it's going to be business as usual.'
"Fact is, we've spent all of our lottery winnings, and nature is gonna bat last."