Thomaston/Upson County: Making A Comeback
A push for biotech and manufacturing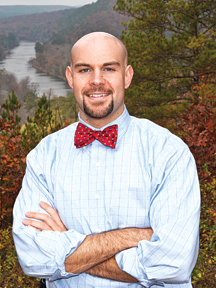 This swath of Central Georgia west of Macon is a hard land that has been plagued by disappearing textile mills and record high unemployment. Yet these days folks in Thomaston and Upson County are talking about resurrected and revitalized communities and a new approach to economic development that will eventually pay dividends in better jobs and prosperity for a change.
When the local Yamaha plant closed recently, development officials quickly found a new business to fill it. Animal Health & Sciences opened a manufacturing facility, bringing a $9.1-million investment and creating more than 100 new jobs. Over the next five-year period, the company will add 250 jobs and a $7.6-million investment.
"We have investment coming into the community even though there's been a downturn in the economy," says J.R. Charles, executive director of the Thomaston-Upson County Industrial Development Authority. "And, we're getting an industry back into that building."
The victory and the new optimism in Upson is a far cry from the despair that swept across much of the state when the cut and sew operations closed a few years ago. Although the textile industry has long been in decline and jobs were outsourced overseas, Thomaston Mills was among the largest plants still in operation. When it closed, 1,400 workers lost their jobs. In a small county, that was a devastating blow.
It also reinforced the county's desire never again to become so dependent upon a single industry and to prepare itself for changes sweeping through the global economy.
"One of the things that we're using as a selling point as a community is departing from the former mentality," says County Manager Kyle Hood. "We're getting away from the mill mentality. Part of that is going out and linking up these companies that work well together because they have complementary business practices and corporate culture. By putting them together, everybody benefits."
In essence, the community is no longer putting all its eggs in one basket. When textile manufacturers left, thousands of people – in Georgia and throughout the Southeast – who had depended on the mills for their livelihood were left unemployed in an instant.
"Now we're trying – as you would in any kind of investment – [we're] diversifying our portfolio and trying to slowly rebuild an employer base and empower a set of people that were collateral damage in a big business decision," says Hood.
Welcoming Biotech
Animal Health & Sciences is a good example of this new approach. The company purchased the 275,000-square-foot former Yamaha Music Manufacturing facility where it plans to make a new line of non-toxic biodegradable chemicals for the animal health industry. This economic development victory represents the county's first efforts at recruiting a biotech firm to the region, and it adds a new facet to the county's manufacturing base.
"They were looking either to go out of state or take the whole company out of state," explains Charles. "So they went to the [Georgia] Department of Economic Development to look around the area and see what was available, and Upson County happened to be on one of [the] lists. They noticed that the Yamaha plant was available, and so they came down and initially looked at that."
The company found that the building was ideal for their needs and it was available at a price they were willing to pay. In addition, they found a Certified Work Ready employee base that was already familiar with the needs of manufacturing.
"They also found a community that was ready to negotiate and work with them," says Charles.
It's those qualities that have been attracting other companies to Upson in search of a place to put down business roots. Each new prospect that decides to make Upson home makes it easier to attract the next company.
"Once an industry lands in an area and it's successful, then other people take notice of it," says Charles. "A few may find a way to attract their suppliers over here and find they're doing a lot of orders with this one industry. They say it may be easier to come to Upson County to cut costs."
And Upson has a lot to offer the company in search of a new home, including a low cost of doing business. For example, the county is marketing a spec building that contains 250,000 square feet for less than $1 million, says Charles.
"You've got a community that has a long history of manufacturing with the textile mills, and so we're used to that kind of work," he explains. "The standard of living is high, but the cost of living is low. So they can buy land and equipment at a relatively low price."
More Wins
Upson's commitment to being business friendly has also produced some wins from other areas as well. Solo Cup Company announced this summer that it was closing a manufacturing plant in Massachusetts and moving some of these operations to Thomaston, increasing jobs by 10 to 15 percent. The company bought Thomaston-based Innoware Plastic last April for $24 million.
In addition to manufacturing, the county has also begun attracting its share of technology and, eventually, should add alternative energy. This year, the county became the site of a biorefinery demonstration plant, the result of a partnership between Dia-mond Alternative Energy, a subsidiary of Valero Energy Corp., and American Process, Inc. (API).
The plant was built to make use of API's technology for the production of cellulosic fuels and chemicals. Al-though the plant is ready for business, work on the project came to a halt after a dispute between the two companies over terms of the production deal. Local officials hope that the two can resolve their differences and get the project up and running.
"We believe they will be able to come to some kind of resolution, and the state economic development office is trying to work with the companies to see if they can't come to a mutual understanding and find someone who can come in as another partner," says Charles.
The plant was originally expected to employ 25 to 30 people.
"There will always be a need for a demonstration plant," Hood says, due to the rapid changes in the biofuels industry.
The county also has the advantage of being in the center of a triangle formed by Macon, Atlanta and Columbus, making it ideal for logistics, according to Charles.
While there are stirrings of interest among companies seeking to relocate, local businesses here are taking more of a wait-and-see attitude toward ex-pansion.
"As far as growth, we haven't had a whole lot," says Lori Showalter Smith, president of the Thomaston-Upson County Chamber of Commerce. "We've had a lot of people talking about potentially coming, but it's a matter of waiting to see what the tide will bring in for us."
She adds that the county was recently certified as an "Entrepreneur Friendly Community," a status that indicates entrepreneurial and small business programs are part of a community's overall economic development strategy.
Thomaston and Upson County are hardly urban, but the area faces some of the same issues that plague its larger neighbors. A prime example can be found in the community of Lincoln Park, where neglected and abandoned housing has become a breeding ground for crime. Like larger cities, the county has embarked on a full-scale revitalization effort aimed at bringing both new housing and commercial activity to the area.
"It has for some number of years been left to deteriorate to its current state of affairs," Hood says. "We have developed an urban redevelopment plan specifically for that community, and it addresses urban blight. It puts some teeth into ordinances aimed at negligent home owners – the slumlord types."
Upson applied to the state's Department of Community Affairs to be a "community of opportunity." Launched by then-Gov. Sonny Perdue and the Georgia Rural Devel-opment Council in March 2007, the Communities of Oppor-tunity (Co-Op) Initiative is a collaborative, locally driven development strategy focused on enhancing the economic vitality of rural Georgia communities.
A 2003 study done by UGA's Carl Vinson Institute of Government concluded that rural communities face unique economic and community development challenges. Past statewide efforts involving technical and financial assistance were often ineffective. To improve the success rate, counties such as Upson are challenged to create a comprehensive and collaborative approach to community development
"It gives you some money to help initiate short- and long-term objectives that will strive to achieve your top three goals," says Hood. "For Thomaston and Upson County, we're looking at job creation and economic development. We're trying to build sustainable housing and do urban redevelopment, and then the third thing is to improve the quality of life."
The effort brought together a wide variety of local leaders from the private and public sector, along with religious and civic organizations. The group then came up with a list of 40 objectives geared toward revitalization and based on the county's urban redevelopment plan and land use planning.
"All of this is innovative. Up until a few years ago many counties in this part of the state did not think in this way," says Hood. "It's very outside of the box for our region."
One of the first steps was getting rid of substandard housing, using ordinances that force landlords to fix or tear down buildings. The county is now working with Columbia Residential, an Atlanta-based developer that specializes in affordable housing projects, including a major redevelopment effort in New Orleans after Hurricane Katrina.
Community Health
The 115-bed Upson Regional Med-ical Center, which serves patients in several middle Georgia counties, is building a 28,000-square-foot medical office building in Barnesville, in neighboring Lamar County.
The medical center, with more than 600 employees, has an annual payroll of more than $27 million and is one of the region's major employers.
"Patients are the center of everything we do," CEO David Castleberry said in a statement.
"That's why our drive to continuously improve is so important."
Patient satisfaction scores have more than doubled in the last two years, the center says.
Wellness is a focus, aided by the 19,000-square-foot fitness facility that offers cardio workout stations, free weights and heated pools. Some 1,500 community residents now have memberships.
"Consumers realize now is the time to invest in their health to avoid more serious problems that might cause financial hardship later in life," according to Castleberry.
Sprucing Up
As Upson's biggest city, Thomaston is a reflection of both the promise and the problems facing this rural community. In its downtown area, it's not hard to find empty storefronts; but throughout the town, locals are busy sprucing up and getting ready for a still-uncertain economic recovery.
A series of murals is being painted on several buildings, lending a bright and joyful air to the downtown area.
The city ended its affiliation with the Georgia Main Street program at the end of last year, but an active Downtown Thomaston Business As-sociation is expected to continue efforts to revitalize the downtown area.
The city has also launched street-scape improvements in an effort to make some of the downtown's buildings more appealing to developers and business owners. The thoroughfare along Hightower Street was changed from a two-way to one-way street to accommodate parking spaces. The buildings, which had been falling into disrepair, have been repainted.
Merchants and business owners hope the good looks will attract more buyers willing to renovate buildings and bring in additional tenants.
Attracting people to downtown where they might spend money is a tough job, but the city has been busy creating reasons for locals to venture into the city. The Greatest Generation Memorial Park has been constructed at a cost of $1.2 million and will be able to host a variety of special events and festivals.
The city already plays host to events such as the Spring Taste of Thomaston, Flint River Fest, City Fest Car Show and other special events.
Despite the challenges facing this area, Upson seems to have undergone something of a transformation. One of the most notable features of its local leadership is its youth. Several officials are under 30, reflecting the fact that power has begun to pass to a new generation.
"You're seeing a bunch of young people starting to come up and take leadership positions in the community as the older generation hands over the reins of power," says Charles.
Community Snapshot
Local Leaders
J.R. Charles
Executive Director
Thomaston-Upson County Industrial Development Authority
706.647.7007
jrcharles@thomastonupsonida.com
Kyle Hood
County Manager
Upson County
706.647.7012
khood@upsoncountyga.org
Lori Showalter Smith
President
Thomaston-Upson Chamber of Commerce
706.647.9686
lorishowalter@windstream.net
Population
(2009)
County, 27,551; Thomaston, 9,130; Yatesville, 385
Per Capita Income
(2008)
$17,535
Unemployment
(September 2010)
County, 12 percent
Georgia, 10 percent
Top Employers
Upson County Board of Education, Upson Regional Medical Center, Upson County Government,
Quad/Graphics
Sources
Thomaston-Upson County Industrial Development Authority, Georgia Department of Labor, U.S. Census Bureau