Re-Educating Georgia's Workforce
The best job prospects are in healthcare, but logistics and biotech are opening up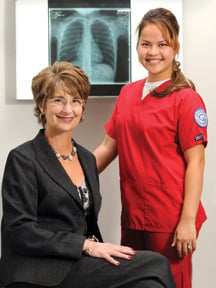 When 26-year-old Tai Le finished college four years ago, she stepped into her first job as a recruiter at a private placement company in Atlanta where she helped engineers find employment. But the job was short lived. "I worked there for about a year-and-a-half," recalls Le, who came to America from Vietnam as a 9 year old in 1992. "Then, when the economy went really bad, one week they let go about 50 percent of the people. If you hadn't worked there for at least five years, they just let you go."
She was one of those who was laid off. "I felt like I had done something wrong," she recalls. But at least she qualified for unemployment compensation, and a fortuitous visit to the unemployment office resulted in a back-to-school experience that gave her a renewed optimism for her future. "When I went to the unemployment office, I found out Gwinnett Technical College (GTC) had a program called WIA [Workforce Investment Act] and that made me feel so lucky, "she says.

Using funds from the WIA, Le was able to enroll in the radiologic program at Gwinnett Tech, where she is poised to graduate in June and find a job. "I've worked at six different clinics, and they know me and know my face," she says. "So when I finish school, wherever there is a position open [at one of those clinics] I will apply there." Le's record at GTC is certain to draw the attention of a prospective employer. She has won a flurry of scholarships, does volunteer work for her school and was named the 2010 recipient of a Georgia Occupational Award of Leadership. "I feel optimistic about my future because I'm in a field I really like," she says.

For Sharon Bartels, president of Gwinnett Tech, Le has become a poster figure for the possibilities available in the field of healthcare during a period of two crises, one in the economy and the other in shortages of medical professionals to serve an aging population.

"Our No. 1 area of enrollment, as well as employment, is in the field of health sciences, and that is what we as a college have dedicated ourselves to doing: providing programs in as many options in the health science field as possible, because there are so many jobs out there, and there are more coming," says Bartels.

"Health sciences are about 50 percent of our enrollment and about 50 percent of our budget." To underscore the demand for studies in the health sciences field, Bartels cites one particular course of study. "Last year we had 2,700 people apply for our RN [registered nurse] program, and we had 40 slots open," she says. "Last year [2009] we had right at 12,000 students that applied for one of our health sciences programs, and currently we can serve about 700 people in that program. We had 1,800 apply for our radiologic technology program, and we had 35 slots there."

Another 4,000 students are taking general coursework while orbiting the health sciences studies waiting for a slot to open up. Bartels says the dropout rate in health sciences is "next to nothing."

Georgia's spreading logistics industry is opening up well-paying career opportunities, one in particular in a seldom-mentioned field – ammonia refrigeration. Hall County's Lanier Technical College (LTC) is located in the home of the state's robust poultry industry, a huge user of large refrigerated facilities. It was a natural step for LTC to begin an ammonia refrigeration training program about a decade ago when poultry industry leaders requested one. The program generated a series of unintended consequences as it became nationally known for its training in the field.

"That program is about 10 years old, and during that time we have averaged 10 percent growth per year in enrollment and revenue," says Russell Vandiver, president of Lanier Tech. "We actually serve students from 49 states and four foreign countries. We had right at 600 students last year in our ammonia refrigeration program, and 70 percent of those came from outside the state of Georgia."

The non-credit, 40-hour program is attracting students seeking to enter a qualified workforce serving the refrigeration industry, where salaries can range from $15 to $30 an hour, depending on training, location and experience. "We discovered that ammonia is used for a lot of things, not just in processing food," says Vandiver.

"All your distribution centers have warehouses that are refrigerated, and there are hundreds of those. Most of the students in the ammonia refrigeration program are paid employees sent here to upgrade their skills. They go back to their jobs to operate the equipment more safely and, more importantly, more efficiently." Companies sending employees to the program pay $1,250 per student for their training.

There are other students for the ammonia refrigeration program, the kind more accustomed to coats and ties than overalls. "These warehouse companies have insurance policies to cover spoilage and other losses," says Vandiver. "We were approached by the insurance companies to offer training for their underwriters, so they can do a better job of predicting what kind of problems there might be in a particular warehouse. So we train them and they go out and write a better policy, which saves the insurance companies money."
Finding Opportunities
Last fall, Michael Thurmond stood before a packed meeting room at Albany's vast Gray Civic Center, where about 160 jobseekers assembled to hear a talk that was part cheerleading and part sermon. Another 1,400 job-hungry people lined up on the main floor of the building to talk with officials of companies, institutions and governments from around Southwest Georgia who manned booths to take applications or offer advice.

Thurmond, then concluding his eight-year tenure as Georgia's Commissioner of the Department of Labor (DOL), noted to his audience that on this day the state's unemployment rate stood at double-digits, a familiar sign of the times. "We issued an unemployment rate of 10 percent today," Thurmond says. "But it is the humanity of it that really brings it home in terms of the severity of this downturn. I jokingly say sometimes that I'm the Commis-sioner of Labor, but really I'm the commissioner of encouragement."

Part of that encouragement comes from DOL staffers who counsel those seeking work on how to improve themselves to be ready if a job opportunity pops up. "There just may not be job opportunities for a person with a certain set of skills, so part of why we have job fairs is to focus people who can't find work to go back and get new training," Thurmond says. "I think the two sectors with the greatest potential for growth over the next five years will be in allied health and high-tech manufacturing. That's why you've seen skyrocketing enrollments at our technical colleges. Jobless workers are now going back to school, recognizing that if they're going to be competitive and successful in the 21st century, they're going to have to upgrade or re-skill themselves."

There are times when a yet-to-be-built industry needs workers on a trajectory to arrive at the plant when the doors open for the first time, a situation Gail Thaxton faced three years ago. When Thaxton, president of Okefenokee Technical College (OTC) in Waycross, learned Georgia Biomass LLC was planning to build a facility in her community for the production of wood pellets to be shipped to Europe, she knew the company would need employees that OTC could train in a variety of ways. "We had to get in touch with that industry, and we did," she says.

"Then we began to present the array of services we felt like would align with their workforce needs. That takes us into credit programs, non-credit programs, pre-hiring and post-hiring programs." And that meant tweaking existing programs to produce workers to fit the hires.

"For example, we offered an electronics program, but their interest was in programmable logic controllers (PLCs), the big piece of electronic equipment that prescribes to the other machinery how to produce the product," Thaxton says. "Then we offered a non-credit PLC training program and added some electronic equipment to our [established] program, and sent the instructor to meet with Biomass." Georgia Biomass, which will open this spring, welcomed its first pre-hire trainee in the fall of 2009.

There is another biomass industry in nearby Brantley County, a sign that the huge forests of the region will continue to be an attraction for that industry and require new training. "In our area, the biomass industry is going to impact foresters, because they have to develop different skill sets to really evaluate forests in terms of sellers to the biomass industry, Thaxton says. Biomass fuel production uses not only the trees and their limbs, but also the wood scraps that lie on the forest floor, and foresters are unaccustomed to weighing their value.

The OTC electronics program also has a connection to healthcare, which Thaxton says is a hot jobs sector in her Southeast Georgia service region.

"When I break down healthcare, one of the areas that is really bumping us into another program is electronic health records," she says. "As we talk to our hospital partners, they need people who can analyze these records and make determinations on things that can go forward and go to the business office for billing."

There are more demands from the healthcare industry, according to Thaxton. "With new regulations coming down, by 2012 X-ray technicians will have to be registered, from what we are told, for their hospital or healthcare providers to be reimbursed by Medicaid," Thaxton says. "We've graduated generations of X-ray techs who were not registered. What we're doing is gearing up to offer some training to radiology technicians who have to come back and refresh some of their skills to fit with that registration requirement."
Generation Y
At Marietta's Chattahoochee Technical College (CTC), the school's president has taken note of an arriving demographic whose interests and talents fit nicely into modern workforce demands. "What we're seeing in students now, particularly in what is called Generation Y, is they are truly looking at what we have in technical ed, the academics and the technical skills," says CTC President Sanford Chandler, referring to those students born in the mid-'70s to 2000 who are old enough to attend college. "They love to put their hands on it; they love to use the technologies we have out there; and they are very, very good at using that technology. They are looking for something different, and it's not going to school for 20 years." And these students are interested in sports programs like the football and basketball and cross-country track programs offered by Chattahoochee Tech, says Chandler.

As more and more of the complete campus experience is growing at Georgia's technical colleges, so is the enrollment of Generation Y students and others. "We have a tremendous number of students that are coming to us to upgrade their skills or to work on another career pathway, and that's where our enrollment is exploding," Chandler says. "This fall [2010)], we added 3,200 new students that had never registered here before.

"We've basically added a campus a year over the last two years." With a location near the Lockheed-Martin Marietta plant, a big jobs creator, CTC has crafted programs to attract students looking for work at the aircraft manufacturer. "The hottest field right now is medical, healthcare," says Chandler. "But we're seeing demand in our business entry program for riveting, a non-credit program. That's a pre-employment opportunity for people who may want to go to work at Lockheed, and that riveting program is staying full both day and night."

As he was preparing to leave the Albany Job Fair, Michael Thurmond remained optimistic about jobs for the jobless. He says the jobs will come, but perhaps not immediately.

"The silver lining in this very dark economic cloud hovering over Georgia and America is the fact that millions of Americans and tens of thousands of Georgians have enrolled or re-enrolled in technical colleges, two-year colleges, proprietary colleges and four-year institutions," Thurmond says. "In the not-too-distant future, we will have the best educated, best trained workforce on the face of the earth."