Georgian Of The Year: Putting The House In Order
Speaker David Ralston restored order and dignity last session. This year's challenges are different, but still daunting.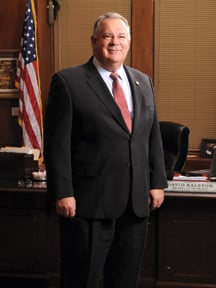 Speaker of the House David Ralston thinks the fraternity-party image that attached itself to the House under his predecessor was overblown.

Nonetheless, that perception helped fuel his determination to put the House in order and insist that members get serious about the business of lawmaking during the 2010 General Assembly session.

Ralston, who has been in public life since 1992 and in the House since 2003, is a conservative Republican lawyer from Blue Ridge. He first challenged then-Speaker Glenn Richardson – unsuccessfully – in 2008 for the top job and was stripped of his key committee roles by Richardson in retaliation.
When scandals forced Richardson to resign his post in late 2009, Ralston ran again and won handily, boosted by votes from 11 Democrats.

By any standards, but especially in contrast with the two previous sessions, the 2010 session was dignified and serious, befitting the issues it had to deal with. Ralston is proud that it was a productive session, too – passing legislation dealing with water, transportation and ethics that had been talked about but neglected in prior years.

For his leadership in restoring dignity to the House of Representatives, Speaker David Ralston is Georgia Trend's 2011 Georgian of the Year.

As his friend and colleague Rep. John Meadows (R-Calhoun) puts it: "Things are so much better now you can't stand it."

Georgia's U.S. Sen. Johnny Isakson, whom Ralston has said he considers a role model, says, "David Ralston has shown the capacity, the intellect and the drive to be a great speaker of the House. David always gets the job done because he never seeks the credit, only the right result."

In a time of harsh rhetoric and snarling charges and counter-charges on the state and national levels, he stands out as a new model of leadership bolstered by determination and civility.

Even in the darkest days of 2008 and 2009, Ralston never lost faith in his colleagues, despite the "boys'-club" shenanigans and the outright abuses of power.

"I know those House members, and I know that 99 percent of them are good, decent, honorable people who are here for the right reasons. So I think the image that there was some sort of fraternity party was somewhat exaggerated, but to the extent that it was there, it was hurting a lot of people," Ralston says. "I thought the best way to get rid of that exaggerated image was to have a new kind of leadership that focused not on self-interest but the interests of the entire House and the entire state.

"What we had to realize was that people pay attention to what we do, and they have more and better ways to pay attention. The best way to get the message out that these are good people … is [for us to] do good work.

"People tend, in terms of leadership, to conform to the model. We had to have a model this past session, and we will again next year. We have some tough work to do, some big challenges," Ralston says. "The people of Georgia will not always agree with every single thing we do. But I do want them to know that we are working hard and have their interests at heart."
No More Eggshells
Meadows says of Ralston: "He has his own ideas, but his strength is that he brings people together. Whether you're a Republican, a Democrat or an Independent, he's going to give you the opportunity to voice your opinion. In the House, there are 180 of us, and all 180 of us have ideas about where we should go. He listens to us and tries to hammer out a solution."

The biggest difference since Ralston became speaker?

"You don't walk around there on eggshells anymore. It's more relaxed," says Meadows.

"There were a lot of naysayers who wondered if a good ol' boy from Blue Ridge could do it, or if he was out of his league. But he brought us back together. Those of us in the House have a lot of confidence in him."

Ralston says it's a team effort. "I rely on a large number of House members to give me input on various issues. I have the best staff any speaker has ever had in Georgia. They know I like to inform myself of both sides before we wade into a fight. There are people outside of the Capitol I turn to. I know they're going to tell me the truth. I know my staff is going to tell me the truth. Finally, you have your own sense of priorities in terms of issues and your own values and your own views of things. All of that kind of works together to help you set the legislative table. "

The speaker is notable for his even-handed approach, even when he has strong opinions on an issue. During last year's session, Ralston, who describes himself as pro-life, intervened to rewrite an anti-abortion bill (HB 1155) that he felt went too far and was designed specifically for a court challenge.

"My entire legislative record is pro-life. At the same time my duty as speaker is to make sure that what legislation will pass really has meaning to people in our state. On that specific issue I believed very strongly that the goal wasn't to save lives, the goal was to get a lawsuit; and I frankly didn't want the House to be a part of that.

"This House, as long as I'm here, is not going to be captive to any special interest, to any agenda. We're going to be independent and look at each piece of legislation on its merits."
A Difficult Route
Ralston's climb to the speaker's office wasn't an easy one. He served in the state senate from 1993 until 1998, when he lost a statewide race for Attorney General to Democrat Thurbert Baker; that kept him out of public life until he won a house seat in 2002.

"Everything you do in life prepares you for the next challenge. I had a lot of years serving here in the legislature, many of those years in the minority party. That's actually a pretty good laboratory, because you can't implement very much, but you have a lot of opportunity to observe and reflect on how you would do things. I think those years were important.

"Your entire view of the world is shaped by your life – who you are and where you're from and what drives you. I have a very deep appreciation for our state's history, and I appreciate serving in the Georgia House as sort of an opportunity to be a part of that. It's kind of taking a longer view."

He says he's learned more from losing, especially in 1998, than winning.

"The first thing I learned from that is that losing is not fatal. I got up the next morning and I still had a pulse. It gave me the opportunity to be away from public life for a number of years – it shaped my perspective."

His unsuccessful 2008 race against Glenn Richardson, then the sitting speaker, brought its own perspective. "I think that brought into focus my view of this office more than anything I had done in my legislative life up to that point. It sort of reinvigorated me. I don't know that we have many opportunities in our public lives to do what you just really believe is the right thing to do, knowing the consequences if it doesn't work out, knowing that going in. I was absolutely convinced it was the right thing to do.

"I had no regrets during the challenge or after the challenge. I obviously could not foresee what later happened – a very tragic thing. I think we always get renewed by throwing ourselves into something just because we think it's the right thing to do, whether it's the expedient or popular thing to do."
The Tough Ones
Ralston is confident that his focused, less-is-more legislative approach will work as well in the 2011 session as it did his first year as Speaker – even though the novelty of his election will be behind him.

"If you truly believe in limited government, which I do, you don't need to get mired into seeing how many bills can pass. I want us to see how few we can pass. I believe instead of doing a lot of things and doing them halfway, let's do a few things and get them right. We did that last session – on the budget, on transportation, on ethics, on water. We went in and said these are things we have to do; this is where our focus is going to be. That's what I intend to do next session."

The biggest challenge, he believes, will be the budget. "Obviously, that's the overriding issue. That will be the focus of much of our work."

Ralston sees immigration as a particularly tough issue the General Assembly will be dealing with in its 2011 session.

"I view the issue in terms of are we going to continue to be a nation that abides by the rule of law? We have laws. The really unfortunate part of this issue is that the solution ought to have been federal, and the federal government for a multitude of reasons has completely failed to manage this issue. That leaves the states with a wide range of abilities to handle the issue within their borders.

"And I think that what really frustrated me was that whether you like it, or favor it or oppose it, the state of Arizona came up with a law that went through the legislative process and was signed into law by the governor, and now the federal government is suing the state to stop enforcement of a properly passed law.

"This is not about being intolerant at all – it's not about trying to stop tourism or economic development or all the other issues you hear about. At the end of the day the people of Georgia still believe we are a nation of law, and we have rules that govern a path to citizenship."

Last fall, Ralston and Lt. Gov. Casey Cagle appointed a joint legislative committee on immigration. "We want to get a handle on it. I anticipate there will be a heavy volume of legislation on this subject. I think it's important to get a head start looking at this – whether it's an Arizona-type law, whether the law deals with state benefits such as the HOPE Scholarship, college and higher education benefits, state contracting – [so] we will have a fair, reasonable piece of legislation that reflects that we still are a nation that abides by the law."

Ralston also wants to change the tone of the legislature's relationship with local governments, "to end the war" as he puts it.

But he is keeping his eye on signs of trouble from some local school systems and believes the state may need to play a larger role than in the past – particularly to avoid any further loss of accreditation, like Clayton County schools experienced two years ago. (The accreditation has since been restored.)

"If you have a school system that has lost its accreditation, then you have a huge number of young people that are going to be penalized for the mismanagement or corruption of adults. That's intolerable. We need to have a discussion so we understand where we set the bar when it comes to state intervention. But it is absolutely inexcusable for us to turn a blind eye to failing local entities – they serve the same [people] we serve."

Ralston is pretty clear-eyed about the work ahead of him, especially on the budget, which is the House's major responsibility. But he is optimistic.

"I really believe our state's best days are ahead of us. We're all working for the same thing here. I'm optimistic we are going to meet the challenges because I have seen what happened last session. We came in at a time that morale was poor [and] there was a lot of turmoil in the House, but we saw a group of men and women come together and climb that mountain. There will be a lot of challenges because of the budget, but I know it can be done."

His colleague John Meadows says Ralston has the right combination of temperament and toughness to get things done.

"David's not much of a politician," Meadows says, "but he's a hell of a statesman."