Cobb County: Leadership Change
Cities are looking ahead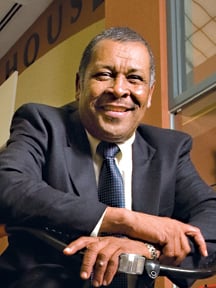 Cobb County is a powerful force in Metro Atlanta, and its leadership shifts make regional waves. In the past year voters elected local businessman Tim Lee chairman of the Cobb County Board of Commissioners, after longtime commission chair Sam Olens stepped down to run, successfully, for state attorney general.
Olens also served as chairman of the Atlanta Regional Commisssion; in that role he has been replaced by Tad Leithead, who is also Board Chairman of the Cumberland Community Improvement District in South Cobb.
The Cobb County Chamber of Commerce has new leadership in President and CEO David Connell and COO Dem-ming Bass, who was formerly with the Gwinnett Chamber.
Bank of North Georgia's Rob Garcia is staying on as chairman of the Cobb chamber; Holly Bass (Demming's wife) has left the chamber to become director of the Cobb Convention and Visitors Bureau.
Amid the changes, Cobb remains a regional anchor of fiscal stability, insulated somewhat from the recession by big employers like WellStar, which employs 11,000, and Lockheed Martin, which employs 7,700 locally. The county has benefited from a large higher education presence including Kennesaw State University, Southern Polytechnic State University, Chattahoochee Technical College and Life University. The schools are growing, and if this is not quite the kind of growth Cobb is used to, the money the students bring to the county and to local businesses is welcome.
Cobb's infrastructure has been challenged by its success, however, and the success of outlying counties like Paulding and Cherokee. Cobb is not only a cut-through to Atlanta for exurban communities, it has its own large job base – more jobs than workforce, in fact – and 20 percent of its residents commute.
Falling property values and fewer tax dollars collected have translated into fewer resources for transportation improvements, and governments can't keep up with the needs.
"If economic conditions don't im-prove soon, we will be beyond our ability to continue at the same low collection levels," says Chairman Lee. "For 2011, we have to ask what are our priorities, and what are we willing to pay for or give up? We have to get the message out. [Low collections are] a huge issue."
Economic Emphasis
Cobb's new leadership comes with some fresh ideas, and partner communities are encouraged by Lee's stated emphasis on economic development. "We are also excited about David Connell and Rob Garcia," says Powder Springs Mayor Pat Vaughn. "We hope to go from 40 to 90 miles an hour, with more input from cities."
Connell, who spent 40 years with Southern Company and has been a Cobb County resident for 20 years, seeks to advance an economic agenda that knits together the county and its six cities in a coordinated marketing effort to boost employment. "My intent is not to centralize, but work closer with all involved in economic development," says Connell.
"We are also working on renewing the Special Local Option Sales and Use Tax in 2011, to allow the county to do things in the transportation arena locally that would support what we need regionally. We're sitting right on 285 and 75, which has its built-in advantages; but we also have a great highway system and the counties and cities have done a terrific job keeping up with growth. That's why [continuing] the SPLOST is so important – whether you're in Marietta or Acworth, we have to build connectivity to the interstate, so every part of the county has different advantages," says Connell.
To fight unemployment, Garcia and Connell are also putting a stakeholder community together consisting of leading business people – from small, medium and large businesses – economic experts, academics and chamber staff. "They will be looking at other like programs, to see if there is anything we can learn from entities like the Gwinnett Chamber," says Lee.
"We have unemployment at 10 percent, but who makes it up? Three to five percent may be part time, then there's five to seven percent unemployed out looking for work. We can learn their capabilities to create jobs or determine the need for retraining. Maybe they are trained for an industry not growing and need to retrain for existing or new companies. We can have [county-supported nonprofit retraining entity] CobbWorks or Southern Poly to match training with target industries," says Lee.
Working with the county's higher education community involves cross-collaboration among the six cities. All six mayors are supporting the latest SPLOST continuation, which would enable communities to finish many stalled public works projects.
"On Windy Hill Road, the county just finished the Windy Mac connector from Macland Road to Windy Hill," says Smyrna Mayor Max Bacon. "It would be a great way to get from one side of the county to the other, but SPLOST only funded it up to Austell Road. We need the 2011 SPLOST to improve Windy Hill all the way to I-75. It's the best way to fund things – 35 percent comes from outside the county. The deal is not with growth in Smyrna, but growth outside – areas west of here, because that's where the growth is coming in leaps and bounds. Everyone in Paulding County and West Cobb has got to come through here."
This has been advantageous, says Bacon, in terms of tourism. "Now we're a destination point – we have restaurants like Atkins Park, Zucca, the Tavern. Something I thought I would have never said is that we have sushi [Village Sushi & Gourmet] in Smyrna. We're a unique little place, a quiet area, but we're changing, and it's turned out better than what we thought."
Powder Springs has also seen benefit from its SPLOST-funded improvements, particularly a library built in 2007. "We have new sidewalks, pavers and period lighting, all linked to the new library, for which the city entered into a partnership with the county; so it acts as a community center," says Vaughn. "In back of the library we want to build a multi-purpose theater. Funding ran out, so maybe the renewed SPLOST can help complete it. It's 75 percent finished."
Sales taxes would also help Powder Springs with Paulding County traffic. "A regional Transportation SPLOST in 2012 is also very necessary," says Vaughn. "Lots of people need to know it's a regional problem. The funds may not be right here, but you'll be traveling on roads where it will be spent. Traffic through Powder Springs is absolutely increasing."
Seeking SPLOST
The City of Austell has taken a couple of hits. Longtime employer National Envelope Company shut down, and the city lost $200,000 in revenues as a result of homes destroyed in the flooding of 2009. Still, the city may be able to use the new SPLOST to buy some of the flooded properties for parks.
"Some 240 applied for a buy out, but only 23 qualified," says Austell Mayor Joe Jerkins. "So we have 700 houses that water got in. … I'd say half the people are back in their houses. The others, 200 or maybe 300, may end up with the bank getting them or [the houses] being condemned.
"Maybe the banks will take them back, bring them up to code or do something with them, or the Federal Environmental Management Agency may raise the water level and buy them out later. We probably lost 700 or 800 people [who left the area]. They may come back.
"Growth has always been slow here," he says, "and now National Envelope, which employs 200 and has been here for 30 years, has filed for bankruptcy and been bought out. They closed the Austell office last month."
Jerkins believes Austell can survive and is even optimistic about the future, when the economy revives. "We have [recycled and converted paperboard products company] Caraustar Indus-tries based here, where 300 to 400 or more are still working. CSX railroad has a switchyard, probably 300 work out there.
"If the economy gets better, people will start coming back. We're in a good location to live or build an industrial park; [we're] right on top of Interstate 20. C.H. James Parkway turns into Camp Creek Parkway, so we're just 17 miles from Hartsfield-Jackson Inter-national Airport, and it's a straight run. We hope something could come into the National Envelope space, which was about 100,000 square feet, and put some more people back to work."
The SPLOST and 2012's Transpor-tation SPLOST referendum will be tough to pass in Cobb, says Jerkins. "But I support it. In fact, I was part of a committee that proposed a T-SPLOST 10 years ago," says Jerkins. "If it's handled right, because half of one percent will go to Cobb, that would be some $60 million a year that we will always have. It's a fair tax, it doesn't hurt anybody, it's not that expensive, and it doesn't take a lot away from a low-income person. I feel like it's a good way of collecting taxes [to] do the things we need to do."
In Acworth, a designated All-American city on the top end of Cobb, the funding could help stabilize ongoing revitalization projects, including a plan to build a massive high-density retirement community in the middle of town.
"We have 100 acres right now inhabited by 500 people," says Acworth Mayor Tommy Allegood. "Three hundred homes are public housing. When we're finished with our livable city concept, there could be 3,000 people there, with 1,000 homes [including apartments]. We can increase density to support downtown, but without congestion because it will be a livable city you can reach by walking.
Walton Properties is moving ahead with the project. Step one will be taking down public housing built in the 1940s and '50s. "We have to prepare the property for rezoning, for redevelopment, with a focus toward what I call the "senior tsunami" [an influx of retirees] – $70 million in SPLOST funds would be perfect for that," says the mayor.
WellStar, which plans a $14-million outpatient campus in Acworth, is a key component, says Allegood. "Our dream is for them [seniors] to not even have to own a car. We need a transportation network that will pick up seniors and go to WellStar, Kennestone and Barrett Parkway [so they can access] healthcare. The Georgia Department of Trans-portation is cash-strapped. The public doesn't understand that without transportation funds, we can't have these services." [GDOT has for years funded senior transportation.]
Acworth has already drawn physician groups to Highway 41 and the downtown historic district. "So, in advance of the Senior Tsunami, the downtown business district wants to redevelop and add transportation and physicians so people can walk to the doctor. Kennesaw Family Physicians is the anchor tenant in one of our biggest and most historic buildings," Allegood says.
Commercial Plans
Kennesaw has plans to grow its commercial sector, seeking a boost from the rising enrollment at KSU. "Some projects can spin off of the success and growth of the university scene right now – off-campus housing, for instance," says Kennesaw Mayor Mark Mathews. "As we grow, we won't meet 100 percent of the needs of students within the boundaries of the campus. So a logical area on the outskirts of the university might give us a leg up on an early start of redevelopment.
"Our focus for three years has been on growing commercial land use. We go out and consider annexation, talk to property owners and potential developers, so we can grow our tax digest commercially. We've got plenty of townhomes, apartments and single family, and as we come out of the recession, those price points will be easier to hit and more in line with the current economy – the only void we have in the residential market is what people would classify as affordable housing.
"In terms of building our downtown," Mathews says, "our focus will now be on mixed use, including housing for students, faculty or the aging community. If a project favors student housing, there will be more of that type of support business. If it's apartments or senior living, other services would be needed to take care of them."
Marietta will seek eight percent of the 2011 SPLOST to purchase a property for redevelopment. It's a bullish move in today's economy, but one with a creative element to entice the interest of local voters in improving Franklin Street.
"The state has defunded a lot of local transportation funding, and it is transferring to SPLOSTs," says Mari-etta Mayor Steve Tumlin. "The Local Assistance Road Program was the biggest one for years; the SPLOST has replaced LARP. The first name may be 'Special,' but it's gone from special to being necessary."
Tumlin emphasizes that the renewed penny tax would be spent on some traditional projects like parks and roads (20 percent). "It's starting to evolve, and we want to have eight percent for redevelopment – in our case, $5 million to buy one of several high-density apartment complexes that has run its life cycle on Franklin Road at I-75 and Highway 41. One project would help all the others if we could buy this. There has been a real good response from the public since we bought one complex [Preston Chase] with bond money, demolished it and made it into a nice 20-acre park. The public enjoyed and liked our decision. We can't do park money for that, but we can use the SPLOST for commercial development that helps the area and the entire system.
"In these economic times, with all the anti-tax attitude, we need something to be attractive to people and attract votes," adds Tumlin. "The tragedy would be if we hadn't done this and then have the T-SPLOST fail [in 2012]. Then we would be two or three more years behind, and we're already behind."
How far behind? "Cobb County is blessed with 700,000 people, but it's a lot," says Tumlin. "I heard at the Georgia Municipal Association that the T-SPLOST will only provide a tenth of what we need. I think it will need another one to come in right behind it, and another right behind that. We haven't found how to balance traffic and beauty. Not just the city – all over Cobb, there's not a section that's not a cut-through."
Tumlin says he has traditionally been "No MARTA/Old Cobb" but has warm-ed to some transit-related housing concepts. "At the first presentation, I didn't like it," he says. "It looked like apartments for 10 miles [on Highway 41], and I didn't want that. As I learned to listen, I could see how mass transit could help 41, if we can make that students' – or mixed-use – density but not apartments. It might be that light rail could coordinate with 41 and link the four universities in Marietta. If we had rail we could have student-type housing along 41, which wouldn't put pressure on school systems. The campuses are out of room for student housing.
"I'm not as closed-minded now," he says. "We might find the next generation is not as much a slave to the car as mine."
Community Snapshot
Local Leaders
Ron Garcia
Chairman,
Cobb County Chamber of Commerce
770.980.2000
Dan Papp
President,
Kennesaw State University
770.423.6033
Holly Bass
Director,
Cobb County Convention and Visitors Bureau
800.451.3480
David Hankerson
Cobb County Manager
770.528.2600
Population
Cobb, 714,692 (2009); Acworth, 19,476; Austell, 7,062; Kennesaw, 31,628; Marietta, 67,562; Powder Springs, 15,614; Smyrna, 49,854 (2008)
Per Capita Income
(2008)
$43,946
Unemployment Rate
(September 2010)
County, 9.6 percent
Georgia, 10 percent
Top Five Private Employers
WellStar Health System, The Home Depot, Inc., Six Flags Atlanta Properties, Publix Super Markets,
IBM Corporation
Sources
Cobb County Chamber of Commerce, Georgia Department of Labor, U.S. Census Bureau