Bryan County: Sounds Of Growth
Proximity to Fort Stewart and Savannah's port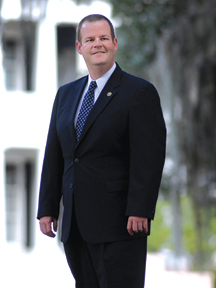 There are days when Josh Fenn can sit in his office at the Bryan County courthouse in Pembroke and listen to the crack and rumble of tank fire coming from a nearby gunnery range on Fort Stewart, a sprawling U.S. Army installation that serves as an economic engine for this eastern region of the state framed by the Atlantic Ocean and the South Carolina and Florida borders.
"To me, those guns are making music," says Fenn, executive director of the Development Authority of Bryan County. "Our [population] growth rate from the 2000 census is 39 percent, and just from '08 to '09 we grew by 4 percent, making us the 61st fastest growing county in the United States. I think our growth numbers can be attributed to the presence of
Fort Stewart, where we have about 4,200 people leaving the military annually, through retirement or finishing their service commitment. That's the gold standard for a quality workforce. There are about 29,000 military spouses that are in our workforce in this area. "
Fort Stewart and its neighbor, Hunter Army Airfield, have a military and civilian population of 57,000 and an annual economic impact of nearly $1.85 billion, according to data collected by the Georgia Chamber of Commerce. "And it doesn't hurt either that we are just 20 miles from the fastest growing port on the East Coast," Fenn says, referring to the Port of Savannah and its statewide economic impact of $15 billion annually.
For years, Bryan County leaders took it for granted that their community, a part of the Savannah Metropolitan Statistical Area (MSA), would forever be a bedroom community to that historic city. But Savannah's developable land is not sufficient to satisfy the growing demand for warehouse space; port users are moving farther west along I-16 and farther south along I-95. Both interstates pass through Bryan County, but only I-16 has an industrial park. The 1,500-acre Interstate Centre complex opened in 2005.
In five years, that industrial complex has seen seven companies arrive, bringing more than 500 new jobs and investing more than $110 million. Interstate Centre has a 605,000-square-foot cross-dock spec building, an ideal facility for a distribution center that might serve the nearby port.
There are other amenities at the industrial park that can affect a company's bottom line, Fenn says. "Interstate Centre offers something that no other industrial park in a full-service Class A industrial park in our market can offer: We have special tax designation with the state that gives us a Tier I status [for poorer counties], even though we are a Tier 4 [wealthier] county, and that's because that census tract borders a military base," Fenn says. "We can offer the highest tax credit available with the state."
And, Fenn says, the industrial park is in a Foreign Trade Zone, thanks to its proximity to the Port of Savannah. But Interstate Centre has no rail service, so economic developers here have found a site, with rail, near the Bryan County town of Richmond Hill, on which to build the 900-acre Belfast Commerce Centre in a partnership with Terra-Point LLC, the real estate division of Rayonier, the giant forest products company.
To obtain the land necessary for the park, the city of Richmond Hill has to annex a 1.4-square-mile tract, a pro-cess projected to allow construction to begin this month. "TerraPoint has verbally committed to pay for all the water and sewer lines, plus all the engineering costs and to give us some land where we could build a fire station there," says Richmond Hill Mayor Harold Fowler.
"We're working on the written agreement now. Based on what we've seen at the [Interstate Centre] park, we're looking at having 500 new jobs at the Belfast Centre within five years, with 2,000 new jobs there inside 10 years. There are a couple of prime prospects already lined up to come out there."
Another development, the 2,200-acre Waterways Township, has begun selling lots and soliciting builders for an estimated 2,000 residences in a development that will feature a golf course within a nine-iron view of the Atlantic Ocean. "In Bryan County, we are fortunate because we don't have a lot of developed lots, as you see in a lot of other communities where the growth stopped all of sudden and they wound up with a lot of developed lots that nobody wanted," says Jimmy Burnsed, chairman of the Bryan County Commission.
"We have estimated we probably have less than a year inventory [of lots]." Burnsed says his county is financing $3 million worth of water and sewer improvements to serve the new middle school and residential and commercial projects now in the works. The funds are part of a loan from the Georgia Environmental Finance Au-thority. "Growth has put pressure on us," Burnsed says. "But right now we've got a little bit of a slowdown in growth, which is helpful even though it's hurtful at the same time."
Global Reach
Anyone trying to put a label on Marty Daniel might try "the accidental entrepreneur," or perhaps "the successful failure," but whatever he is called, Daniel has parlayed a curious mind and affection for a particular gun into a Bryan County business with a global reach.
Daniel is president and CEO of Daniel Defense, a manufacturer of the semi-automatic AR-15 rifle and the fully automatic M-16, weapons familiar to veterans of the Vietnam War and all the generations of soldiers and Marines since. His company sells about 12,000 weapons annually and has grown from one employee in 2001 to more than 90 today.
The Daniel Defense semi-automatic M-4, the company's signature weapon, sells for about $1,500 and fires the .556-caliber NATO round.
Daniel is a born tinkerer and gun lover who flunked out of college twice before finally getting a degree in electrical engineering from Georgia Southern University. He stumbled into weapons manufacturing when he couldn't find a part he needed for a rifle.
"I needed a part for the weapon that nobody made, and I called around for quite some time before I found a manufacturer who would build me a hundred of them, but no less than that," recalls Daniel. "I ended up buying a hundred to get the four I wanted and had to sell the other 96, and I made some money off it." That's when the light bulb went on, and he began selling parts he and a friend designed and produced.
"That part led to another, and that part led to the next, and now we're manufacturing and assembling the complete weapon," Daniel says. The company sells its products to law enforcement and military purchasers, as well as the retail market. It also builds weapons for other gun makers. "We have a sister company, Defense Products, where we not only export our product, but we buy and resell other manufacturers' products," he says. "We're doing a lot in South America and a lot in the U.K., and we have some going to Afghanistan." Sales have been almost continuously rising.
"Based on sales over the past 10 years – and some of those years we tripled in sales – we can project sales growth of 40 percent to 60 percent yearly," Daniel says. "What's fueling our sales is the fact that it is a great weapon; but I think, too, what has driven sales over the years is the political fear of these weapons being banned."
The company has its own research and development team and builds weapons from scratch, turning out barrels and parts on high-tech machinery and continuously trying to reinvent the gun. "We are constantly taking things apart now to see how things are made and how that applies to what we do," Daniel says. "What we are building here are guns, but we're also building an organization that can design product, manufacture product and market product. There is always a better mousetrap to be built. We're focused on becoming the best firearm manufacturer in the world, and we'll get there."
Daniel is exploring the possibility of opening a gift shop for the sale of hats, T-shirts, golf shirts and other items bearing the company logo.
Hefty Retail Growth
From 2006 to 2008, retail sales in Bryan County grew by more than $30 million to $240 million, according to a study done by the University of Georgia's Center for Agribusiness and Economic Development. That's hefty growth for a county projected by the U.S. Census Bureau to have a 2010 population of 23,500, although locals believe the final official count will be more than 31,000.
"There are about 13,000 planned and approved rooftops to be built along the Bryan Peninsula in the southwest part of the county," says the Devel-opment Authority's Fenn. "We've got the [16,000] men and women from Fort Stewart's 3rd Infantry Division coming home from overseas, and they're going to be here for a while."
Chris Sheppard is glad to see the growth in permanent residents, but her job also focuses on those who seek to visit the area and enjoy its amenities, especially those offered by the new Richmond Hill City Center. Sheppard, executive director of the Richmond Hill Convention and Visitors Bureau, has been marketing the 23,300-square-foot site for weddings, reunions, receptions and corporate meetings. "The city center overlooks the antebellum rice fields, and we have such a variety of natural resources in the coast, the marshes, tidal waters and forests," she says. "And there are not a lot of choices for those who are looking for places to hold smaller meetings and events, even in Savannah, so we're hoping to fill that niche."
The 900 hotel rooms along Rich-mond Hill's exit 87 on I-95, says Sheppard, add up to enough lodging to accommodate travelers and event attendees. With up to 70,000 vehicles a day whizzing by Richmond Hill's I-95 exit, Sheppard is looking for ways to market the tourism assets of her community.
"Our hotel/motel tax collections are up 4 percent on average from 2009, so we've seen a slow but steady increase in monthly occupancy rates," Sheppard says. She believes the occupancy rates will improve further as the economy emerges from its torpor.
To see that they do, Sheppard has put billboards along I-16, hoping to entice drivers to stop and stay in the city. "We see Richmond Hill as being on the cusp of huge growth in all areas, with tourism being one of them," she says. "We upgraded our website and went from a year-and-a-half ago having 200 hits a month to over a thousand every month now. And we invested in a mobile website because tourists want information on the fly. So now we have information for them in a form meant to used on their phones."
News from Savannah has Pembroke Mayor Judy Cook thinking about how tourism could put more dollars in her community. "Savannah has been working to get cruise ships to visit the port there," says Cook, whose town is the Bryan County seat of government situated along the I-16 route to Savannah. "And with what we've done downtown, we're ready for that." In the past five years, Pembroke's downtown area has seen almost $1 million spent on improvements such as lighting, landscaping and sidewalks.
Bryan County's growth hotspot is clearly the city of Richmond Hill, charting a 55 percent increase in population from 2000 to 2008, when an estimated 10,500 people lived there. That trend is expected to continue, says the county's school superintendent, John Oliver, who predicts a 5 percent annual increase in the city's population. "In 2000, we had 5,300 kids in the system, and this year we have 7,600 kids," says Oliver.
"Richmond Hill is a bedroom community for people who have moved from Savannah and Chatham County, primarily because of the schools here, and we have growth in the military as well," he says.
To meet the anticipated demands for classroom space, the system is constructing a new $22-million middle school about eight miles from Rich-mond Hill. "That school will be on 100 acres donated by Rayonier to the board of education, Oliver says, and will accommodate 1,600 students in the sixth, seventh and eighth grades. He notes that the Richmond Hill High School graduation rate was about 85 percent this year.
The value of the partnership between Bryan County and its neighbors at Fort Stewart and Hunter Army Airfield was underscored with the late 2010 an-nouncement that Richmond Hill had been selected as the site of an Army Community-based Primary Care Clinic set to open this spring. The facility, called the Richmond Hill Medical Home, is one of 17 clinics across the U.S. designated by the Army to improve access to healthcare facilities by family members of active duty personnel. Thirty-five physicians, nurses and staff will serve the clinic and its patients.
Community Snapshot
Josh Fenn
Executive Director Development Authority of Bryan County
912.653.4967
fjfenn@bryan-county.org
Jimmy Burnsed
Chairman
Bryan County Commission
912.756.4444
ejburnsed@yahoo.com
Harold Fowler
Mayor of Richmond Hill
912.756.3345
hfowler@richmondhill-ga.gov
Population
(2008)
County, 31,173
Pembroke, 2,541 (county seat)
Richmond Hill, 10,571
Per Capita Income
(2007)
County,$33,882
Georgia, $33,499
Unemployment
(September 2010)
County, 8.2 percent
Georgia, 10 percent
Top Employers
Bryan County Board of Education, Bryan County Government, Oracal, Oneida, Daniel Defense
Sources
Development Authority of Bryan County, Georgia Department of Labor, U.S. Census Bureau