Bringing Jobs To Georgia
An update from the economic development pros – what they're doing and what they're hoping for in the 2011 session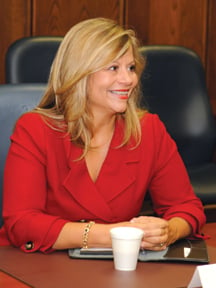 Georgia Trend's Neely Young and Susan Percy traveled to Macon last fall for a roundtable discussion with five of the state's top economic developers, all active with the Georgia Economic Developers Association (GEDA). They talked about bringing jobs to Georgia, changes in their profession, prospects for the coming year – and why they worry about state budget cuts.

Participants were Pat Topping, senior vice president of the Macon Economic Development Commission; Bob White, executive director of the Henry County Development Authority; Becca Hardin, executive vice president of economic development for the Greater Columbus Chamber of Commerce; Angie Gheesling, executive director of the Development Authority of the City of Milledgeville and Baldwin County; and Misti Martin, executive director of the Cherokee Office of Economic Development.

On the following pages are edited highlights of the discussion.
GT: How do you go about marketing Georgia?
HARDIN: If you can get a company to come to Georgia, Georgia sells itself.
TOPPING: We are working with a consultant now who does projects all over the country and he has said that Georgia – the state and local communities – has the best economic development program.
GT: Do you consider yourselves in competition with each other?
HARDIN: We are all Team Georgia. Columbus, Macon, Savannah and Augusta are called Greater Georgia. We pool our financial and human resources and travel around the world marketing Georgia outside of Atlanta. We have a friendly rivalry. Our products have diversified so much that a lot of times we find we don't compete head to head with Macon anymore; we are competing with Singapore on an international level.
TOPPING: Companies don't look at county lines. They are looking at an area. Of the 100,000 people who work in Bibb County, 30,000 of them come from somewhere else every morning. When we sell the area for workforce, we sell the region.
MARTIN: All of us work well regionally because we all know that we have to, to be productive and to be successful.
GT: Misti, your community has a joint water project with Cobb County. How does it affect your economic development?
MARTIN: When Cecil Pruett was Mayor of Canton, they started working on a joint project between the Canton and Cobb-Marietta Water Authority. So in The Bluffs, our public-private partnership with Technology Park/Atlanta, there is a new reservoir that is at full pool. I believe that it's 75 percent paid for out of the Cobb-Marietta authority and the rest from the City of Canton; but they joined together and, of course, the physical reservoir is in the city limits of Canton. We are using that as a recruitment tool.
GT: What else is going on around the state? Are you seeing things pick up?
WHITE: For more than a decade Henry was one of the fastest-growing counties in the country, and then we hit the wall. The economic slowdown had a tremendous impact on a community so driven by development. But we took advantage of the downtime to start looking internally at what we wanted to be when we came out of the other end of the tunnel. We focused on two things: education and workforce issues.
MARTIN: We just purchased 60 acres down in southwest Cherokee on I-75. It is our one exit on I-75, where Bartow and Cherokee and Cobb all come together. That is one of the newest Opportunity Zones for the state and it runs along Highway 92. Majestic Realty has a new development called the Cherokee Commerce Center. We have been partnering with them to promote their speculative buildings. We purchased 60 acres we are redeveloping. We saw a window of opportunity to purchase this property that probably would have been very high-density residential otherwise.
GT: What's your biggest challenge?
MARTIN: We have over 70 percent of our workforce that goes out of the county to work everyday. A lot of those people moved to Cherokee for quality schools, quality of life, more house per money, lowest taxes in Metro Atlanta. We need to have more white-collar businesses in the community. That is part of our focus right now, to try to match the business with our residents.
TOPPING: In the past, we have been reactive. When the state brought us a project we got all the community together and addressed it. But [more recently] we have been able to generate projects. About 40 percent of our projects are generated from our own efforts. We have been averaging about 57 projects a year for the last nine years. In 2008 and 2009, they were right at 55 to 56 projects. But in the last twelve months we have had eight projects that we have located, eleven that we lost. The first part of 2009, nobody was making any decisions.
HARDIN: It is like they turned the spigot off.
TOPPING: We certainly haven't turned the corner, but things are picking up.
GT: What industries is Macon focusing on?
TOPPING: In 2001 [we] identified warehouse distribution, aerospace – because of that big employer down the street [Robins AFB], and then shared services with back office and call centers. That was based on what industries were active, what we had to offer and what other companies were here in the area. In 2006, we added automotive. We think we might be a good supplier location. We added food processing because we have abundant water and sewer treatment capacity. We added advanced manufacturing because man-ufacturing is still the biggest numbers in projects that we see.
HARDIN: We are very blessed in west central Georgia. A lot of it has to do with what is going on in KIA and the city of West Point to the north of us . . . all the growth of Fort Benning. The Armor School is already moving to Fort Benning to create a Maneuver Center of Excellence. That will be set up and functioning by September of 2011. Last year [2009] when the economy was horrible, we were able to announce the NCR manufacturing project, which was actually bringing manufacturing jobs back to the U.S. that had been moved offshore. It was just a combination of a lot of things that were happening in our area – a perfect storm. Activity to the north, to the south, and then some growth projects we brought in – Nash Finch, a large warehouse distribution company that services commissaries.
GT: And this year?
HARDIN: We are seeing [that] the NCR project put us on the national map. We still get projects from the state of Georgia, but we are probably working more of our own leads than ever before. We have never seen the volume or the diversity of projects: call center activity, manufacturing, food processing; it's really across the board. None of it right now is defense-related. We do anticipate we are going to be working with a lot of defense industries projects as the Maneuver Center gets completed.
MARTIN: We have always talked about how important diversifying our economic base is in all of our communities, but don't you think that is more important now than ever?
HARDIN: That's the key strategy up around the West Point/Harris County area that we cover because everything is so focused on KIA and the Tier 1 and Tier 2 supplier network. That is why we helped them develop a park up there. If you put all your eggs in the automotive basket – we have seen how that industry can fluctuate.
GHEESLING: You talk about a community with eggs in one basket. We have been this huge state government employer [location], from corrections to mental health to our university and colleges. We had five prisons, and we now have one.
GT: The loss of state jobs has hit you especially hard. Then the closing of the Rheem Manufacturing plant in 2009 represented well over 1,000 jobs lost.
GHEESLING: For 50 years everybody has been accustomed to driving to Baldwin County for jobs. Now we have one of the highest unemployment rates in the state. The good news is all the existing industries that we are left with are all doing very well. You can count them on two hands, but they are all doing well and one is about to expand.
GT: How many people did Milledgeville's state hospital employ?
GHEESLING: It has fluctuated, but in recent years about 2,000.
GT: What would you like to see from the state? Are there areas where you are looking for some help?
HARDIN: In the Valley Partnership, because we are a regional effort, we have received over $16 million in One-Georgia Authority Funds [created from tobacco settlement monies]. For the past several years they [state legislature] have not funded the OneGeorgia Fund. We have been working off reserves. Local communities are being asked to come up with more and more creativity and discretionary funding to support what the state can put on the table. From our community standpoint, we've got to continue to fund the REBA and OneGeorgia.
GT: What is REBA?
HARDIN: Regional Economic Business Assistance. REBA and OneGeorgia are critical for us.
TOPPING: They are deal-closing funds that are brought in when it is down to a community in Georgia and a community in another state.

Both OneGeorgia, which is targeted for Tier 1 and Tier 2 [rural] counties, and REBA have a dedicated revenue source that comes from tobacco settlement money. That money was going into OneGeorgia Authority and being used for a variety of programs. But for the last couple of years, because of the budget situation, they returned that money to the general fund. So OneGeorgia Authority has been operating out of reserves.
GT: Give us an example of how these funds might be used.
TOPPING: The Kumho Tire project. Kumho started out with a Southeastern search and narrowed it down at the very end to Macon and a community in Alabama. That is when the company got even more aggressive with [asking for] the incentives. You had to get specific on land, infrastructure improvements, and, of course, the tax abatements and everything. [Kumho selected Macon, but has delayed its plans due to the economy.]
MARTIN: Site preparation is a lot of what these grants are used for.
TOPPING: That is what the state did with OneGeorgia. They put in money to the community for the site. We didn't own the site. We had to buy the site, transfer it to the company. The community put money in to cure the site, to do the grading. We had our water authority do infrastructure improvements. That allowed us to offer a develop-ready site to the company. That was to compete with Alabama. But without that, we wouldn't have even been at that stage.
HARDIN: You don't sell land anymore. We own land as a development authority. That just gets you in the game. You have to be able to give land away. And then by working with the state and the local governments, you have to have it pad ready. The minimum expectation in the game now is so high that to even get to the table to start your negotiations you have to have [a lot of] things in your arsenal. Without that deal-making money, you can't close deals.
TOPPING: We have to continue to fund both both OneGeorgia and REBA. With a fewer number of projects you have to fight harder. You have to put more money in marketing.
GT: What about incentives?
TOPPING: We think the state has a good incentive package; we just need to tweak it in little ways. The job tax credit – a lot of companies don't look on that as a real benefit because it goes towards their state income tax, their corporate income tax. In the early stages there might not be any corporate tax. But in Tier 1 communities and in less developed census tracts you can take the job tax credit, and once you apply it to your state income tax then you can apply it to your state payroll withholding tax. That is a definite incentive.
WHITE: The biggest challenge we have had in the budget is the state has had to cut across the [board]. Much of the state depends on the Department of Economic Development for leads. They have cut marketing dollars. They have cut staffing dollars and outreach. The Department of Economic Development and all the state entities that deal with economic development are profit centers. You are actually generating a huge return on investment for those dollars you are bringing in. This is the piece of government that brings in the investment and income. It brings in jobs.
GHEESLING: What we find ourselves on the local level having to do is to defend the things that we already have that work. How frustrating, last year, to be at the end of the session, trying to defend that the Department of Economic Development has to keep the regional program.
GT: Georgia sometimes gets criticized for not offering as many incentives as other states, especially North Carolina.
WHITE: Part of the challenge for Georgia is our constitution. It includes what is called a gratuities clause, which excludes you from getting public money directly to a private entity. That is why some of these incentive programs have to go through a development authority. Then there is an additional layer of bureaucracy to be able to deliver those kinds of things. Georgia was late to the dance. The only statewide incentive we had for a long time was Georgia QuickStart – which is significant.
TOPPING: We just lost a big project to North Carolina, so I can speak from recent experience. In this particular case, the state and the community [in North Carolina] came to the table with maximum incentives almost from the very beginning.
GHEESLING: Time is money.
GT: There is a strong anti-government movement right now, with some people convinced all government spend-ing is wasteful. How do you show legislators that some of these [economic development] programs bring money to the state?
WHITE: Educating. We are hearing there are so many of our legislators who don't understand economic development. That will come back to haunt them in budget time. Then we are there at the last minute trying to hold on to funding, and that is not a strategic way of going after it. It is educating. It's communicating.
TOPPING: We at GEDA have not done a good job of telling our economic development story in the past. You hear about tax abatements [for new industry], you assume that is something the state gave up when in reality you're gaining something you might not have had.
WHITE: Fifty percent of something is better than 100 percent of nothing.
GT: Tell us about the Georgia Economic Developers Association.
TOPPING: We have been in business almost 50 years now; 2013 will be our 50th anniversary. We have about 700 members – local practitioners and statewide developers from the Depart-ment of Economic Development, Georgia Power, the EMC cities, all the other utilities that are involved in economic development. And a lot of associates: developers, architects, engineers, service providers. The primary focus of our group is networking, professional de-velopment, and public policy.
GT: Your jobs have changed a lot, but the public perception may be lagging behind.
TOPPING: It's a lot more involved. It used to be you could have a piece of land that you thought you might be able to buy. That was an industrial park. But now our job as economic developers is to reduce the risk of companies making location decisions. That means we have to have a park that is zoned, that has determined ownership. It has to have utilities in it. Then you have to have the workforce. There are a lot of pieces that make up that puzzle.