The Immigration Dilemma
Georgia is home to an estimated 480,000 undocumented immigrants who are central to a contentious political and cultural debate.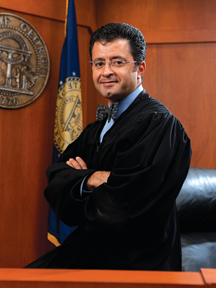 Gabriela Ramos isn't her real name.
She's self-employed, cleans houses for a living, speaks English well enough to work as a cashier at the grocery store, but her grammar isn't very good. That isn't a crime. Her only crime is being here in the U.S., and that took two tries and it wasn't really her choice to begin with.
She's afraid of the police, of being taken from her children. She says it's not as pretty in Northeast Georgia as it was 10 years ago. She doesn't mean the scenery.
These days, when she goes to the McDonald's in her small Georgia mountain town, she feels everyone's eyes. They feel heavy. Any minute, she expects, the kid behind the counter is going to say, "Would you like fries with that, and do you have your papers?"
"It feels very strange, the way people look at me now. It didn't always feel like this," she says through a translator. "I think it's the economy."
It's the economy. It's people's pain and fear and politicians leveraging those things to win votes. It's the controversial new Arizona law, and other states proposing new, tougher laws. And it's broken federal laws, which can be as complex as the immigrant issue itself.
Georgia is home to almost a million immigrants (ninth in the nation). An estimated 480,000 of them are unauthorized – they are here illegally (making the state sixth in the nation in this category). This segment of the population is central to a contentious political and cultural debate in Georgia and across the country.
"We have a broken immigration system," says DeKalb County State Court Judge Tony DelCampo, who was 10 in 1979 when he moved to Atlanta from Lima, Peru. "But right now I don't believe there is a rational discussion about immigration. It's mostly knee-jerk reaction, people saying 'Kick 'em all out, they're the invaders.'
"I don't believe that's helpful to an honest dialogue on the complex issue of immigration."
Some people blame undocumented immigrants for overburdening tax-supported programs, like public education, healthcare, welfare and law enforcement, and for taking jobs (6.3 percent of Georgia's workforce is undocumented, as are up to 50 percent of the workers in agriculture, the state's largest industry) – a message that plays well in a time of high unemployment and recession.
Others cite the tremendous economic impact undocumented immigrants have in Georgia. According to the Immigration Policy Center in Washing-ton, D.C., if all unauthorized immigrants were removed from Georgia it would cost more than $21 billion in economic activity, $9.5 billion in gross state product, and about 132,000 jobs – many of which would probably go unfilled without immigrant labor.
"Undocumented workers, particularly Latino people, saved the poultry processing industry in this state, saved the carpet industry in Dalton, saved the dairy industry, construction, agriculture," says Tex McIver, a partner at labor/employment law firm Fisher & Phillips and also a board member of the Georgia Chamber of Commerce. "They've substantially supported the economic growth of this state."
McIver has represented companies in the carpet and poultry industries. And though he's never been accused of pro-immigration leanings – a member of the State Election Board, he voted to adopt a new rule requiring documented proof of U.S. citizenship for anyone registering to vote in Georgia – McIver says he's a realist.
"If we could somehow pull a switch and all of the undocumented immigrants went back to where they came from, who will eviscerate those chickens? We were losing poultry jobs to Arkansas and other places because we couldn't find local people to do the work," McIver says.
"Purging these people is not the answer."
Olympic Spirit
The number of illegal immigrants in the U.S. dropped from a peak of 12 million in 2007 to about 11.1 million in 2009, according to the Pew Hispanic Center. The recession (and the resulting job losses), plus tougher enforcement at the Southwest border and elsewhere are suspected causes for the reduction.
Latin Americans make up the majority of undocumented immigrants. According to the Pew Center, Mexicans account for about 60 percent of the unauthorized immigrant population in the U.S.
The 1990s saw a massive surge of unauthorized workers as thousands of immigrants from Mexico (and other Latin American countries, but especially Mexico) came to Georgia in the run-up to the 1996 Olympics.
Many left because Mexico was in the throes of a financial crisis. Many others were virtually invited by the Immigration and Naturalization Service or INS (now Immigration and Customs Enforcement or ICE), which basically told the Mexican Consulate in Atlanta, "We'll look the other way for a couple of years, at least until after the Games. It's good PR. And oh, by the way, could you spread the word to your friends that we need construction workers? Lots of 'em."
For years, 400,000 to 500,000 unauthorized immigrants entered the country annually, and many were answering the same sort of social network bulletin that brought construction workers and their families for the Olympics.
"We asked for cheap labor and we got it. That's the bottom line," says State Rep. Pedro Marin (D-Duluth), a business consultant who moved to Georgia from Puerto Rico 15 years ago. "We needed thousands of low-skilled workers to keep the economy moving, and we weren't issuing enough work visas to keep up with the demand."
So, some employers aggressively went after workers.
"You had employers in Georgia going to the border to bring workers back up here," says Alan LaBaron, professor of Latin American history at Kennesaw State University, where he recently hosted the Conference on Immigration in the Southeast: Defining Problems, Finding Solutions.
"As a nation we have utilized these people, squeezed work out of them. We encouraged them. Twelve million people would not be surviving here if they weren't working, and most of these people are here to stay. This is the reality, and hard-line, enforcement-only policies can't change that.
"Sensible reform has to come."
Immigration policy and therefore any meaningful reform is a federal responsibility. It's up to Congress, and Congress has been unwilling to touch it except in a piecemeal fashion. States can't enact comprehensive immigration reform, but local and state law enforcement can and does assist federal agencies (such as Homeland Security) in apprehending criminals who are here illegally.
And most states are dabbling in some form of immigrant legislation. Through June, legislators in 46 states introduced 1,374 bills and resolutions (relating to immigrants and refugees). That's less than 2009, when all 50 states considered more than 1,400 immigrant-related bills and resolutions through the first six months. But this year, more laws have been passed, more resolutions adopted.
The most famous case has been Arizona, which enacted new heavy-handed enforcement laws. Some of the more draconian measures were stripped away by a federal judge before it all went into effect this past summer.
But Arizona and its new law have plenty of admirers around the country. In Georgia, both Governor-elect Nathan Deal and Democratic challenger Roy Barnes were calling for an Arizona-type law in their run for office. This is an old familiar theme for Deal, a Republican who last year proposed ending birthright citizenship (guaranteed by the 14th Amendment of the U.S. Constitution) while serving in the U.S. Congress.
This "get tough on immigration" philosophy has played well for Georgia's political leadership of late. During the recent campaign, State Rep. John Yates (R-Griffin) actually suggested a "shoot to kill" policy for undocumented immigrants crossing the border from Mexico. And four years ago State Sen. Chip Rogers (R-Woodstock), who declined to be interviewed for this story, crafted a tough workplace-related immigration law that Deal says is "one of the nation's most significant state laws dealing with illegal immigration, requiring employers to verify the status of their employees."
With Deal in the governor's mansion, and many legislators already fanning apprehensive flames, expect the immigration issue to be front and center in the next session.
"It's a touchy issue, and it's going to be a very important issue in the next legislative session, a hot topic," promises State Sen. Jeff Mullis (R-Chickamauga), who already was working on an Arizona-type bill when Lt. Gov. Casey Cagle, running for re-election, recruited him to be part of a new committee on immigration reform.
"We're not a border state, so our law would definitely be different," Mullis says. "But we have to step up and enforce the laws that the federal government should be enforcing."
Speaking of enforcement, the Obama administration has deported more illegal immigrants this year than any previous president, more than 400,000. But a ham-fisted, enforcement-only political focus sends the wrong message, says Jerry Gonzalez, executive director of the Georgia Association of Latino Elected Officials (GALEO).
"When you start playing politics with a volatile issue such as immigration, particularly in a state that relies heavily on immigrant labor in its No. 1 industry, agriculture, you're playing with fire," Gonzalez says. "Our politicians are creating a hostile, divisive environment here in Georgia."
Key Ingredients
Enforcement without reform equates to throwing good money after bad, according to Atlanta immigration attorney Charles Kuck.
"We have a group of legislators who think we should build a big bubble around America and stretch Rush Limbaugh over the top," Kuck says. "Look, we wouldn't have 11 million or 12 million people breaking the law if the law wasn't broken, and you can't simply slap enforcement over a broken law. It's going to take political courage to fix this."
In other words, he isn't holding his breath. But Kuck points out what most people on either side of the issue agree on when it comes to listing the ingredients for meaningful immigration re-form: "Better border enforcement, a better legal immigration process, a better temporary worker program – what we have now is a disaster."
Charles Hall totally agrees. The executive director of the Georgia Fruit and Vegetable Growers Association (GFVGA) calls the federal H-2A program (temporary agricultural worker program), "confusing and onerous, difficult and expensive."
Farmers hiring H-2A immigrant labor must first prove that that local workers can't fill the positions. They also must provide housing, transportation to and from the workers' home country, and a livable wage. Under former President George W. Bush, changes were made that lowered the average wage, making H-2A more affordable for growers. But those changes were overturned by the Obama Administration.
Either way, it's always cheaper (if unethical) to pay undocumented workers under the table.
"It's a challenge," Hall says. "If one grower is using undocumented workers, he's putting his neighbor who is trying to do the legal thing with H-2A at a significant disadvantage."
But the loss of cheap, reliable (and often illegal, under current circumstances) agriculture labor could hasten the demise of small farms, says Mario Delgado, an advocate for immigration reform who is also a rural development specialist with the USDA.
"A reduction in the supply of immigrant labor increases the cost of labor, and the small family farmer suffers most, says Delgado, who adds that Georgia, with three times as many farms using hired labor than Arizona, would be particularly hard hit by a mass immigrant exodus.
So another, touchier ingredient for comprehensive immigration reform, says Kuck, is what he calls, "the 900-pound gorilla. We're gonna have to legalize people."
That's been an "over-my-dead-body" sticking point for some, like Georgia's U.S. Rep. Phil Gingrey, who says, "Granting amnesty is the one thing I will never waver on." Gingrey is carrying on where Deal left off in Congress, leading the charge to remove birthright citizenship.
The cost of enforcing a broken law far outweighs the cost of legalizing low-skilled immigrant workers, according to Michele Waslin, senior policy analyst at the Immigration Policy Center.
"An Arizona-type bill would have vast negative implications for Georgia in both economic terms and humanitarian terms as well," Waslin says. "Whereas, comprehensive reform has many benefits. Undocumented workers are paying taxes and consuming and supporting jobs. If we were to magically make them all disappear, we'd see a huge drop in GDP, [and] we would see our economy suffer when all of those taxpayers and workers and consumers leave the U.S."
Undocumented immigrants with fake social security cards (and no way of benefiting) have bolstered the nation's social security trust fund, contributing billions each year ($13 billion in 2007).
The cost of harboring unauthorized people in the U.S. is $113 billion, according to a study by the Federation for American Immigration Reform (FAIR, the group that helped devise Arizona's law).
Yet disparate organizations like the Center for American Progress and the Cato Institute have come to similar conclusions about legalizing the undocumented: Legalization would result in significant boosts in GDP ($1.5 trillion over 10 years according to the Center, and $180 billion a year by 2019 according to the Cato).
Mass deportation, on the other hand, would cost more than $200 billion over five years.
Convivio
School systems often are among the public institutions hardest hit by an influx of undocumented people. Several rural Georgia systems, because of their proximity to certain industries, have been radically changed: Dalton, for example, with its immigrant-supported carpet industry, and Gainesville (the "poultry capital of the world"), where 63 percent of the nearly 7,000 students are from immigrant families.
"We've worked hard to meet the challenges and have had success," says Gainesville City Schools Superintendent Merrianne Dyer. "We're a stronger school system as a result."
Gainesville High School was selected as a National Blue Ribbon School of Excellence, but Dyer is concerned over discussions within Georgia's Board of Regents and the legislature to limit access to college for the children of undocumented immigrants.
"It's heartbreaking from a school's point of view," Dyer says, "because we have to stay above the political debate – the law says if they are here in school, we should educate them. What kind of message do we send if our students make good grades, graduate, and then we slam the door shut? What happens to that lost potential?"
About 30 miles north of Gainesville, in the Fellowship Hall of Nacoochee Presbyterian Church, Gabriela Ramos and six of her friends – most of them don't want to use their real names – have gathered round a table for Convivio, a weekly Bible study group for Hispanic people, facilitated by Dottie Foster, who was born and raised in Guatemala, the daughter of American missionaries.
"Part of being a Christian is being a neighbor to the people who are here," says Foster, who moved to the area about 10 years ago and immediately became a fixture in the community.
"When people learned I spoke Spanish, everybody who needed help with translation started calling me," she says.
The church has an active ministry to Latino people, assisting with material, cultural and emotional needs and providing an English language program.
Sitting across the table from the only non-Spanish speaking person in the room are a Mayan couple from Guatemala – Spanish is their second language, English their third. He works in the poultry industry full time and at a local vineyard during harvest.
Next to Gabriel is Isabella, a witty young mom from Michoacán, Mexico, who came to the U.S. as a 20-year-old newlywed because, "My husband promised me the moon. I can still remember coming across the desert. My legs were full of cactus spines."
Only half of the people who are undocumented came here illegally; the rest came on visas and overstayed. But most of the people at this table had to cross a desert into Arizona.
Gabriela was 12 when she came across. Her mother had died. Her father had abandoned her. But she had a brother in Chicago and an uncle willing to come with her. She remembers a long tunnel, maybe four miles long, with dark and dirty water at her feet. They paid a "coyote" $1,000 each to smuggle them into the U.S. Today it would cost about $3,000, Gabriela says.
They got caught near the border and were sent back to Mexico. Her brother sent more money, and this time Gabriela, her uncle and an infant cousin made it. But the coyote was captured and jailed, she says.
Gabriela has spent years and thousands of hard-earned dollars trying to do the legal thing, filling out all of the paperwork in the hope of getting some peace of mind and residency. The immigration agency – "La Migra" – lost her paperwork at one point, and she had to pay all over again.
Once ICE determines all of her paperwork is in order, she'll have to go back to Mexico and try to prove "extreme circumstances" to the Am-erican consulate there in order to move quickly back to Northeast Georgia. Foster says that if Gabriela can't prove that four children qualify as "extreme circumstances," she'll probably have a 10-year wait to get the proper visa.
"People who are rich in Mexico, people who have lots of money, don't come here," Gabriela says. "The people who come here do it for a better life."
She's on the grid, but insists that I do not use her real name. There have been times in the 20 years she's been in the U.S. that she wanted to die and forget everything.
"It has never been easy for me. It was hard to live in the U.S.," Gabriela says, using past tense, as if she's already in Mexico at the back of the line.