Ready To Roll
Cordele's new intermodal facility is a boon to Georgia's ports and logistics industry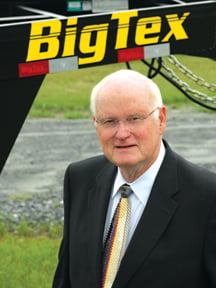 A lot of cargo moves in and out of Georgia's deepwater ports in Savannah and Bruns-wick, which means a lot of cargo containers need to get to and from the ports quickly via train or truck. When a planned deepening of the Savannah harbor is completed – perhaps as early as 2015 – that will mean more cargo.
The logistical task will become easier, now that thousands of containers can be diverted to Crisp County's Cordele Intermodal Services Inc., a new rail-truck station that could expand into an 800-acre inland port.
"It's taken a while but we now have a full-blown intermodal terminal that can handle dual containers in Cordele, where the transient point will take place, and we expect to become an intermodal hub," says Cordele Intermodal Services Inc. President and Chief Commercial Officer Jonathan Lafevers.
Lafevers' family ran the Heart of Georgia Railroad, which connects Cordele through other rail properties to Savannah and has always been used for importing and exporting cargo for local companies.
Now, as Cordele Intermodal Services Inc., it can do much more.
The transformation began seven years ago and had a model to learn from – Front Royal, Va., home to Virginia Inland Port.
"Front Royal was very similar to our community when VIP opened 20 years ago," says Crisp County Development Authority Director Bruce Drennan, "and in the last 20 years, VIP has added 15,000 jobs and $1.5 billion in payroll to the area."
An "inland port," like a railroad switchyard, takes up a lot of space and requires a lot of people and equipment to transfer cargo from rail to truck, or truck to rail. The idea is to ship as much cargo by rail as possible, since it is cheaper and cleaner for companies to do so. But it also means extending the seaports' ability to capture traffic from competitors. Suddenly Cordele is a player in the Georgia Ports Authority's (GPA) future.
A combination rail terminal and truck-loading facility, this intermodal hub will diffuse truck traffic in Savannah and Brunswick by allowing shippers to transfer cargo inland by train to Cordele – the more trucks can pick up in Cordele, the less will be backed up outside the Ports of Savannah and Brunswick. It will also help truck traffic elsewhere in the state – like Atlanta, where truck-heavy traffic often slows to a crawl during rush hour.
Local Support
Yet despite the statewide benefits, the overwhelming majority of the funding for this project came from local Special Local Option Sales Tax (SPLOST) revenues. This can-do community funded construction of the $8.6-million inland port on its own – unlike smaller inland ports in Bainbridge and Columbus, which are owned by GPA. Still, the state buy-in was essential.
The cash-strapped Georgia Department of Transportation (GDOT) signed onto the project in 2008, when the governor created additional funding for freight projects, pledging to help improve the Heart of Georgia rail line as part of a multifaceted effort, with additional funding to improve the bottlenecks in Atlanta and Savannah and reduce idling time and other delays.
"We did receive $1.2 million from Georgia Department of Transportation two years ago to fix the bridges over the Ocmulgee and Oconee rivers," says Drennan. "We expect the SPLOST to be renewed. [Voting is in early 2011.] It has received tremendous support. We also hope to benefit from the federal TIGER 2 transportation stimulus program. We understand this round is specifically designated for transportation improvements to port connections. We also have an application into the state for OneGeorgia funding to continue building the port out, and we are discussing a T-SPLOST referendum in 2012.
"We had support from the Georgia Motor Trucking Association and GDOT early on," adds Drennan, "because trucks currently sit idling for three to five hours waiting for access in and out of the port. They're not getting paid to idle. In the next few years the Port of Savannah expects to be moving hundreds of thousands more containers a year, a large contingent of which will be refrigerated, which means trucks can't shut off while idling. We'll be taking about a hundred thousand trucks off the road a year."
There is also a green side to this, Drennan notes, "as train freight causes a lot less pollution than truck freight." Another plus: Railroad tracks are cheaper to maintain than highways.
The Georgia Ports Authority also became an inland port supporter early, and no wonder: A feasibility study by Georgia Tech concluded that such a port in Cordele could divert 90,000 containers from ports in Mobile, New Orleans and Houston to Savannah, by serving a 350-mile destination radius.
"Most of those containers are moved by truck from those ports and not rail, so using our inland port in combination with the Port of Savannah will be more cost effective for companies," says Drennan.
He believes the Cordele inland port will become a magnet for manufacturing companies as well as the distribution and warehousing sector.
"Our biggest industry is manufacturing. Marvair, which manufactures commercial and residential air conditioning and HVAC systems, and Norbord, which makes OSB-oriented strand board – a plywood-type product used in the building industry – already ship and receive containers overseas using our rail line. In Marvair's case, some 25 percent of their product is exported in containers. Cotton and pecans are also big exports from our region. So we anticipate in the first three to five years to bring 3,000 to 5,000 jobs to our 15-county region, based solely on our own local importers and exporters.
"We didn't realize how many Geor-gia companies in our region exported until we started talking to communities about it," Drennan adds. "For example, Chickasha of Georgia in Tifton ships some 3,000 to 5,000 containers of cottonseed oil a year."
More Warehousing
In the long term, Brennan expects to pick up more warehousing and distribution companies. "Big-box companies move a lot of containers, so this would be a natural for them," he says. "We are also hearing from a lot of OEM-type companies that manufacture or distribute auto parts to Kia in Columbus or Volkswagen in Chattanooga; they could also access Hyundai in Alabama. We're in a good spot to serve, because of I-75 and three different rail lines [Heart of Georgia, CSX and Norfolk Southern]. The rail system is the reason Cordele was founded in late 1800s, and why we were chosen for an inland port over Tifton or Valdosta."
For Jonathan Lafevers, whose family now leases Heart of Georgia from the state, which owns it, Cordele Intermodal Services has been a long time coming. "My dad, Brad, and his business partner, Duane Broxterman, hatched the idea seven years ago as a way of growing traffic on the rail line," he says.
The inland port will start slow, using existing clients, but first-year estimates of moving 4,000 containers are conservative, says Lafevers. "It could be much more – that estimate is made up of three customers in the Cordele area that we've been talking to for years, who have helped us mold and shape what businesses needed from the shipping perspective. When we opened, we had to make sure we met the needs of these shippers."
The main driver, says Lafevers, is Union Compress, a cotton consolidator based in Cordele. "We see the export commodity aspects multiplying in cotton. There are also several in pecans, which are very exportable, as well as kaolin and clay. Existing customers on Heart of Georgia include CE Minerals and Marvair."
Lafevers expects business to pick up – from the ports of Savannah and Brunswick and exporting Georgia companies – as GDOT finishes its upgrades.
"We are fortunate that GDOT set the money aside a year and a half ago to get the bridges in better shape. Besides the rail aspect, however, the inland port is also helping put us on the GDOT statewide map as they complete their statewide freight study, which now includes inland ports in a strategy to positively affect Georgia's transportation infrastructure. That's good not only for Crisp County but for the state as a whole."
Locals were hoping for a $32-million federal grant to help build out the port, but Georgia was snubbed altogether in the last round of transportation funding. Still leaders are confident that the first 200 acres of development will be completed in time for new cargo to start rolling into Savan-nah when the harbor deepening is completed.
"Funding has been secured for the first phase," says Lafevers. "As for the second phase, we have the land under option, and we hope to grow into it. The only hurdles left are finishing the track and bridge upgrades, which is an ongoing project. The ball's in our court now. As far as the second phase is concerned, in a perfect world, it should come on in maybe two or three years. But with the first phase, we can handle quite a bit of traffic comfortably, as many as 20,000 containers a year, which should be more than adequate for quite a while."
Both Drennan and Lafevers note that all the estimates are on the conservative side. "We hope that word of mouth will spread – rail is so much more competitive and should beat the truck rate every time. So as we start small and grow with our customers, we can build out to where regardless of the size and scope of cargo traffic, we can provide for it," says Lafevers.
"We're another rail artery to the port that can move cargo in and out without adding trucks to the equation – we can help the ports grow and help them make the transition to larger cargo on the east coast."