Rome/Floyd County: An Early Harvest
Expansions, new businesses and a charter school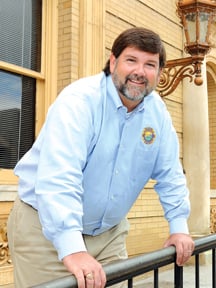 They're calling it Rome's summer of 42 million – that's dollars of new business expansions that have unfolded in recent months.
"That's a pretty good investment in this economy during a recession summer," declares Heather Seckman, director of economic development with the Greater Rome Chamber of Commerce.
The $42 million includes two expansions by existing companies along with two major announcements of new firms moving to town. Taken together they add up to an impressive figure – good news for a northwest Georgia community that's seen its share of company closings and high unemployment.
While there have been other expansions and announcements this year, these developments coming so close together just seem to fit nicely into Rome's narrative of a city that's trying to stay one step ahead of the Great Recession – and in some ways succeeding.
The biggest news was the announcement from Finnish company FP-Pigments that it would invest $20 million setting up its first U.S. manufacturing plant in the old Crews Chemical facility. The company makes a wide variety of specialty pigments used in paints, coatings, paper, plastics and printing inks.
California-based tax software firm Petz Enterprises also confirmed plans to locate a southeastern regional office here.
Newcomers are always welcome, but, "We always get the most excited about existing industries expanding," says Seckman. "That tells us they have a good workforce. We work closely with the school system to make sure when these kids are either coming out of high school or going into college and graduating and coming back that they are skilled workers for these companies."
This faith in hometown workers, along with quickening sales, encouraged Southeastern Mills and Syntec Industries to finally take the plunge.
Almost $15 million will go into an expansion at Southeastern, the fourth largest maker of batters, breading and breadcrumbs in the U.S. and the nation's third largest gravy maker. The company expects to add at least 25 new employees.
Syntec revealed plans for a $7.5-million expansion that will create 30 new jobs when it is complete in the first half of 2011. The company makes a variety of carpet products for boats, recreational vehicles and manufactured housing along with a line of other fabrics, mats and marine adhesives.
Development officials see a close relationship between these expansions and the community's ability to attract new companies to Floyd County.
"The most effective way to recruit new is to fully support the existing," says Greater Rome Chamber of Commerce President and CEO Al Hodge. "So it's not some accident that other companies have all decided to reinvest here and employ more folks here. When we do infrastructure improvements, it's for these existing companies."
Workforce Education
A big part of that support is the heavy emphasis on training and educating the local workforce. Floyd is a "Work Ready" certified community, which means that a large percentage of not just students but citizens from every sector have been tested and have demonstrated their skills. For local officials it's almost like a certification of workforce competence.
A good example of this emphasis can be found in the new Floyd County College & Career Academy. A joint project of the county school system, Georgia Northwestern Technical College and Georgia Highlands College, it is a charter school in a charter school system, a rare combination that allows for flexibility in programs and curriculum.
Its programs in engineering and medical technology were crafted after consultation with local businesses. The result is that students graduating from these programs are often headed into jobs using the same equipment they trained on while in the classroom, according to chamber officials.
"The genesis of the College & Career Academy was employers sitting around this boardroom table with educators describing what they needed for that next-generation workforce," says Hodge. "And the employers took the time – plant managers, human resources [managers] and engineers – to describe what they were looking for. The educators listened, and when it came time for the development of the curriculum they came back and asked, 'Is this what you're looking for?' There were modifications and then the answer was 'yes.'"
Educators asked the same questions when it came time for equipping the school. They asked engineers about the specific equipment that would be needed now and what the next types of advanced robotics might be needed for future workers, adds Hodge.
Since opening its doors, the academy has enrolled more than 950 students in one of the multiple career tracks – ranging from healthcare science and education to metalworking and Cisco Networking.
Locals are also being challenged to take on tough courses that can pay big dividends in the economic development arena. Courses in physics are now standard fare to encourage students to make the most of their time in high school.
"Part of it is the keen interest to have our students ready for the next-generation workforce for those employers who are going to be in our medical facilities, and leveraging that as well as our technology-based employers," explains Hodge.
Education is clearly big business in Rome and Floyd County. The four local colleges – private colleges Berry and Shorter, now a university, plus Georgia Highlands and Georgia Northwestern Technical College – have all recorded jumps in enrollment. When classes gear up each fall, the local population jumps by more than 3,000 in a city of about 36,000.
While local construction projects have lagged in the recession, education has kept workers busy. Berry College, for example, has spent $55 million on dining hall expansion and construction of two new dorms for students. Both are LEED certified for energy efficiency by the U.S. Green Building Council.
Darlington School, a private boarding school, recently completed a $21-million Silver LEED-certified building on its campus.
Another major building project in-volved a new $24-million campus for century-old Model High School. Con-struction costs were paid through a Special Purpose Local Option Sales Tax (SPLOST).
Slow And Steady
Nonetheless, tax collections have mirrored the slow economy. The county experienced a 2 percent drop in its tax digest. While small compared to declines in other counties, it was the first that Floyd had experienced in "just about forever," says Floyd County Manager Kevin Poe.
Estimated revenue was about $3.6 million less than projected when the 2006 special purpose tax collection ended last summer. Local officials see even this drop as positive.
"We've been slow and steady here in Floyd County," Poe says. "Here you don't have the upside of some of these high-growth areas, but you don't get the downside either."
The city has also seen revenue declines. Sales tax collections went down 1.8 percent, "but that's still a significant change from years past when we could almost always count on a 2 or 3 percent increase," says City Manager John Bennett. In fact, revenue collections have shrunk to levels not seen in several years.
"We're trying to operate our 2010 general fund government on 2005 revenues," explains Bennett. "We've reduced workforce by close to 10 percent and we've spent a little more than we took in from the general fund, but not by much. 2009 was the worst, but I don't think that will happen this year."
Reductions in workforce have come mostly with retirement or natural attrition. Even with a smaller budget, the city is still handling the day-to-day tasks of garbage collection, policing and fire protection, he adds. The impact has been felt most in capital projects such as purchasing equipment.
"It's reduced our purchases of capital equipment to some degree, and that will eventually catch up with you, too," Bennett says. "The older the equipment, the more maintenance. We've tried not to totally eliminate buying equipment such as police cars."
City officials have cut nearly $1 million from the cost of completed projects in the 2006 SPLOST.
The decline won't stop two of the biggest projects included in the tax package. These included a $26-million emergency communications system for public safety and the $12-million Armuchee Connector that will bridge the Oos-tanaula River and link Braves Boulevard with U.S. 27 at Old School Road, north of Mount Berry Square mall.
"A lot of the growth in our community has been in the north of the county," says Poe. "We have one main highway going up into the Armuchee community – Highway 27. If we had an accident on that stretch of roadway, there's no alternative for getting into the city."
The connector will also be the site of a proposed $13-million Tennis Center of Georgia. Berry College is donating 30 acres north of Mount Berry Square mall and will help operate the facility with student internships.
One industry sector that has shown no signs of slowing down has been the county's burgeoning medical community. The city has two hospitals – private Redmond Regional Medical Center and public Floyd County Medical Center. The city is also home to the state's largest physician-owned practice – the Harbin Clinic.
The 140-physician practice is in the midst of building a state-of-the-art cancer center right behind Floyd Medical near downtown. The three-story Harbin Clinic Cancer Center building will combine local cancer services into one central location and cost nearly $15 million.
You can find doctors in abundance here, so it's not surprising that Rome is a prime location for training new physicians. The University System of Georgia Board of Regents recently allocated $700,000 of the $1.7 million needed to establish a clinical Medical College of Georgia campus here. The move is part of the state's effort to increase the state's enrollment of future doctors from 745 to 1,200 by 2020. A group of third- and fourth-year students will be working with practicing physicians.
Revitalized Downtown
Over the past decade, Rome officials have worked hard to build a thriving downtown area. Drive down Broad Street and you will probably agree that they seem to have been largely successful. True, a few longtime businesses such as the Music Room have quietly slipped away, but this section of Rome, bordered on three sides by water, is prospering and growing even in the downturn.
"We really haven't experienced it," says Ann Arnold, director of the Downtown Development Authority. "To date we have a net gain in business and jobs for the year, and right now we have 30 new strong business prospects that we're working with."
The recently completed "town green" has become a gathering place and a magnet for pedestrian traffic.
"It's added a lot to the ambience of the Forum [an event complex], being able to experience that green area as you're going in for an event as opposed to the previous asphalt parking lot," Arnold says. "It's certainly more welcoming and more inviting."
The open parking lot has also been replaced with a 377-space deck that has made it easier to find a spot on visits to this urban center. While local businesses were a bit reluctant to lease spaces in the deck for their employees, the increased traffic has prompted many of them to take the plunge.
The DDA has also facilitated growth by channeling $5 million in low-interest loans into a variety of local projects. These funds have produced a return on investment of more than $21 million, according to Arnold.
These downtown developments in-clude a new hotel, Hawthorne Suites, and the renovation of several older buildings for new use as apartments. Having full-time residents in the area has helped foster an active nightlife that had not existed before the approximately 150 residential units came online.
"The great thing about that residential element is that they're here 24/7," she explains. "They're also a built-in customer base for the goods and services."
Among the developments is the new 18-unit West Lofts on Broad. The building was almost to the point of being torn down before the developer stepped in and got work going. Forest Place was an old hotel that has also been converted into one- and two-bedroom apartments.
Things are also looking up in South Rome as well. This 2.2-mile area is home to the most disadvantaged 10 percent of the city's population, but now is about to get a new infusion of affordable housing.
Work is now under way on a 77-unit development for seniors called Etowah Terrace. Costing $10.5 million, the housing is being built in partnership with Mercy Housing right along the Etowah River just a block from downtown.
A new elementary school is also projected near the new South Rome Unit of the Boys & Girls Clubs of Northeast Georgia. The club is also the location for the area's community garden, which is supplying fresh vegetables to needy residents.
South Rome leaders hope the area can emulate the success of the East Lake community in Atlanta. That area, once plagued by crime and poverty, was extensively redeveloped through efforts by the Cousins Family Foundation, according to the former South Rome Redevelopment Corporation's Director Karen Moore, who retired Oct. 1. Today, it is a thriving and energized neighborhood.
For now, Rome is happy with how the future appears on the horizon, with business expansions, a vibrant downtown, and a new regional tennis center in the making.
Community Snapshot
Local Leaders
Al Hodge
President & CEO
Greater Rome Chamber of Commerce
706.291.7663, ext. 304
ahodge@romega.com
John Bennett
Rome City Manager
706.238.4402
jbennett@romega.us
Kevin Poe
Floyd County Manager
706.291.5111
Population
(2009)
County, 96,250
Rome 36,031
Per Capita Income
(2006)
$28,233
Unemployment
(July 2010)
County, 10.6 percent
Georgia 9.9 percent
Top Employers
Floyd Medical Center, Floyd County Schools, Harbin Clinic, Redmond Regional Medical Center, Floyd County, City of Rome, Kellogg Co., Syntec Industries
Sources
Greater Rome Chamber of Commerce, Georgia Dept. of Labor, U.S. Census Bureau