Changing The Color Of Business
Green practices and sustainability initiatives enhance the bottom line.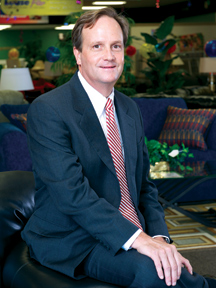 Green is good, Georgia companies are discovering, for both the planet and the balance sheet. A green business can be one that is based on selling green products and services or one that adopts green practices and procedures in more traditional undertakings. Both categories help the world and the budget. When biomass – the magic, earth-grown ethanol resource that is slowly helping to replace fossil fuels, is ready for easy production, Georgia could lead the world. Foreign companies are already lining up for a place at the table, and sustainable ideas are taking root across a broad spectrum of local sectors that are discovering alternative solutions.
Corporate responsibility now requires sustainability on multiple levels, as even the most minute details of a company's operations come under "green scrutiny" in the interest of community relations, employee morale, good stewardship and, more often than not, profitability.
Coca-Cola CEO Muhtar Kent, for instance, has made sustainability a priority for the soft drink giant's operations in Africa and China; the initiatives that shake out of the $5-million China effort will be large. Cox Enterprises, the state's largest private company, now recycles more than 500 tons a year at its Atlanta headquarters and saves two million gallons of water annually.
From The Forest
Small and large farmers stand to benefit from a biomass crop that can be easily harvested and turned to ethanol or a new technique for extracting ethanol from wood or another crop. It will take more research, but billions are being poured into the effort; corn ethanol, currently easier and cheaper to convert, has potential to disrupt the food chain by taking up too much of the global corn supply. (An increased demand for corn has already driven up feed prices, according to Technology Review).
In Europe, companies are already acting on Georgia's vast potential for biocrops. Biomass pellets created from timber can already be used to replace coal (which like oil emits carbon dioxide when burned). German utility giant RWE has set up Georgia Biomass, LLC in Waycross to begin manufacturing 750 million tons of wood pellets annually and export them back to northern Europe, where they are used for heating. This is the biggest plant of its kind in the world.
"We will be unable to achieve the targets for reducing CO2 emissions in Germany and Europe without biomass," Dr. Leonhard Birnbaum, executive board member of RWE, said in a statement released by the company, "but the European wood market will not be able to satisfy the demand in this fast-growing sector on its own."
Enter Georgia, with 24.4 million acres of forest and the Port of Savannah to ship it back.
While American utilities are holding their cards, RWE has already replaced up to 30 percent of its hard coal with biomass and intends to keep going to 50 percent, reducing carbon emissions on a corresponding level. Science has enabled the use of wood pellets at traditional plants, and RWE, which reaches up to three million homes, anticipates using more and more from Georgia at plants in the Netherlands, United Kingdom, Germany and Italy.
Georgia's biomass saga has not been without hiccups. Range Fuels Inc. recently opened in Soperton at less than half its original capacity after a false start last year reflecting the challenges of the science. It will produce less than a tenth of what it is permitted, but don't overlook the forest for the trees, says Jill Stuckey, director of Georgia's Center of Innovation for Energy, or COI-E.
"Georgia has more forest than any other state in the nation, except Oregon, where you can't use those trees for electricity," she says. And while RWE is the biggest, Georgia has had a total of 34 announced biomass projects, she says, "far ahead of other Southeastern states." (Florida, the next closest state, has 19.)
The biomass potential has also made Georgia a target for other sustainable energy interests, such as Michigan-based ZF Industries, which recently announced it would build a 250,000-square-foot manufacturing fa-cility to make wind turbine blades in Gainesville, hiring 215. "We're such a great location for manufacturing," says Stuckey. "We're seeing a lot of companies wanting to build solar, wind turbine and associated parts – gears, boxes, etc. – in Georgia." In the case of ZF, it is building on an existing auto manufacturing presence with similar technologies.
While Georgia Power is considering conversion of its Plant Mitchell to a biomass facility, it has nonetheless pursued a natural gas project (Plant McDonough in Smyrna pipes in enough natural gas to convert to electricity that it allowed the utility to close a coal plant in Atlanta) as well as nuclear power (the two new reactors planned at Plant Vogtle, near Waynesboro).
The European companies signal a real potential for Georgia companies, if U.S. regulations are established to bring the country into compliance with the Kyoto Protocol (the international treaty to reduce carbon emissions that was adopted in 2005). The U.S. is the only major power absent from the treaty, but with the economy globalizing it may as well ratify.
"There is a lot of interest in Georgia from Europe's major utilities," says Stuckey. "We refer to it as 'mandate-creep,' and it is helping our [alternative energy] businesses. We see not only utilities, but companies based in EU countries – Kyoto countries with mandates – that are enforcing on companies with businesses over here. There are a lot of different ways mandates are creeping. And with our own energy policy, we still don't know what's going to happen."
Science will likely change the game. Stuckey notes that wood pellets are driving the biomass industry now, but in a few years it could be chemicals, as biotech could be used to create plastics or even pharmaceuticals.
"It's a very exciting time, because we're on the verge of a lot of new breakthroughs. Georgia today looks somewhat like Iowa did five years ago, when there were just four or five corn ethanol facilities. Today there are 48. Today there are four or five biomass conversion facilities in Georgia; in five or 10 years, it will be closer to 50. We're on the verge of something big."
Re-thinking, Retooling
Other sectors such as manufacturing are seeing green as they retool and economize. Carpet manufacturer Beaulieu in Dalton found $2 million in annual energy savings from an overhaul in plant systems and is shooting for 25 million gallons a year in water savings. Shaw Carpets' Evergreen Nylon Recyclable project has established a recycling process at an Augusta plant so synthetic fabrics can be reused.
At the Cairo manufacturing facility of furniture sales and rental company Aaron's, Inc., local plant bosses began exploring different recycling options and have now reduced waste by 90 percent annually, representing $250,000 in savings. "It actually shocked us," says Plant General Manager Tommy Harper. "A year ago when we started recycling, we were just guessing at numbers – nowhere near 10 million pounds."
"We have recycled our foam waste as carpet padding for years," says Aaron's President and CEO Robert C. Loudermilk, Jr., "but we've recently seen a rise in the kind of products the recycling market will take. Now we want to charge other factories and our vendors to get on board, go green and keep this out of the landfills."
Aaron's has now rebranded its MacTavish furniture and bedding manufacturing plants as Woodhaven, accompanying a move toward green manufacturing as a result of its success at the Cairo plant. In contrast to "top-down" corporate efforts, the Aaron's transformation was "a gradual thing," says Harper.
It has also been a boon to Georgia recyclers.
"Like most things, we start little and think big. For years, it was just cardboard and foam [recycled]. Everything else to the landfill," Harper says. "So we had a gentleman [at the Norman W. Paschall Co. of Peachtree City] who was an acquaintance of Mr. Loudermilk conduct our first waste audit. He pointed out the different fabrics he would buy for a minimal price, enough to keep us from filling dumpsters – more like a tradeoff or incentive, to keep it from the landfill and avoid the cost of hauling.
"After fabric, we saw we could also recycle plastic stretch wrap with Caraustar of Austell. We thought we'd be fortunate to store it until we can make a thousand-pound bale in 30 days or less; it would have been worth it. Well, it only took two days! After that the bulk was plastic drink bottles, so we are saving those as well in a program with employees, to bring theirs from home, put in with our recycling, and have the return proceeds help them with community projects.
"The whole reason this program has grown is the buy-in from employees," Harper concludes. "They want to do the right thing as long as it doesn't cost time or money."
More Benefits
Some mid-range and smaller "green" companies are benefiting directly from the American Recovery and Reinvest-ment Act. Radiance Solar of Atlanta most recently received $786,000 to build solar components for nonprofits around the state, increasing its influence beyond the metro market and turning new communities on to solar power.
"It's been a fun period," says Ra-diance CEO James Marlow. "We're a young company, but we're finishing our 18th project in two years, and it's been a broad mix of commercial and real estate and stimulus projects. We have an interesting portfolio, everything from Cox Enterprises to law firms downtown and residential projects like [consumer advocate] Clark Howard's house. Now through the nonprofits we will expand into medium-sized commercial projects."
Included in the grant are solar components for Atlanta Community Food Bank, ChrisKids, Upper Etowah River Alliance, and others in conjunction with solar panels from Norcross-based Suniva. Suniva recently collaborated with another solar company, Atlanta's Inman Solar, on the biggest commercial photovoltaic system in the state, ALTA Refrigeration in Peachtree City. "We've reduced our power usage by more than 50 percent and reduced our demand rate by more than 30 percent," ALTA Vice President Terry Childers said in a statement.
Such announcements help make the case for a renewable energy system or a federal requirement that utilities acquire a minimum percentage of electricity from renewable sources. Opponents in Congress have argued that such a standard would discriminate against the Southeast because it has fewer wind resources, and they often say that solar wouldn't work as well in Georgia because of the climate.
Marlow disagrees: "Solar works great in Georgia and is a strong job engine and economic development area," he says. "Georgia has all of the ingredients to create a regional powerhouse for clean tech." In spite of the progress made, "We're currently behind the curve," he adds. "North Carolina has created over 10,500 jobs in renewable energy and energy efficiency."
Georgia's agricultural community is acclimating to green changes as well, working it into traditional practices. At McCorkle Nurseries in Dearing, "Most of our practices have been long-standing," says Andy Rogers, marketing manager. "Drip irrigation is newer, and the use of a plastic liner to reduce irrigation runoff is another newer practice. We try to be prudent and wise, to get by in a drought and increase the return on our investment. We have no reliance on municipal water at all and never have. "
By utilizing well water and retention ponds on the property and developing farms so that any runoff trickles through the ponds back into the irrigation system, McCorkle has been able to capture all their runoff for reuse. "It was partly in advance of and partly in response to the drought over the years," he says. "The last drought was the most significant. Without our retention pond we would have been in trouble."
Rogers sees the agriculture industry as a whole – particularly the container side – becoming more aligned with traditional agronomic crop practices, in terms of in-ground management and chemical applications. "We're dealing with fertilizers and chemicals that are mitigated, but when used above ground in containers and with irrigation water recaptured in plastic liner under bed as opposed to gravel, the chemicals are not seeping into groundwater sources. It's a nice thing we do."
The company also works in conjunction with the state DNR Susatainability Division to coordinate greenhouses with better-managed water. The benefits are two-fold: "A reduced use of the resource, and in some management practices, reduced reliance on growth regulators on some of our crops," says Rogers. "These are chemicals that help manage plants. Now the water cycling impact provides natural plant growth regulation. It's pretty neat to see that you can not only reduce use of a natural resource, but also the need for man-made chemicals – a two for one."
It isn't easy to break out the savings, says Rogers, but they are significant. "If you're not running irrigation lines and you're not buying water, you're saving on your energy costs to run the irrigation line in addition to labor savings. As far as the application of plant growth regulator as well as the cost of the material itself, that is additional savings."
But the savings to the company is secondary to principles, says Rogers. "We know we are a sustainable industry. Plants by themselves are good for nature, clean air and to reduce noise. From that, we know that another sustainable part for our business is our practices in packaging, and it's the biggest challenge in our industry – the plant is good, the pot, not so much. To minimize that challenge through recycling, and through practices to reduce the use of chemicals for pests, diseases and growth regulators, has always been a desire of the company."