2010 Silver Spoon Awards
Belt-tightening and some bright spots, plus our annual list of the state's Top 10 restaurants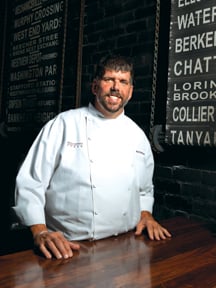 Double-dip, anyone? Didn't think so. What once bought you a double-thick coat of chocolate on your vanilla Tastee-Freez cone now conjures the gaunt specter of another round of belt-tightening. For some restaurants, this year's squeeze felt more like a tourniquet. More casualties have mounted, from Atlanta's Repast and Joël Brasserie, to the continued postponement of the new Pano's at the St. Regis. And just when we started to think the worst was over, the Sea Island Co. declared bankruptcy. With the end of three generations of family leadership for this exclusive coastal enclave, one can only hope the new owners will retain the focus on quality and sophistication at the state's most acclaimed fine dining restaurant, the Georgian Room.
Still, of course, there are bright spots, as a new order of restaurateur manages to thrive even in these hard times. Chief among them are Southern chefs who are bringing their considerable culinary prowess to our indigenous, once-ignored foodways. Miller Union, on Atlanta's fast-developing west side, earned a nod as one of Bon Appetit's 10 best new restaurants in the country. In Decatur, Billy Allin prepares to move Cakes & Ale to a new, larger spot that will also include a bakery.
Athens' award-winning Hugh Ache-son has brought his quirky vision to Empire State South, on a bustling section of Midtown Atlanta's Peachtree Street. In Brunswick, Kate Buchanan, formerly of Cargo, has downscaled her concept to the smaller, friendlier Indigo Coastal Shanty – a name familiar to Atlantans who frequented a similarly named restaurant operated by her mother, Alix Kenagy. Linton and Gina Hopkins of Atlanta's Restaurant Eugene and Holeman & Finch are reportedly planning a market-kitchen-bakery concept, to open in Buckhead this spring.
And happily, although Atlanta lost a true original in the Asian-Southern fusion menu at Repast, chef Joe Truex has stepped in at Watershed, where longtime chef Scott Peacock and his late mentor Edna Lewis pioneered the concept of Southern fine food. Finally, Gary Mennie, formerly of Canoe and Taurus, who more recently made the Georgian Terrace's Livingston a must-visit before or after a show at the Fox, is moving on to Table 1280, the Woodruff Arts Center's restaurant, recently taken on by Tony Conway's catering company, A Legendary Event.
Every one of these moving-and-shaking restaurants revels in fresh, local ingredients, with great-tasting but original inventions often inspired by Southern classics like chicken and dumplings, smokehouse meats and good whiskey. You could almost imagine the state's dining scene as one of S&W's recently reopened grand Art Deco cafeterias, like those in Asheville, N.C., and Knoxville, Tenn. (Atlanta's downtown location was, of course, torn down.) The crystal chandeliers and worn Italian marble stairs recall a time when Southerners thought their meat-and-threes deserved such shrines. Now, it seems, the shrine won't be the setting, but the food itself. Maybe that's real progress.
On the following pages, see Georgia Trend's Top 10 dining selections, listed in no particular order.
Georgia's Top 10 Dining Destinations
Georgian Room
At presstime, it's business as usual at Sea Island, where its toniest restaurant continues serving chef Daniel Zeal's sharply imagined local flavors, many of them crafted from nearby farms' produce and livestock. The new owners' plans for the restaurant have not yet been revealed, so changes may or may not be on the way.
Sea Island
800.732.4752, ext. 4347
Restaurant Eugene
Chef Linton Hopkins has Atlanta's most romantic restaurant, with elegant iterations of the Southern idiom. Next-door neighbor Holeman & Finch, also a Hopkins enterprise, is the city's most fun restaurant, with enough fish and game for an entire issue of Field & Stream.
2277 Peachtree Road (in The Aramore)
Atlanta
404.355.0321
61 Main
Emblematic of the kind of positive change happening all over the state, this tiny farm-to-table spot in a small mountain community boasts a Johnson & Wales-trained chef, creative cocktails – and a $12 Monday night dinner.
49 South Main St.
Jasper
706.253.7289
Greyfield Inn
Yes, it's expensive. But if you can swing it, stay at least one night to see the deserted beaches, the wild horses, the peacocks and wild turkeys. Then gather with fellow guests from around the world for a simple supper of fish and shrimp and salad greens, all harvested within a few hundred feet. If you can't stay over, call to find out about day trips and dinner excursions.
Cumberland Island
866.401.8581 or 904.261.6408
Rathbun's
His empire – including Kevin Rathbun Steak and Krog Bar – is a noisy one, but chef Kevin Rathbun rules with an iron skillet. No one serves up a better version of American regional classics.
112 Krog St. NE
Atlanta
404.524.8280
Carver's Country Kitchen
As the real thing disappears, we must pay homage to an original. Carver's has long been serving up blue-collar favorites in this dusty industrial neighborhood, with the food service eventually taking over what was once a neighborhood store. And no one does it better than Sharon Carver, with gut-busting specialties like the Dolly Parton (double-breasted) fried chicken breast.
1118 West Marietta St. NW
Atlanta
404.794.4410
Five and Ten
Athens' Hugh Acheson still manages to out-Atlanta his competitors at Five and Ten, while serving up less-expensive creative fare at his sister restaurant, The National. We can't wait to try Empire State South, just opened at presstime.
1653 South Lumpkin St.
Athens
706.546.7300
Bacchanalia
Atlanta's best-loved and most-honored fine-dining restaurant has survived where others haven't by offering up consistently resourceful, gracefully executed menus from a storehouse of finds also offered for sale in its accompanying market, Star Provisions.
1198 Howell Mill Road
Atlanta
404.365.0410
MF Buckhead
Brothers Chris and Alex Kinjo (Nam, MF Sushibar) are Atlanta's most audacious restaurateurs, and this luxe temple serves up the city's best sushi. If you're on an expense account, seek out the upstairs spaceship-like omakase (chef's tasting) room.
3280 Peachtree Street
Atlanta
404.841.1192
Elizabeth on 37th
It's still the first place I suggest when people ask where to go in Savannah, although the scene is changing and the bench is deepening. Still, long after visionary chef Elizabeth Terry retired from the kitchen, her former staff, now the owners, continue her tradition of championing coastal bounty in a courtly environment.
105 East 37th St.
Savannah,
912.236.5547