Georgia's Biotech Challenge
Can a limited supply of capital keep up with the pace of discovery?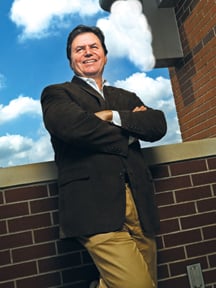 Biotech boosters are quick to tout the industry's most virtuous goal: improving the health and well-being of life on the planet through innovative research. The other goal that hardly needs mentioning (and therefore, it rarely is) has to do with making lots of money. Without that one, you could hardly call it an industry, and you certainly wouldn't need boosters.
But this month, both of those goals will be part of the focus as some 800 biotech professionals from industry, academia and government gather at the Georgia Life Sciences Summit (Oct. 28 at the AmericasMart in Atlanta), an event with the subtitle: Innovation for a Healthier World … Meet-ing the Challenge.
"The challenges facing the bioscience industry and research are enormous right now," says Charlie Craig, president of Georgia Bio, which hosts the annual event. "This is not only due to healthcare reform and what that could mean, but also the political atmosphere, the questions of bioethics, the economic climate.
"Industry and universities and everyone else is facing challenges, and the question is how are you going to continue developing advanced medicine when it's more difficult than ever to get money?"
While biotech leaders struggle to enlighten a fickle (and sometimes antagonistic) state political establishment, academicians define (and grapple with) new ethical issues, and scientists discover (and develop) new frontiers, life science companies and entrepreneurs chase after investors wherever they can find them and the industry remains a vital $16 billion economic force in Georgia.
But Craig wonders if a limited supply of capital can keep up with the pace of discovery.
"The venture capitalists aren't seeing the returns on their investment that they used to see, and it's more difficult for them to invest for the long term," he says. "But we may be approaching a second great explosion of biotechnology, the first being the '80s and '90s.
"We saw the sequence of the human genome in 2000 and things didn't pan out as quickly as everyone would have liked, but we're starting to figure it all out," Craig says. "It could be that within the next 20 years you're going to see an enormous number of new drugs and therapies and maybe cures."
There are companies, both new and developing, that are raising money, making deals. Large companies are being absorbed or moving in. Last year, Solvay Pharmaceuticals, which has based its U.S. headquarters in Marietta since 1986, was sold to New Jersey-based Abbott Laboratories for $6.6 billion. The company's future in Georgia is up in the air. Meanwhile, Seattle-based Dendreon announced last year that it was building a $70 million plant and creating 300 jobs in Union City, where it would make Provenge, a new prostate cancer treatment.
"It's not that there isn't activity going on. There is," Craig says. "But the landscape is changing with the consolidation of pharma – that's going to continue to happen."
Mergers and acquisitions have long been the preferred exit strategy for investors and biotech companies. But some companies still try to get the most out of their money through initial public offerings (IPOs). Two Georgia firms with promising treatments for different retinal ailments are following those two divergent strategies.
Clear-Eyed Perspective
Atlanta-based Iconic Therapeutics is developing a protein (called I-cons) to treat wet adult macular degeneration, the leading cause of legal blindness in older adults, affecting about 1.5 million in the U.S. The protein also is being investigated as a treatment for cancer.
The company has raised $14 million since its launch in December 2002, most of it through angel investors. Iconic was honored with a Georgia Bio "Deal of the Year" for raising more than $3.5 million, mostly from a Connecticut-based venture fund, but also through the Georgia-based ATDC Seed Capital Fund and local angels.
As of late July, company co-founder, president and CFO Kirk Dornbush was still looking for about $2 million more to pay for clinical trials.
"The unique thing about Iconic from an investment perspective, [is] we expect at the end our 60-patient Phase I trial to effectuate a successful exit," says Dornbush, who used to run an investment firm. "With biotech investments, if the idea works it pays off big. If not, it's a complete zero."
The lack of significant local venture capital has been discouraging to Dornbush, but not as discouraging as the news he has heard coming from the state capitol. Repeated efforts by legislators to criminalize stem cell research blows his mind.
"There are times," he says, "when I think we might as well put up a sign on I-85 that says, 'Go Back to the Research Triangle.'"
Alpharetta-based Alimera Sciences did go to North Caro-lina's Research Triangle to find a lead investor for its Series A round of venture funding, says co-founder, president and CEO Dan Myers. Intersouth Partners put a syndicate together that raised $27 million to fund Alimera's development of Iluvien, a treatment for diabetic macular edema.
"We started this company in my basement in April 2003 – four founders who put our personal investment in and then started knocking on doors," Myers says. "Unfortunately, we didn't find the reception we would have liked here, but we found it just up the road in North Carolina. And that original group stuck with us."
Alimera raised about $100 million since 2003, then issued its IPO in April, which brought in another $72 million – enough, Myers says, to pay for two clinical trials involving 1,000 patients across the U.S., Canada, Europe and India. In June, the company submitted its new drug application to the FDA. Illuvien could be approved in December and begin its commercial launch early next year.
Alimera's risks of 2003 have morphed into promise for 2011.
Finding Support
"The risk decreases the further they move down the clinical trials continuum," notes Dr. Ricardo Azziz, new president of the Medical College of Georgia (MCG) and a guest speaker at this month's Life Sciences Summit. "So the models for how we currently support early development of new drugs, technologies or devices have to be refined, and we need to consider more state government or university support for these early phases."
Dr. Jin-Xiong She, director of MCG's Cen-ter for Biotechnology and Genomic Medicine, recently launched Jinfiniti Biosciences, based in the MCG Life Sciences Business Develop-ment Center. It is the product of She's re-search into improving the diagnosis and treatment of diabetes and cancer.
She, a Georgia Research Alliance (GRA) Eminent Scholar in Genomic Medicine, re-ceives $3.5 million in NIH (National Institutes of Health) grant funding to support his research each year. He received some early-stage funding for Jinfiniti from the GRA.
"I also borrowed some money from my wife," says She. "It's a good investment. We're personally committed to providing better treatments and also economic development.
"Economic development relies on new discoveries and research. So we'd like to get some angel investors and venture capital involved."
Georgia Venture Partners (GVP) is an Atlanta-based firm that makes seed and early-stage investments in life sciences companies in Georgia, and it has an impressive portfolio (which includes Iconic), but there isn't much else devoted to biotech startups.
GVP also provides management expertise in some cases. Co-founder and partner Tom Callaway, for example, is also CEO of AerovectRx, an early-stage company supported by GVP that is working on an inhaled drug delivery platform developed at the U.S. Centers for Disease Control and Prevention in Atlanta.
AerovectRx also received early capital from Atlanta Technology Angels (ATA), which typically does not invest in biotech because of money, time and risk, according to Knox Massey, a longtime investor who sits on ATA's board.
"Generally, the early-stage investments we made were in the $250,000 to $1 million range. Then the bigger money, the venture capital, steps up, and you let the bigger money run the company as it grows," he says. "Biotech can take two to 10 times that amount of money, and maybe 10 to 15 years for it to execute an exit so you could get your money back.
"I did some early deals in biotech, 1999 to 2001, and none of those panned out. They all ended up going broke."
Even the GRA's Venture Fund (which matches private investment with state government money), when it was announced in 2008, was initially created with an emphasis toward the life sciences, which had been identified by state government as a strategic industry.
"We've made three awards, three investments in technology companies," says Lee Herron, GRA's vice president of commercialization. "None of those have been in bioscience."
GRA president and CEO Michael Cassidy says that science is a small piece of the venture and finding good management in biotech is a challenge, making the industry a hard sell to investors, especially those who have limited understanding of what they might be investing in.
"The IT space has a lot of folks around the Atlanta area with the expertise to move that technology forward," Cassidy says. "That's not so much the case in the biomedical field, which has fewer sophisticated, experienced entrepreneurs in our region."
While GRA's Venture Lab program is focused on bringing biotech managers into the region to help grow fledgling companies, the GRA board, ironically, has no representation from the biotech industry – a soft drink giant, an energy conglomerate, an insurance company, a restaurant chain and at least one bankrupt real estate developer, but no one from the biotech industry.
It's Alive!
There is a famous line from one of the Spider-Man movies. Ben Parker tells his nephew Peter Parker (the mild-mannered secret identity of the web-slinging title character), "With great power comes great responsibility."
It's an ancient sentiment, an axio-matic thread of cautionary wisdom linking Socrates to Jesus to FDR to modern scientists in an age when new technologies and discoveries outpace our full understanding of their potential benefits and/or ramifications.
Mankind has developed a new great power. In May, geneticist Craig Venter introduced the world to Synthia, the world's first creature produced without parents, a man-made microorganism, synthesized life.
The announcement touched off a torrent of reaction from scientists and ethicists who raised questions about the enormous potential for good and evil unleashed by the blockbuster news.
Almost immediately following the announcement from Venter's lab, Presi-dent Obama directed his Commission for the Study of Bioethical Issues to undertake the subject of synthetic biology, a field in which humans try to build living organisms.
"We asked ourselves how do we benefit from this new field of science while understanding what the ethical boundaries are, to ensure we help humanity reap the benefits while being cognizant of the ethical issues," says Emory President James Wagner, who is vice chair of the president's commission.
"We wonder if we're living in a century of great discoveries in biomedicine. And if indeed, as suggested, that's where the world is going, then it seems critical that we do it deliberately, thoughtfully, taking into consideration all the dimensions of what it means going forward."
Georgia Tech professor Eric Gaucher believes we're entering a brave new world of discovery with exciting possibilities.
"They synthesized a natural ge-nome, which might seem like no big deal on the surface," says Gaucher, whose research group in Tech's School of Biology is studying evolutionary synthetic biology. "But what's exciting is this technology enables us to do things such as engineering biological organisms that previously were not possible in nature.
"The whole impetus behind synthetic biology is to go beyond standard therapies, to create organisms that can do specific things, move beyond the limitations of current therapeutics. Essentially, we'll be able to engineer tailor-made organisms to do whatever we want them to do."
That "whatever" is why the FBI paid a visit to Gaucher recently. They picked his brain to find out how synthetic life might be used as a weapon of mass destruction.
"The FBI doesn't fear the average person getting hold of the technology," Gaucher says. "But they worry about the person with experience in this type of technology getting disgruntled, an angry person who has the information and knows how to exploit it."
It's a valid question, one of many that Georgia's bioethics educators are considering now that the line between science and fiction has been blurred for all time.
"There is no science fiction," says Paul Wolpe, director of Emory's Center for Ethics and a professor of bioethics. "Science fiction is over. Almost all the stuff I read as a kid, they're already trying to do it."
Wolpe, who teaches a master's program in bioethics (Charlie Craig is one of his students), also writes about neuro-ethics, pondering issues around neuro-pharmacology (lifestyle drugs to micromanage our moods), and new, potentially invasive brain-imaging techniques. He was asked to speak to the president's bioethics commission.
"One thing I told them is speed itself is an ethical issue," Wolpe says. "If I want to take this organism from A to B through traditional selective breeding, it can take 10, 20, 100 generations to get from this thing that I have to the type of animal or cell that I want.
"Over the course of that breeding and selection, there's time for reflection, self-correction, time for seeing the beginnings of undesirable consequences, if any, and stop. When you collapse hundreds of generations into a single step, you've lost the opportunity to really reflect, to take it slow. So speed has important ethical implications in and of itself."
Gaucher's synthetic biology research is cruising on a two-way street.
"We're using it to help us understand molecular processes and how organisms survive in particular types of environments," says Gaucher, whose work is funded by NASA, NIH and the National Science Foundation (NSF). "Additionally, we're taking the information we've gleaned from understanding evolutionary processes to enhance the processes and technologies and methodologies of synthetic biology."
NSF also is funding a $25-million collaborative synthetic biology effort involving Georgia Tech, MIT and the University of Illinois at Urbana-Champaign. The Emergent Behaviors of Integrated Cellular Systems (EBICS) Center (headquartered at MIT) wants to build biological machines that could be used to address agriculture, energy, environmental and health problems.
Georgia Tech professor Bob Nerem (associate director of EBICS) raised the obvious ethical questions over making new life forms and recruited his colleague, Roberta Berry, principal investigator in an NSF-funded program called "Ethics Education in Science and Engineering."
Berry, an author on the subject of bioethics and associate professor in Georgia Tech's School of Public Policy, brings together educators and students of different disciplines from Emory, Morehouse School of Medicine, Georgia State and Agnes Scott.
"We're interested in developing effective ways of educating future scientists and engineers to be contributors in effective policy making regarding the social and ethical implications of some of this cutting-edge research," Berry says. "Through our work with EBICS, we'll engage our students with real-time ethical and policy analysis."
She says one of the ethical questions associated with the EBICS project will be the use of stem cells in the research (experts in the field like Georgia Tech's Todd McDevitt and UGA's Steve Stice are involved).
Meanwhile, another bit of groundbreaking research involving stem cells needed an ethical thumbs-up from Emory's Human Investigations Committee before history could be made. Emory is now conducting the first U.S. clinical trial to implant stem cells into the spinal cords of adults with amyotrophic lateral sclerosis (ALS), or Lou Gehrig's disease.
Emory was selected for the trial in part because Emory Assistant Professor of Neurosurgery Nicholas Boulis developed the stem cell implantation technique. Boulis isn't expecting to fix people with ALS. Not yet anyway.
"What we hope for is demonstrating that our approach is safe," he says. "Will the cells prevent the ALS from progressing? That might happen, but there are a lot of other cells, all depending on some transplantation methodology that's safe."
It's his way of saying that even if the stem cells don't stop the degenerative effects of ALS, he'll have opened the door to a bunch of other cells for biologic therapies.
"We're in a honeymoon period for stem cells. They've done amazing things in rats. But there's a huge gap between working in rats and working in humans," Boulis says. "As they say, the devil's in the details. We're at the stage now where we're trying to work out those details."